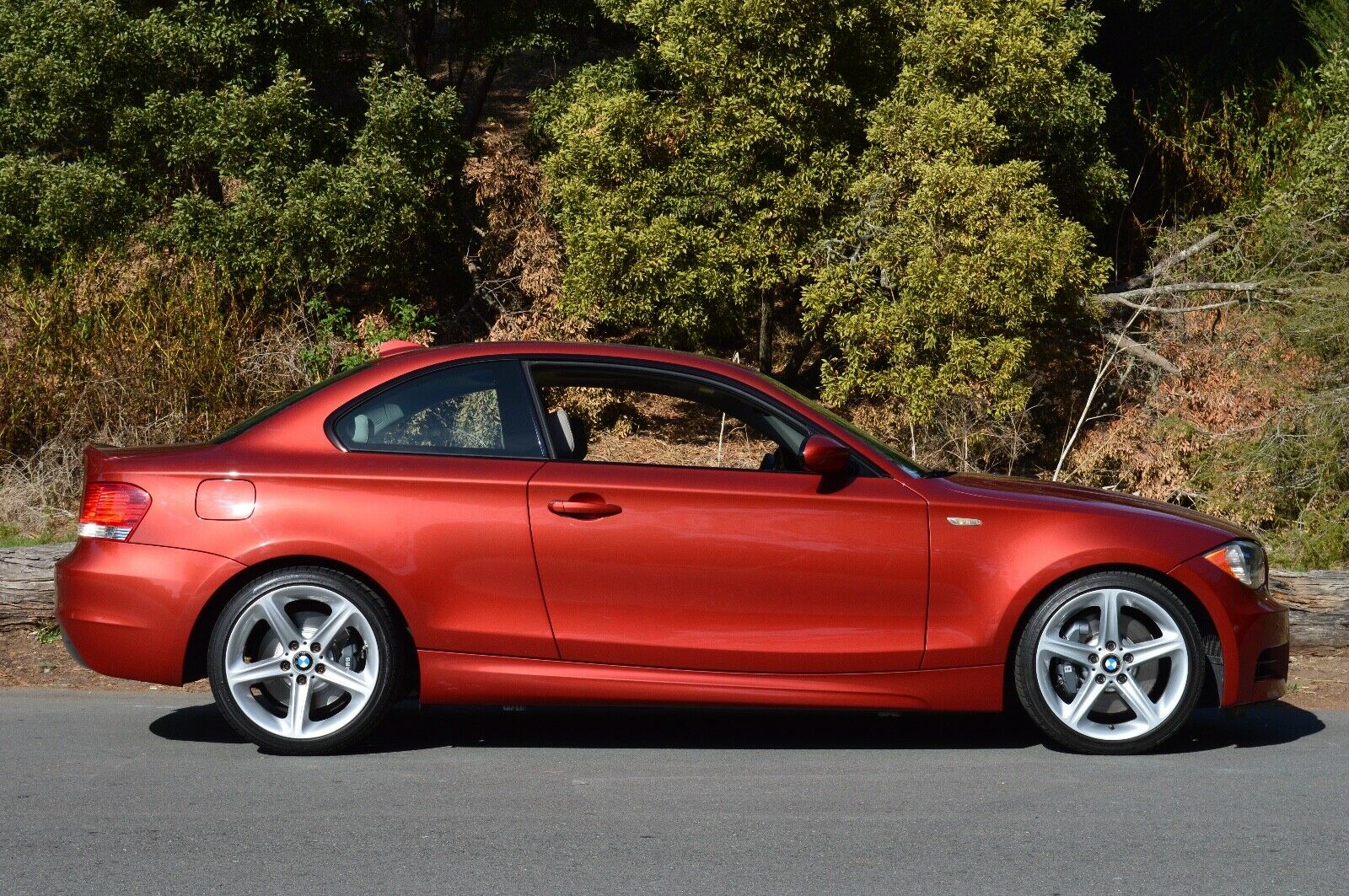 The 1-Series sought to return BMW to its more affordable small car roots by shrinking the swollen 3-Series down substantially. What BMW unintentionally did was to create an E46 successor. The E82s are similarly sized, similarly equipped and were similarly priced to the E46. And in its most basic, most sporty form, the early 135i Sport is on paper a close match for the performance of the third generation M3. Okay, there's no doubt that the 135i isn't a M3 when you get behind the wheel. But is it a special car? Yes. And does it move? The N54/55 are rated at 300 horsepower – about 10% shy of the S54. But they've got 300 lb.ft of torque, almost about 15% more than the M3 had. And because they're a turbo motor and they were able to tune that torque curve in, it's about as flat as the Makgadikgadi Pan. That means roll-on performance, and the 135i rewards you any time you want in any gear you're in. The strange thing is, it really doesn't drive like it is a turbo motor. There's no lag, no flat spots, no real woosh. It just feels like a very strong high-compression inline-6. It ALWAYS has power. And though it won't corner like a E46 M3, it's not far off in acceleration or driving feel.
So while it's not quite the visual triumph that is the E46 M3, it's a very compelling alternative. Better yet, the polarizing looks have meant that these haven't taken off in value yet compared to full M models. Today, now just over a decade after launch, few come to market looking quite as fresh as this Sedona Red Metallic first-year model: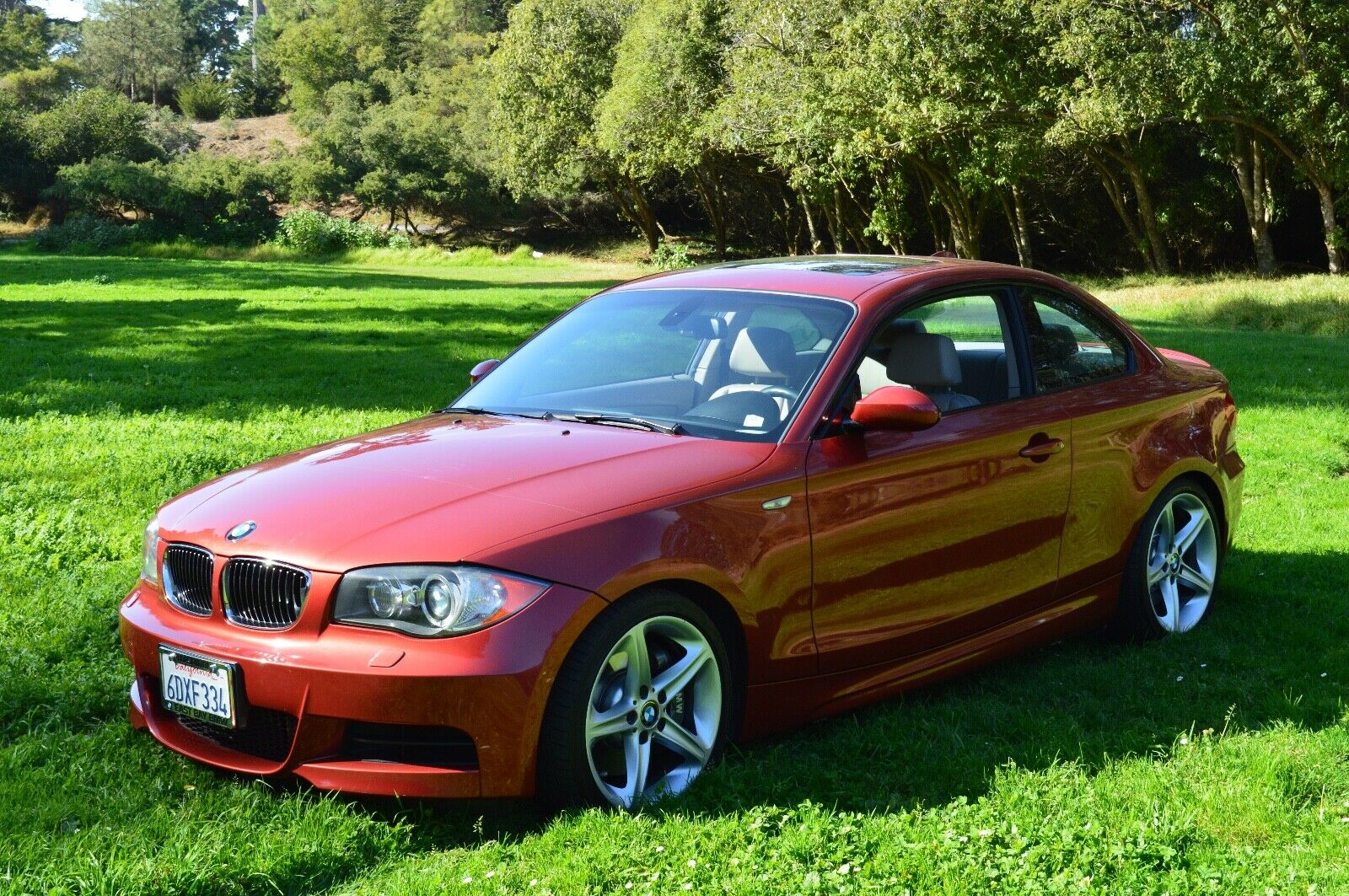 Year: 2008
Model: 135i Sport
VIN: WBAUC73538VF22127
Engine: 3.0 liter twin turbocharged inline-5
Transmission: 6-speed manual
Mileage: 49,200 mi
Location: San Francisco, California
Price: $16,900 Buy It Now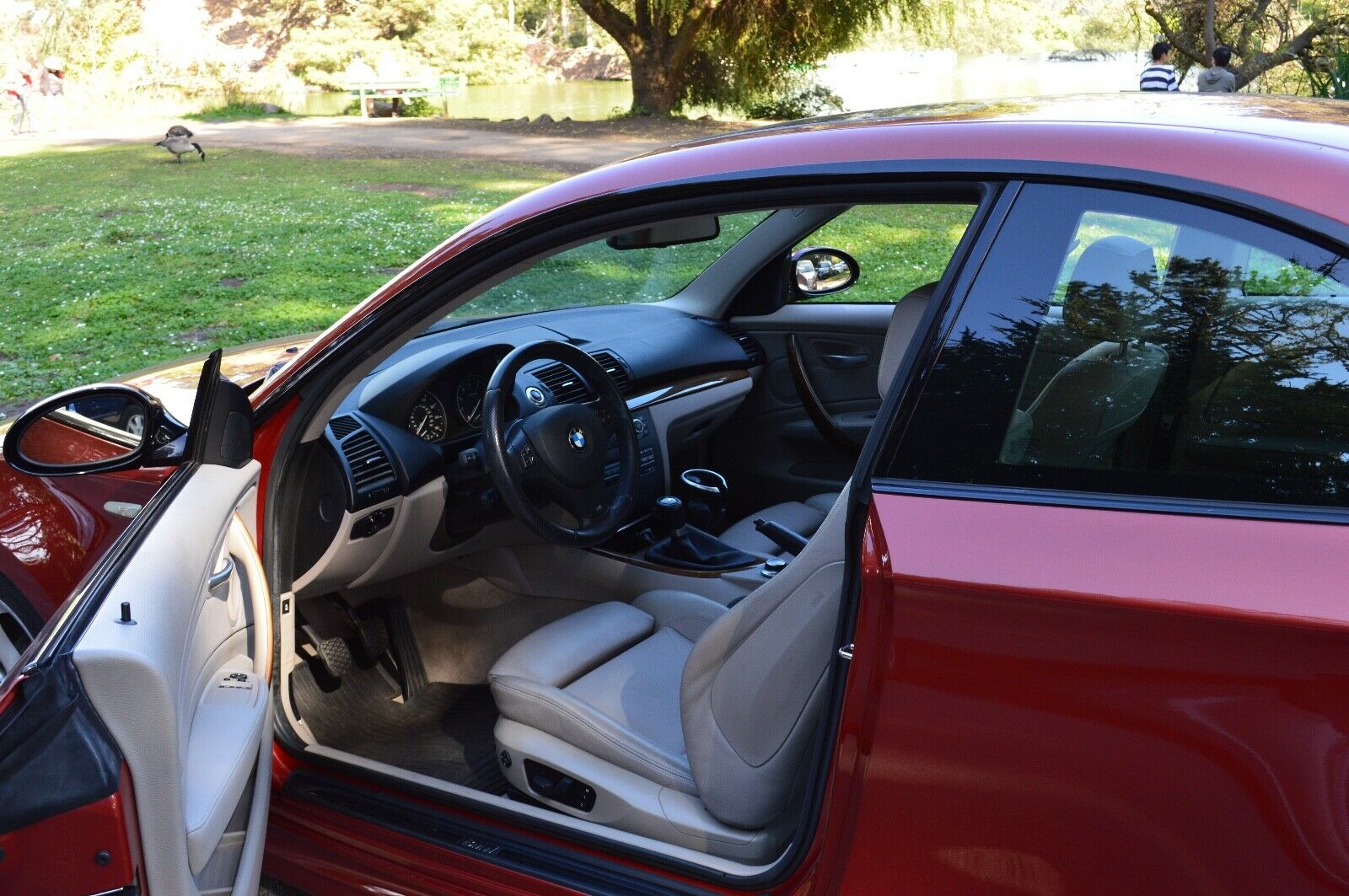 Message me if you'd like to speak with service writer at the BMW dealer where I maintain this car, if you'd like a copy of the maintenance records, or if you'd like additional photos. A condition report is posted that verifies that this car is turn key. I also have approximately 200 high-resolution photos posted to Dropbox, interested prospective bidders can be granted access.

Excellent condition, affordable enthusiast car, factory stock with extremely low miles. This is likely the nicest 6-speed manual 135I coupe on the market today and it has all the desirable m-sport equipment. This example is a full life west coast car in immaculate condition in the very rare and desirable hue Sedona red. In addition to being a rare 6-speed manual trans car, it has sports seats, m suspension, m ground effects and spoiler, m brakes, m steering wheel, and m shifter. Other equipment includes navigation, power leather seats with memory and lumbar support, power moonroof, adaptive xenon headlights, hill assist, and more.

Clean title, no accidents, garage kept, non-smoker car. It has a clear bra on it so there are very few stone chips and no dings. Everything works. Pre-purchase inspections welcome. No disappointments.

This is an N54 equipped true twin turbo car. It came from the factory with forged internal. Later models were N55 engine cars with twin scroll single turbo cars that did not have forged internals. The tuner community covets the N54. The legendary 1M at 4x the price of this car also uses the N54 in a slighter higher tune. Although this one is stock and untouched, significant power gains are possible with a re-flash of the ecu and bolt on parts.

This car is not in need of any work, it is turn key.

Warranty, recall, and service records are available. All BMW recall items have been addressed, including:

1) safety belt/modify sound insulation

2) fuel pump control unit

3) the high pressure fuel pump

4) checking injectors

5) positive battery cable

6) driver's front airbag

7) blower motor connector

This car has been exceptionally well maintained and is in turn key condition. This car has only very minor imperfections including some surface scratches, a few paint chips, a slight bubbling on the passenger side dash, and a very minor leather imperfection on the driver's seat by the seat belt guide. All of these items are photographed in close up and posted to dropbox.

Recent maintenance includes complete front and rear brakes (this includes rotors), brake fluid flush, micro filter, oil pan gasket replacement, and an oil change. The car also has tires in excellent condition.

This car was re-listed because the previous bidder did not have and also could not secure the funds to complete the sale. Please do not bid if you are not sure if you can complete the sale.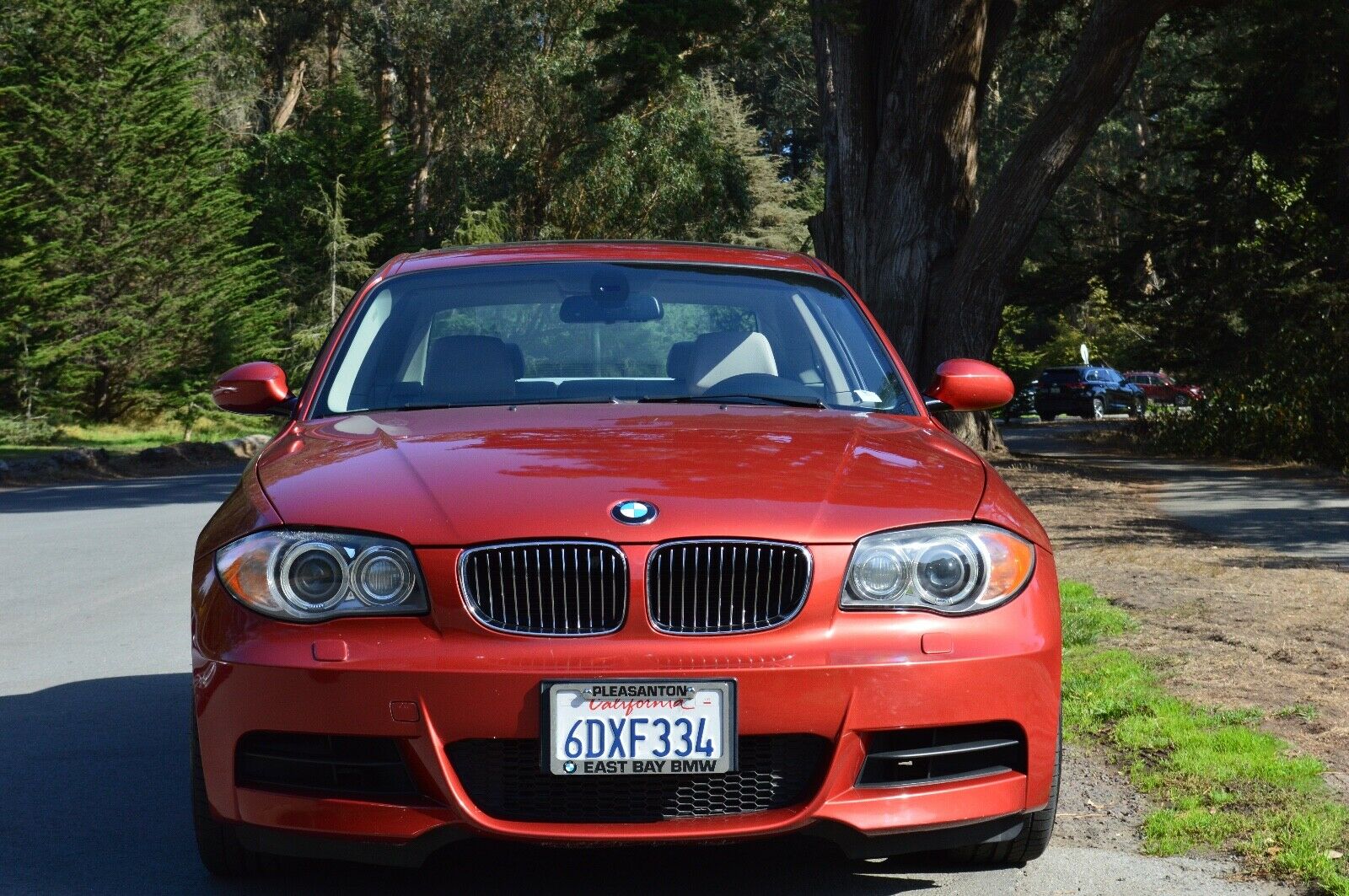 Having spent over a year with a very similar '09, I can report that still this is a spectacular car. It's certainly not without fault; stuffing a big motor into a small engine bay means that working on this car yourself can result in many deposits in the swear jar. And there are known faults; carbon cleaning is probably the biggest of the issues that needs to be tackled on a 30,000 – 40,000 mile basis, but mine is also throwing random misfiring fits for leaking injectors in one bank. While not the hardest thing in the world to replace, they're quite dear; a full set will cost you about $1,400 and you have to have coding tools to install them. Like all of the modern BMWs, electric water pumps and leaking oil seals also need to be addressed. But when you balance what you get, this really is one hell of a car. And since I own both an E46 M3 and an E82 135i and have driven them back-to-back, you'd be hard-pressed to claim that in stock form the E82 isn't the match of the M3 and in everyday driving is likely a better car. It gets better fuel mileage, is more compliant, is faster in the real world and, perhaps shockingly, has more comfortable seats. Visibility out of the upright cockpit is also a little better and the less wide hips of the 135i mean it's a bit easier to scoot through traffic. Sure, head to a race track and the scenario flips – but it's very hard to legally exploit the M3's potential on the road.
This particular 135i is lovely in Sedona Red Metallic (A79) with light Beige Boston leather (LWA5) and light walnut trim. Like my car, this one is not a M-Sport model – which gave you style M261 wheels and a black headliner. I think that's a net positive, personally. The M264 wheels look better on this car and the light headliner makes the tight interior a lot less claustrophobic. Unlike mine, this one also has the iDrive which I've enjoyed not having – but finding a 6-speed 135i without one can be pretty difficult. Otherwise, it's got the normal 135i Sport accoutrements; sport seats, M suspension, 6 piston Brembo brakes, M steering wheel, and adaptive Xenon lights that really work. Miles are low, condition is fantastic, and recalls are done. Compared to the ZHP I just looked at, you can really see the value in this car. At $17,000, it's going to take just the right person to buy it. But that person will certainly be rewarded with one of the best modern BMW packages produced.
-Carter