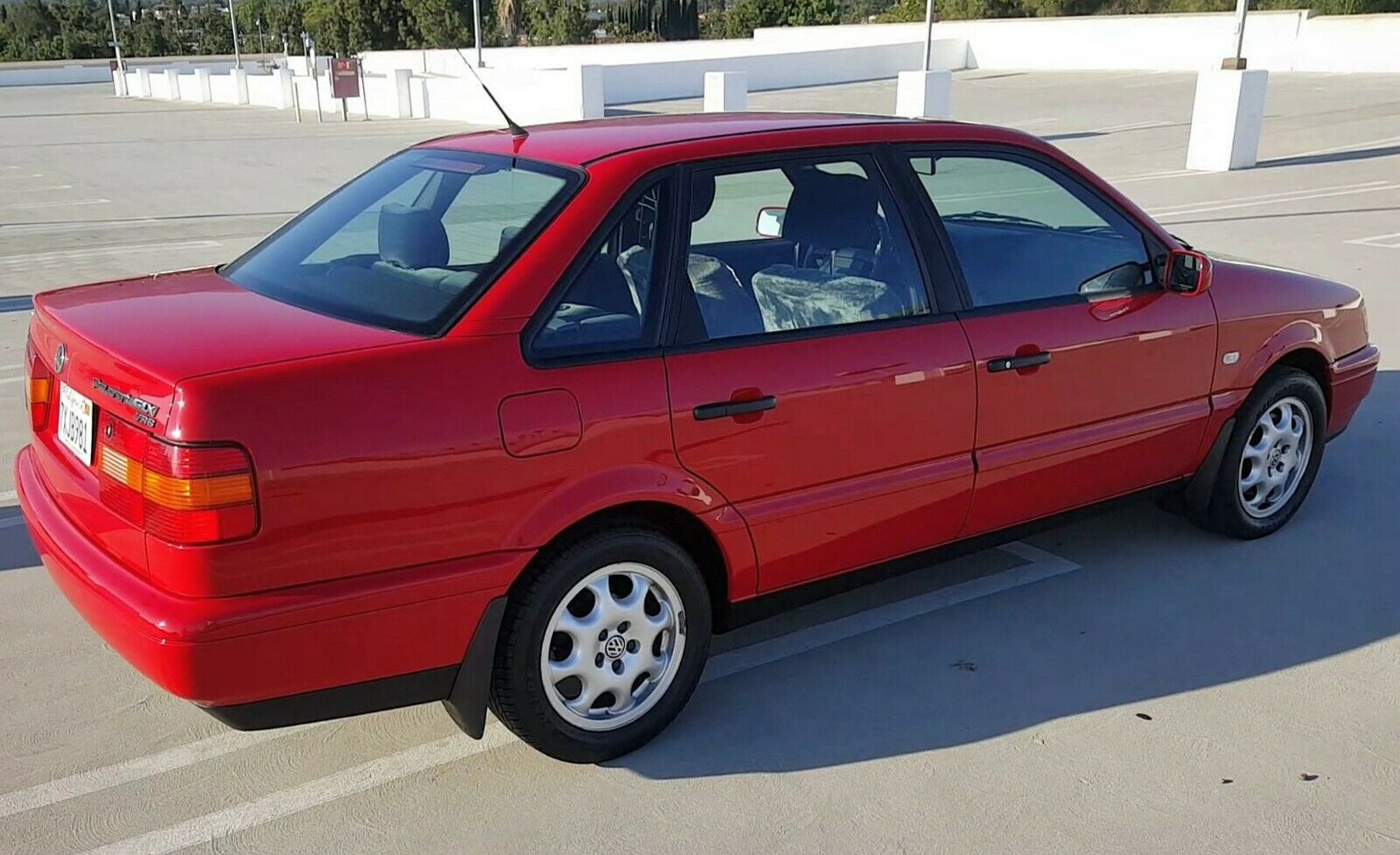 Not everyone agreed with my thought that the low-mileage 1995 Volkswagen Passat GLX VR6 Variant I looked at a few weeks ago was overpriced. I really do understand in many ways; a well-cared for, low mileage example of an unusual car can be virtually impossible to replicate.
Lo and behold, here we are again. Admittedly, none of the trio I have here is quite as low mileage or quite as mint as that October example. But all are also priced a bit more competitively. We've got two sedans and a wagon to jump through, with two being automatics and one a manual. All are basically very clean stock examples. Are any of them for you?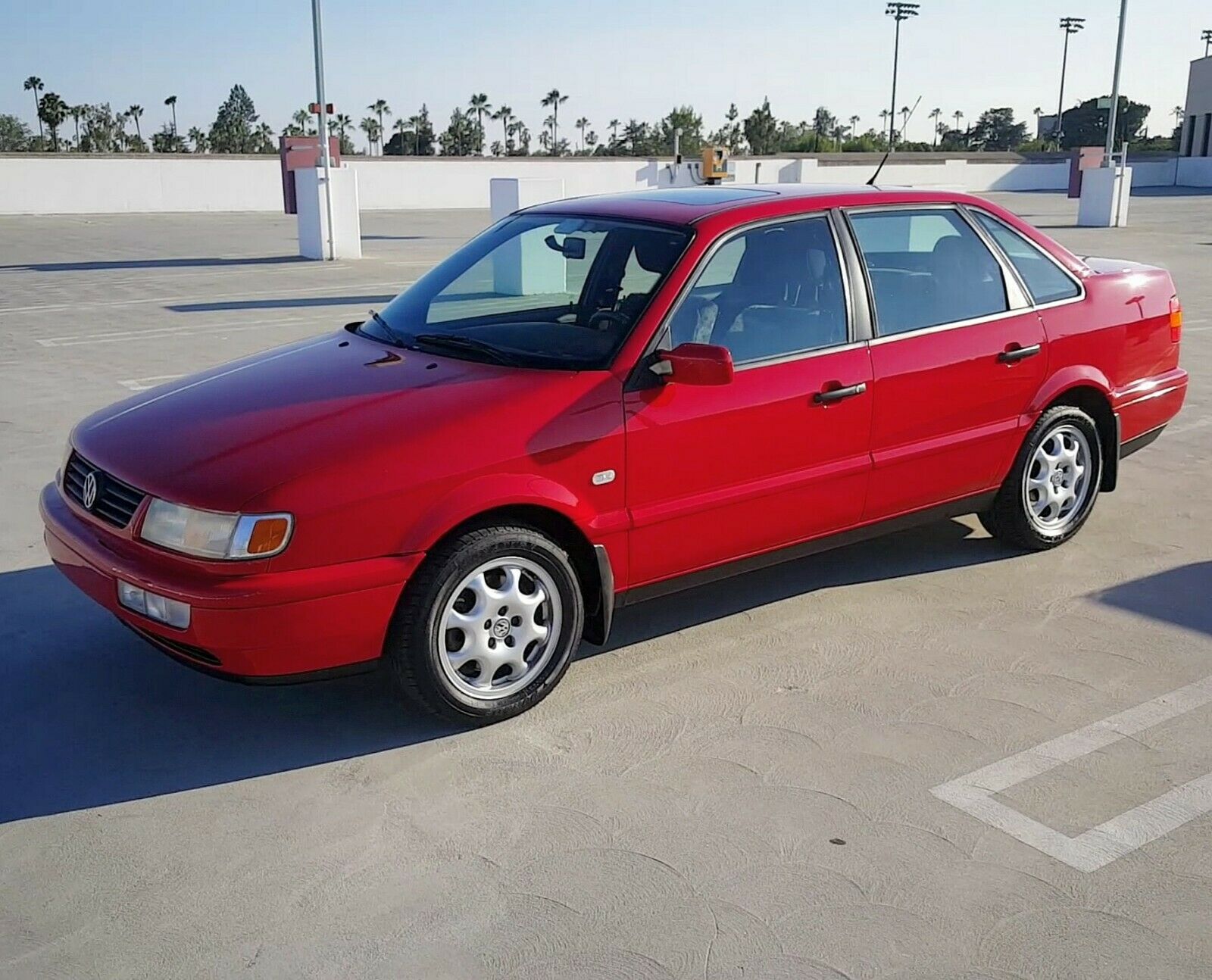 Year: 1996
Model: Passat GLX VR6
VIN: WVWEE83A8TE124955
Engine: 2.8 liter narrow-angle VR6
Transmission: 4-speed automatic
Mileage: 65,000 mi
Location: Los Angeles, California
Price: No Reserve Auction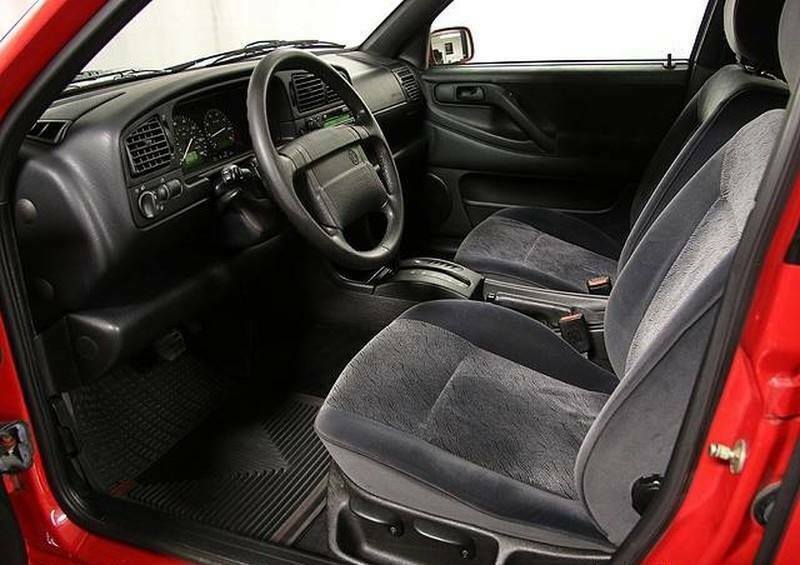 Year: 1996
Make: Volkswagen
Model: Passat
Trim: GLX VR6 Wolfsburg Edition
Engine: 2.8L, VR6 SOHC 12V, Multi-Point, Fuel Injection @ 174 BHP / 173 lb-ft Torque
Body: Sedan
Color: Tornado Red
Transmission: 4 Speed Automatic
Power Train: Front Wheel Drive.
Tires: 205 / 50 on 15 inch rims
Title: Clear (Never in an accident).
Mileage: 65,000

Power Options / Conveniences:
– Windows, Doorlocks, Sunroof.
– All Windows Roll Up/Down, Controled With Key Inserted Into Exterior Doorlock. Then Turn/Hold Key Clockwise/Counter Clockwise.

– Multi Function Averages (MFA) Digital Display Shows; Time Traveled, Miles Traveled, Average Speed, Average Miles Per Gallon, Oil Temp, Outside Temp.

– Variable-Speed Control, Intermittent Winshield Wiper (Push Wiper Control Arm Up, Twice & Hold, For A Longer/Shorter Delay, Intermittent Wipe).

– 6 Channel Memory AM/FM Sterio With Cassette Tape Deck.

– Fully Carpeted Trunk, Including Trunk-lid.

Safety Active / Passive:
– Seatbelt Pretensioners
– Dash Mounted Knee Bolsters
– Driver/Passenger Front Airbags
– Front/Rear Antilock (ABS)
– Front/Rear Disk Brakes
– Redundant Side Turn Signal Blinkers

New / Rebuilt Parts / Maintenance:
1) The entire car was perfessionally painted using the factory color, Tornado Red.
2) New Ignition Coil, Spark Plugs, Spark Plug Cables (2 year parts warrently begining 09/18/2019).
3) New ABS sensor.
4) New Front Struts.
5) New Front Drive Axels.
6) New Shocks, Front/Rear.
7) New LED Bulbs For All Exterior/Interior Lighting With Exception Of Instrumentation Cluster Lighting.
8) Rebuilt Transmission (2 year warrenty).
9) New A/C Condencer, cleaned evaporator, flushed system, recharged A/C, new air filter.

Additional information:
– This is a one of a kind 1996 VW Passat GLX VR6 Wolfsburg Edition.
– Runs strong, drives straight, idles smooth and quite and feels solid in city and highway driving.
– Body is straight and complete with no dents/dings.
– Interior is very clean and complete with no rips on the upholstery.
– Engine bay is clean and complete with no fluid leaks.

Issues:
1) "Trip ODO", digital screen numbering temporarily goes dim on warm days. There are 3 separate digitial screens (1)MFA, (2)Trip ODO, (3)Gear Readout. The other 2 work fine.

2) Rear passenger window regulator switch stopped working. That window remains in the closed position.

More photos of this Passat GLX can be seen via nstgrm @ Wolfgang_91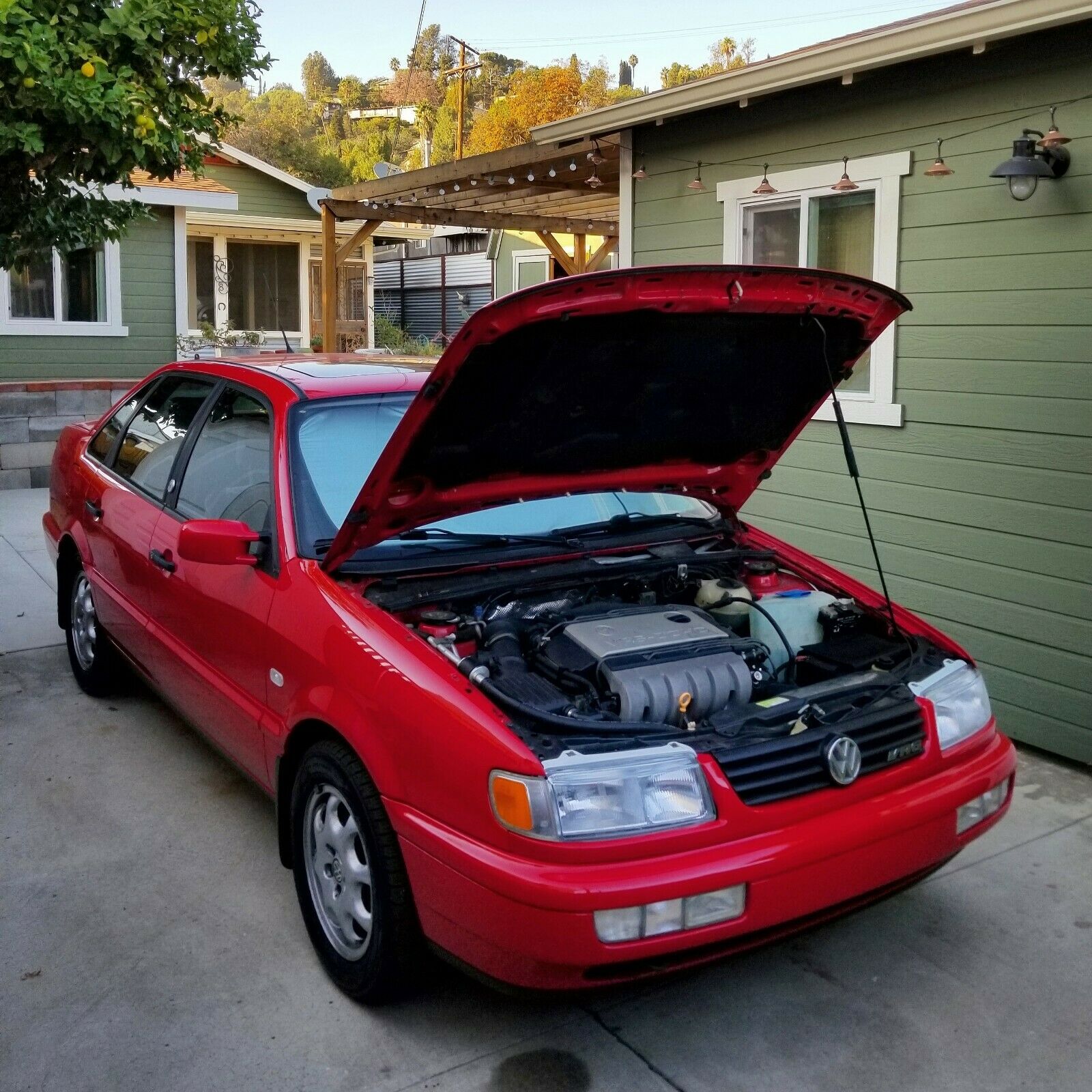 This is a lovely example of how Tornado Red really can dress up the B4 Passat, and it shows well against the BBS 15″ wheels these were equipped with. Condition appears to be excellent and there's lots of maintenance to back up the look, too. As you'd expect on a now 23-year old B4, there are a couple of issues – but overall it's a great looking car. One thing of note; I'm pretty sure there isn't an official 'Wolfsburg' package on the B4 – there were very few options as these cars all came more or less fully loaded. The auction is no reserve and the seller has started the bidding at $5,500 – about $500 less than the prior GLX sold for.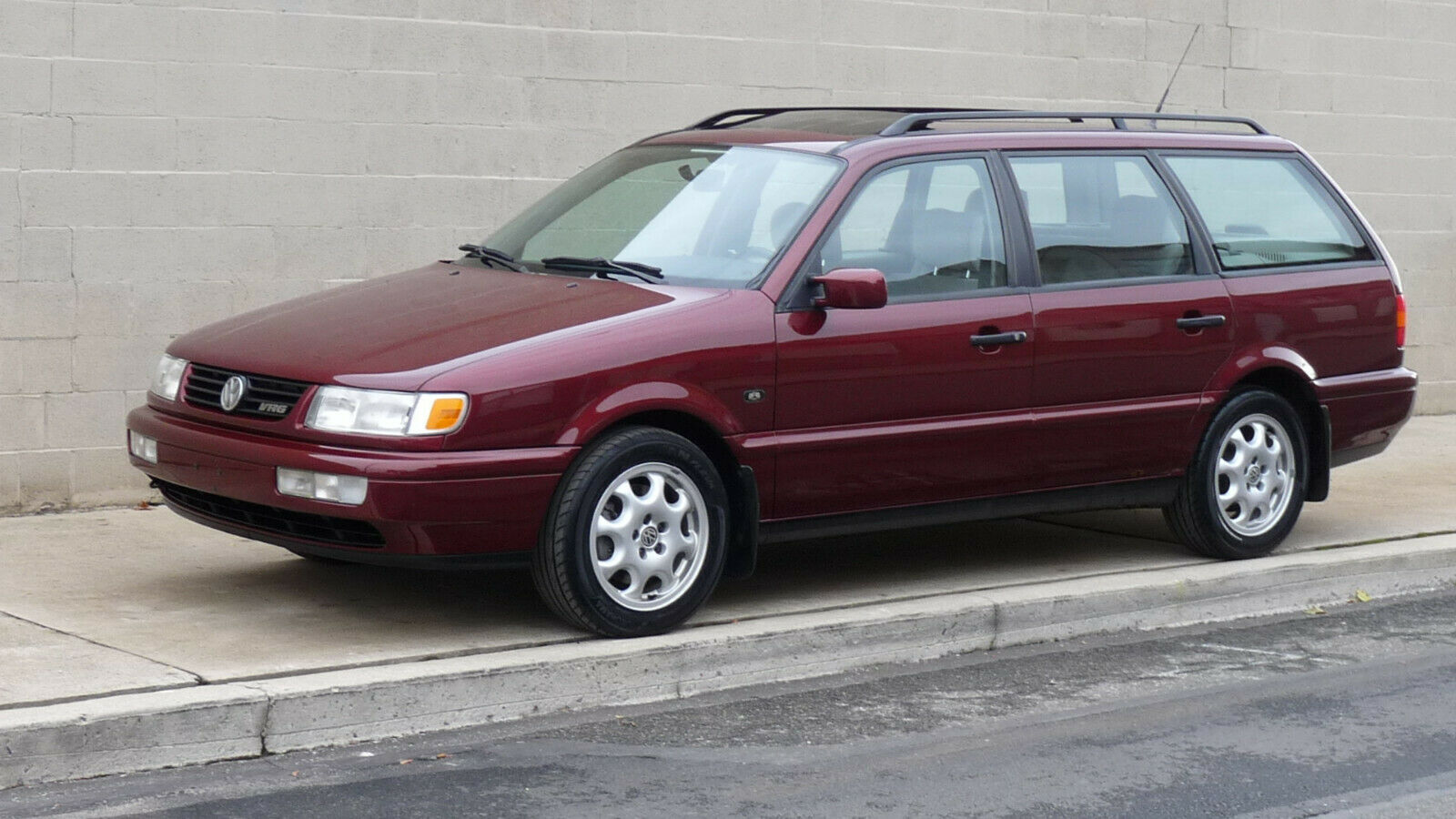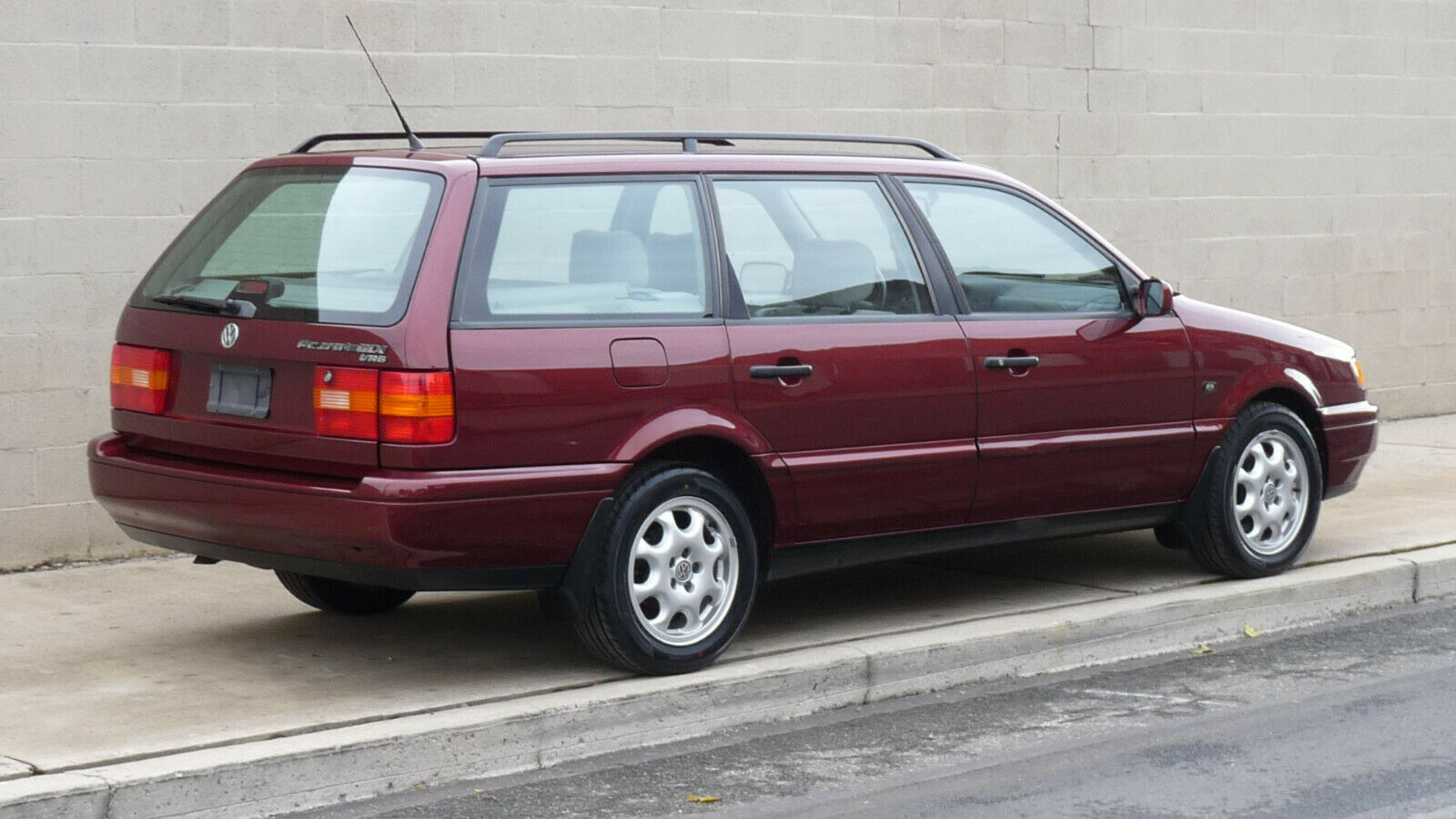 Year: 1996
Model: Passat GLX VR6 Variant
VIN: WVWFE83A0TE157310
Engine: 2.8 liter narrow-angle VR6
Transmission: 4-speed automatic
Mileage: 56,005 mi
Location: Philadelphia, Pennsylvania
Price: No Reserve Auction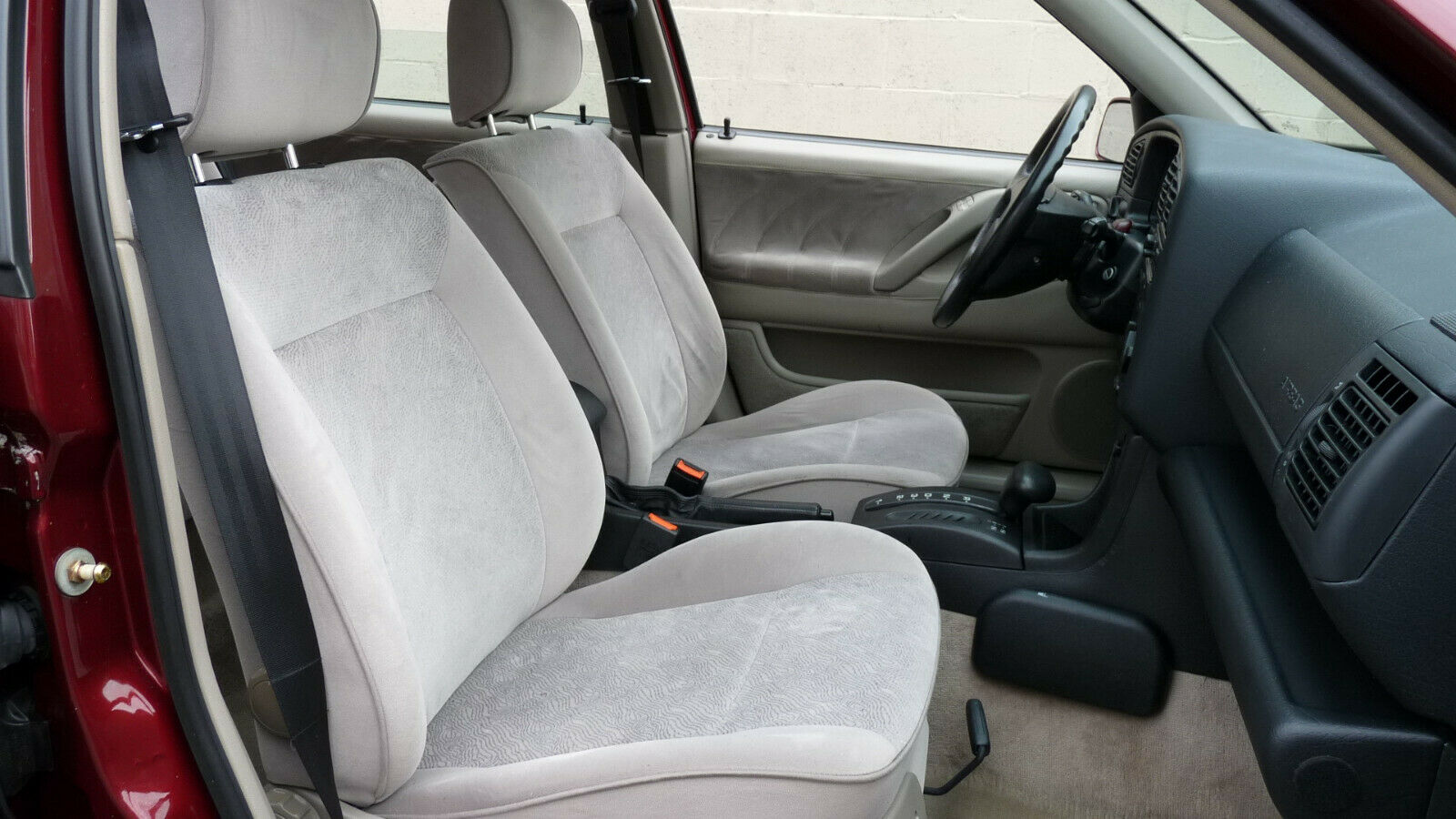 1996 VW Passat Wagon GLX VR6
We have been a licensed Automobile Dealership in Philadelphia, PA. for the past eighteen years. We are primarily an Auto Wholesale Operation supplying other dealerships, and we are now listing select vehicles for sale to the public as well. I am the internet/wholesale manager and my name is Chris. Please feel free to call me with any questions at 215 669-6400.

We offer our online customers a full guarantee on the purchase of any of our vehicles. If you come here to inspect this vehicle and then decide for any reason that you don't want it, you will be excused from purchasing it. The stated auction terms must be observed to maintain this guarantee.

This is a very clean 1996 VW Passat GLX VR6 Wagon that runs perfectly. There has been only one owner since new and this Wagon has 56,005 original miles. It is equipped with the 2.8L V6 engine and automatic transmission, power sunroof, power – windows, door-locks, mirrors, etc. All of the power equipment and everything in this car is working properly including the air conditioning and stereo system.

The owner stopped driving recently after moving to a retirement community, and donated this Passat to a charity organization with whom he was associated. We handle many vehicles for the benefit of charity. Most are sold through dealer networks, but we offer some of the rare or unusual vehicles on ebay if they're in excellent physical and operational condition.

The owner was exactly the type of person from whom you'd want to purchase a used vehicle. He kept a notebook with meticulous hand written notes concerning all service with dates, mileages, component replacements etc. When we received this car, there was a box in the back with lots of preventive maintenance items, including all new brake pads, brake rotors, bearings, seals, oil filter, air filter, and belts. These items were all Volkswagen OEM parts, and were individually marked so the new owner would know what they were. We have our own service facility on premises, so we installed all of these components on this Wagon. In addition, we installed a complete set of premium Yokohama tires as well, as the originals were quite old and the sidewalls were beginning to crack. This Passat is ready to be picked up or driven home today.

This vehicle comes with a Complimentary 3-Month Nationwide Warranty. We will include a 6-Month/Unlimited Mileage warranty with our Buy Now price stated above. This warranty can be upgraded to a 4-year comprehensive warranty at the time of purchase.

The exterior of this Passat is clean and looks terrific. It hasn't been in any accidents during its lifetime. The "Indian Red Pearl" paint is shiny with only some stone nicks or minor imperfections. There is a small crease on the black rocker panel trim below the right door and a bumped molding as well. There isn't any body damage and there isn't any body rust at all. The undercarriage is clean and in excellent condition. The alloy wheels are bright and clean, and all exterior trim is tight and intact.

The interior has been very well maintained and is in terrific condition. The seats and carpeting are fresh and clean without any stains, wear spots, or sun damage. All of the interior panels and trim pieces are intact and in perfect condition. This was a non-smoker owned vehicle, and there aren't any odors inside this vehicle.

The vehicle history report is clean, and we have the clean and clear title in hand. This is a great looking and perfect running Wagon. This Passat should provide excellent and low cost reliability for many, many years to come.

*WARRANTY*

This vehicle comes with a 3-Month/4,500 Mile Warranty through the AutoPro Warranty Company LLC, which is used exclusively by many Dealerships for their extended warranty programs. This is a Nationwide program that allows service to be performed at the facility of your choice anywhere in the USA.

This vehicle has also been pre-inspected in order to qualify for the extended AutoPro Ultra Limited Warranty program. The rates and terms for this coverage are as follows:

2-Year / Unlimited Miles = $ 795

3-Year / Unlimited Miles = $ 995

4-Year / Unlimited Miles = $ 1195

Click here for Ultra Limited Warranty details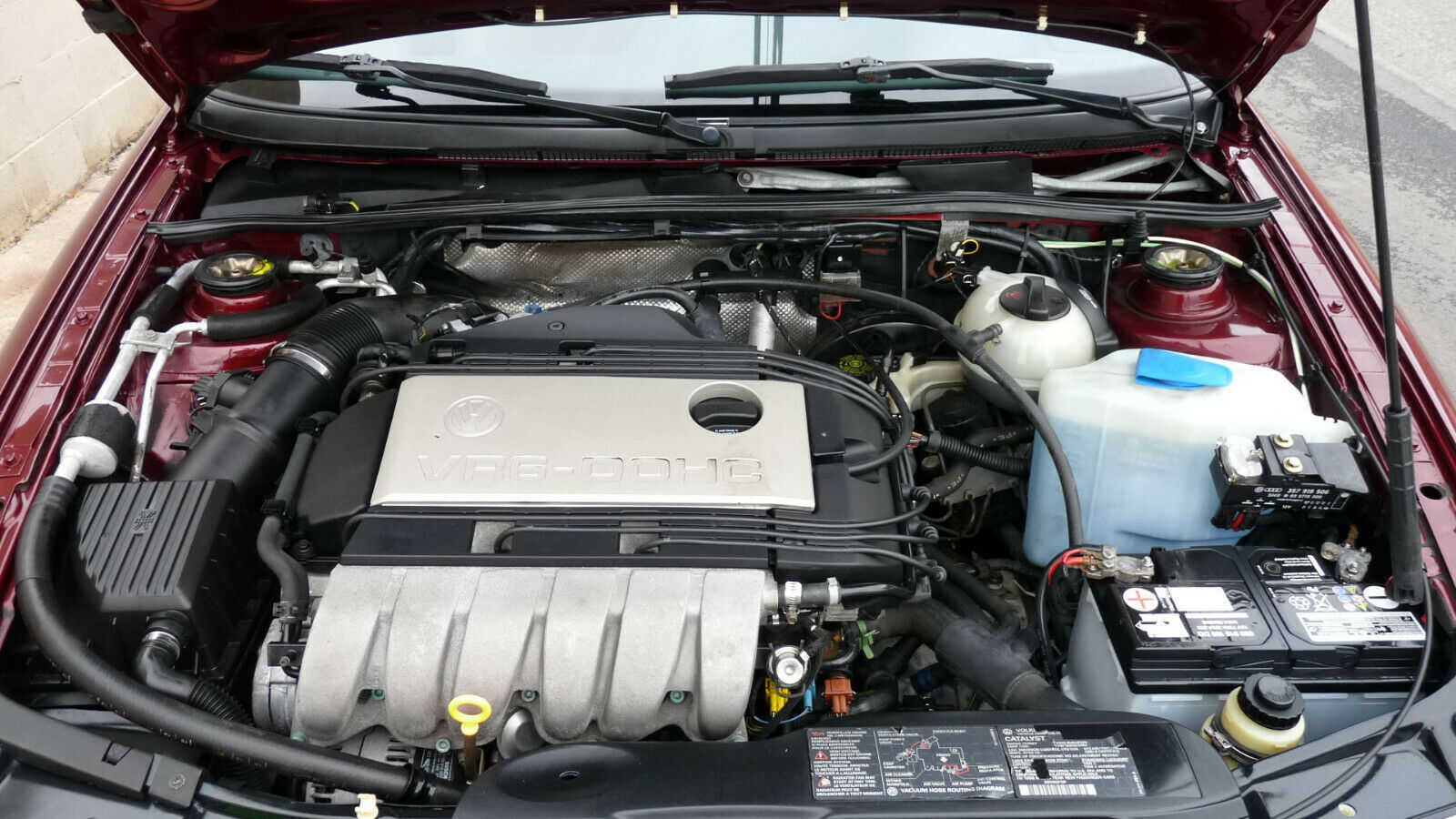 It's like déjà vu all over again! Again a Pearl Red Metallic Passat wagon, again in impossibly clean condition. This one is also an automatic and while the miles are double the last example, at the end of the day it's still a really small number that you're working with. While this one is coming from a dealer, it also seems like it's got some recent maintenance and looks really well cared for overall. Bidding on this auction is no reserve, and currently $3,000 has been pledged but I'd expect that number to rise fairly sharply over the next week.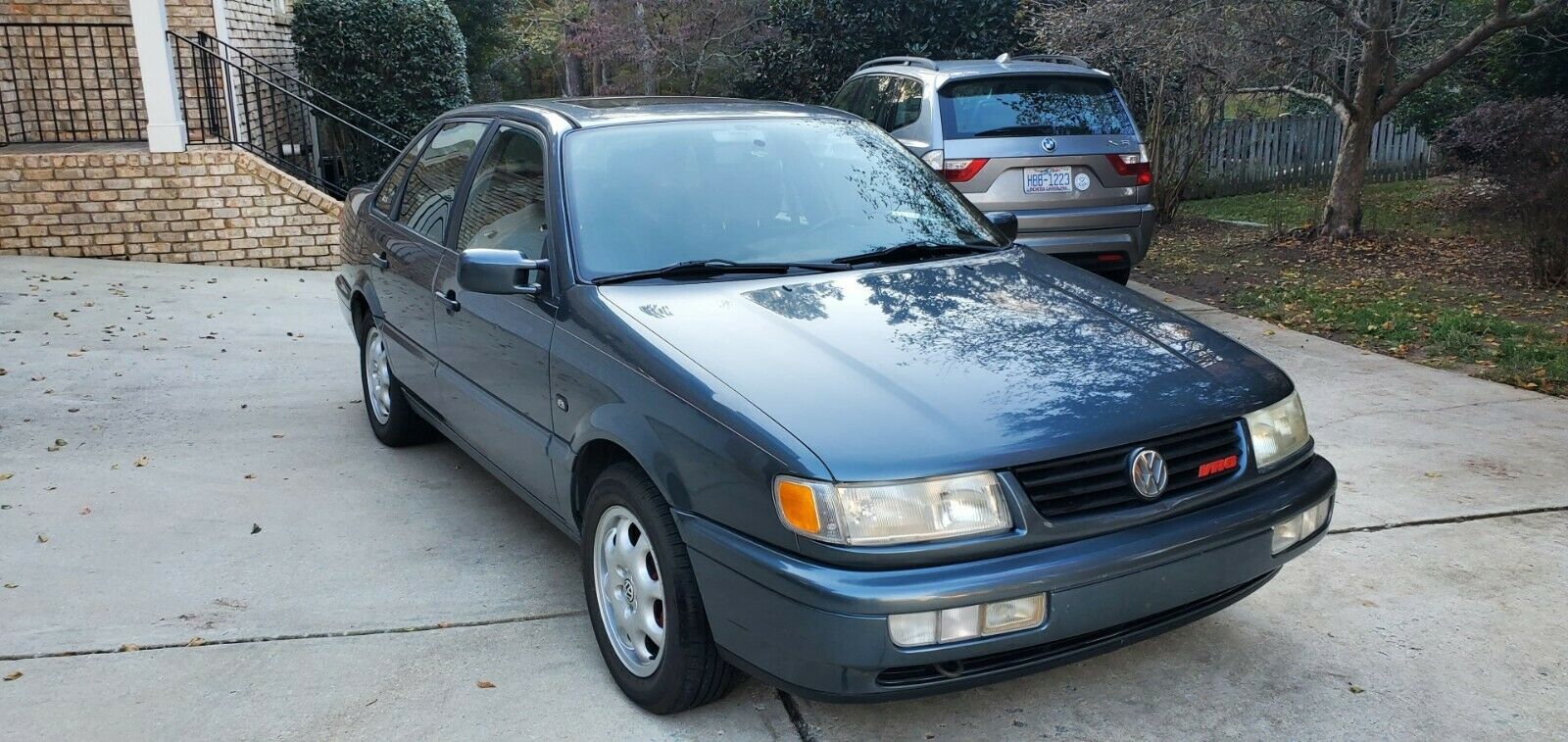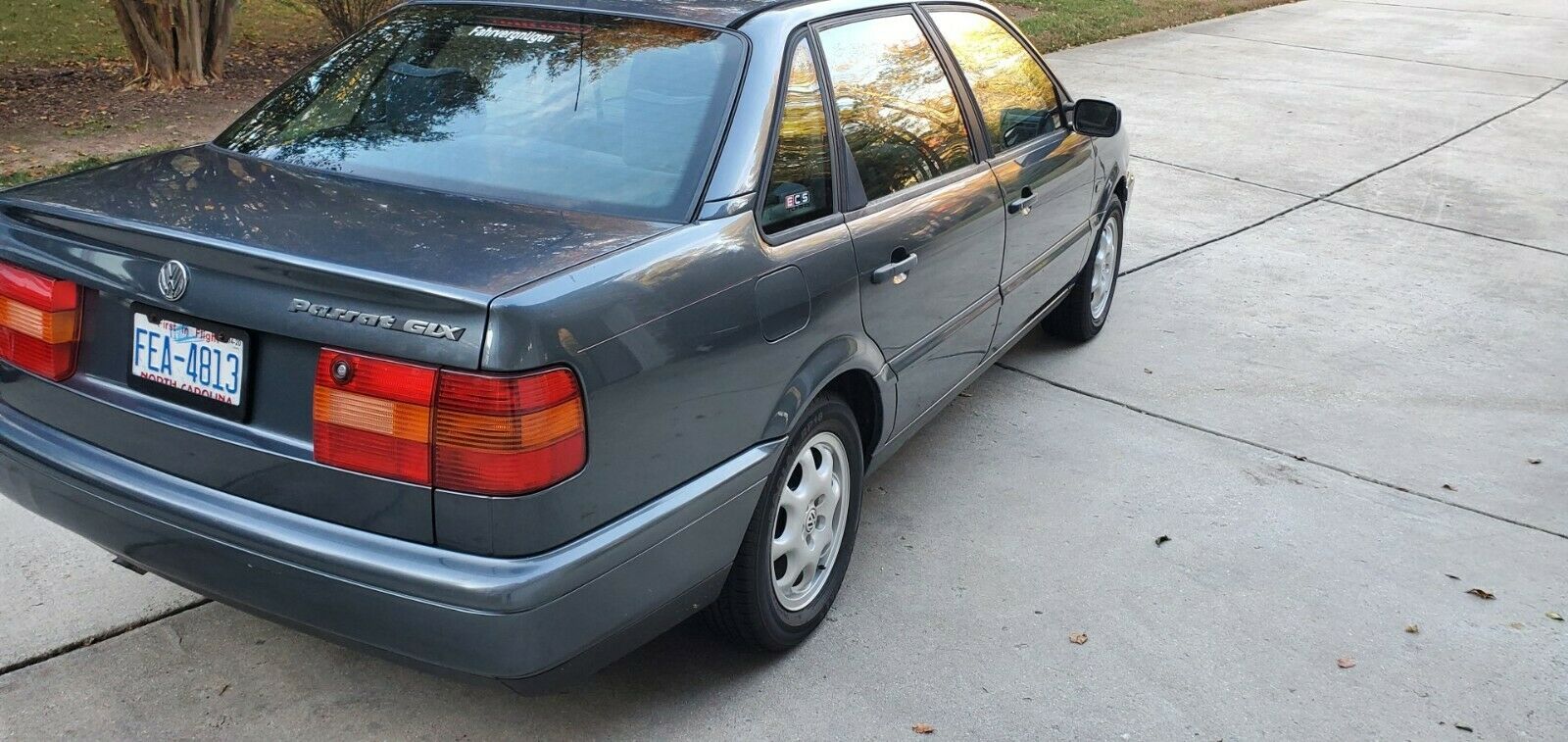 Year: 1995
Model: Passat GLX VR6
VIN: WVWEE83A8SE054162
Engine: 2.8 liter narrow-angle VR6
Transmission: 5-speed manual
Mileage: 83,400 mi
Location: Raleigh, North Carolina
Price: $4,300 Buy It Now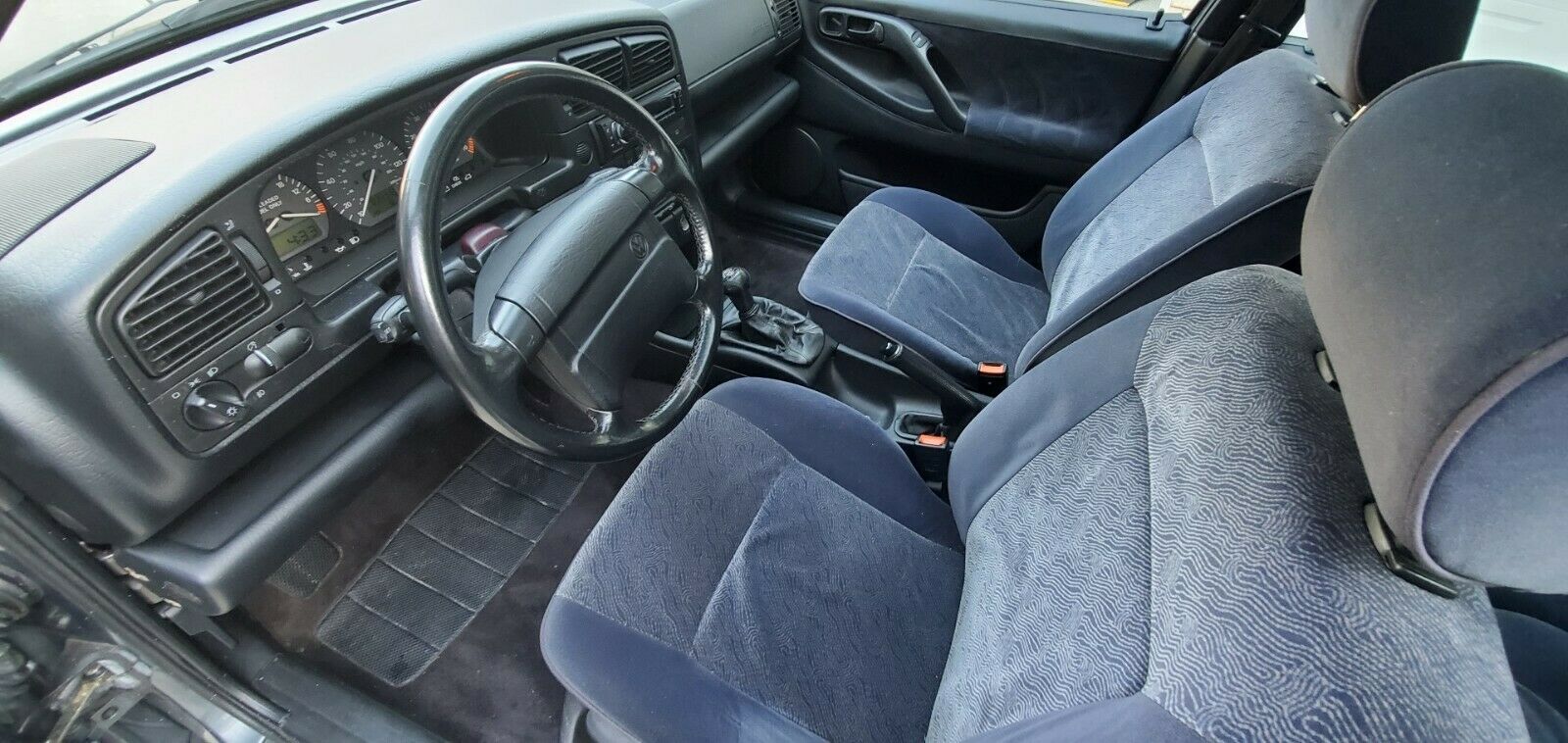 1995 Passat GLX VR6 Manual 83K original miles!

This is probably one of the lowest mileage B4 in the market. I bought this car for my son about 18 months ago as his primary transport while at school. He's very passionate about cars especially old European ones. I appreciate them as well but as school is a few hours away we decided on something newer. We've done quite a bit of work to this car already as I've listed below and probably more than it's worth but sometimes passion stands in front of practicality. There are some things that still need to be done and it is an old car so I'm sure things will still surface but this is a good car with a lot of big jobs complete very recently. The car runs fine and has just passed the NC state inspection. I have had a stall in hot weather on a couple of occasions so I replaced the coil pack and bought a heat insulator from Phenix Engineering. I have not had the situation recur but it isn't hot here now and we are not driving the car much. We get the usual intermittent ABS light and sometimes a check engine both of which come and go. Otherwise the engine runs really well and sounds fantastic. The car has a unique sound with the Magnaflow exhaust that sounds great without being too loud.The VR6 is really quick for a car from the 90's.

The car is storm gray complete with an irresistible blue velour interior and old German car smell. The the paint is very good with the exception of the rear driver's side quarter panel that has a couple of areas where a buffer has gone down to the primer. That should be painted and we had already purchased the paint and clear to do the job which will go with the car. There is a small dent on the front grill but the rest of the body is basically perfect with no rust anywhere. The interior is excellent as well but the headliner over the sunroof needs to be replaced. The sunroof opens but gets slightly misaligned and needs to be helped to close fully.

The car has a clear NC title in my name and is stored indoors in a temp controlled environment.

Things we did or had done since we bought the car:

New clutch and flywheel just installed and broken in
All new motor mounts – when we did the clutch
New coil pack and heat insulator
New rubber gas tank hoses and fuel pump
New brakes, rotors, pads and stainless lines – about 5K miles ago
New tires – not high end rubber but decent.
Performance Magnaflow exhaust…sounds excellent (I will provide the stock muffler as well)
New plugs and wires 5k miles ago
All new vacuum hoses
Position sensor replaced
Trans fluid changed
Battery replaced and new upgraded terminals installed 5K miles ago
Fuse box replaced with new old stock part
All seats and carpets removed from the car and sound deadening installed
Window regulators and power window switches replaced\repaired
Nakamichi BT stereo installed with new speakers all around

Things that need to be done:

Struts need to be replaced in the near future…car is a little bouncy
Tie rod ends – we have them just not installed
Sun roof fixed (if you want) probably needs some guides or lubrication
Headliner on sunroof – not critical but I would
Seat guides need to be replaced to remove a little play in the seats. I have the new guides and will include them (easy job)
Paint quarter panel – 1 quart of paint and clear included
small interior trim parts loose or need replacing
I'm sure there will be other things that I have missed as this is an older car but I bet it is one of the cleanest and lowest mileage manual VR6's in the market.

I'm happy to provide more information as needed and am not looking to hide anything with this car. Can do other videos of the car running for you or closeup pictures. If you want to have the car checked out there are companies that you can pay to come and see the car or I can take it to a shop for a pre-purchase inspection (at your cost). I have bought and sold quite a few cars on ebay so am familiar with shipping if you need or you are welcome to come and see it in person if you like.

Thanks for looking. I added a short video to demonstrate what the VR6 sounds like with a Magnaflow!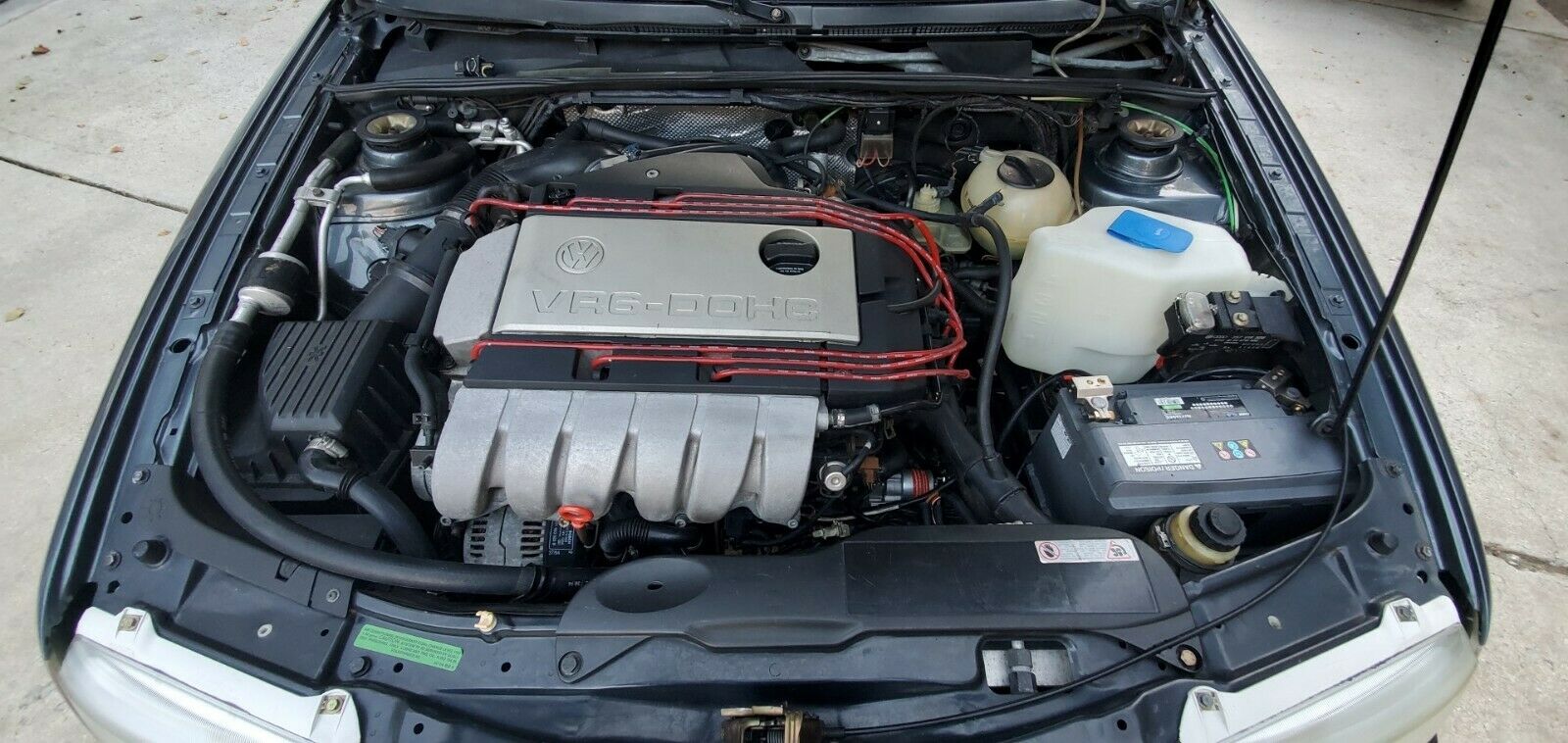 This Storm Gray Metallic example over blue interior is visually a bit more subdued than the reds, but what this car lacks in hue in makes up for in the manual transmission department. Unfortunately for the seller, the claim of the lowest mileage Passat on the market has thrice been taken over this example. Further, what you gain with the manual you lose in condition; this one isn't nearly as clean or original as the other two examples. With a modified exhaust among a few other minor tweaks, this one surely is a bit more boy-racerish and the seller's claim that they're personally going to repaint the quarter would have me pausing before clicking 'Buy It Now'. Still, for what it is it's not unreasonably priced in the grand scheme.
All of these examples look like prime ways to stand apart in the crowd, and all are great condition relative to normal market examples. All feature some level of recent maintenance. Personally, in this case I'd forgo the manual and pick if you wanted a wagon or sedan – those two are certainly prime examples of the breed, and either near-vintage example will be sure to shine at a local cars and coffee. Volkswagen's trick with the B4 was to up the styling, build quality and standard equipment over the B3 while simultaneously dropping the price. While that didn't necessarily pan out in sales, these remain solid performance Volkswagen on a budget.
-Carter