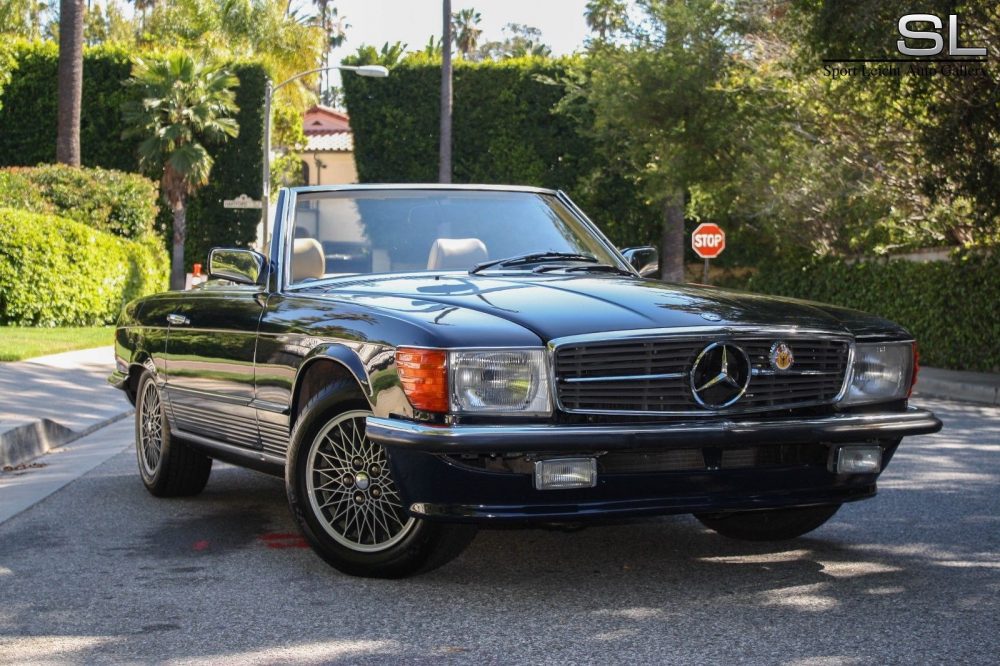 I promise everyone, this is the last Mercedes-Benz R107 for awhile. I am just as sick of writing about them as you are reading about them, but I want to go full circle and look at this 1984 280SL up for sale in California. This European-spec car is the low man on the totem R107 pole but that doesn't mean it is the worst of the bunch, at least not in my eyes. It uses the 2.8 liter M110 inline-6 that puts out a respectable (for the times) 182 horsepower and 176 lb⋅ft of torque.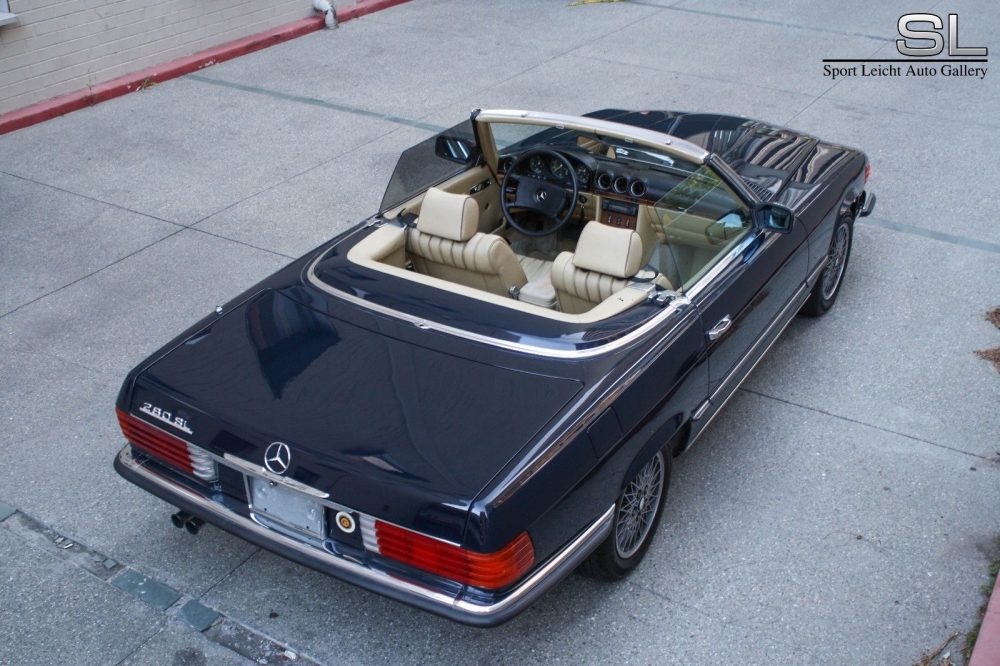 Year: 1984
Model: 280SL
Engine: 2.8 inline-6
Transmission: 4-speed automatic
Mileage: 125,885 mi
Price: $16,500 Buy It Now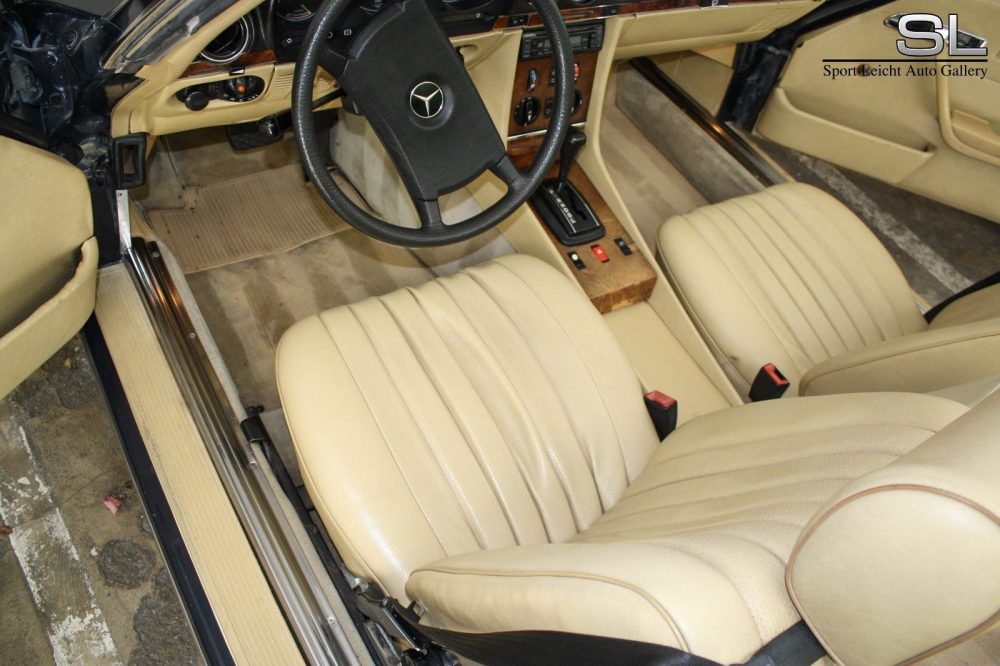 Sport Leicht Auto Gallery is pleased to offer this 1984 Mercedes Benz 280SL European model!

**Please review include youtube videos below

VIN ID # WDB1070421A007508 (European VIN ID Number) Non USA vehicle

Mileage: 125,900

Color: Midnight Blue (DB-904) // Interior: Cream Beige (MB-Tex)

Soft Top: Navy Blue (appears to be a replacement top with a few tears noted)

Euro Spec 107 with 2.8L 6 cylinder hi revving 110 motor. Original Euro bumpers and Bosch headlamps with level adjustable vacuum control switch properly working and side marker turn signals. Still retains European tail lights with orange corners. Original MB front windscreen glass. Repaint in correct factory color done approximately 10 years ago and still holds nice quality, good shine. Throttle is responsive, good shift quality, strong motor. Does not appear to leak any fluids.

Original dash pad shows a few cracks. Nice upholstery matched carpet. MB-TEX style seats show well with a few blemishes (a small tear on driver seat). Arm-rest shows some discoloration.

Equipped with AC and Heater (AC does not blow cold air)

15 inch newer Michelin Pilot tires showing excellent tread over "mesh style" low profile wheels

Vehicle underpics provided. There is no rust on the vehicle as it lived in southwestern USA arid climate.

Recent service just completed. Also included with the sale are additional parts and books from previous owner.

Known ownership history shows Utah and Nevada with minimal documentation. First owner reported in USA June 2000. Nice driver condition SL 107 with some imperfections expected with age.

Comes with build sheet card, owner's manual, 2 keys, spare, tool roll and jack.

Please let us know if you have any questions on the vehicle. Call JT at 424-276-0570 for additional information or message us. We can offer domestic and int'l shipping options through our vendors. All shipping fees to be paid by buyer. Most frequently sent route is Long Beach, CA to Rotterdam or Bremerhaven.

*Please note* Not available for California private sale due to emissions requirements. All out of state USA buyers should check with your state emissions requirements as 25 year and older vehicles may be exempt. International buyers are encouraged!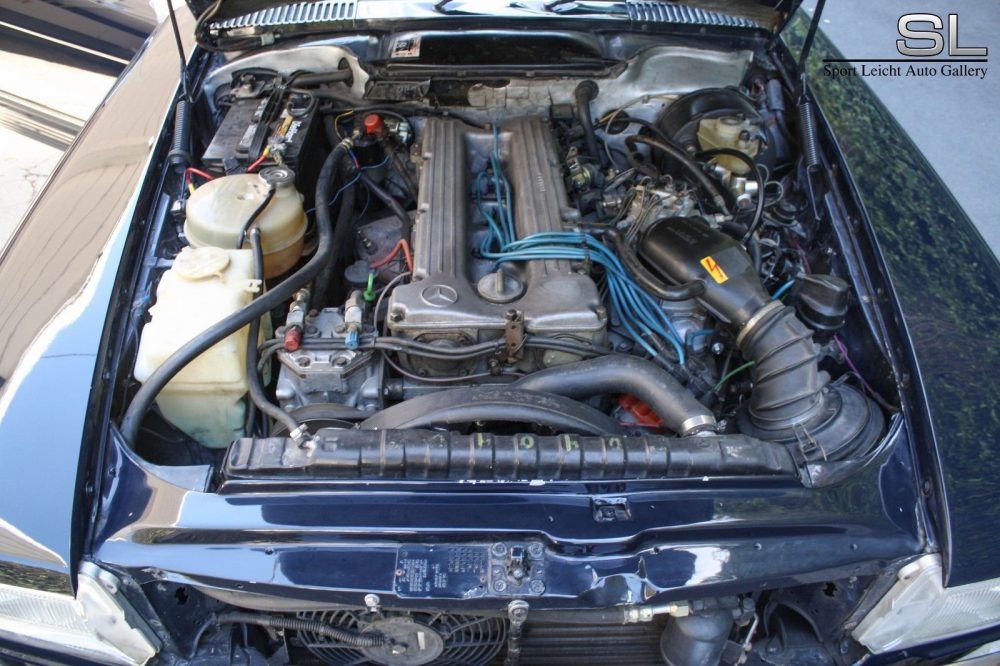 This the nice of example of a 280SL that don't usually come up for sale in North America. The Midnight Blue paint is fits this car well and the cream interior is a good contrast to the dark exterior. The interior is in OK shape with some chipping wood and a cracked dash, but not the end of the world. The manual climate control like the 380SL from last week is a plus, but go figure the system doesn't blow cold air. One downside to this car are those terrible wheels. They look like something from a Chrysler LeBaron or some other bad 1980s car. I think a fresh set of Bundts would do wonders on this car to make really look great and sell it fast.
I think the asking price of $16,500 is fair given what this car is. Like I said earlier, there aren't a a lot 280Sls around because if someone was going to take the time and money to import a R107, they were probably going all out with something like the 500SL. This is a good looking car that can be made really nice with a few fixes and would make a nice cruiser. Would I personally buy this car? Probably not. I think the entire R107 market is overpriced for what you get and the dollar amount you spend on them isn't really returned. Either way, cool car that might make sense for someone.
– Andrew