I promise that this post wasn't by design, but rather is completely a coincidence that it follows hot on the heels of the neat supercharged E34 540i 6-speed from yesterday. How do you possibly trump that potent hot rod? Well, starting with a M5 is probably a good bet.
If the E34 was a potent athlete, the E39 comes across as a consummate professional. It was immediately the new benchmark for sports sedans once again, and when BMW finally did make the call to bring a M5 to market they produced what many consider to be the definitive driver's car in super sedan form. Whatever you had from the period, the M5 was just plain better. With 394 horsepower kicking out of is snorting S62 V8 and mated solely to a 6-speed manual transmission, it was hard to conceive how that package could possibly be improved upon.
That didn't dissuade Steve Dinan, though. His S2 package fixed a car that wasn't broken according to Car and Driver. Power was up to a massive 470 yet the car was still naturally aspirated. Bigger, better intake was met with bigger, better exhaust, and the whole package was kept up with bigger, better suspension and slowed down with bigger, better brakes. It was…well, bigger and better. 0-60 was dispatched in a tick over four seconds and it would do a standing quarter-mile in 12.7 seconds. These numbers won't scare a Dodge Demon, granted, but are still really respectable today.
Of course, if "respectable" isn't quite enough for you and you really need to surprise that Demon driver…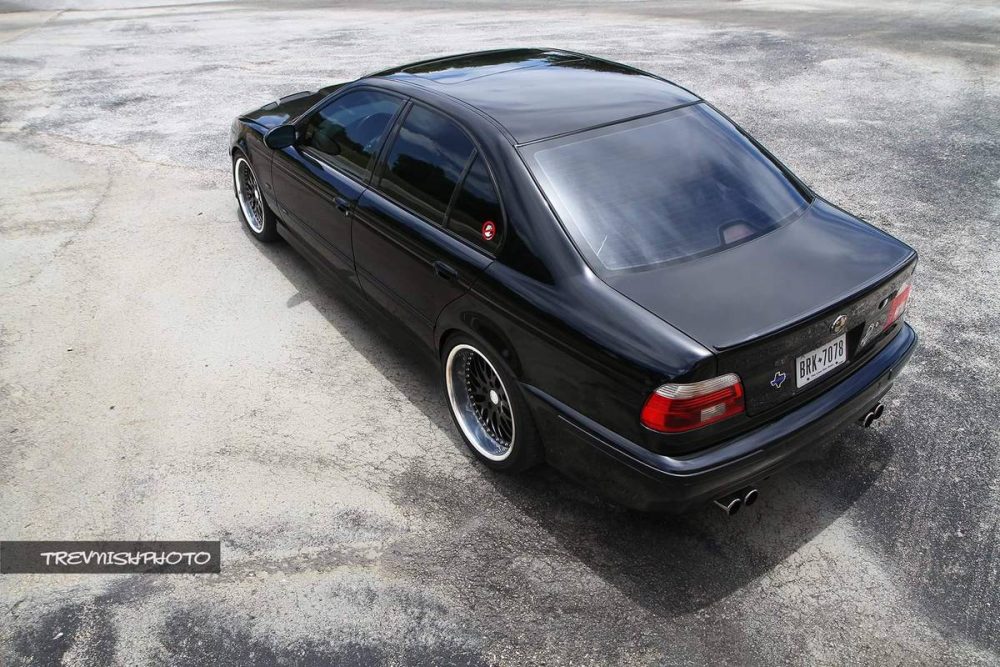 Year: 2002
Model: M5 Dinan S2
Engine: 4.9 liter supercharged V8
Transmission: 6-speed manual
Mileage: 51,500 mi
Price: $29,000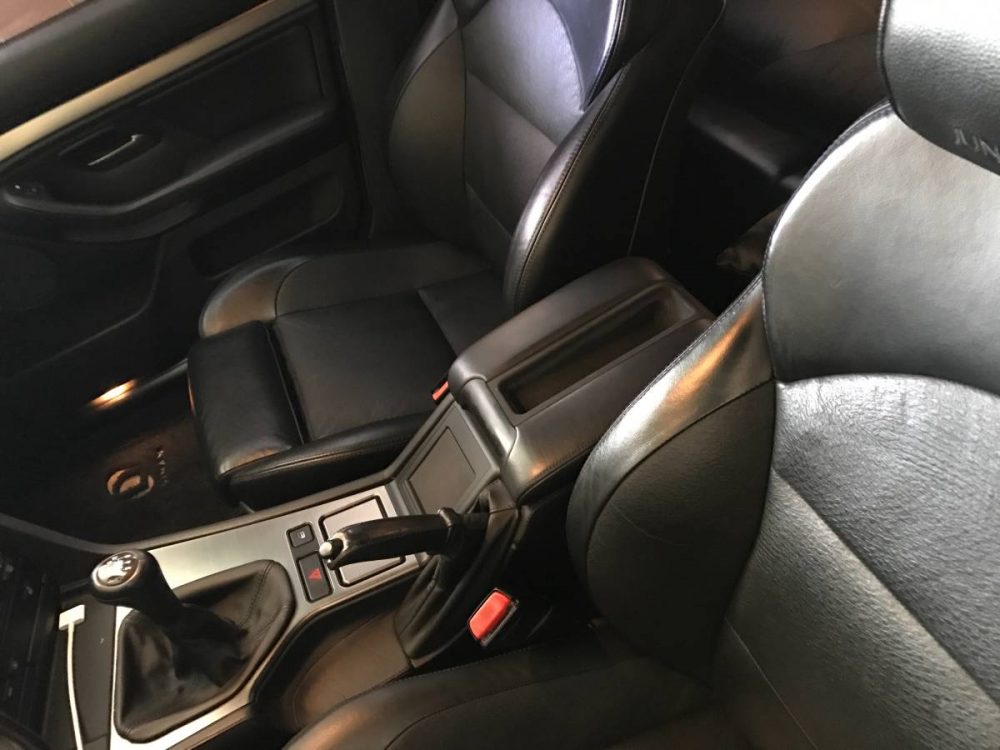 I've worked on many BMWs over the years. This is my most prized piece however its time to let her go for many reason.

2002 BMW M5 Dinan S2 that was further upgraded with RK supercharger setup

51,500 miles
Performance:
Rk Autowerks Stage 2 Supercharger (https://www.rkautowerks.com/index.php/product/e39rks2/)
Tubi Catback Exhaust
Super Sprint Headers
515WHP on conservative tune
Dyno video: https://m.youtube.com/watch?v=DnDyaPd0zN4

Suspension:
Front and Rear Dinan Sway Bars
Front and Rear Dinan Strut Bars
JRZ2 shocks and Dinan springs front
Koni yellow rear with Dinan springs; the rear JRZ2s blew and were swapped. Old pair also come with car

Trans:
Dinan rear differental 3:45
Dinan Short Shifter
Stock 6spd with stock clutch

Wheels and Brakes
Dinan 6 pot Brembos all around w/ stainless steel brake lines
IForged Emotion wheels 19′ with 15mm spacers
ADDED spare tire with spacer

A/V
1st Gen Dynavin nav unit
BSW Speakers
BSW Sub
Alpine and Rockford Fosgate amp

Exterior:
Carbon Works GTR style carbon fiber Hood
Carbon fiber splitters in front
Custom rear diffusor
Upgraded HID headlights

Interior:
Dinan floor mats
Pedals (unknown what)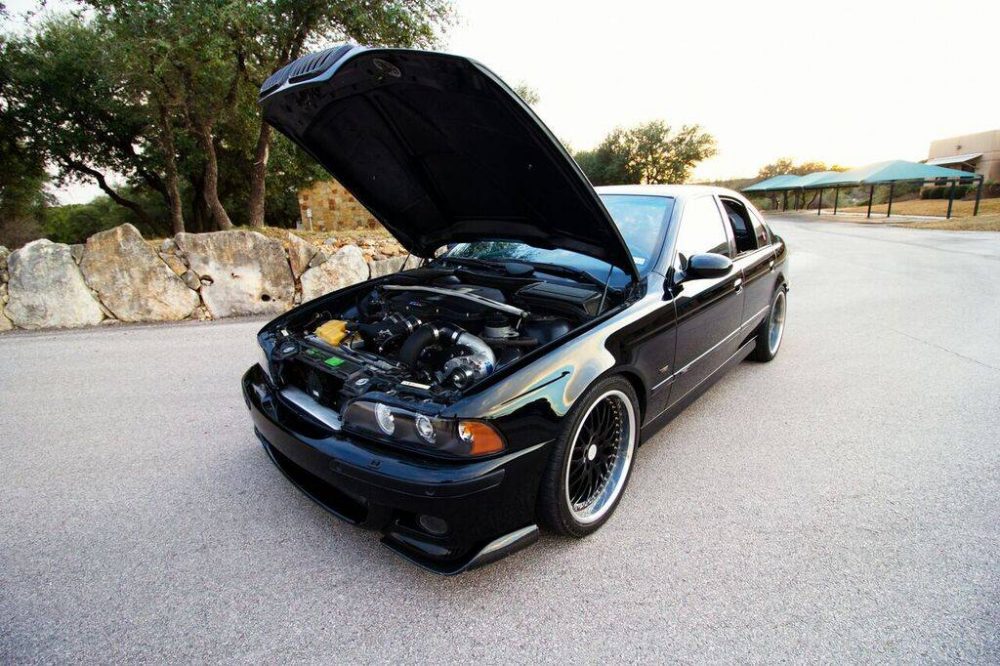 515 wheel horsepower equates to just over 600 crank horsepower, which is admittedly far less than the 808 produced by the Demon. But the M5 is some 400 lbs lighter than the Dodge, and catch the owner off guard and I'd like to think you stand a chance. As a bonus, though, when the road stops going straight (which often they do), the M5 is still a M5.
Condition here is excellent with a host of serious upgrades. The performance is met with a slew of carbon bits which grab your attention – you'll be noticed in this menacing M. But this car has the chops to back up the look; other RK supercharged owners have recorded 0-60 times of 3.6 seconds and 0-100 times some 3 seconds faster than stock. That's close to superbike fast. On its own, the RK supercharger kit runs around half the asking price of this car, uninstalled. That's a pittance compared to the original $36,000 in Dinan modifications, mind you. And at the end of the day, underneath it all is a lovely M5 universally lauded as one of the best cars ever made.
If you're into wild performance and outrageous looks, this is one serious package.
-Carter