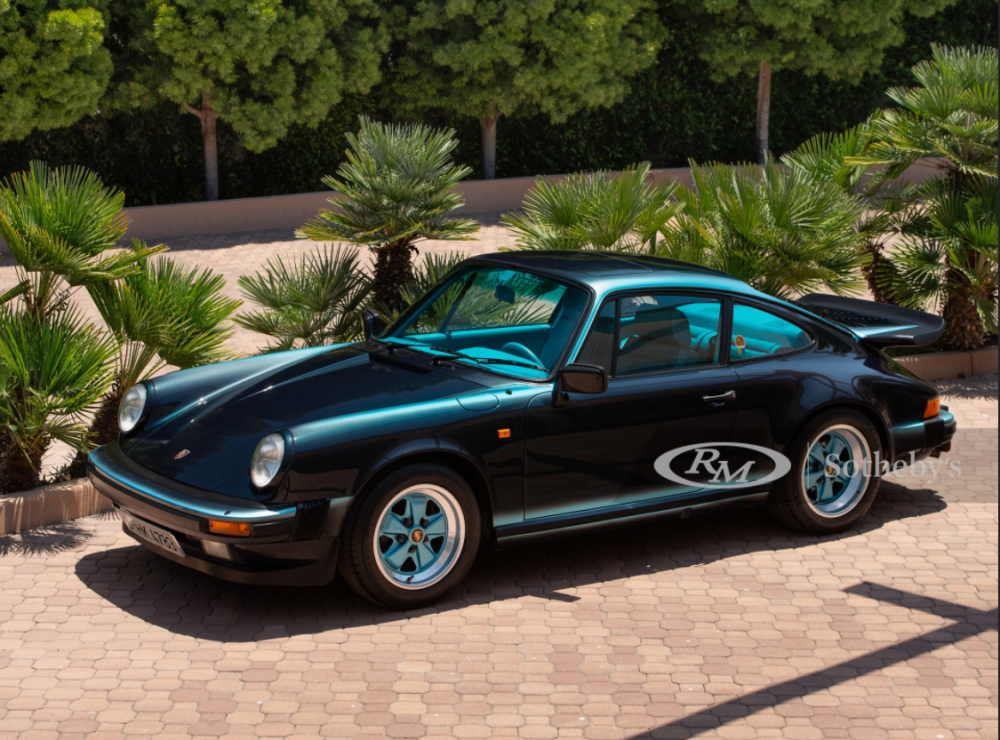 If there is one thing I love, it is one-off examples of cars with a bunch of things I never knew existed or didn't even know were possible to order.
This 1984 Porsche 911 Carrera was built for Tilman Brodbeck, assistant to then-Porsche CEO Peter Schutz. The story goes that the car had so many unique features and touches that it was physically pulled off the assembly line and painted at a special off-site facility before returning to Porsche, where it was fitted with one of the craziest interiors I've come across. Just wait until you see the details on this thing.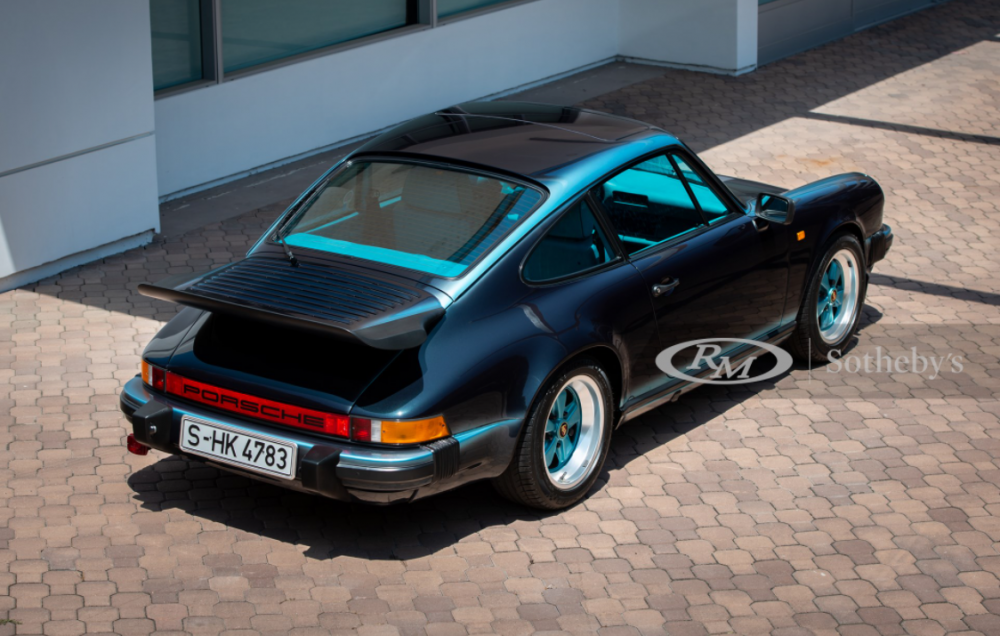 Year: 1984
Model: 911 Carrera
VIN: WP0ZZZ91ZES102074
Engine: 3.2 liter flat-6
Transmission: 5-speed manual
Mileage: N/A
Location: Monterey, California
Price: Reserve Auction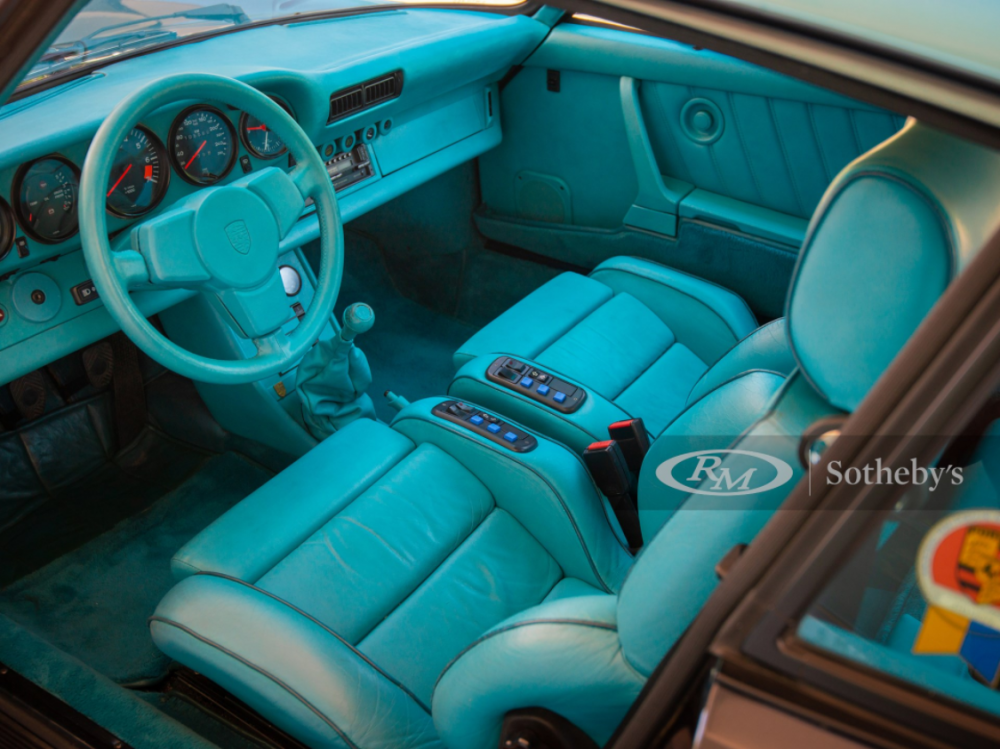 An incredible one-off 911 Carrera 3.2; predecessor to the Porsche Exclusive label
Special-ordered and delivered new to Tilman Brodbeck, assistant to Porsche CEO Peter Schutz
Stunning one-off dark blue metallic and turquoise exterior paint scheme
Numerous bespoke features throughout; full matching leather interior
A very special car in every respect; prominently featured in 911 Millennium by René Staud and 000 magazine issue 14 among many other publications
Occasionally, a Porsche 911 emerges that is so striking, it is impossible to ignore. This is one such car: a 1984 911 Carrera 3.2 coupe that once belonged to a Porsche employee with an "in."

That employee was Tilman Brodbeck, assistant to then-Porsche CEO Peter Schutz. Brodbeck began his work at Porsche in the early 1970s, with his work including the famous "ducktail" for the 1973 Carrera RS. Taking advantage of a lease program reserved for Porsche employees, he ordered a car so distinctive that, in a February 2019 article published online in the Porsche Newsroom, the automaker deemed it "a harbinger of what Porsche would offer to a wider clientèle under the Porsche Exclusive label" (which formally launched in 1986).

Taking inspiration from a hand-me-down two-tone sweater from his childhood, Brodbeck had the car painted in a striking dark blue metallic and turquoise paint scheme. Due to the livery's complexity, it had to be taken off the assembly line and painted at a specialized shop in Bietigheim, down the road from Stuttgart. Inside, the car featured a full turquoise interior with leather on every conceivable surface, including the parcel shelf, sunvisors, and impressively, the rotary switches, demanding the best of Porsche's craftsmen.

A set of matching Recaro IdealSeat C seats, the pinnacle of performance-oriented comfort, featuring state-of-the-art inflatable bolsters, was further specified. Topping off the options checklist, the car was equipped with a cutting-edge Blaupunkt Koln SQR 22 audio system and a custom center console which housed auxiliary gauges and cassette storage. Brodbeck further ordered his car with a larger set of 16×7 and 16×8 Fuchs wheels, unavailable for stock 911 Carreras.

It is reported that Brodbeck put over just 40,000 kilometers on the car during his ownership. Sadly, because of the lease terms, he parted with the car in summer of 1985. It was subsequently bought by the premier Swedish Porsche importer of the time, and is said to have remained in Scandinavia for the next 31 years with just two owners. In 2017 the car was rediscovered by respected Porsche insider and collector, Ronny Pannhorst. Pannhorst had the car sent to the Porsche Classic Center in Freiberg for a thorough inspection and service; aside from the replacement of fluids, filters, and other aged or consumable components, it was found to be in a remarkable original state of preservation. In October of 2018, the car entered the custodianship of its current owner, a dedicated enthusiast, a connoisseur of the highest grade of exclusive Porsches.

In recent years, the significance of this special car has been widely recognized. The subject of an article in issue 14 of 000 magazine, it was also featured prominently in René Staud's landmark tome, 911 Millennium. Truly a unique and appealing piece of Porsche history, this one-of-a-kind 911 Carrera 3.2 is accompanied by a dedicated book containing scans of historical documents and service records, a reproduction tool set, jack, spare key, owner's manuals, and first aid kit.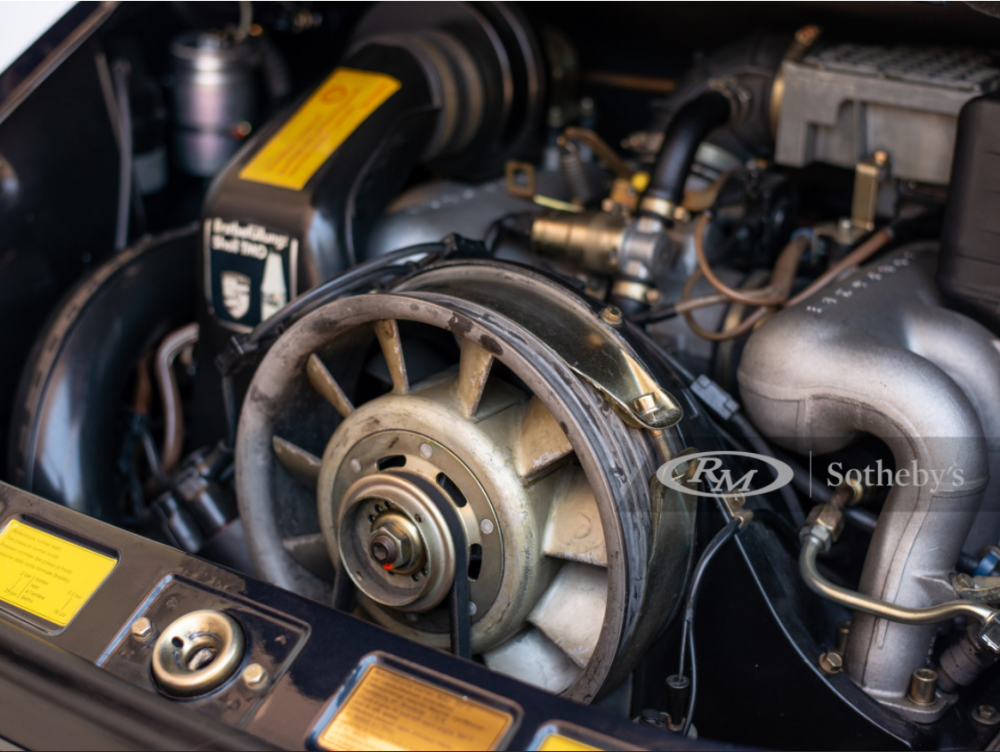 Goodness. What a build. Outside of the insanely turquoise interior, I think the touches and perfect blending they did with the paint really sets it off. It was even tough to photograph given the lighting, but wow. Even the color-matched Fuchs aren't too uncommon, but still really set this one off. Inside, Recaro IdealSeat C seats replace the factory units and make a giant difference, and they even leather-wrapped the dash knobs as well. Totally out of this world!
All of this, of course, naturally explains the expected price. This one is expected to hit between $235,000 and $335,000, which seems insane for a G-Body 3.2, but you are buying a piece of Porsche history here in addition to the car. At least that is what bidders will tell themselves after pledging to pay that much, then having to another 12% on top of the winning bid as the buyer's fee. Enjoy those free drinks and appetizers next month in Monterey, but you are paying for them. Personally, I can't wait to see where this one ends.
– Andrew