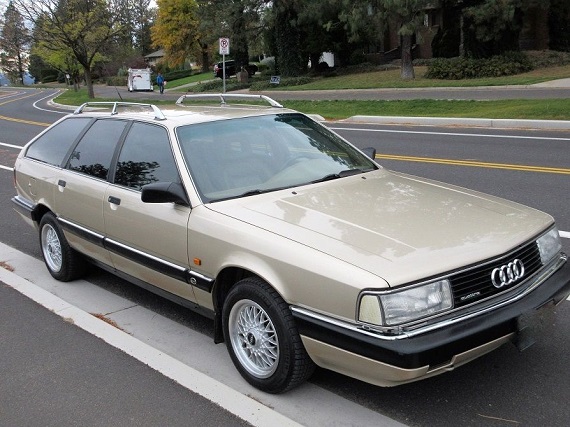 Although the Type 44 chassis would live on in the D11 V8 quattro until 1994 (albeit heavily revised), for many the pinnacle of the chassis was the 1991 model year. It was then that finally the U.S. market received the power that Europeans had enjoyed in the chassis for so long. Audi used its Group B, Sport Quattro and IMSA experience to create a four valve head for their road cars. It was utilized in many chassis in slightly different configurations; the U.S. market 200 and early S models received the 3B, while the Quattro had a slightly upgraded RR motor. With mild revisions, this motor was again offered in AAN configuration for the 1992 model year, while Europeans had the ABY. The final development was the RS2's ADU, but all of these motors shared the same inline-5, 20V turbo construction – and all are very highly sought. For U.S. customers, though, since the S2 and RS2 models were never offered along with the late 20V Quattros, it doesn't get much better if you like the older cars than the 1991 200, and then again doesn't get much better in 200s than a clean Avant: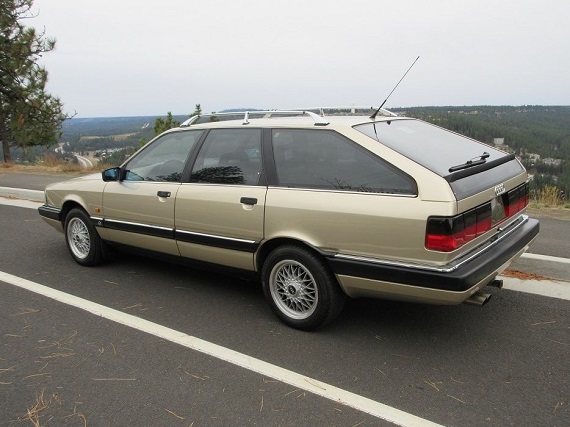 Year: 1991
Model: 200 20v quattro Avant
Engine: 2.2 liter turbocharged inline-5
Transmission: 5-speed manual
Mileage: 220,000 mi
Price: $6,800 Buy It Now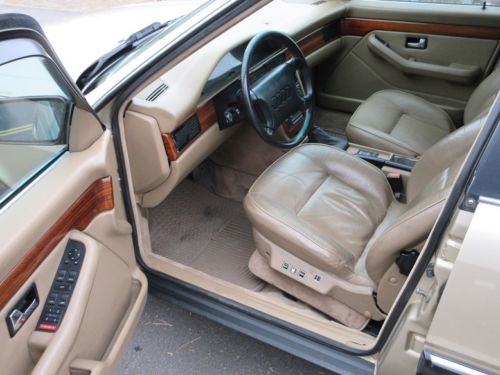 Reluctantly up for sale is a very clean, well maintained, fully documented 1991 Audi 200 20v Turbo Quattro Avant. Factory keys/owners manuals. 5 cylinder, 5 speed. Bamboo metallic exterior over travertine leather interior. 9/10 inside and out. Recent daily driver, would not hesitate to drive anywhere.

Car is quite well sorted out. Paint shines and is original, has minimal wear. Fitted with European headlights properly installed. Suspensionwise.. Kyb front struts, Bilstein rear, stock springs, all new front bearings, upper and lower, mounts, bushings, control arms, rotors, g60 converted. Minhea chip, cat back exhaust. Sounds very soothing, just right. Easily pushing 280 hp. Transmission/clutch/linkage tight and smooth. Recent ngk plugs, cap, rotor, crank/rpm sensors. Timing belt job at 200k. 220k on it now. Tires are good Michelin x ice studless that work and ride nice. 25-30 mpg to be expected.

The interior is very comfortable. Every option seems to work as it should. Every switch even lights up. All windows, door locks, sunroof, alarm, climate control, heat, a/c converted to 134 last year, mirrors, cruise, all heated seats. Matching rear cargo cover, carpet is good, weather tech matts do well. Black Audi matts included. Upraded 2 watt cluster bulbs, decent aftermarket stereo.

Overall a very fine, reliable, enjoyable ride that will put your head back when needed, pull till redline, and cruise the city or highway with ease. Car has been a labor of love, and enthusiast owned for many years.

 

On Oct-11-16 at 20:20:38 PDT, seller added the following information:

Tow package with 1″ stinger hole. Properly installed 4 prong plug. Tows small toys quite effortlessly. Factory 15″ BBS wheels also are in great shape, no pealing.. Tinted front/rear turn signals blink orange when used. Clear stone guard on headlights. Stock Audi front mudflaps. Quite shealthish. Capable, versatile, fun…
Seeing colors outside of the typical Lago, Pearlescent or Black is fairly rare. Occasionally silver examples pop up, but seeing Bamboo Metallic is quite odd. It's a lovely color offset nicely by the forged BBS RG wheels. Some bits outside, like the smoked rear lenses, look a bit out of place, but overall condition is very nice. Inside the interior is Travertine comfort; a bit of a bummer, since I think this is a case where black sport seats would really pop and match the 200's black steering wheel well. Only V8 models had color matched steering wheels; trust me, you're glad this one doesn't have one, as the Travertine wheels didn't hold up well to wear. There are some light upgrades to the running gear, and they're mostly very desirable units. Swapping to G60s makes daily driving a bit easier to contemplate even if you give up ultimate braking ability, and the turned up chipset should be quite a bit more fun. I spent some time in a Minhea chipset S4, and they are quite strong indeed. The price is very much in line, if not a great deal, for what is being offered here. Clean 200s, regardless of mileage, will always find a fan base. Add in the Avant and 20V in a more rare to find color? I bet there are a bunch of people shifting money around right now to snap this one up.
Thanks to our reader John who also spotted this one and sent it in!
-Carter