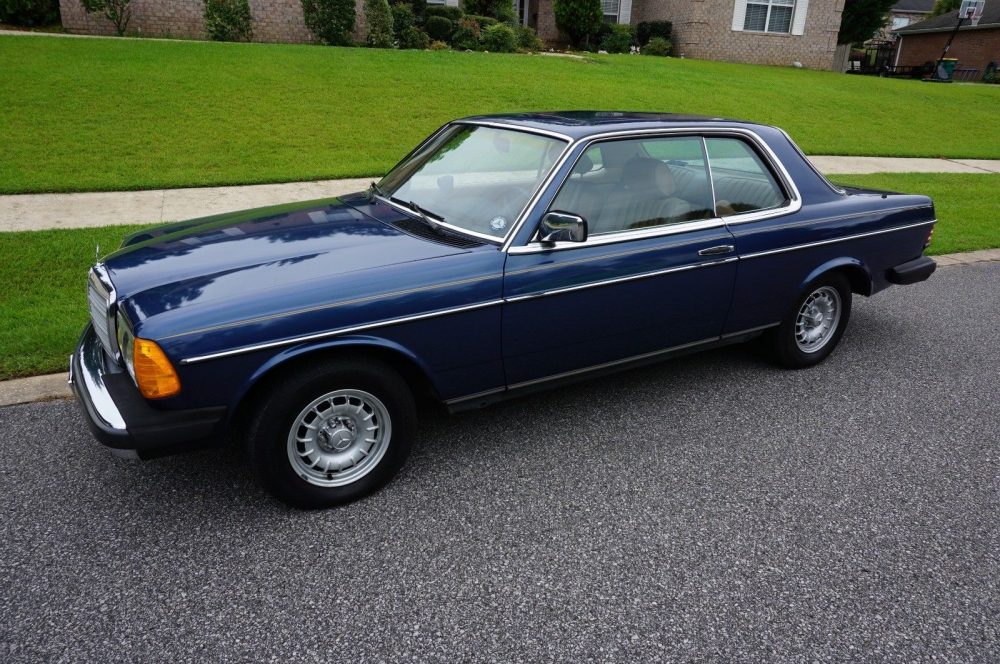 One of the more interesting things about the legendary Mercedes-Benz W123 chassis is the difference between the production numbers for the sedan, estate and coupe bodies. As you might have guessed, the sedan was the most plentiful at just over 75,000 units made from 1981-1985 as the 300D with the OM617 turbo diesel engine. Next up was the 300TD station wagon with a little over 28,000 units. Bringing up the rear is the 300CD with just 7,502 cars. The easy math here says that from every 10 300Ds, there is only one 300CD. That explains why you can go on your local Craigslist and find a handful of 300Ds, but the coupes? No where to be found. As a result, the demand and values for coupes have always been much higher than the sedan not only because of the rarity, but because they are cool cars and a pillar-less coupe is always classic. Today, I managed to find a really nice 1985 300CD up for sale in Florida and luckily, this one is a wonderful example.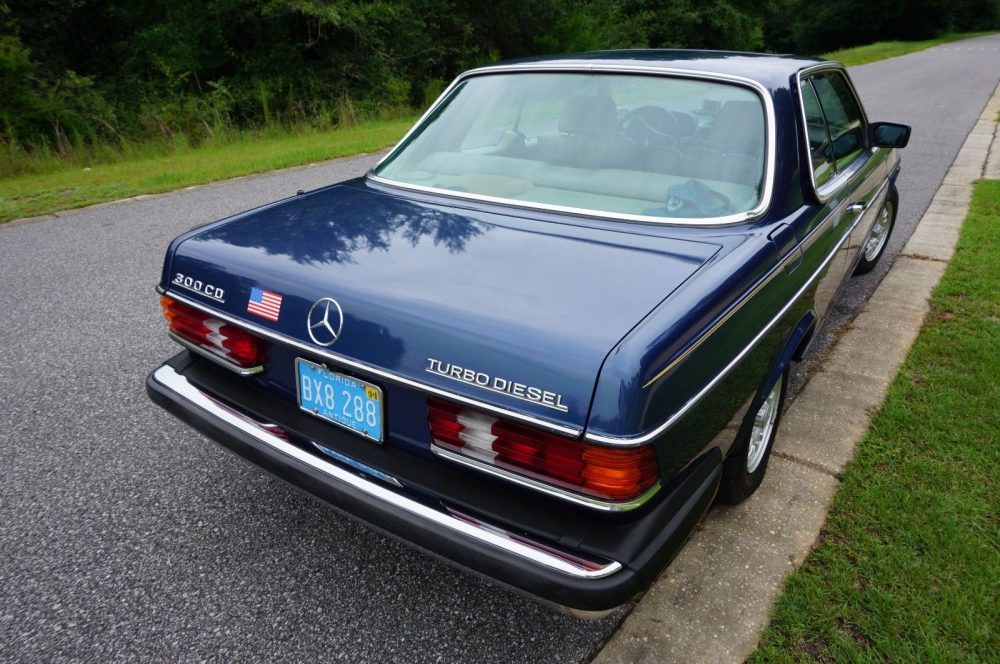 Year: 1985
Model: 300CD
Engine: 3.0 liter inline-5
Transmission: 4-speed automatic
Mileage: 133,294 mi
Price: No Reserve Auction
You are bidding on an excellent 1985 Mercedes-Benz 300CD, last year of W123 body series, five cylinder diesel turbo charged engine with a four speed automatic transmission. No rust. Matching Michelin Defender 195/70 R14 tires with 70% or more tread left. Nautical Blue, Mercedes paint code 929 with Palomino MB Tex seats, and matching carpet. Original AM/FM radio with front and rear speakers. Vehicle drives well. 28 mpg on the road. Vehicle, also known as Blue Belle, spent most of it's life in Southern California. Purchase includes:

Vintage Garmin GPS unit,

Original like new Mercedes-Benz tool kit and cloth pouch,

Three piece Mercedes Diesel Valve Adjustment Tool Kit,

Brass Bodied Vacuum Hand Pump Tester and Instructions by www.mercedessource.com ,

Dash Instrument Cluster Removal Tools,

1985 Mercedes-Benz Turbo Diesel, 10" x 12" Sales Booklet (28 pages),

Original Mercedes-Benz Owner's Manual 300D and 300CD Turbo Diesel (96 pages),

Original Mercedes-Benz Maintenance Booklet-Incomplete Record (28 pages), and

Original Mercedes-Benz Passenger Cars Domestic 1985 Owner's Service and Warranty Policy (43 pages).

Recent maintenance other than routine oil and filter changes:

1. LED dash lights installed.

2. Valves adjusted and new valve cover gasket installed.

3. Instrument Custer (speedometer, odometer, tachometer, oil pressure, temp, etc.) replaced with another stock Mercedes W123 cluster. See #4 under Issues below.

4. New Vacuum pump installed.

5. New brake pads on all four wheels, new brake calipers on front wheels, and brake fluid flushed and replaced.

6. New Battery. Five year Warranty effective 3/26/18.

Issues:

1. Cruise Control works intermittingly.

2. Left rear window does not go all the way down. Windows are powered by electric.

3. Automatic Vacuum lock system unlocks both doors with key in Driver's door. Does not always lock passenger door. Door can be locked by key in passenger door. Vacuum lock on trunk lock does not work. Lock by key.

4. Odometer has been replaced. Add 8,812 miles to current reading of 124482 to get accurate miles travelled. Miles shown in this description (133294) are accurate as of this writing.

Other:

I have done my best to represent Blue Belle accurately. Please contact me with any questions. For local buyers, please contact me to schedule a viewing.

Deposit: The winning bidder must pay a $500.00 non-refundable deposit via Pay Pal within 24 hours end of auction.

Payment: The balance must be paid in cash or certified bank cashiers check, or bank wire transfer within 7 days at or prior to delivery.

Shipping: Buyer assumes full responsibility for shipping.

The car is sold as and where is. No warranty expressed or implied.

I reserve the right to end the auction early if Blue Belle is sold prior to the end of auction.

I welcome your questions. Please bid with confidence.
This is as fine as an example of a W123 coupe I've come across in a long time. It has been enjoyed at 133,000 miles, but my goodness is it clean. Exterior, interior and engine, all nearly spotless. Nautical Blue looks great on this car along with the Palomino interior, but the real gem is the condition of the wood. When it has that deep, rich shine, it just really sets off the interior. Under the hood, this being a 1985 it has the slightly different turbo setup and a 2.88 rear differential that lets you sneak a couple more miles per gallon of off this sleek coupe. All in all, there is nothing about this one that tells it is nothing but a gem.
The seller originally had a Buy It Now option of $8,500 on the 300CD and I thought that was more than fair. These coupes are twice, sometimes three times, the price of a comparable 300D, so $8,500 would have been a good buy. Someone did put an opening bid of $6,600 on it so it wiped out that Buy It Now option, so now it is open season as to where this one ends. My guess? I wouldn't be shocked to see to hit $10,000. I think we are at a point where you won't lose money on this one as long as you keep it the way that is it. There is nothing about this car that says it can't stay that way.
– Andrew