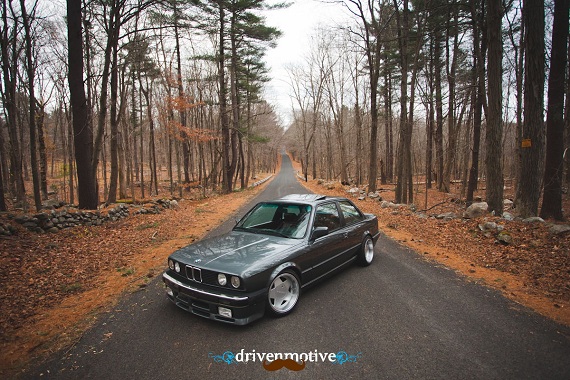 Motor swaps are always a lot of fun, especially when someone else has done the heavy lifting. In the case of the E30 platform, it seems there is no end to the different motors that get swapped in. We've seen S14 retrofits into 325s, plenty of S50, S52 and even a few S54s pop up. But let's say you really like torque. And aluminum. What's an E30 enthusiast to do? Well, of course you could swap a M60 4.0 V8 out of the E34 540i into a 325es. In its original form, the 325es was a bit of a slowpoke good handler looking for more power. The E34 540i was a great motor toting around a fair amount of weight. Couple the two together, and Viola! You make the folks at the local tire depot quite happy. Take a look at this tuned 325: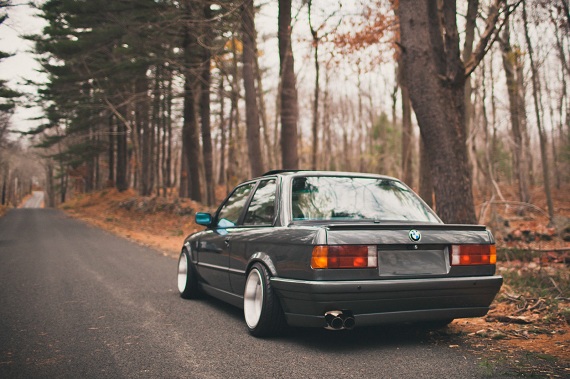 Year: 1986
Model: 325es
Engine: 4.0 liter V8
Transmission: 5-speed manual
Mileage: 215,400 mi
Price: No Reserve Auction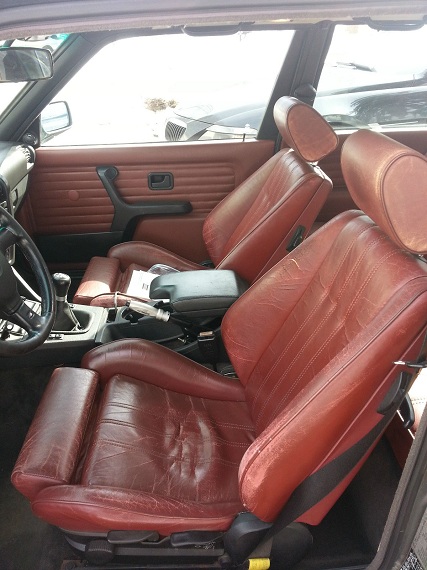 Body
Delphin Gray resparyed about six years ago. Minor dings and chips here and there from use, nothing horrible. IS front spoiler with tucked diving board. Taurus side skirts and BMP rear bumper. I have a mtech1 rear trunk spoiler that is at the body shop being sprayed but is included with sale. Smiley headlights with bi-xenon retrofit, right side glass is cracked. PIAA fog lights. Euro rear plate filler.

Wheels and Suspension
16×9 Borbet type A's is great condition. BC coilovers, adjustable shock height, spring height, dampening and front camber. They ride great even with the car lowered. Front control arms, bushings and inner and outer tie rods were replaced within the last few years. Rear subframe bushings were replaced with AKG polyurethane busings. Rear trailing arm bushings were replaced at the same time also with AKG polyurethane.

Brakes
Calipers were replaced front and rear with rebuilts. Pads and rotors are Pagid all around. I have Hawk race pads for the front which stop great but make a lot of dust so I took them out, but will come with the car. Manual Wilwood manual pedal assembly with resevoirs hidden in the passenger cowel. I have the remote mount booster if you desire to add power brakes, included in the sale.

Drivetrain
5 speed transmission from an e34 v8. UUC light weight flywheel and e36 stage 2 clutch kit. The rear diff is a 2.93lsd. Rear wheel bearings are new. Right rear axle is new.

Engine
M60 taken from a donor 95 540i. Just shy of 100k miles when pulled. I resealed the valve covers, replaced the spark plugs, resealed the intake, replaced breather cover and rear main seal. Motor mounts and subframe spacers were made by a forum member. I relocated the oil filter to the lower left side of the car. I used a spin on stand and use a large Mann spin on filter. I removed the oil pan and torqued the oil pump bolts. DME is chipped and located in the glove box.

Interior
Cardinal seats and door cards. Carpet is black. I just replaced the driver's kick panel under the steering with with a brand new part. The center console rear section is from an e46 m3. It has a Panasonic deck with sirius radio (will need subscription.) Speakers are polk 6.5″ components with a JL amp. Seats are just starting to crack but are not in horrible shape.

Underside
Floors had two small holes near the front jack points which I had repaired by a BMW body shop. The rear tray sections left and right have a little rust. Other then those little spots it is in great shape rust wise.

With all that said this has been my ongoing project for many years. This car gets a lot of great attention whenever I take it out. I have driven the car maybe 2-3k miles since I did the swap. I am just ready to move onto another project. The car runs great and has been very reliable for me. It was previously a m20 that I turboed, I did the swap for reliability. I did not want to deal with stand alone anymore and was ready to tackle something new. You are more then welcome to contactt me with any questions. Please contact me before bidding. I am fine with shipping the car or helping with delivery within a resonable distance.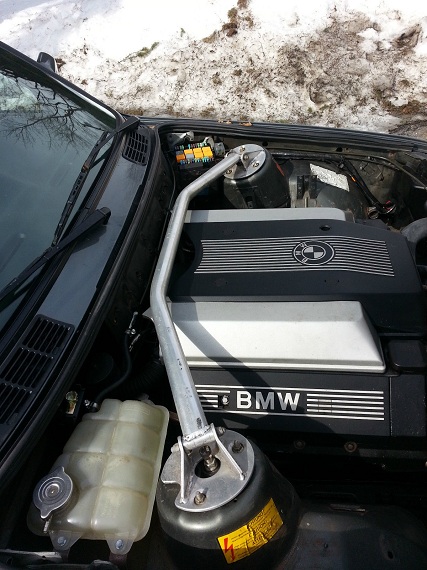 It seems like a pretty honestly presented car, right down to disclosure of a few small rust spots. The modifications are a little too stanced for my taste; I'd back the wheels down a notch with some BBS or Alpina wheels and raise the ride height just a bit, but otherwise the exterior looks nice. I'm never much of a fan of the bi-Xenon retrofits so I'd probably just swap to the halogen lights that the later models ran. The car isn't perfect, but seems like a nice driver/weekend/occasional show type car, or even surprise a few people at a track event. Pricing is pretty high but accounts for the high amount of engineering and time that's gone into the car, and I don't think it's outrageous if the car checks out well. Just make sure you save enough money for the tire budget!
-Carter