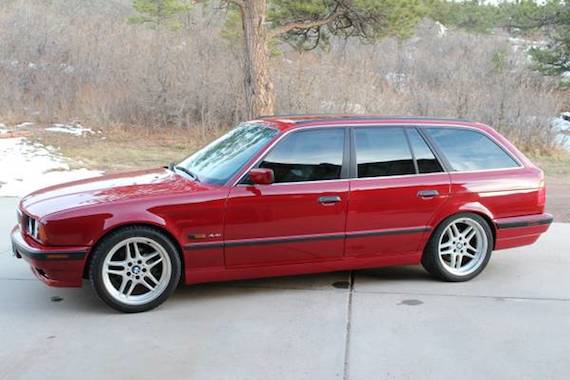 We've featured a few cars with engine swaps over the last few weeks with BMWs seeming to be particularly suited to this modification, given a healthy variety of motors enthusiasts have to choose from. Carter highlighted a 1986 325es with an M60 swap last month. An E30 with eight cylinders? Surely a recipe for a good time. But if you need to haul a bit more cargo or passengers, the E34 5 series Touring is a supremely wise choice. This final year E34 Touring has received a heart transplant by way of a 4.4 liter V8 and 6-speed manual gearbox. I wouldn't necessarily call it a sleeper in Imola Red, but you are sure to catch a few unsuspecting people off guard with this Touring.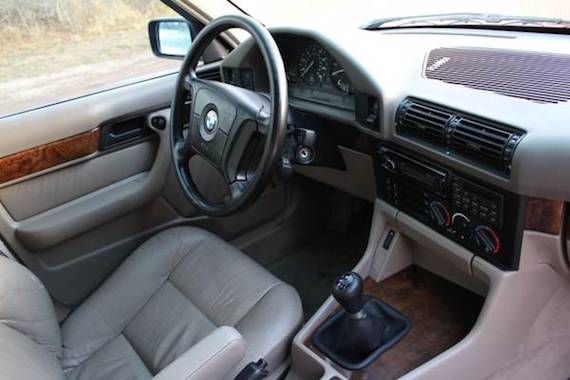 Year: 1995
Model: 540i Touring
Engine: 4.4 liter V8
Transmission: 6-speed manual
Mileage: 160,000 mi on chassis, 40,000 mi on engine
Price: $15,000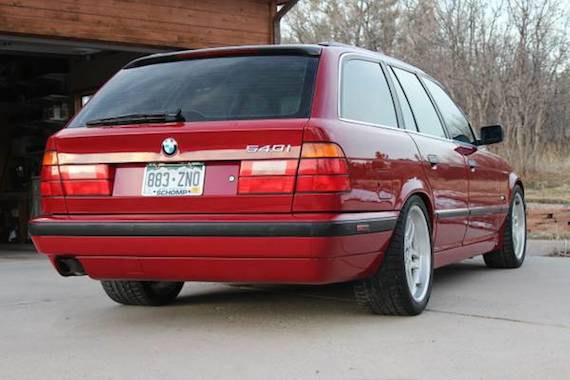 This car was originally a 530iT with a 3.0L V8 and automatic transmission. It came loaded from the factory as the top of the line (and most expensive) BMW Touring at $50,490 in it's last year of production (11/95 prod. date). Factory equipment includes full Parchment leather interior with power/heated front seats, dual front airbags, split/fold down rear seats with rear pet net that separates the cargo area from the passenger compartment, cargo mat and retractable cargo cover, dual zone climate control, 6 disc changer, 10 speaker stereo (now 12) with 8 channel amplifier, double pano sunroof, power/heated mirrors, ellipsoid head lights, fog lights, heated door locks and washer nozzles, radio antenna integrated into the rear side glass, etc… everything works.

All work to create this vehicle has been performed by a BMW Master Technician at the largest BMW dealership in the region using BMW documentation, OEM parts, special tools, and equipment to factory standards to create a vehicle exactly as it would have been built by BMW if they had ever offered this car. No special fabrication was required to perform this conversion so all parts used are available off the shelf directly from any BMW dealership should any service be required in the future. Fault memory can be read out normally. All parts used are 100% compatible. No corners have been cut and attention has been paid to BMW heritage in the planning of this project in order to create something very special but also in keeping with BMW tradition.

Professionally refinished in Imola Red (e39 M5, e46 M3/ZHP, e53 4.6/4.8iS, Z3 M coupe/roadster, e85/86 M coupe/roadster), with staggered 18″ M parallel wheels as fitted to the e34 M5 in later production. Winter tires are available in 245/40R18-F, 275/35R18-R Blizzak LM-60 and Summer tires available are Continental ExtremeContact DWS non-runflats in 225/40R18, 255/R35R18 and Potenza REO50A rft in the same size. The engine chosen was originally installed in an e38 740i and mated to an automatic transmission making it less likely to have been abused in it's previous life. It was disassembled for a complete inspection and reseal before being installed in it's new home, about 3k mi ago. It had covered a very easy 40k mi before the donor vehicle was totalled in a rear end collision. The engine was very clean inside with original cross-hatching visible on all 8 cylinder walls and absolutely no oil sludge present in any part of the block or heads. It's only down 29 hp on an e34 M5 but is up on torque by 68 lb-ft. In addition it has a 6 spd instead of a 5. The suspension is the only system where aftermarket components were used. Dampers are Bilstein Sport and springs are H&R. Every other part of the suspension is tight or new. Anything that was not perfect was replaced. There is still room for improvement and personalization with more great factory and aftermarket upgrades available. Before the extensive reconditioning this vehicle underwent the chassis had approx. 160K mi on it. It now has about 2k more but I am driving it some as I just can't resist. All reciepts are included showing over $5,000 in parts and a reciept for the paint totalling $9,700. Total labor involved is well over 60 hrs @ $130/hr. ($7800+) not including paint and body labor. This totals almost $24,000.

All parts used in the conversion of this vehicle from an automatic to a 6spd manual are brand new with the exception of the transmission itself which was a very low mileage unit from a 540i (same transmission found in an e39 M5). From the pedal pads to the pilot bearing all clutch components, hydraulic and mechanical, are new. The shifter is a B&M short throw and like the clutch system everything is new. The shift knob is exactly the same as used in the 1 series M coupe, current production M5/M6, and E46 3 series ZHP.

All engine and trans mounts, exhaust hangers, gaskets, spark plugs, filters, fluids, and hardware are brand new. The windshield is new Pilkington glass as used on new BMWs. All other glass is original and professionally tinted by the dealer. It isn't super dark but gives the car a more modern look, some practicality, and is very high quality. Even the winshield wipers are new and the washer pump itself has been replaced. The final touch is all new emblems and badges. I also added the 4.4i badges to the front fenders were they are found on the e53 X5 that carries the same engine. The mass air flow sensor and all 4 oxygen sensors are also brand new.

The only aftermarket components on this vehicle are the aforementioned dampers and springs, a very high quality custom fabricated cat back exhaust using a magnaflow muffler (stock cats are still in place and all factory mounting points are retained), Sony audio head unit, and 2-12″ MB Quart (German) carbon fiber subwoofers w/ a MATTS Pro Audio amp making the audio system 12 speakers with all channels indepenently amplified by either the factory amp or the added sub amp. These subs and the amp are extremely high quality and were extremely expensive.

All original tools, jack, spare, etc… are still in place, I have all the original owner's manuals, service book, the leather case that all the manuals came in, all keys that came with the vehicle including walet and valet keys. The flashlight in the master key still works. Complete warranty repair history is available.

This is a very unique, reliable, versatile, and powerful vehicle. It is a great alternative to anything new if you love wagons, BMW performance and classic styling. The fuel economy is quite good especially considering the power that this car offers. I average 20-25+ miles per gallon. Obviously it's easy (and fun) to bring that down a lot but even with some pretty regular "spirited driving" I get around 25mpg. While this car does not offer prius fuel efficiency, it's far a better choice from an environmental standpoint. If one considers the massive resources used to build any new car I think it's easy to justify restoring and driving a car like this rather than letting it end up in a junkyard like the disposable vehicles built today inevitably will. I am selling this car because, as fun and unique as it is I really want to do something with a V12 : )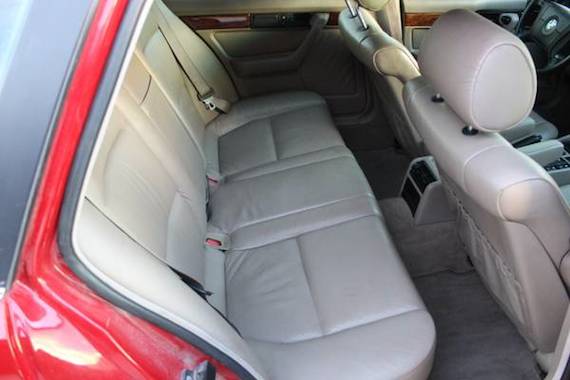 I don't know what your definition of handsome may be, but the E34 Touring comes close in my book. While I love the E39, there is something just a little bit sharper and more tailored looking about this generation of 5 series that just nails it. Imola Red wouldn't have been my first choice of hue, in combination with the Style 37 M-Parallel wheels this Touring has a nice M-Sport look about it. This is a rather comprehensive build and a pricey one at that, however, I agree with the seller that it is worth saving older cars like this instead of chucking them away. The asking price is strong, save for M5s of the era in good nick, but a car like this is sure to get the wagon enthusiast's radar up.
-Paul