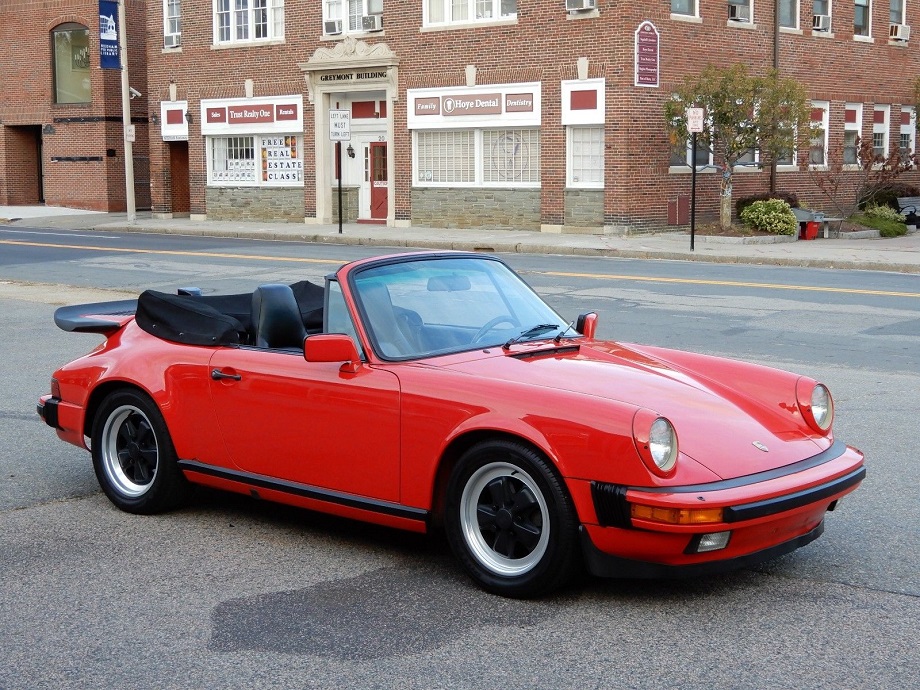 I almost feel like I've taken a hiatus from classic 911s of late. So I shall return to them with this Guards Red 1986 Porsche 911 Carrera Cabriolet, located in Massachusetts, with 46,900 miles on it. We see Guards Red pretty frequently on the 3.2 Carrera, less so on the 964, and then even less on the 993. After that? It almost seems to disappear. We do occasionally see red Porsches still today, especially as a PTS option, but it's certainly a color that seems much less in style than it once did.
Here in the District we've been mired in an interminable cloud of rain with plenty of lightning and wind thrown in for good measure. It has been the sort of rain that doesn't even allow for the barest hint of the sun's existence. It has me dreaming of the days when blue sky and bright sunshine will return and that has me thinking about Cabriolets again. In the meantime all we can do is plan and wait and try to stay dry.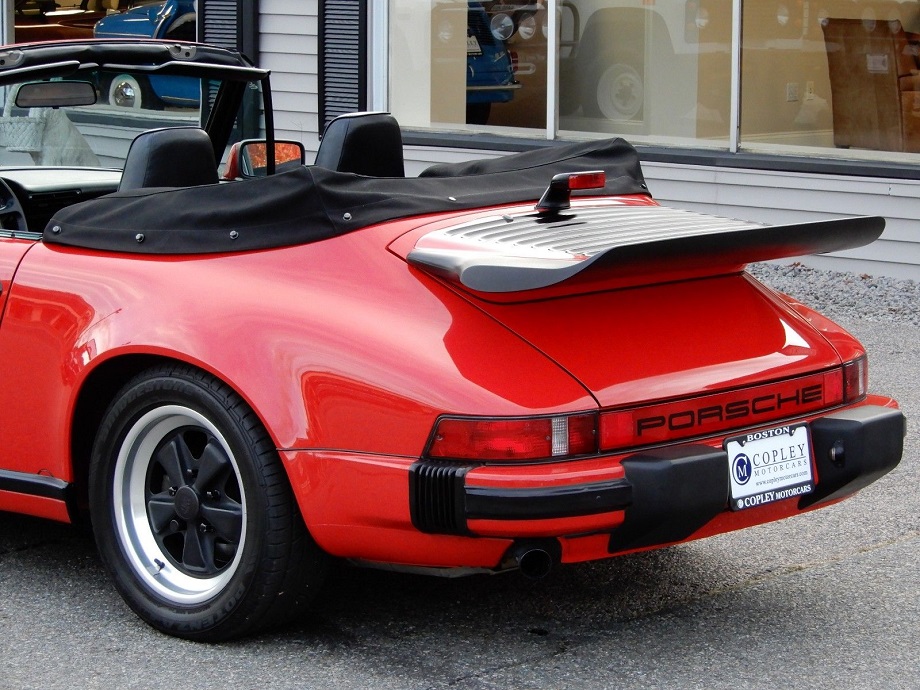 Year: 1986
Model: 911 Carrera Cabriolet
Engine: 3.2 liter flat-6
Transmission: 5-speed manual
Mileage: 46,900 mi
Price: $53,800 Buy It Now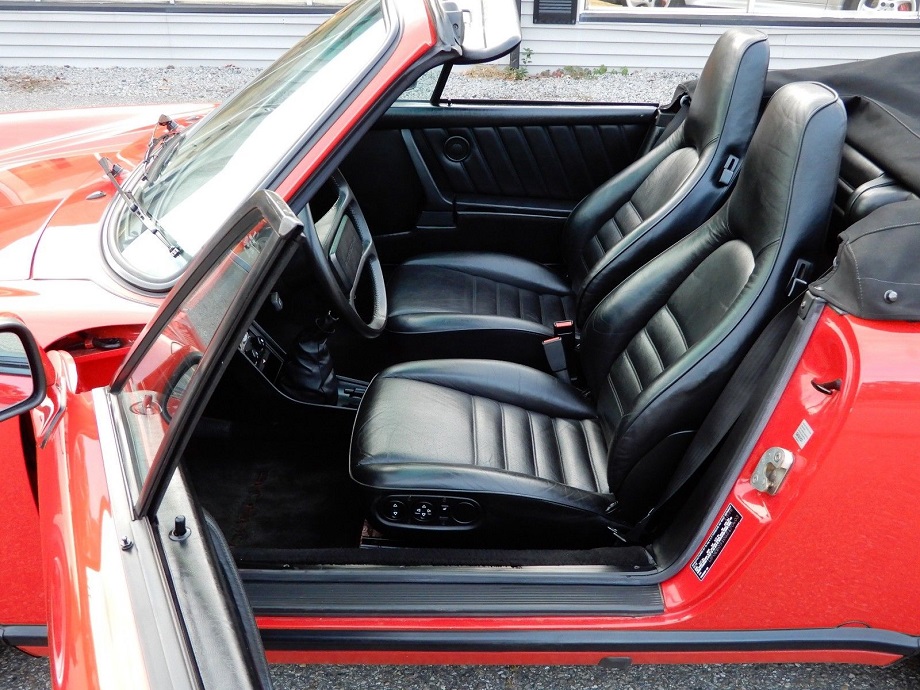 1986 Porsche 911 Carrera cabriolet, S/N WP0EB0910GS170403, G1 Indischrot (India Red) with black, 3.2 litre air cooled 1986normally aspirated flat six cylinder engine, G50 5 speed manual gear box, disc brakes, 2+2 seating with fold down rear seats, front and rear spoilers, partial power seats, 15 inch Fuchs alloy wheels, Blaupunkt radio, manually operated convertible top, USA example delivered new December 12, 1985 via O'Hare International Autos of Elk Grove, Illinois, original owner's manuals, maintenance booklet pouch and spare keys, fresh servicing at Porsche/Ferrari specialist Boston Sportscar, an impeccable example of the iconic 911. Clear CarFax title history. To see additional photos, please send us a note and we'll send a link to the complete photo file. Nationwide and international delivery arranged from our suburban Boston showroom. We reserve the right to end the auction early. For more information about Copley Motorcars, please refer to the "About Me" button in this listing. Telephone: +1 781-444-4646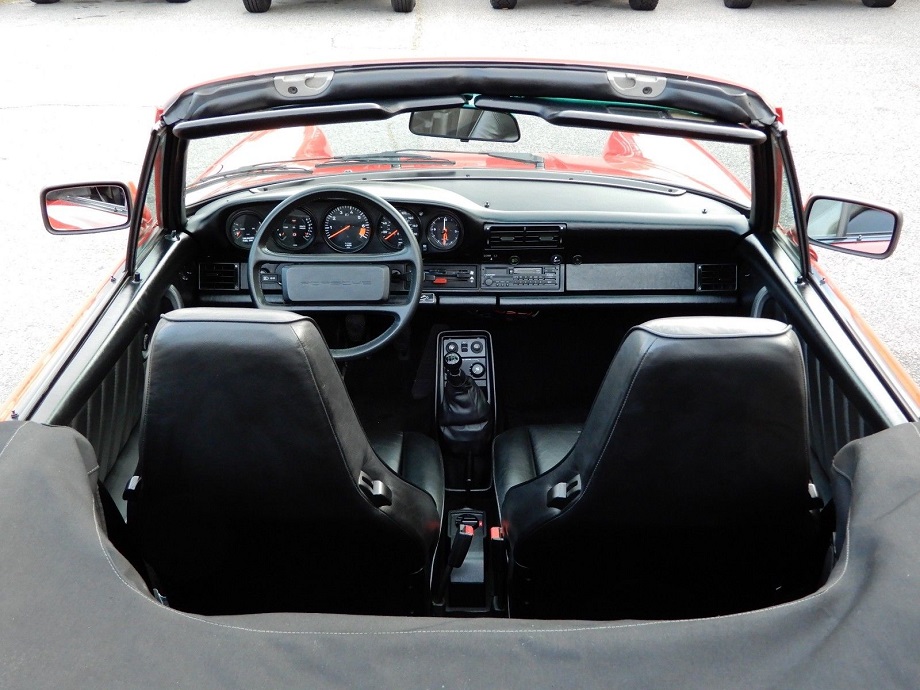 The first thing to get out of the way: this Carrera did not have the G50 5-speed transmission when produced. So either the ad is in error or the transmission has been replaced. The asking price certainly isn't what I'd expect of a Carrera with a non-matching transmission. In fact, it's an asking price I'd expect if this were an '87 with the G50. It'd probably be a reasonable asking price all things considered, but still it's the sort of price I'd expect for one of the later Carreras with the G50 rather than an '86 with the 915 5-speed. My assumption is that the ad text is in error and we're simply looking at a high price – a not surprising point from this seller – but I'd still want to inquire and have clarity on which transmission the car currently has.
Other than that point this is a really nice looking Carrera Cabriolet and the condition looks very good. It's in the sort of condition that could command a higher price and were this an '87 I think we'd probably see it sell fairly quickly. It looks to be completely original and I wonder whether it still wears its original paint and interior. I have no reason to suspect it doesn't other than, you know, it being a 30-year-old car that looks in very good shape! It comes with its original documentation and while we aren't told that it has a documented service history to go along with that, it's entirely possible that it does. If so, then it makes for a nice opportunity at one of these Carreras.
Now if we could just have a little bit of sunshine so that a 911 like this could be fully enjoyed. That's not too much to ask.
-Rob