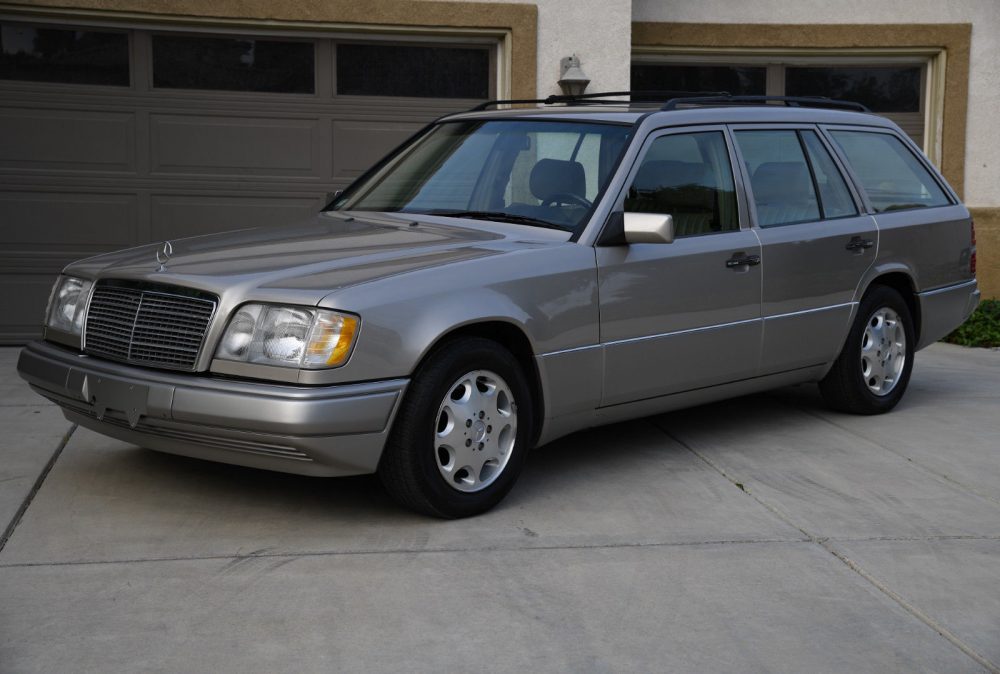 About a month ago I checked out a 1995 Mercedes-Benz E320 Estate up for sale in California. It was a really clean example in a nice color combination but the asking price of $9,500 gave me a little pause considering the 156,000 miles. I understand that wagons demand a premium and those that want them usually will pony up the cash for the right example. The seller did lower the price by to $8,500 a week later, but still that seemed a little high to me. Today, we have another 1995 E320 Estate from California but this one in checks in with just a little under 60,000 miles and a laundry list of repairs and maintenance. The price? You can probably guess it isn't going to be cheap.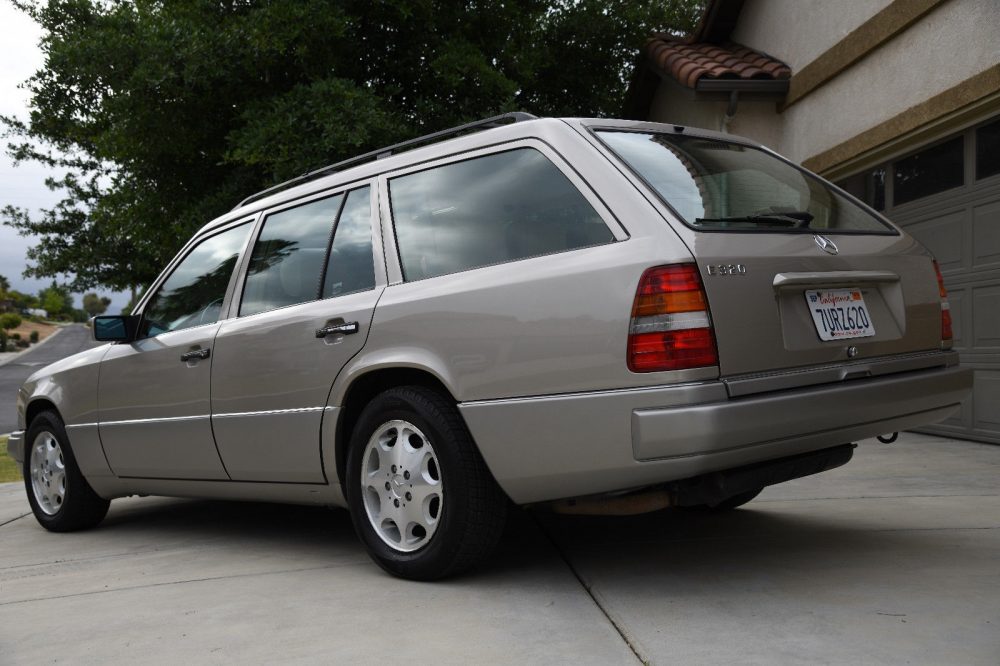 Year: 1995
Model: E320 Estate
Engine: 3.2 liter inline-6
Transmission: 4-speed automatic
Mileage: 59,737 mi
Price: $15,900 Buy It Now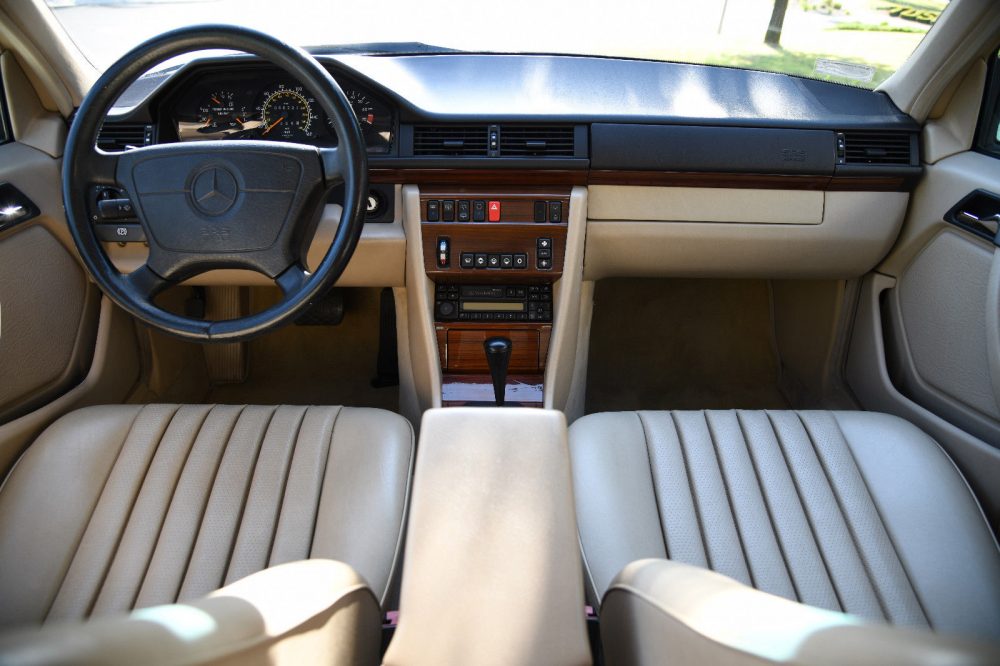 Selling my 1995 Mercedes E320 Wagon. This is the last year the 124 chassis cars were produced and they truly don't make them like they used to. This car is pure engineering excellence. It has only 59,XXX miles and it starts, runs and drives as new. The mileage is well documented by Carfax and Autocheck. The transmission shifts properly, at the proper times and not too hard. All equipment is functioning properly except the outside temperature display, which is blank, and for some reason the key does not turn in the tailgate lock. It still locks and unlocks properly along with everything else. The climate control works correctly. A/C is very cold. Heat is hot. Air blows out the proper vents at the proper times, including the occasional fresh air introduction. These cars are known to have four common issues and they've all been addressed: The head gasket was replaced about one year ago. It's a very common issue on Mercedes long six-cylinder engines. The car now has no leaks of any kind. The main engine wiring harness has been replaced. Mercedes began using biodegradable wiring insulation in the mid 1990s and it didn't last forever in the hottest areas under the hood. The replacement uses conventional insulation and it shouldn't happen again. The throttle actuator was replaced with a rebuilt unit. The A/C evaporator in Mercedes of this era suffers from dissimilar metal corrosion and eventually needs to be replaced. I have not replaced this one, but since the A/C is cold and has worked perfectly for a long time, I strongly suspect it's already been replaced.

The Smoke Silver paint is all original and in excellent condition. There is no cracking/crazing/oxidation/peeling. The plastic body cladding has been repainted due to a crack in the front bumper and rock chips and peeling in other places, but the car has never been in an accident. There is a shallow dent on the hood, the right front fender, and the left rear quarter panel. There is a missing clamp on one of the roof rack cross bars. There is minor damage in other places. I have pictures of all of it that I can send on request.

The car has clearly been kept out of the sun its whole life. It has no cracks in the dash at all. The interior is not dried out or faded. The instrument cluster still has bright orange gauge needles and gauge faces – not faded to yellow like most others. The rubber door seals are all soft though there are a couple of cuts in the hatch seal. There are some cracks in the wood on the center console, but all the wood has a nice shine and is not faded. The owner's manual books will go with the car. It includes the case, owner's manual, radio manual, roadside assistance guide, maintenance book, service and warranty book, car care guide, a service record from 2004 performed at 37,606 miles, and a service record from 2007 performed at 39,526 miles. Records since my ownership will be included as well.

I will assist with getting the car shipped, but this will be the buyer's responsibility. I can also pick up the buyer from the Bakersfield airport or Amtrak station. In my opinion, yes, this car can be driven across the country as is. I understand it can be difficult to buy a car from far away and so, if the winning bidder lives more than 200 miles from the vehicle, shows up to take possession of the car and then decides not to purchase it, this will be ok. However, if the winning bidder does not show up, negative feedback will be left.

A smog test will be completed for California buyers.

List of recent service:

2016 – replaced all four tires
2016 – passed smog test
2016 – replaced ignition coil
2016 – replaced valve cover gasket, replaced upper timing cover seal
2016 – replaced rear suspension accumulators
2017 – replaced head gasket
2017 – 4-wheel alignment
2017 – replaced window regulator
2017 – replaced steering shock
2017 – replaced main engine wiring harness
2017 – replaced throttle actuator
2018 – replaced left and right tie rods
2018 – 4-wheel alignment, replace battery
2018 – replaced antenna mast

Please feel free to ask any questions.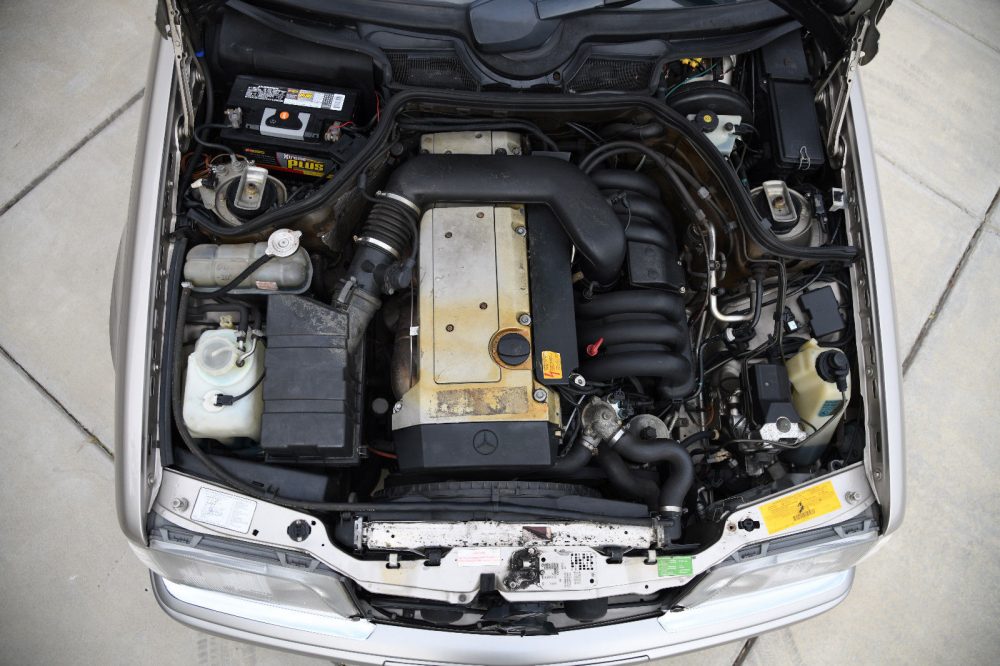 This Smoke Silver example presents reasonably well and passes as a 60,000 mile car. It's not perfect and I didn't expect it to be so there are some tiny flaws, but the big problems you might run into on higher mile cars aren't here with this one. The maintenance and repairs are all there and the biggest one, the head gasket fix, was done as well last year. These M104s have a nasty habit of leaking oil out of the head on the rearmost cylinder and lots of people just live with it and keep an eye on the oil level. The good news is that the oil usually never mixes with the coolant so even if you do have a leak for a small amount of time, you really aren't doing all that much damage, if any. The fact that the owner went and did this job shows that he cares about it and planned on investing in the car for a long time. The interior is all good with just a few little marks and the wheels have some curb marks but nothing too bad. The condition of the engine is curious to me as well. Normally, a M104 with this kind of mileage shouldn't have the nasty oil stains on the valve cover and scummy looking coolant tank. Not sure why it's like this, but I guess I can give the seller the benefit of the doubt. Overall, a clean wagon that you can be proud of.
So the price is $15,900 and I don't need to tell you that is expensive for one of these. Of course, the main selling point here is the 60,000 miles, but if you are going to use one of these are a daily driver or workhorse, does a 140,000 example make more sense? I would guess there aren't too many of these left out there with this kind of mileage left but whether this car makes sense for you is all dependent on how much you value low mileage. Personally, mileage doesn't mean a whole lot to me because I believe the majority of these Mercedes from this era will run forever as long as you are willing to maintain and replace things when needed. Other people treated low mileage as the gold standard and that is totally fine with me. They can spend the money cars like these and I think probably someone will.
– Andrew