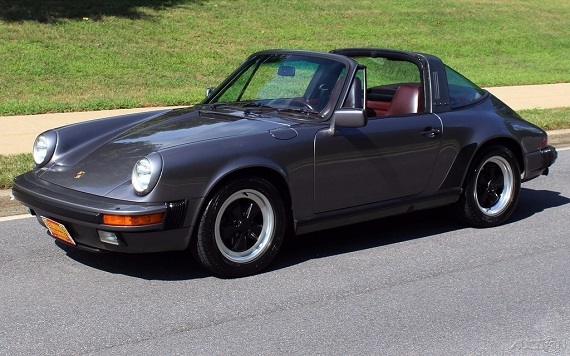 Another day, another Targa. And for whatever reason I'm finding myself very much taken in by this one. This 1986 Porsche 911 Carrera Targa, located in Maryland, brings us back within the realm of the regular 911, but that doesn't stop it from looking great. Grey/red is a color combination we see frequently across the whole 911 line and my favorite version of it is Slate Grey over a bright red interior (Can-Can or Lobster would do the trick). The 911 we have here takes a slightly different line making use of a darker hue of each. We aren't provided with the precise colors, though we could hazard a guess that this is Meteor Grey Metallic for the exterior and the interior obviously is Burgundy. The combination works very well and what it may lack in flash it makes up for with understated refinement.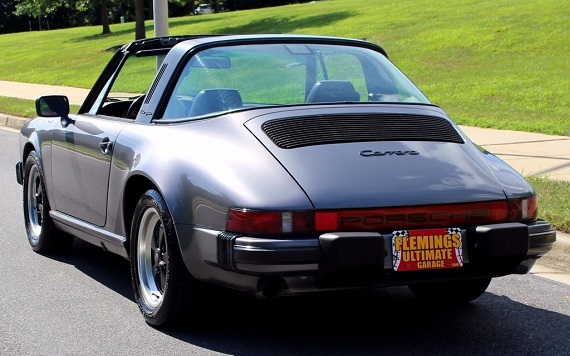 Year: 1986
Model: 911 Carrera Targa
Engine: 3.2 liter flat-6
Transmission: 5-speed manual
Mileage: 57,074 mi
Price: $59,990 Buy It Now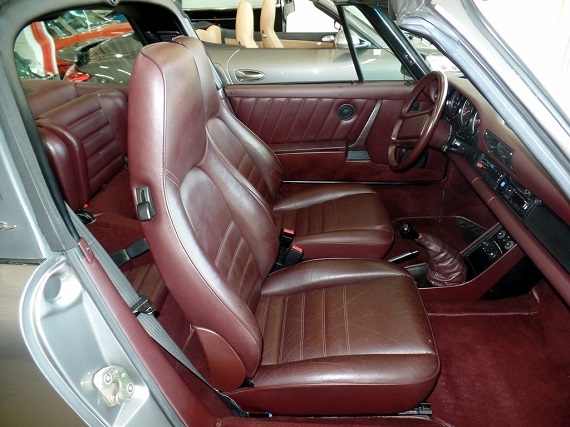 1986 Porsche 911 Carrera Targa with only 57k miles, like new condition. Exterior paint is 9 + on a scale of 1 – 10 with 10 being perfect. Body panels are original, factory straight, no dings, dents, or chips. Bumpers do not show wear, no fading, no cracking, no dry rot. All exterior molding along rockers are straight, no fading. Rubber seals are all in place and look like new, not torn, not sliced, no dry rot, no fading. Glass looks like new, no chips, no scratches, clear like new. Headlights like new, front parking and turn signal lenses in excellent condition. Rear signal lenses are in excellent condition. Wheels are in excellent condition, although couple lug nuts show very minimal wear on edges. Tires are new. Targa top looks good, minimal fading, however we can dye this to look like new. Interior is immaculate, all gauges look brand new. Gauges do not show any signs of wear and all number colors are bright like new, no fading. All lenses that cover gauges are flawless, no scratches, no fading, these are like new. All vents are in excellent condition and operate as they should, no fading, all fins like new. All numbers or letters etched in dash, knobs, etc., look like they did when new, coloring is solid- white if white, black if black, red if red. Carpet looks great, however driver side has minimal wear, but nothing to apologize for. Dash pad is almost perfect, no fading, no scratches, no tears, like new. Underneath the dash is amazing, wiring is neat and still tucked nicely from factory. Door panels are like new. Passenger side kick panel has minor scratch, but you have to be in the floor and really look hard to see this. Door pulls and locks are as they should be, look great. Seats are in excellent condition, and operate as the should with exception of driver recline. Driver side seat is missing knob that releases lock for reclining the seat, therefore driver side seat does not recline. This will be repaired, and work properly prior to delivery. Leather seat covers show minimal wear, 57k miles wear, nothing out of ordinary. New Alpine stereo with am fm blu tooth blasts serious tunes thru an excellent pair of rear speakers and pair of door panel speakers (all after market)
Underneath this Porsche looks better than a vehicle with only 57k miles. Obviously the Porsche has been garaged or maybe inside someones house, like in the living room. Also, it's quite obvious the Porsche wasn't driven in the rain unless rain just happen to come up unexpectedly. Everything underneath is solid, no rust in places that matter. The exhaust brackets and hangers, some hardware; clamps, screws, bolts, have minor surface rust, but after 30 years what would you expect? The motor is clean and hasn't been touched by us. Seals look good, nothing is dripping, dropping, seeping, or anything related to. All services are up to date, most recent being the 60k mile service. The original books are with the car along with receipts showing work history. I'll be happy to go over these with you. The previous owner did have the trans rebuilt, and new clutch installed. This work was performed by a Porsche transmission specialist. The Porsche runs and shifts great, actually incredible. I have driven quite a few of the air cooled 80's models and have to say, this one tops the chart as far as looks, performance, and overall condition.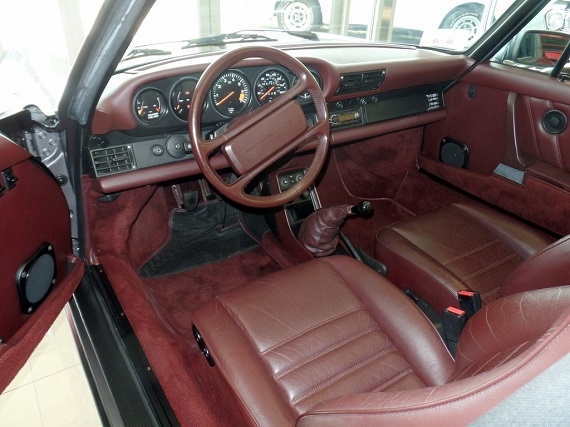 The 1986 model year typically makes for one of my favorites to seek out since it was the last year of the 911 before they were equipped with the G50 5-speed transmission. As such we usually find that they make for a nice value, after which the greater collector desirability of the G50 pushes up prices for the later Carreras. This one isn't really being priced that way, though we must admit that it looks in really nice condition all around and the mileage is pretty low. I'm just not sure that adds up to a $60K price tag. This isn't a rare problem among air-cooled 911s though and if it's going to sell then something eventually will be worked out. But I love the car; it has the look of a no stories few questions example and should be able to provide plenty of additional years of enjoyment to its new owner if it continues to receive the sort of care it's received up to now.
-Rob