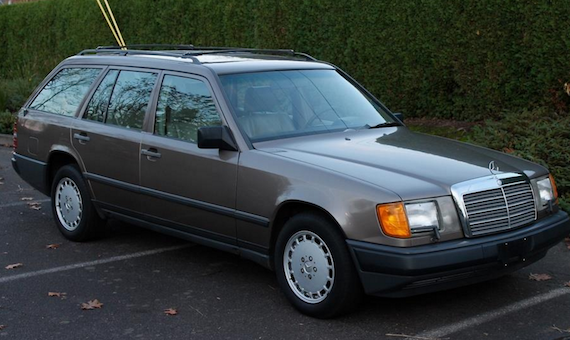 I tend to think of Mercedes-Benz's W123 and W124 as stately, comfortable luxobarges that will run forever but aren't particularly special. Looking into this 300TD Turbo, those assumptions seem needlessly oversimplified. Did you know that when it came out, the W124 wagon had the lowest drag coefficient of any production car at the time? Neither did I. It also had the 80s double-edged sword of self-leveling suspension, notoriously present in the E28 M5 but almost always replaced in that application. It sounds like the Mercedes version is a little more stout, and this car's SLS is functioning with zero leaks.
A slippery shell and Benz's storied 3.0-liter turbodiesel (an engine that could easily outlive a human) combine for decent fuel economy, while the longroof provides great storage and – surprise! – two more seats. Video of two police dumbfounded by a Tesla's rear-facing trunk seats recently went viral, but these awesome jump seats were popularized in the 80s by Volvo and Mercedes after being a phenomenon in 60s American wagons. The best part of the Benz's sixth and seventh seats is they fold flat into the floor, giving leg room for the seats or a normal wagon floor when stowed. No SUV or awkward crossover necessary! With 122k miles and all electrical bits working (for now), this is a classy family-style ride. Paul featured this car back in August of this year when it sold for $12,500. Let's see where this eighties estate winds up this time around.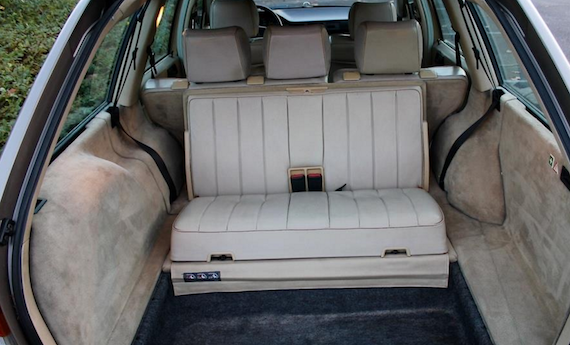 Year: 1987
Model: 300TD
Engine: 3.0 liter turbocharged inline-6 diesel
Transmission: 4-speed automatic
Mileage: 122,351 mi
Price: Reserve auction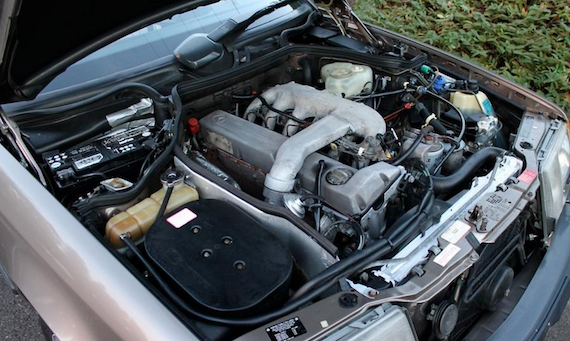 1987 Mercedes-Benz 300TD Turbo Wagon. Light Fawn/Mushroom leather. This is an extremely rare and well-preserved 300TD Turbo Wagon 7-seater, which has covered only 197K kilometers or 122K miles since new. It was originally sold in Vancouver, British Columbia, and it has had one long-term owner before two subsequent recent owners. The car is currently titled and registered in Oregon, having been recently imported. These Canadian delivered cars were the same as the Federal U.S. versions.

This Mercedes is powered by smooth, economical, and quite powerful 3.0L, 6-cylinder turbo-diesel motor. It drives great –- it pulls strongly, and is very quiet and smooth. As it can be seen from the photographs, the car is in excellent, well-preserved condition. There are few minor imperfections as seen on the pictures. This is a rare, one-year-only model that was sold in North America only in 1987.

The interior is very clean, no cracks on the dash, no rips on the leather seats – and yes, it has leather upholstery, not MB Tex. All electrical accessories work – power windows, mirrors, sunroof, AC, etc. There are many, many stamps and notes in the service booklet. We were told that transmission has been rebuilt due to reverse gear failure, although we have no record of it. Recent other work includes a new aftermarket aluminum radiator, a new fan clutch, an auxiliary fan sensor, and a new under-hood pad. The Self Leveling Suspension works as it should and does not leak. It comes with all books (including the metal service plate) and keys.

Options include the third-row seat, electric sunroof with tilt, auto antenna, dual power seats, headlight wipers, and luggage rack.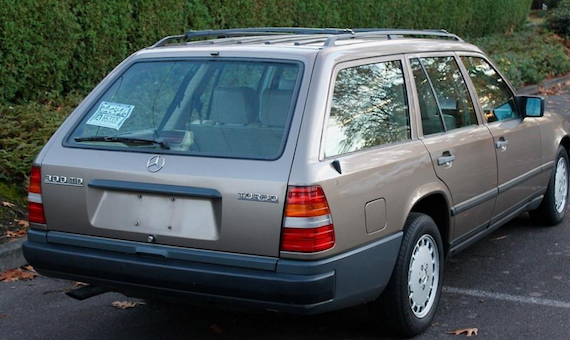 This wagon has been for sale before, selling for $12,500 and leaving its Canadian home to visit Oregon. After a few months and just a few hundred miles, it's for sale again. I can't imagine it going for more than its earlier sale price – examples with 150k miles have gone for around $7k. There's something going on here that needs some more investigating before bidding.
-NR