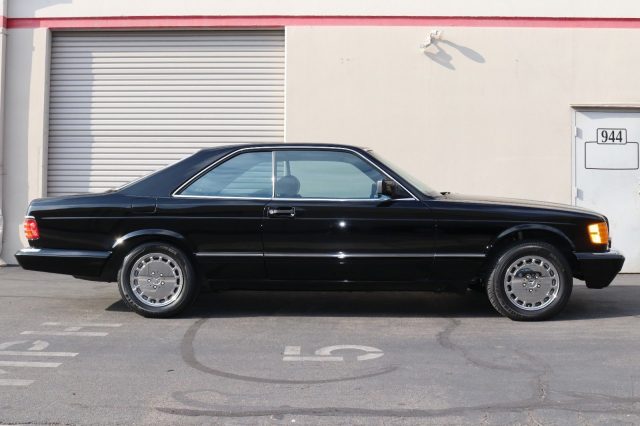 Earlier this week, I checked out one of the nicest W126s I've seen in a while with a 1987 560SEL. Today, we have another 1987 560, although this one is the brother car, the SEC. These big body coupes have been shooting up in value of late, but they are still well within reasonable range to grab at a decent price if you wish. Of course, color and condition are the biggest factor in what these sell for, but if you can find one that is well looked after and doesn't carry a crazy price tag, then it is not a bad way to spend your money. If you are lucky enough to run across an example as nice as this C126 for sale in California, then I wouldn't sleep on it at all.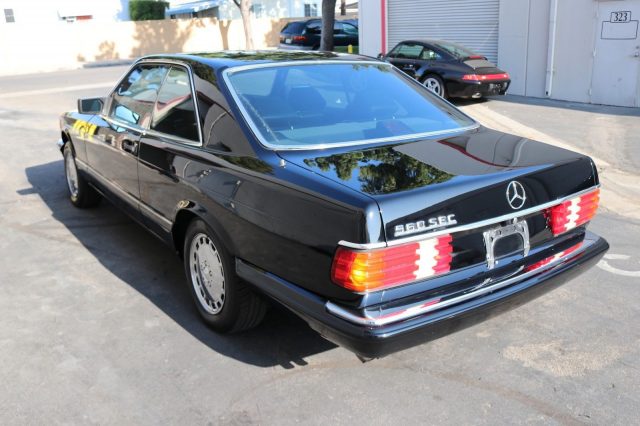 Year: 1987
Model: 560SEC
Engine: 5.5 liter V8
Transmission: 4-speed automatic
Mileage: 159,890 mi
Price: Reserve Auction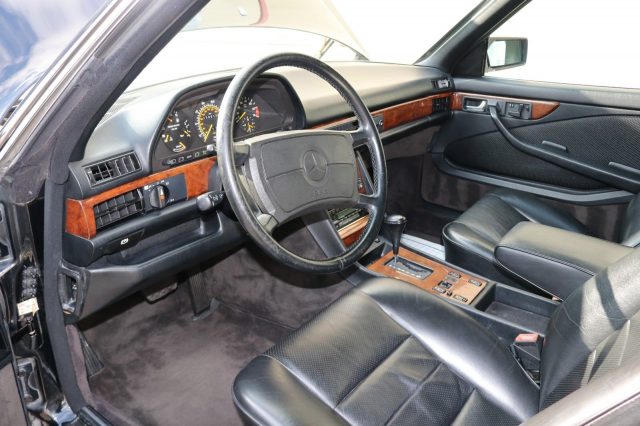 This w126 1987 Mercedes-Benz 560 SEC has been collector owned, driven and maintained up to impeccable standards with an open wallet.

Please see the detailed service records totaling over $50,000 that has been spent on this car.

It was bought new in Texas where it was always MB dealer serviced at Intercontinental Motors in Houston, TX with stamped owner's booklet. The original owner then moved to Las Vegas where again it was always dealer serviced with stamped booklet at Fletcher Jones Motorcars Las Vegas, NV.

The car was brought to Southern California in the early 90's by the second owner who lived in West Hollywood. He was a real estate agent in Beverly Hills and maintained the car religiously with detailed records for literally every penny spent on it (other than gas).

Goods:
– The car has absolutely no rust or corrosion anywhere.
– Drives and shifts perfectly.
– All books, tools, warranty and service book, spare tire, and detailed records included.
– Tires have only a few thousand miles on them with a lot of tread remaining.
– Everything works perfectly including sunroof, AC, lights, radio, antenna, both horns (except passenger mirror motor not functioning).
– Windows front and rear work smoothly and flawlessly allowing "pillarless coupe" cruising.
– Seat belt presenters work perfectly (please see video in link).
– Includes all records organized with spreadsheet broken down by year.
– AC recently serviced and blows ice cold.
– All essential and required maintenance done at correct intervals such as oil changes, brakes serviced, filters and fluids flushed etc…
– Recent documented work includes timing chain and valve job, transmission reseal, antenna motor rebuilt, ignition wire set and plugs, steering box rebuilt, water pump, thermostat, all belts, fan clutch, starter and shim, all filters and hoses, fluids, wires, plugs, all addressed with OEM MB parts.

Bads:
– Small scuff on front bumper above front plate (please see first picture in link).
– Small scratch that has been touched up on driver's side rear fender lip (please see second and third pictures in link).
– Very small and minor touch up of .25 inch scratch just below fuel filler door (please see fourth picture in link).
– Passenger side mirror motor not functioning.

Inspections welcomed and encouraged.

Any questions 7onefour nine2six-9six1five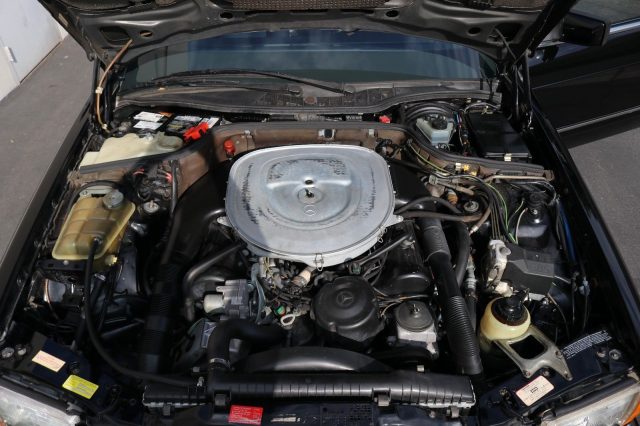 This is a really great example of a "driver". It has a surprising 160,000 miles on it but it looks like it has less than half of that because of how it has been maintained. When I say maintained, this car just wasn't just looked after by a weekend warrior in the home garage, this was a no expense spared car. The rest of the car just looks great with its excellent 040U black paint paired with chrome 15 hole wheels. It has a few little scrapes and scuffs, but honestly I didn't even see them until they were pointed out in the description. The seats, wood and carpets look fresh with almost no wear on them either.
I'm really curious to see where the bidding ends with this one. It has the higher miles but the maintenance records fully support this C126 being in top shape. I don't think that 160,000 will be scaring off anyone and you are more likely to find a buyer who wants this car to continue driving, not sit the majority of the time. If this was a 60,000 car, I'd probably guess close to the $20,000 mark, but I don't run across examples like this one too often with its extensive service history. I think it'll pass the $10,000 mark easily, but where it stops? Anyone's guess.
Thanks to our reader Juan for the spot!
– Andrew