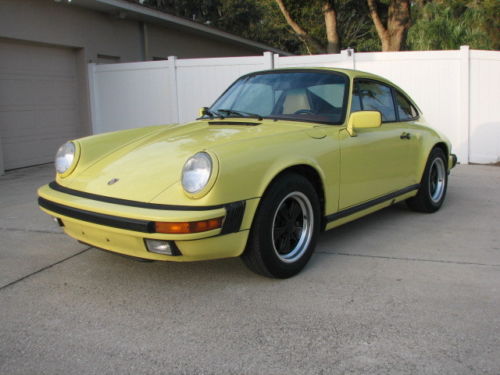 Yellow is a color more akin to some Italian exotics, but occasionally you'll come across some of Stuttgart's finest in this eye-popping hue. Porsche produced a number of different yellows over the years, and here are two air-cooled examples slathed in this bright shade. First up is a 1987 911 Coupe in Summer Yellow for sale in Florida.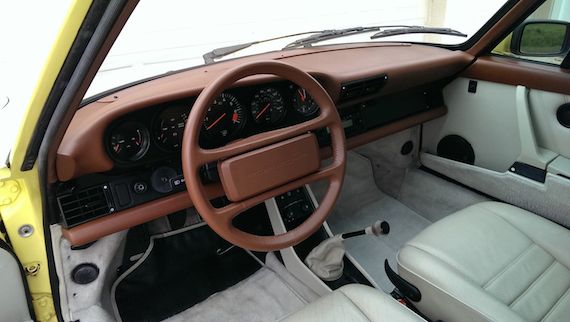 Year: 1987
Model: 911
Engine: 3.2 liter flat-6
Transmission: 5-speed manual
Mileage: 71,228 mi
Price: No reserve auction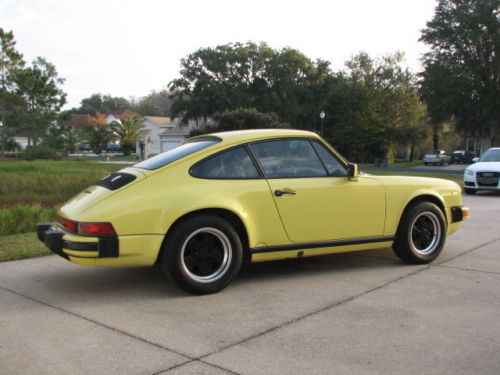 Porsche very rare and extremely collectable 1987 911 factory Summer Yellow coupe, G50 5 speed, Sunroof, is a one year only 1987 color, interior is mahogany/linen in great original shape. Car never painted or modified, all factory stickers in place, has aftermarket security and stereo system, original steering wheel just restored. Car runs great, transmission and clutch work as should no grinding up or down the gears. Mileage is since engine rebuild total mileage on car is in excess of 150K, mileage exempt here in Florida, car runs great, four new tires last month. Have all original paperwork including shipping tag from Tourist Delivery back in 1987, records, books, tools etc. amazing history verification a true time warp car. The 87-89 911 coupes are the next big thing buy enjoy and never lose anything on this car. Porsche enthusiast owned, garaged and covered,with battery tender, 25+ year member of PCA, 100% positive Ebayer since 1999, please serious buyers only. Can help out of country buyers but you need to arrange all transport details. Serious interested bidders who want to talk about car feel free to give me a call 727-934-2988 EDT

YouTube video of a local drive in car:

https://www.youtube.com/watch?v=qCJu5cwBorI&feature=youtu.be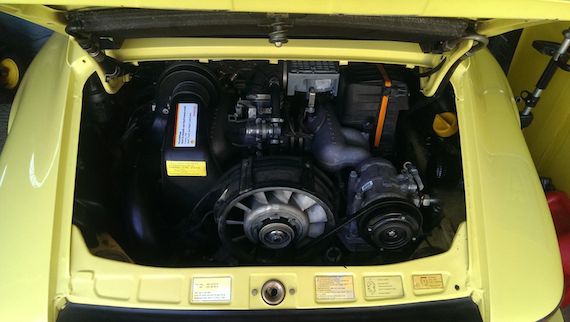 This is the kind of 911 I'd like to find. The 3.2 is my favorite of the air-cooled models and one with this kind of mileage strikes a good balance between museum piece and well-worn driver. The interior color is a curious matchup with the Summer Yellow. Frankly, black would have worked better, but this certainly has to be one of the few in this color combination. The 3.2 Coupe is averaging around the $30,000 mark these days for a car with this kind of mileage, but given the color and condition, it won't be surprising if it brings a bit more than that on a no reserve auction.
Up next we have a slightly more modern 911, a 1996 911 Carrera 4S for sale in Missouri. The seller has one too many Porsches and after procuring a Speedster, it's time to let the 993 go.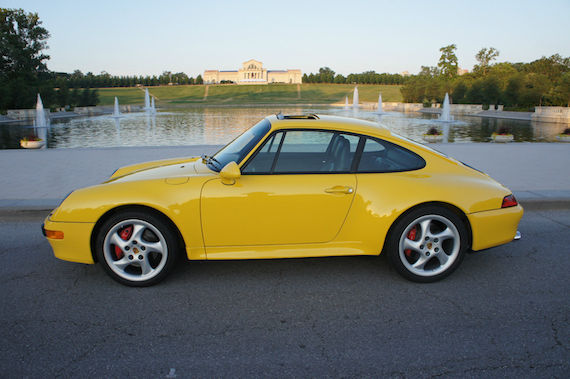 Year: 1996
Model: 911
Engine: 3.6 liter flat-6
Transmission: 6-speed manual
Mileage: 40,529 mi
Price: Reserve auction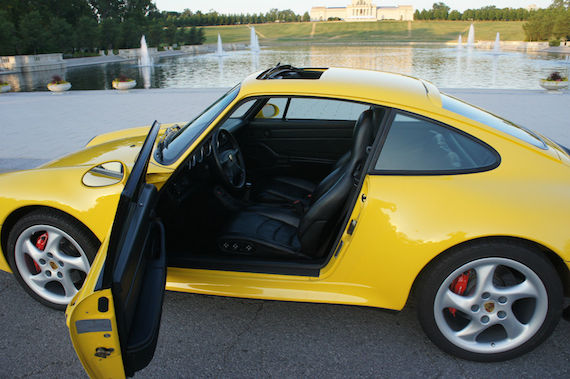 Original paint! Absolutely breathtaking Carrera 4s. For the true Porsche collector. Specially ordered to sample Ferrari Fly Yellow, the color will take your breath away. Supple Black leather, clear bra. Spectacular. I am reluctantly selling this one of a kind Porsche, I just purchased a Speedster and have a 993 Turbo as well so one must go. It still has the new car smell. For those of you in the Porsche world, I purchased this fabulous car from Road Scholars, the internationally renowned Porsche restorer/dealer. You know the kind of unique and special Porsches they deal in. Equipped with motor sound package, sun roof, factory CD, gorgeous factory Turbo Twist wheels (no road rash), leather dash and arm rests. I have meticulously maintained this car and never driven in the rain.

I had a Pre-Purchase inspection done June 30th at Parktown Porsche Audi to give buyers confidence and do the due diligence up front. See copy of report below as well as Certificate of Authenticity. Paint to sample, MSRP $84,225. Fabulous pedigree with books and records. The Carrera 2s, 4s and Turbo's are literally increasing in value daily. This is a great investment and an opportunity to still purchase a 4S under $100,000. Please call Ellis 314-570-7379 for any questions.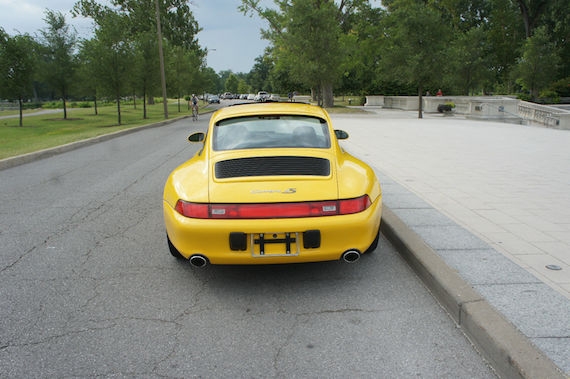 The 993s is the penultimate air-cooled 911 and values certainly have reflected this fact. It's getting to be hard to find a good Carrera for under $40,000 these days and if it's a Turbo you seek, come with deep pockets, as these cars are fetching in the six figures.
-Paul