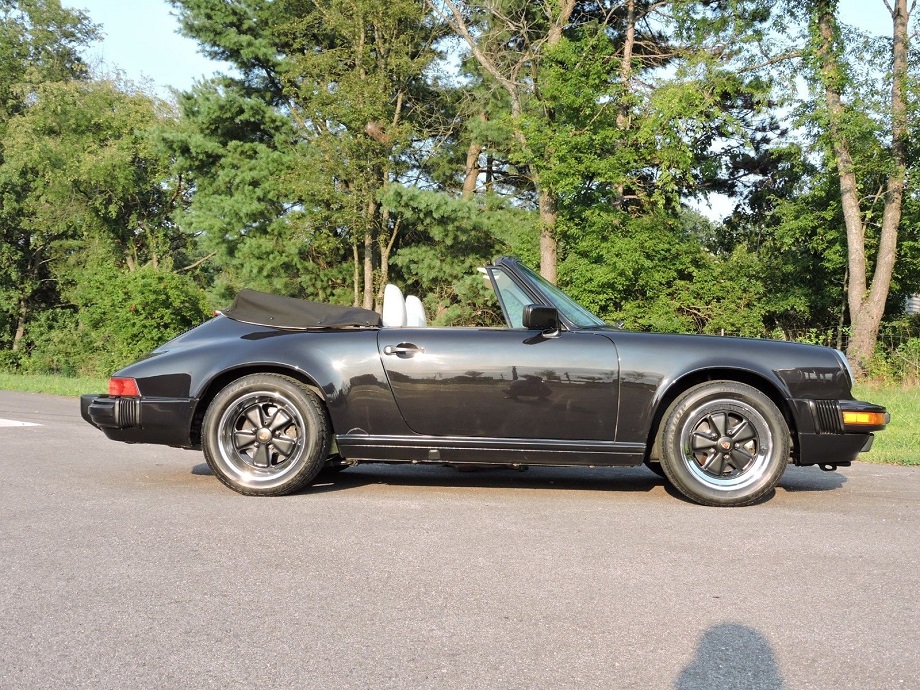 What do we have here? This 911 is really rare and I'll admit I was a little stumped by the designer until after some searching. This is a Black 1987 Porsche 911 Carrera Cabriolet with a Carat by Duchatelet interior. It's located in New Jersey and has only 48,000 miles on it thanks to hanging around in storage for more than a decade.
So who is Duchatelet? A company out of Belgium well-known for their Carat by Duchatelet high-end interior work performed principally on Mercedes-Benz and Rolls-Royce cars of the '80s. Apparently they also worked on Porsches. From the outside their designs are pretty subtle, so much so that when I first was looking through these pictures I couldn't figure out what was so unique about it. When you get to the interior, it all becomes quite clear!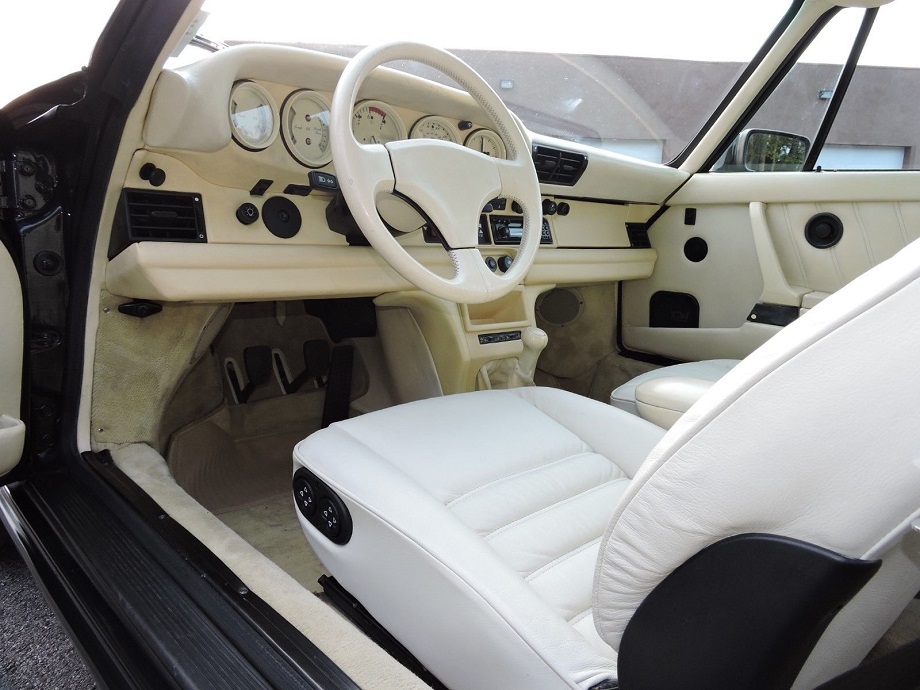 Year: 1987
Model: 911 Carrera Cabriolet
Engine: 3.2 liter flat-6
Transmission: 5-speed manual
Mileage: 48,000 mi
Price: Auction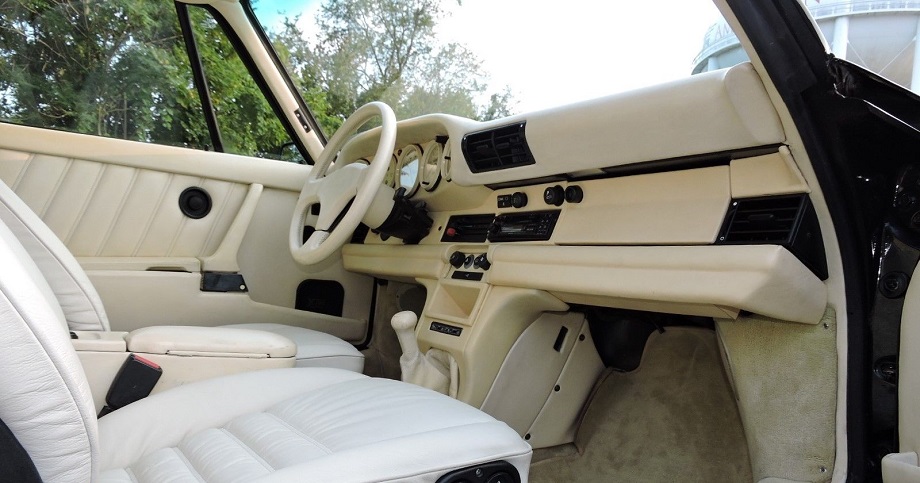 Extremely Rare and Elusive Porsche Duchatelet. 1987 Porsche 911 Carat Duchatelet Carrera G50 Cabriolet. Only 48K amazing original documented miles. Stored inside and under a cover for over a decade. Still carries an Original 2004 Inspection Sticker. Fabulous unmolested original condition. Air Conditioning, Power Options, G50 5-Speed Manual Transmission. World-Class Luxury Carat Interior. Duchatelet Massaged Engine. The car is absolutely stunning in every way possible. Flawless inside and out. Completely serviced and gone through with a fine comb this summer. Runs, Drives, and Shows Beautifully. All Original Books and Keys. Complete transparent history. No-excuses investment-grade Porsche. A worthy addition to any collection.

Over 100 High-Resolution Pictures available here..:

http://s1268.photobucket.com/user/ronaldmd/library/Porsche%20Duchatelet

This is a NO RESERVE Auction so please bid to own. Please feel free to come and inspect this beautiful car prior to bidding. Thank you and HAPPY BIDDING!

Terms of sale:

$500 good-faith non-refundable PayPal deposit is due immediately after the end of the auction. Balance is due in 3 more business days after the end of this auction in cash or bank/certified funds. If you can not, or are unwilling to follow this terms than please refrain from bidding. Vehicle description represents our subjective and biased opinion. Only manufacturers warranty applies if any. Vehicle is sold absolutely as-is, where is, with all faults that it may or may not have. Miles could differ slightly due to occasional use. Buyer is responsible for shipping, however, I will assist in any way I can, just ask me. Please absolutely no "zero" or "negative" feedback bidders (you must contact me prior to bidding). Non-paying bidders will be reported to eBay and collection agency. Inspections are welcomed and encouraged prior to placing a bid. All sales are final unless cancelled by the Seller. All items not collected/shipped/picked up within 30 days will incur storage fees and will be considered abandoned and disposed of at the Sellers sole discretion 30 days thereafter. Prospective Buyers are encouraged and expected to exercise their own due diligence prior to bidding. This vehicle is also advertised locally. Seller reserves the right to end/cancel this auction at any time at sole discretion. Thank you and GOOD LUCK!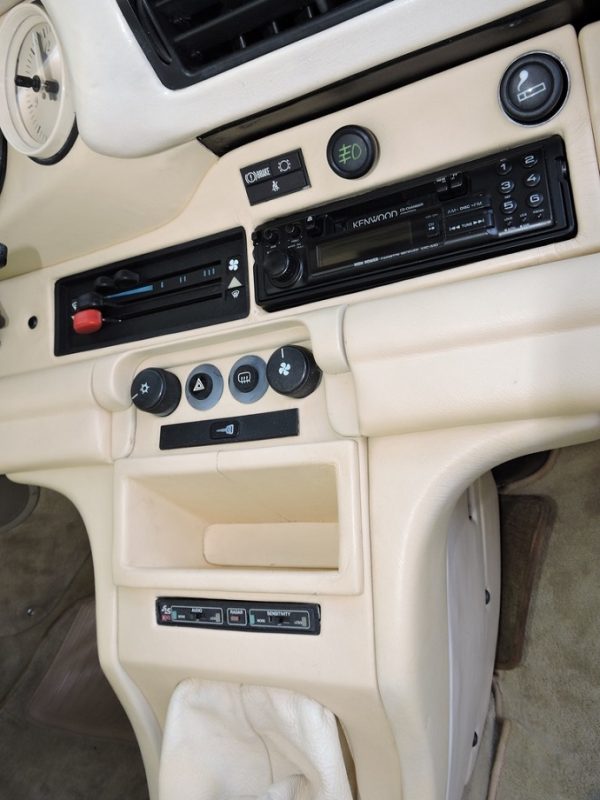 This is quite the interior! I can't say it's remotely something I'd desire in a 911, but I could totally see it in a Rolls or Mercedes. Nonetheless, if you're looking for that extra level of uniqueness in your 911 and want that strongly shifted toward the luxury side, then this Carrera Cabriolet makes for a very interesting option. I have no idea how many others there are; I certainly haven't seen one previously. The seller also states that the engine has been "massaged" by Duchatelet, but I'm not sure what that means. It's kind of beside the point anyway. Low miles, great condition, and very rare. There's a lot of good going on here.
The biggest flaw is that we aren't provided with anything in terms of documentation. The mileage is claimed to be documented so we can assume there's a good bit of documentation that comes with it, we just don't know what. Do the documents from Duchatelet come with it? That's going to be a major point since builds like this really need proper documentation to reach appropriate value. That said, this is a no-reserve auction so the seller seems willing to let the market figure it all out. I assume it's been up for sale longer than desired, otherwise I'm not sure why there would be no reserve. But here we are.
We're early in the bidding and right now it's pretty low at $15,600. We'll have to have an eye on this to see where such a unique 911 might sell.
-Rob