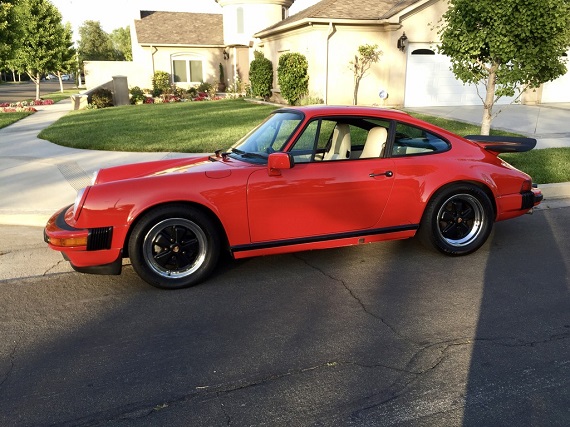 We don't see a lot of 911s come up for auction with no reserve, especially those of the air-cooled variety, but as the market has slowed naturally sellers look to attract added attention through the promise of a sale, rather than concern sellers with the possibility of a sky-high reserve. Even as the market cools I'm still surprised to see relatively low mileage examples for sale with no reserve, but that appears to be just what we have here. Granted, we may have some questions about this 911 (see below), but on the surface it presents well, comes in a nice color, and is claimed to have belonged to only one owner. There is a ton to like and for those looking for a later Carrera – meaning one with the G50 transmission – this could make for an interesting possibility. Here we have a Red over Linen 1987 Porsche 911 Carrera Coupe, located in California, with 62,900 miles on it.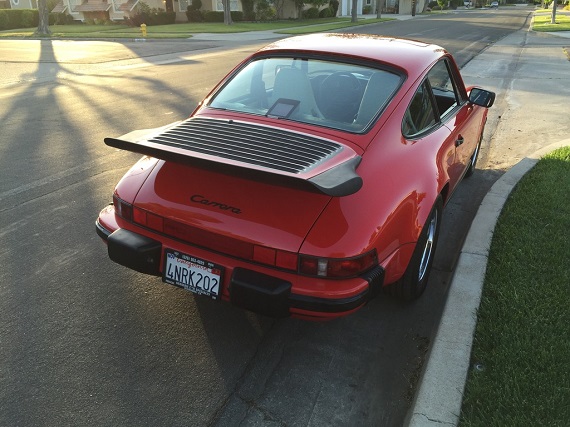 Year: 1987
Model: 911 Carrera
Engine: 3.2 liter flat-6
Transmission: 5-speed manual
Mileage: 62,900 mi
Price: Auction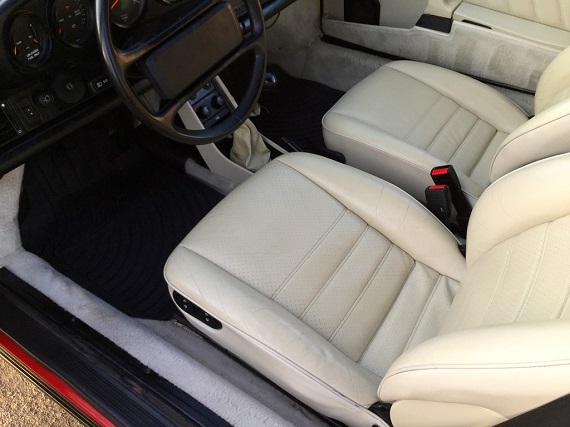 1987 PORSCHE CARRERA 1 OWNER 62,900 ORIGINAL MILES
Item specifics
Condition: Used Year: 1987
VIN: ( WPOAB0916HS122680 ) Mileage: 62,900
Options: Sunroof, Leather seats,
Power Options: Air conditioning, Cruise control, Power windows, Power seats Model: 911
For Sale By: owner Engine: 3.2 Liter 6 Cylinders
Doors: 2
Exterior Color: Carmine Red
Interior Color: linen Trim: Carrera Coupe 2-Door
Transmission: Manual Drive Type: RWD
Body Type: Coupe
Fuel Type: Gasoline
Vehicle Title: Clear
VEHICLE FEATURES & OPTIONS
Original Warranty Card, Defrost, Numbers Matching, AM/FM Radio, CD Player, Sunroof, Air Conditioning, Heat, Four Wheel Disc Brakes, Power Brakes, Seatbelts, Maintenance Records, Cruise Control, Power Seats, Power Windows, Leather Seats
SELLER REMARKS
For those who don't spend every moment researching Porsches, this 1987 911 Carrera just looks like a beautiful example of the archetype pure sports car. But the die-hard Porsche people out there know how special it is to get an original 3.2 with G50 five-speed and Carmine Red. But regardless of your level of enthusiast, you can recognize a great buy on a beautiful classic.
Carmine Red is truly a special color. You can either get it on a 911 built in 1987 or 2016…that's it. This deeper shade of crimson looks so fantastic that you'll instantly draw attention at car shows, even when you park next to other Stuttgart legends. And if it's a Porsche show, get ready for some awards! Everything you love about the 3.2-liter Carrera is in place the factory chin spoiler, body-colored bumpers, and large Euro-style headlights. This one also has the iconic "whale tail" rear spoiler. And of course, no air-cooled 911 would be complete without Fuchs wheels. In this case, painted black to match so well with this car's aggressively understated trim.
The bright linen colored interior is original, and its well-preserved nearly white color tells you just how cared for the car has been over the decades. You sit down in the German engineered bucket seat, and grab the 911's classic steering wheel. Porsche's race-ready sensibilities means the tachometer is directly in front of the driver. The rest of the instruments surround this in their own clearly marked pods to give you a comprehensive view of what's going on with the engine. While this 911 is obviously a driver's car, it doesn't skip on comfortable features. This includes power window, AM/FM/ stereo, sunroof, and provisions for air conditioning.
Lift the rear hatch, and see the best part of any 911. This is the original flat-six motor, and experts agree that you won't find a more reliable high-performance powerplant than the fuel-injected 3.2-liter Carrera engine. 1987 is a pivotal year for 911 fans, because it was the introduction of the G50 five-speed transmission. This was a more robust gearbox base on which Porsche utilized to drive its sports car reputation right up until modern times. From a driver's standpoint it gives you the confidence to take this coupe out on the open road anytime the moment strikes you. This manual transmission allows you to get the most out of the motor as you pilot the lightweight Porsche on your favorite desolate highway. Combine this with Porsche's legendary steering feedback, four-wheel disc brakes, this classic 911 will teach you why it's an icon with every mile.
Porsche rarity is all about the details, and this 1 OWNER PORSCHE has it in spades. You even get the original warranty card, maintenance records, and window sticker to back it all up……Call For More Info (714)860-0029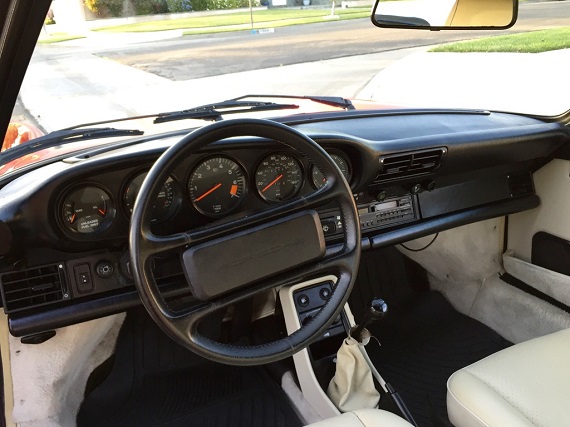 Strangely, the seller makes a point of emphasis about the exterior color, stating that this is Carmine Red. According to the documentation it isn't, as indicated by both the option sticker and, more obviously, from the window sticker that quite clearly says Guards Red. Perhaps it's been painted, though it certainly looks like Guards Red. Given that this is a no reserve auction (and thus we don't have to worry about a high reserve in place because of a rare color) this isn't a huge deal since the correct color should be clear to any interested buyer, but it might make us question the rest of the statements in the ad – especially if it has been repainted. The Linen interior is said to be original and this is one of the first times I have seen it on a red 911. It's quite the contrast and for some might be very appealing relative to many of the darker alternatives we see more frequently. So we do have a rare combination after all. The rest presents mostly as we'd hope from a one-owner 911 with very reasonable mileage. It also appears to be well documented. With bidding right now sitting at $34,100 the cost isn't too bad, though we can probably expect that price to rise a bit more prior to auction's end. If this could had for around $40K then I think it might make for a nice value.
-Rob