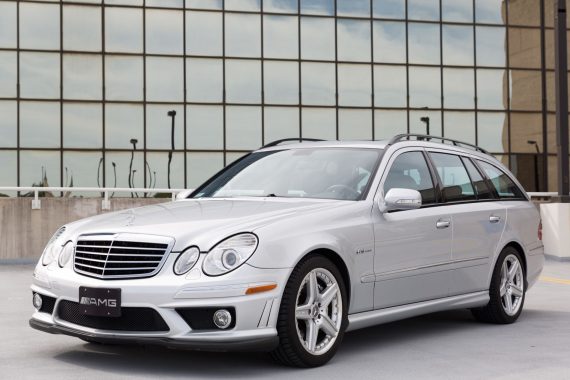 As some of you noticed, a few weeks ago we asked for submissions for some new authors to both help to diversify and bolster our content here at GCFSB. We were truly overwhelmed by the responses – many dedicated fans who were interested in joining the ranks wrote in and offered a glimpse into how much enthusiasm there is surrounding our site. We've tried very hard to keep consistently good and interesting daily posts out there, but there was no denying that at times we've been shorthanded over the past year. To help remedy that, we are very excited to have two new authors joining our ranks! The first of these authors is Andrew, who joins us with quite a bang in this E63 AMG Wagon. Please join me in welcoming Andrew on board!
-Carter
When it comes to W211 E55 and E63 wagons, they are quickly approaching cult status in the Mercedes circles and beyond. This E63 wagon located outside of Washington D.C. has everything you could ask for if you ever feel the need to drive home from your Home Depot trip like your house is on fire.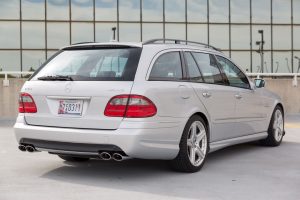 Year:Â 2008
Model:Â E63 AMG Wagon
Engine:Â 6.2 litre V8
Transmission:Â 7-speed automatic
Mileage:Â 66,000 mi
Price:Â $34,900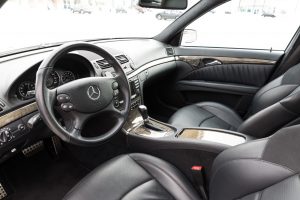 I am selling my W211 2008 E63 AMG station wagon, one of 153 built. 66K miles, silver on black. Asking price is $34,900. These station wagons are extraordinary rare, and had to be custom ordered from Stuttgart Germany. 507hp and 465 pound-feet of torque all from a hand-built AMG v8, with endless utility that is the station wagon form factor.

I love my station wagon, but since we recently moved to a house within a walking distance to the Metro, my cars are seldom used, hence the sale.

The vehicle has a clean and accident free driving record, and is in outstanding condition inside and out. There are no mechanical issues of any sort and the exterior/ interior is in fantastic shape. The car has always been garaged and meticulously serviced. Never raced. I am happy to provide a complete set of service records. I also have PPI results and a CARFAX from when I bought the car. Of course, if an interested party would like to have their own PPI done, that's a non-issue.

In the past year, the car was inspected and serviced from top to bottom, and the following repairs were made: all three engine mounts replaced, new accessory belt, installed RacingBrakeFront and Rear brake pads (OEMs were horribly dusty), new fluids.

Additionally, I replaced the stock wheels with a set of W211 18″ E63 P30 two-piece wheels, and wrapped those in Michelin Pilot Sport A/S 3 tires. New TPMS sensors were also installed. The vehicle also had an alignment done, and a Road-Force tire balance.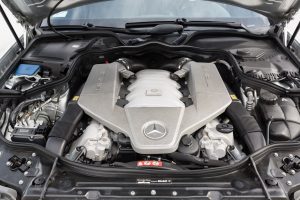 You probably know the drill by now with the M156 AMG cars. 507hp and 465 pound-feet of torque from a hand-built V8 and an accompanying exhaust note that will make you question if you are actually hauling a pack of wild animals in your wagon and not just the weeks groceries. This example is fairly well-equipped with the P02 Premium Package with Keyless Go, third row seat, navigation, a black Alcantara headliner and Black Birdseye Maple wood trim. The owner also added 18-inch wheels from a P30 Package E63 AMG which looks great on the Iridium Silver that the wagon wears.
The ad mentions that the car has a complete set of service records and was serviced from top to bottom in the past year. These things are worth far more than most imagine as an E63 with little or no service records can leave both you and the car broke in little time. While I have no doubt in my mind this car is 100% healthy, it's always important to remember that pre-2011 M156 cars did have issues with head bolts. A quick Google search will give you enough reading to take you deep into the night.
At $34,900, I'd say it has no problem selling near or at that price given it's 66,000 miles and full service records. The AMG wagons always command a premium over their sedan counterparts and this one is no different.
-Andrew