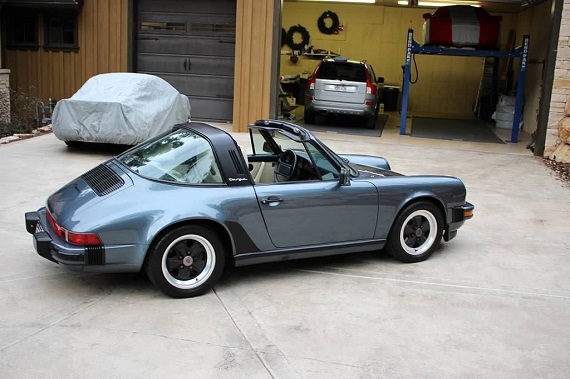 I have a couple of 3.2 Carreras to feature today, both of which are interesting in their own way and in very good condition. The bidding for each also happens to be at nearly the same price, though I expect we will see that change as each auction moves toward its conclusion. First will be this really pretty and rare Venetian Blue over Linen 1987 Porsche 911 Carrera Targa, located in Iowa, with only 25,700 miles on it. For the most part, the 3.2 Carrera has avoided what can best be termed "insanity pricing," i.e asking prices that are way above market. Typically, we see this phenomenon with the 993, especially the Turbo, but also with a few other rare models (there's someone trying to sell a 911 Speedster for more than $800K, if anyone's interested). This Carrera is beginning to step into that territory, though it isn't quite there. We certainly cannot begrudge sellers too much for hoping to capitalize on an escalating market, especially with very low-mileage examples, but there does come a point where buyers who may have had interest will begin to look elsewhere. Still this is a fantastic looking Carrera Targa and one that I am sure will garner significant interest.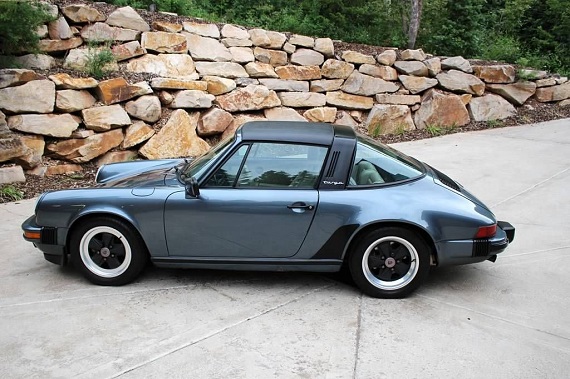 Year: 1987
Model: 911 Carrera Targa
Engine: 3.2 liter flat-6
Transmission: 5-speed manual
Mileage: 25,700 mi
Price: Reserve Auction ($71,900 Buy It Now)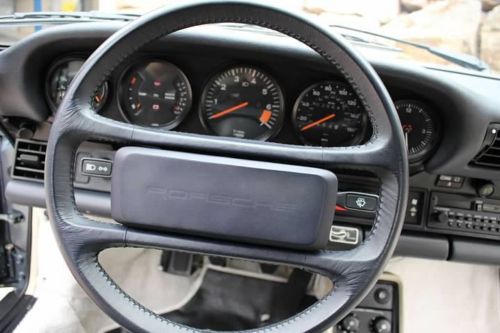 This is a collector grade, G50 transmission 911 Carrera Targa that is in pristine original survivor condition. A wonderful air-cooled 911 for the enthusiast or discerning collector. Three owner car that has spent it's entire life in Arizona until it's recent move to Park City, UT. Mature PCA member owners. Car is totally original: body panels, paint, glass, all trim, carpet, leather. Targa top is in superb condition. Gorgeous no stories car. Documented. Rare color combination. Needs absolutely nothing!

Exterior: Venetian Blue paint that is extremely rare and highly sought after by Porsche enthusiasts in excellent original condition. This car has absolutely no dings or dents in the paint or body panels. Aside from a small section of the hood where a scratch occurred and a light touch-up/blend took place the paint is totally original. This rare color boasts 99% original blemish free paint. All trim, lights, lenses, glass and moldings are original and as new. Targa top is near perfect. Wheels in very good condition.

Interior: Linen leather seats, door panels, and carpets trimmed with navy blue steering wheel, door tops and dash. Notice the linen leather shift knob and carpets. Original and in beautiful condition. No tears or stains just clean, supple and fresh interior appointments. Most cars of this vintage suffer from faded segments of their interior…this car is close to new. Dash and all trim free of warping or cracking. Everything works as it should. Original Blaupunkt cassette stereo and speakers still with the car!

Mechanical: The car just underwent a service in June of 2015 where anything needed was tended to. In addition to a service the fan blower motor was replaced as well as new valve cover gaskets installed. Car performs flawlessly and is excellent mechanical condition. No signs of leaks or weeping in the engine bay or transmission. A time warp car intact as if it were 1987! Driven enough to be exercised and enjoyed yet only driven on good weather days by mature owners make this car something special.

Additional: Owner's manuals, many records as well as tools, spare tire, and compressor are all with the car.

VISIT 1987VenetianBlue911Targa DOT shutterfly DOT com FOR ADDITIONAL PICTURES

I am assisting with the listing of the car for a close friend and fellow PCA Member. The car is located in Park City, UT. Title is free and clear. Buyer to pay shipping costs. Seriously interested parties are welcome to contact Greg at 317-506-3336 for additional information.
Even with the high asking price this Targa has a lot going for it. Venetian Blue is a wonderful shade of Blue and while a Linen interior always strikes me as one that would be a pain to keep clean, it provides the correct feel of openness and lightness to go with this exterior. I do wonder, however, how a light Tan would look. Nonetheless, for this asking price the car needs to be perfect, which means the front spoiler needs to go as do the shields on the rear fenders. Neither of those items is a significant issue. Bidding sits at $35,100 and it'll be interesting to see where this auction ends relative to its asking price. For a Targa, I'd suspect a price in the neighborhood of $50K, perhaps even exceeding that figure.
-Rob