Warning!
This post is in our archives. Links in this post may have been updated to point to similar cars available to bid on eBay.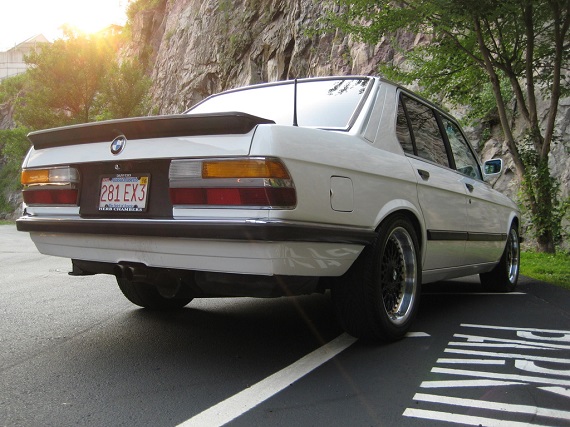 Yesterday, a reader suggested that 2016 might be the year of the E28. It's not a bad prophecy to make, after all, since we've seen all 1980s cars increasing in value, and the E28 is certainly a fan favorite. Handsome styling, good build quality, more than adequate performance and classic tail-out BMW handling make it a practical choice for a classic BMW. Over the past few weeks, we've looked at some neat options outside of the natural choice M5; there was the Euro-bumpered Dinan 3.9 1988 535i that everyone seems to think is overpriced. Yesterday I also checked out a 1983 Alpina B9 3.5, one of my favorite unsung heros of the E28 lineup. Nate looked at a ultra-clean all-original 1985 535i that just sold for $12,000. Paul considered a lightly modified 1988 535is that everyone loved but failed to find a buyer. And even last month we looked at a rare option, when Nate checked out a right hand drive M535i. When this 533i popped up, I was almost certain we'd seen it before; it was a near clone of a car we looked at back in 2012, but it's not the same car. Is this a good potential candidate to express your E28 love, then?
Year: 1983
Model: 533i
Engine: 3.4 liter inline-6
Transmission: 5-speed manual
Mileage: 259,802 mi
Price: Reserve Auction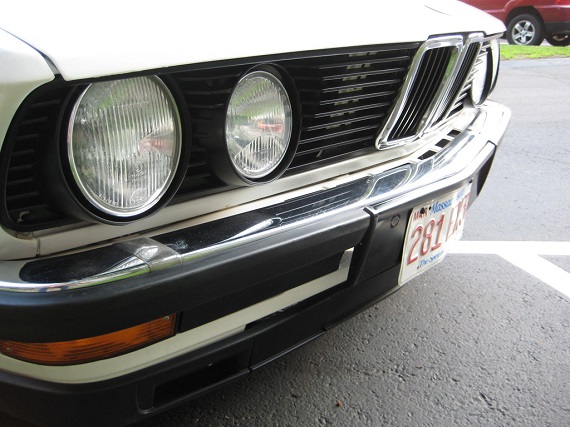 Here is your chance to own what surely is one of the nicest E28 drivers still on the road. This is a meticulously resto-modded 1983 535i California car (formerly 533i, but now featuring a 3.5 engine) in beautiful ALPINE WHITE, with CARDINAL RED interior. This car has been gone through, from end to end, top to bottom, several times over, making everything as pretty, and as functional as possible. In the time I have owned the car, I have driven it to Maryland several times (BimmerFest), Stowe Vermont (Hemmings Concourse), Saratoga New York (Concourse at Museum), and Canada (TedFest), and countless other events and it has never once let me down.

The headlights, grills, and bumpers are all euro-spec,the front and rear valances are both unique, with a euro-spec M5 airdam in the front, and a tasteful custom exhaust outlet in the rear, with centered exhaust (usually, the E28 exhaust sits to the right of center)
The cardinal red interior features re-covered sport seats in front, and a solid and original rear bench. The carpet is unstained and fully intact, with no wear or discoloration present and brand new floor mats. The door panels are all gorgeous. Sill plates are from an M5. Steering wheel is a re-covered M-Tech1, with beautiful Motorsport stitching, and matching Motorsport shift knob. The dash is in beautiful condition. The trunk features a complete carpet set from an E28 M5 includes extra storage compartments, and a cargo net. The factory toolkit is fully intact.

The heat blows warm and toasty, with fresh air from the center vents, as BMW intended. Rear defogger is fully functional.

The stereo includes a Pioneer head unit that plays through MB quart speakers, front and rear, with matching MB quart crossovers, driven by an amplifier mounted discreetly under the rear seat.

The wheels are OEM BMW 17″x8″ BBS RC090 (Style 5), with black powdercoated centers, and polished lips.

The tires tuck under the body nicely, due to H&R springs, and Bilstein sport shocks, which greatly reduce body roll, when combined with the adjustable Suspension Techniques swaybars, and Suspension Techniques front and rear upper strut bars. All suspension bushings are upgraded from stock. There is no rubbing, even during hard cornering.

The brakes are the "big brake upgrade", from an E34 540i. This thing STOPS when you tell it. Stainless steel braided brake lines were also installed at the time of the upgrade. Brake calipers are powder coated gloss black.

The engine is the renowned M30B35, which has long been regarded as the best engine which BMW has ever produced. In a prior life, this engine occupied the bay of an E34, and along with the engine came the updated fuel/air management system, lower maintenance, increased mileage, and upgraded power. Engine management is guided by a custom tuned chip. Engine mileage is estimated to be just under 110k and runs perfectly. These engines are known to hit 400k miles before a rebuild, if cared for.

Exhaust duties are carried out by ceramic coated Bavarian Autoworks headers, mated to a full stainless exhaust by Ireland Engineering. Please note that there is no catalytic converter installed on the car. The exhaust sounds fantastic, not too loud, but just the right amount of growl when you want to make yourself heard.

This car pulls hard and strong, mostly due to the beautifully performed engine swap, but also due to the perfectly geared combo of a Getrag 260 5-speed transmission with E36 M3 shifter, with power flowing through a perfectly balanced driveshaft with new center bearing mated to a rebuilt 3.73 limited slip differential. The diff shows NO leaks or seepage of any kind and just had the seal replaced along with fresh Mobil1 gear oil.

All lights function as intended.

The sunroof hasn't been cooperating very well. It opens and closes, but with the assistance of an extra hand to guide it as you hold down the button. It feels as if maybe the motor is on it's last legs.

The condition of the AC is frustrating. I have spent more that $1,000 on sorting it out with new compressor, condenser, and lines. It still isn't consistently cold.

The car was involved in an accident about 2 years ago, rear ended another car at low speed. I replaced the hood, front valance (brand new OEM Euro valance), front bumper, passenger front fender, and grills along with having the entire car repainted (NOT just the front end). The bumpers are in nice condition with the front being a 7-8 out of 10 and the rear an 8-9 out of 10

This E28 Runs, Drives, and Looks amazing. This is Not a "perfect" trailer queen, she is driven everywhere she goes, but an amazing unique driver. Please feel free to ask all questions before bidding. I am more than happy to send any additional pictures as requested. I reserve the right to cancel this auction if the reserve is not yet met. Once the reserve is met, high bidder takes it. Please only bid if you can and will complete this transaction. Buyer is responsible for all expenses related to shipping and I'd be happy to work with your shipper to get the car picked up safely and smoothly. Good Luck and Happy Bidding!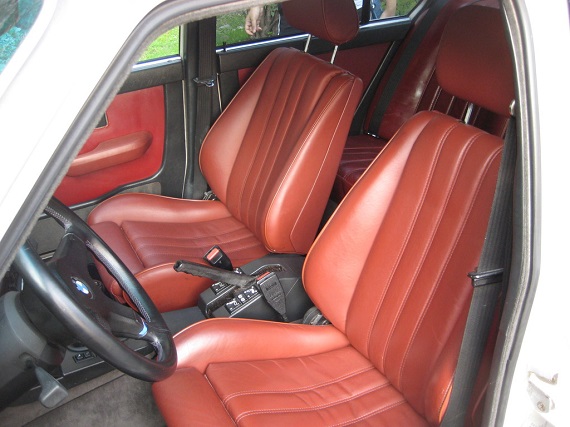 There are certainly a lot of upgrades to consider, but none of them are over the top and the car presents well – but importantly, not overdone. I had a relatively hard time tracking down the information on this car; it was produced in January 1983 and the VIN breakdown does show it's an original Alpine White car. However, the interior is listed as 0162; Cardinal is option 0256, at least on the later cars. The search was on to find out what the interior color was, and I was surprised to find that the answer seems to be Cherry Leather, listed as 0162 on the same period E24. Since the front seats in this car have been recovered and the seller claims it's Cardinal, I'd guess that explains the shading difference front to rear and with the door panels which show. Most of the details I like in this car; the OEM+ E34 brakes, limited slip, the BBS wheels, and the "why not while you're there" 3.4 upgrade. The Euro bits are great too; the three white examples of Euro converted cars we've previously looked at all wear it well. However, a few things about this car don't tick the right boxes for me; the mileage is quite high at nearly 260,000 covered, and I'd wonder about rust hiding out underneath. The seller is upfront that the sunroof and A/C need work and the car was in an accident, though it looks reasonably well repaired – but still, I'd want to take a close look underneath. I also prefer the BBS RCs in a lighter shade; they could have been knockout in white, or at most a gunmetal color. And it's nit-picky, but I don't like the M5 door sills. Pricing wise, the white Euro-ized E28s we've looked at have been all over the map. The ultra-low mile 1985 535i failed to sell at an impressive bid of $27,600, while the 1988 example with 100,000 miles sold for $17,100. This car currently sits at $4,000 with the reserve on and a few days to go. Will it break $10,000? Considering the amount of work performed, maybe it probably should – but in my mind, any more than that and I think the Dinan 3.9 is a better deal.
-Carter