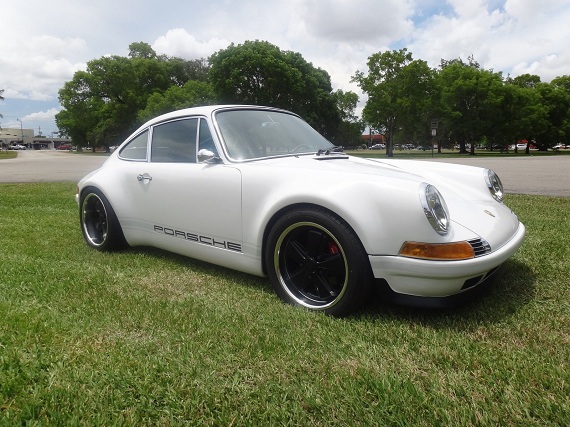 So you want a classic 1960s/1970s Porsche 911. Well, it's not a great time to jump on the bandwagon. We've watched prices on these early 911s jump to unprecedented levels – values on models such as the 1973 Carrera RS have tripled in the past year, where now Hagerty Insurance values a top condition example at $800,000. So, sufficed to say you won't be getting one anytime soon; and even if you could afford it, then what? Would you feel comfortable taking your million dollar Porsche for a stroll with all those Camry "drivers" more intent on the latest recipe on NPR than signaling to change the three lanes over the to exit they just missed? Don't worry, they'll back up to take it. So, what's an enthusiast to do? Well, many have been inspired by the model of Singer; backdating modern cars to look like older and more valuable examples. As a side bonus, you get improved performance and luxuries that the early cars just didn't have – items that honestly make the drive more enjoyable. A few weeks ago, I saw a Singer-inspired car at Lime Rock Park that just looked awesome – an updated RS that was dependable and, more importantly, a car that could be driven and enjoyed on a reasonable budget. Today, there's a similar example for sale on Ebay: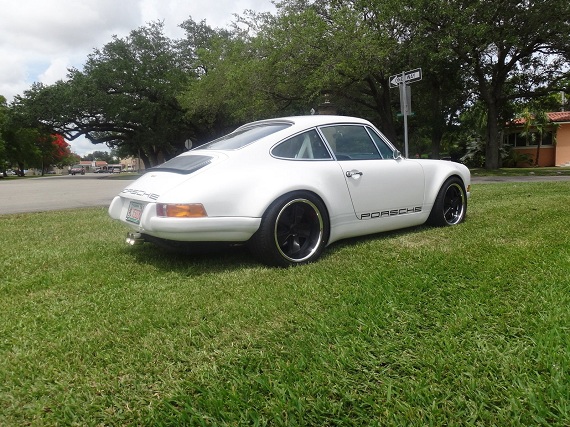 Year: 1990
Model: 911 Carrera 4
Engine: 3.6 liter flat-6
Transmission: 5-speed manual
Mileage: 139,488 mi
Price: Reserve Auction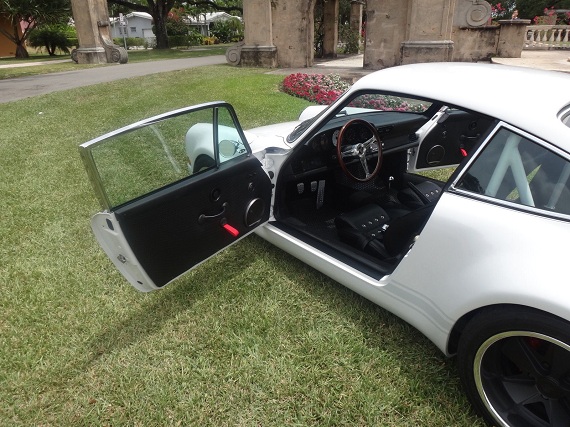 1973 Porsche 911 RSR / Modern Custom

This one started as a 1990 Porsche 911 Carrera 4 Coupe (VIN: WP0AB2963LS451997) with 139,488 original miles. This 1973 conversion started in January of 2014 and it was just completed by the end of May 2014. Everything in the car in and out is new or rebuilt. It's not exact to the specification of an original '73 Porsche RSR, but it is very close and very well built all around with a twist of modern custom. It has a 3.6-liter rebuilt motor with just 100 miles with a G50 5 speed manual transmission, 4-wheel drive, power steering and air conditioning. New complete RSR interior in black finish with a custom RSR look by the outside.

Engine and Transmission: 3.6 Liter Motor, twin plug ignition system that was design to fire an additional 6 spark plugs (2 per cylinder) total of 12. Completely rebuilt with just 100 miles with rebuilt engine heads, rod and main bearing, piston rings, timing chains, engine oil return tubes, head and complete engine gaskets, sparks plugs, rotors and caps. High performance air intake with block off plate, headers and high performance exhaust with silencers, center dual stainless steel tips, engine sound pad, new oil and filter, gas filter, and new belts, etc. Intake and valve covers and fan blade was custom painted in red. G50 5 speed manual 4-wheel drive transmission was serviced. The 4-wheel drive gives 69% power to the rear wheels and 31% to the front wheels that maintain the car in complete control in all weather conditions.

Exterior: New: RSR light weight fiberglass hood, front & rear bumpers and front fenders with metal turn signal housing, metal horn grills and 964 gas cap system. Rear metal Dansk 11″ rear turbo flare, H4 Euro headlights with HID lighting, Bosch Euro front & rear turn signal lens, custom center windshield wiper system, new front windshield with new seals for all windows and doors, trunk etc. Chrome door frames & door handles with all glass trims, chrome bullet mirrors mounted in the glass. Custom removal of sunroof and rain gutters. RSR Custom White finish paint with decals stripes and badges.

Wheels and Suspension: New custom Porsche Fuchs Alloy Wheels 7 1/2 " x 17″ Front and 10 1/2″ x 17 " Rear in black with polish finish, with brand new Falken tires 205 50 ZR 17 Front and 275 40 ZR 17 Rear. Trunk spare: Porsche Alloy Wheel 15″ black with polish finish. Lowered suspension with new springs and adjustment, custom painted calipers to red, cross drill brake rotors front & rear, new brake pads, sensors and front suspension strut brace. Professional aligned to specification.

Interior: New custom made RSR front and rear seats with stainless steal grommets. Door panels in basket weave black finish with red pull straps. RSR lightweight carpet set in black with black rubber floor mats. Black headliner and custom made seat belts in black with Porsche crest. RSR roll bar in white finish to match exterior paint. Dash in black finish with white RPM gauge. Classic dark wood & chrome steering wheel with chrome center mirror. Chrome shifter and nob, billet aluminum pedals set, and modern retro style radio.

This is a "Show Stopping Porsche" that looks, sounds and drives excellent! Drive a classic look with a modern technology! Won't disappoint. A lot of time, money and dedication were invested in this Porsche to make it a unique vehicle. Please email or call Jay 305-450-1783 with any questions.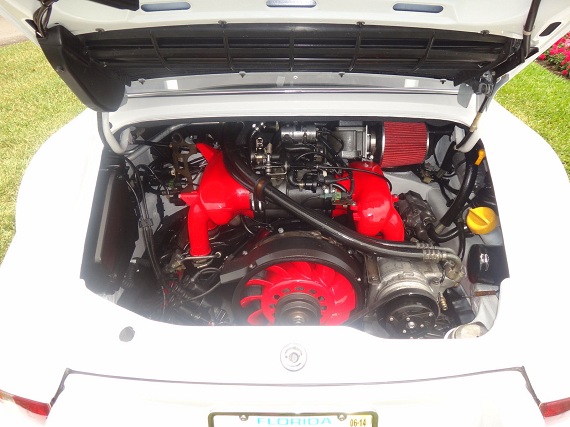 Okay, it's not original – but I'm over that. This car looks awesome and performs better than the original. There are great touches inside and out; the 17″ updated Fuchs, the wood steering wheel and racing-inspired seats, the center-exit exhaust and subtle Porsche decals outside; this car appears awesome. Best of all, the modifications are fairly minimal – meaning this is a turn key reliable air-cooled Porsche that you can drive and enjoy. This car will likely hammer at less than a tenth the asking price of a real RS. Purists may be annoyed that this is the route you chose to take, but until those purists pay for the original example they can keep their opinions to themselves. Everyone else will love your retro ride, and you don't need to ever tell anyone that underneath, it's mostly new. It'll be our little secret!
-Carter