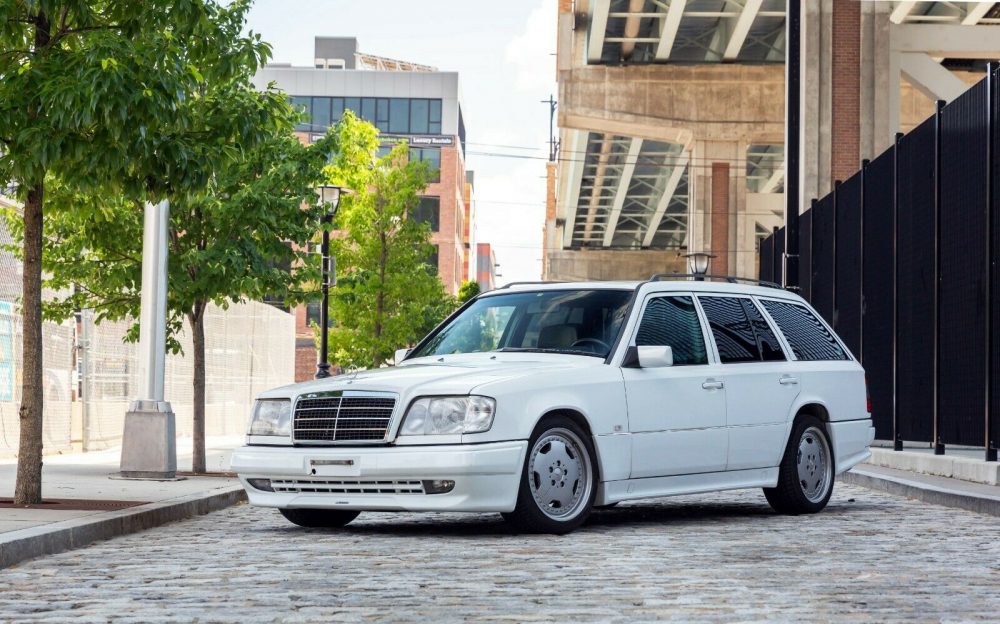 AMG subsidiary AMG Japan produced some wonderfully subtle vehicles in their heyday. The natural course of action if you are a tuner is to go big or go home, which they did occasionally, but not every car can be a 6.0L V8 with giant wide fender flares to make the Batmobile jealous. Today's car, a 1988 230TE 3.2, exemplifies how AMG Japan sometimes modded cars. It is very subtle and under the radar compared to the normally flashy vehicles that came from Japan and they even went as far as converting the front end to a facelift look that I think finishes the car off perfectly. The thing is, if you want one of these, you'll be paying for it. Collectors are gobbling up any early AMG car they can get their hands on and this one looks like it will be no different.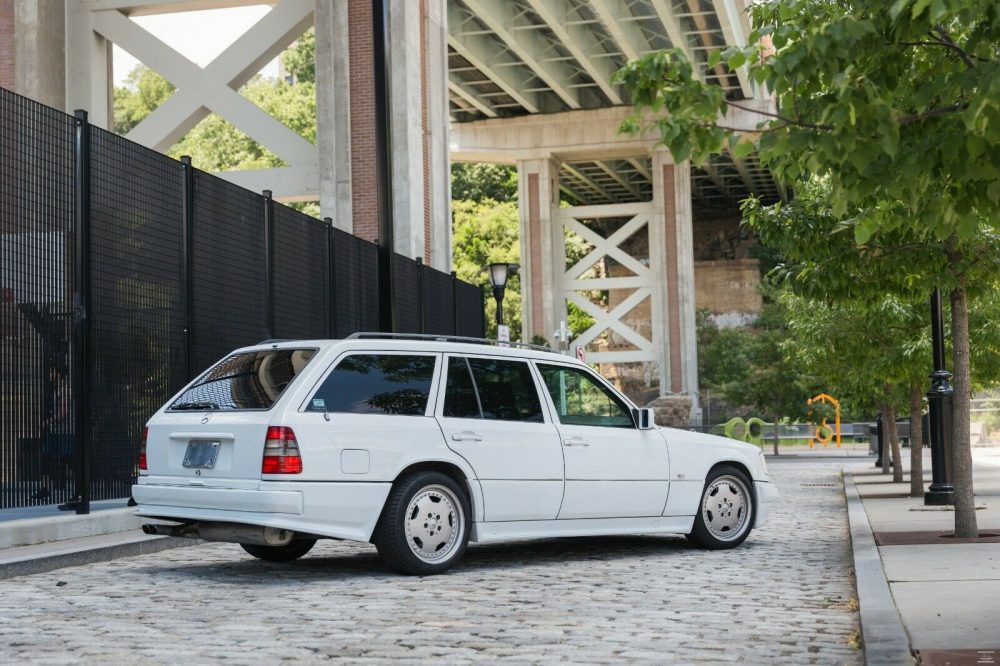 Year: 1988
Model: 230TE 3.2 AMG
VIN: WDB1240831F070684
Engine: 3.2 liter Inline-6
Transmission: 4-speed automatic
Mileage: 87,000 km (54,000 mi)
Location: West New York, New Jersey
Price: Reserve Auction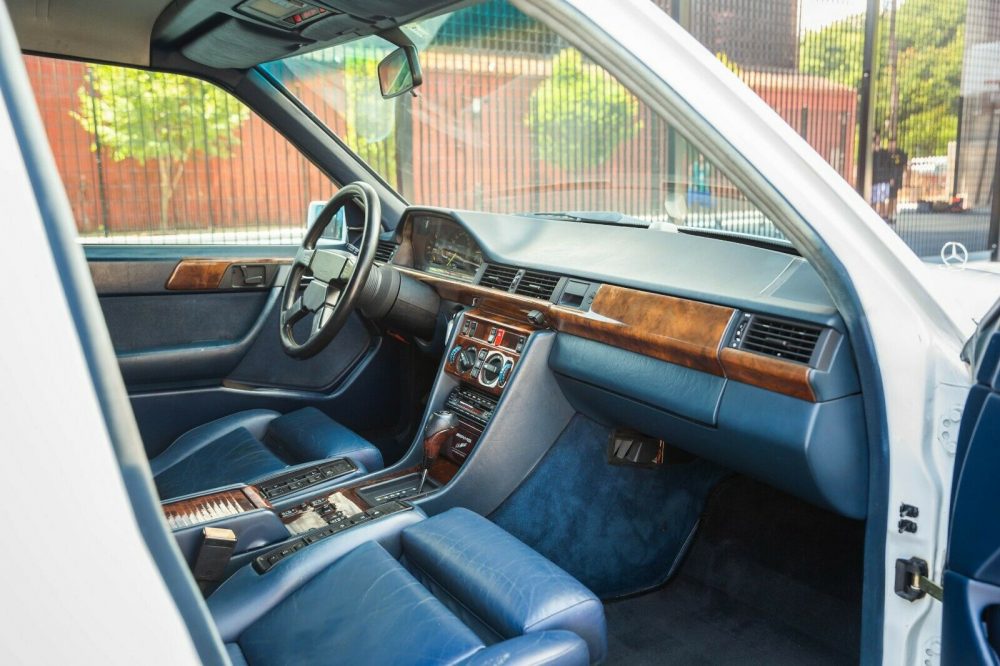 ****Actual Vehicle VIN: WDB1240831F070684 (Ebay will not recognize this VIN as it is an imported vehicle)

This 1989 Mercedes-Benz 230TE is a Japanese-market car modified by AMG with a 3.2-liter straight-six M103 engine producing 230 horsepower, and is equipped with AMG suspension, exhaust, wheels, bodywork, trim and interior.

The 3.0L M103 inline-six was modified by AMG to 3.2L specification, including a hydraulic-lifter cylinder head and stroker crankshaft, reportedly increasing output from 177 horsepower to 230 horsepower. Power is sent to the rear wheels via a 4-speed automatic transmission. The AMG VIN tag shows the vehicle VIN and AMG serial number. Approximately 87,000 kilometers (~54,000 miles) are shown on the odometer.

The body is finished in Arctic White (147) with color-keyed body cladding, along with AMG valances and side skirts. The 17? AMG wheels retain their factory finish, and are fitted with Continental Extreme Contact tires. The car is also equipped with an AMG exhaust and springs.

On the inside, the rear of the cabin is upholstered in blue velour, while the fronts are a pair of desirable and rare Recaro CSE seats wrapped in blue leather. The mismatched front and rear seats are indicative of early AMG builds, where Recaro CSE seats first became available as an option. The cargo area features a hide-away rear-facing jump seat and retractable mesh and canopy partitions to separate the main cabin. The Interior also houses an AMG Steering wheel, a 300-km/h speedometer and a 7k-rpm tachometer gauge cluster. Burl wood veneers accent the blue dash, center stack and door panels. Close-up photos of the upholstery and interior trim are provided in the gallery.

The left-hand-drive car was imported from Japan in May 2019 and is being offered with export paperwork, recent service records, and a clean U.S. title. Since importation the car has received a complete service, including:

– Oil/Oil filter change

– Fuel system cleaning, and installation of a new fuel pressure regulator

– Brand new hood heat insulation pad

– (6) New fuel injectors

– (6) New spark plugs

– (4) Brand new Continental tires.

– New wiper Blade

The complete list of all AMG modifications include:

– AMG M103 3.2Liter Motor

– AMG Aero Kit

– AMG optioned Recaro CSE seats

– AMG 17′ Wheels

– AMG Steering Wheel

– AMG 300kmph Speedometer

– AMG Exhaust

– AMG Springs

Additional information on service and condition can be provided upon request. Please do not hesitate to contact me directly for any additional inquiries.

Thank you and best of luck to those bidding!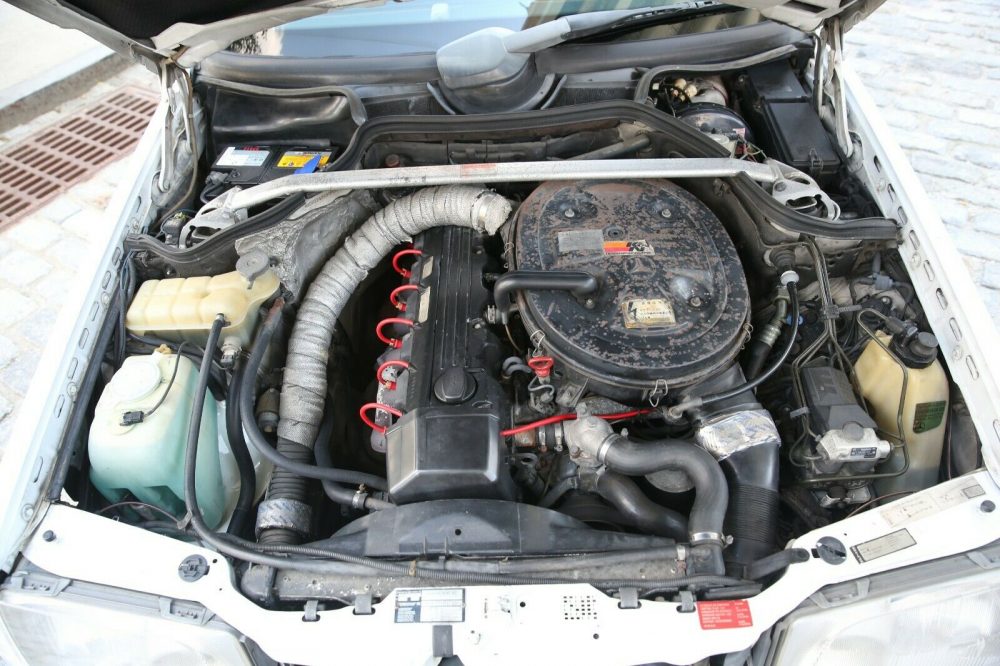 The interesting thing with this car is it was delivered with a 2.3 liter M102.982 which was a perfectly fine engine, but with just 130 horsepower no one was buying it for speed. AMG promptly ditched that and went with their tried and true M103 and increased displacement to 3.2 liters resulting in 230 horsepower. That is much better in terms of getting this grocery-getter down the road. Other cool goodies are the mentioned facelift front end, 17″ multi-piece AMG wheels, and period-correct Recaro CSE seats. This clearly isn't the cleanest example on the planet as Japan is generally pretty hard on their cards, but this one look well used for only having around 54,000 miles.
The bidding as I write this is well over $20,000 and the reserve is still not met. My guess is the seller is asking top dollar, and despite the heavy wear he might actually get it. This one is in the right area around NYC where there are plenty of people with plenty of money who want this type of classic. Is it worth it? I'm not sure. You basically have to be in love with the W124 wagon to drop this kind of cash on it. The closest recent comparison was another JDM import that wasn't an AMG car, but rather had a bunch of Lorisner goodies, and sold for right over $20,000. Is this one above that car? Very much so. My guess this one lands north of $30,000, but I'm not sure if that is enough to take it home.
Thanks to our reader Ryan for the spot!
– Andrew