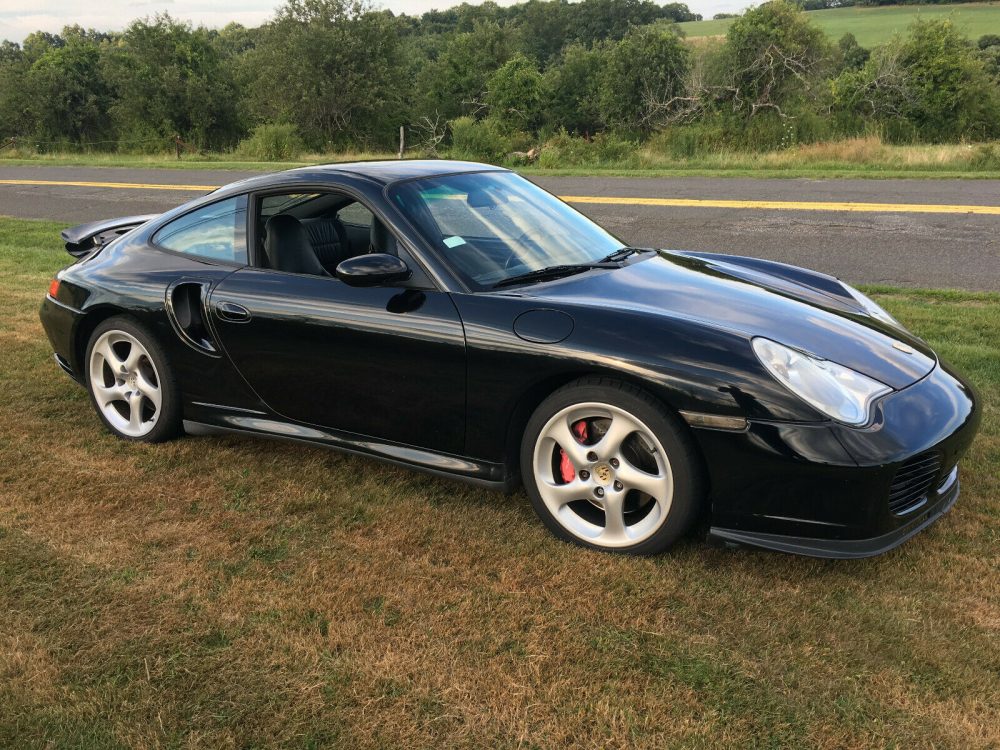 It seems to me that unless you are buying new, a Porsche 911 Turbo isn't a bad place to park your money and still actually have a car to drive around. If you are buying a new 911 Turbo, you have a level of wealth where the deprecation on your car probably doesn't matter all that much to you anyway. Enter the 996 Turbo. By far the most inexpensive 911 Turbo, these wasserboxer examples still offer a ton of bang for the buck. Looking at recent auction data, the majority of these cars sell for somewhere in the mid-$30,000 up to about $60,000 for the low mile and rare color examples. Anything outside of that range usually has something exceptional about it, both good and bad, and today's car is exactly that.
This 2001 911 Turbo up for sale in Connecticut is a black on black example with with just over 87,000 miles. It has some cool options like a full carbon fiber trim kit, crests in the headrests, and navigation. However, it is much less than the usually floor that these usually trades hands at. There is always a catch.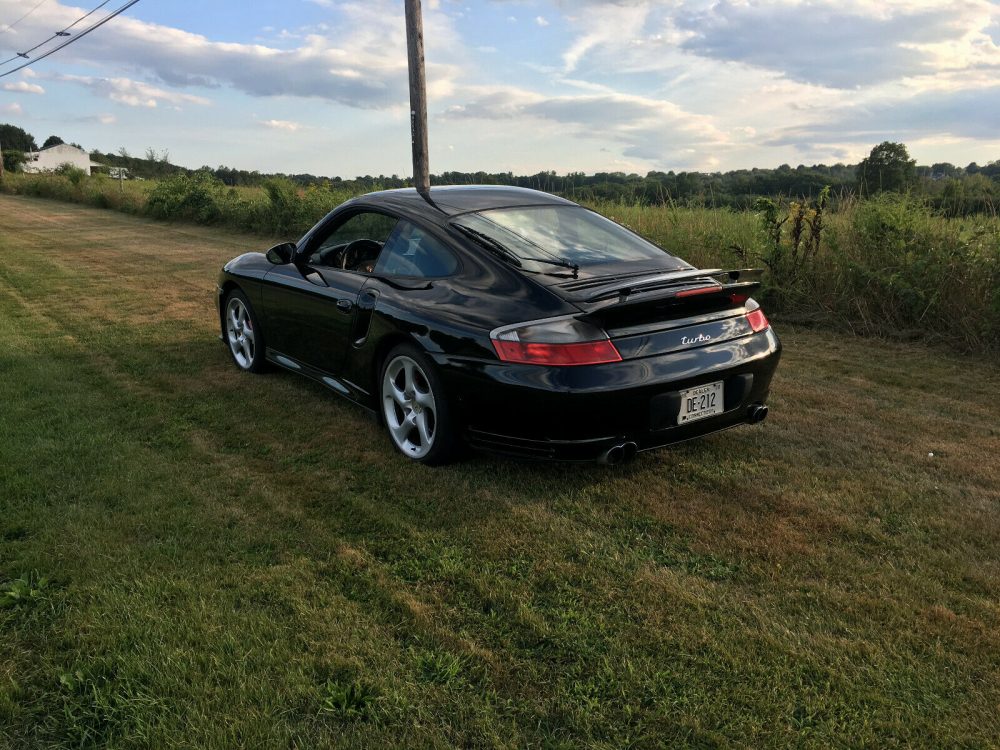 Year: 2001
Model: 911 Turbo
VIN: WP0AB29941S685931
Engine: 3.6 liter twin-turbocharged flat-6
Transmission: 6-speed manual
Mileage: 87,394 mi
Location: Watertown, Connecticut
Price: $28,900 Buy It Now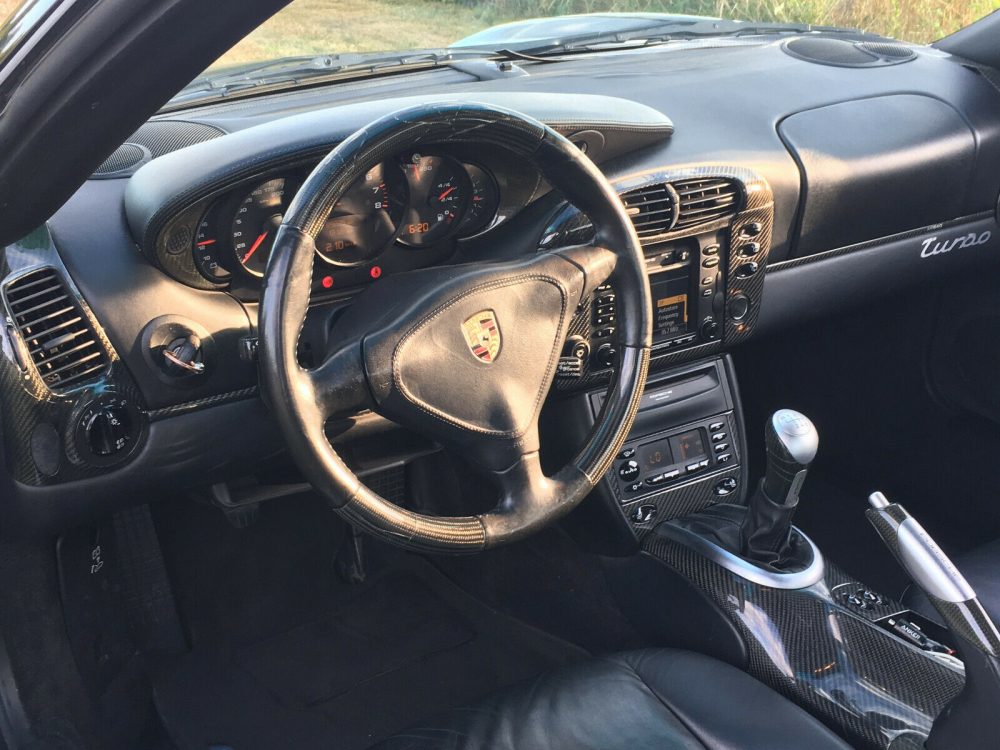 2001 Porsche 911 Turbo
Black on Black

6 Speed Manual

Current mileage is ~87k

Options include:
-Factory Nav
-Xenon Lights
-Heated Seats
-Full Leather (Dash, headliner, etc)
-Factory Carbon Trim

Car runs and drives excellent. I've owned the car for ~5 years and have put 20k miles on it in my ownership. It has been a great car, but looking to move on to something new. The car does have a salvage title. The car currently needs nothing!

Please read ad and view photos before contacting me. No tire kickers, please.

Call or text Jim at 203-232-5688

Thanks!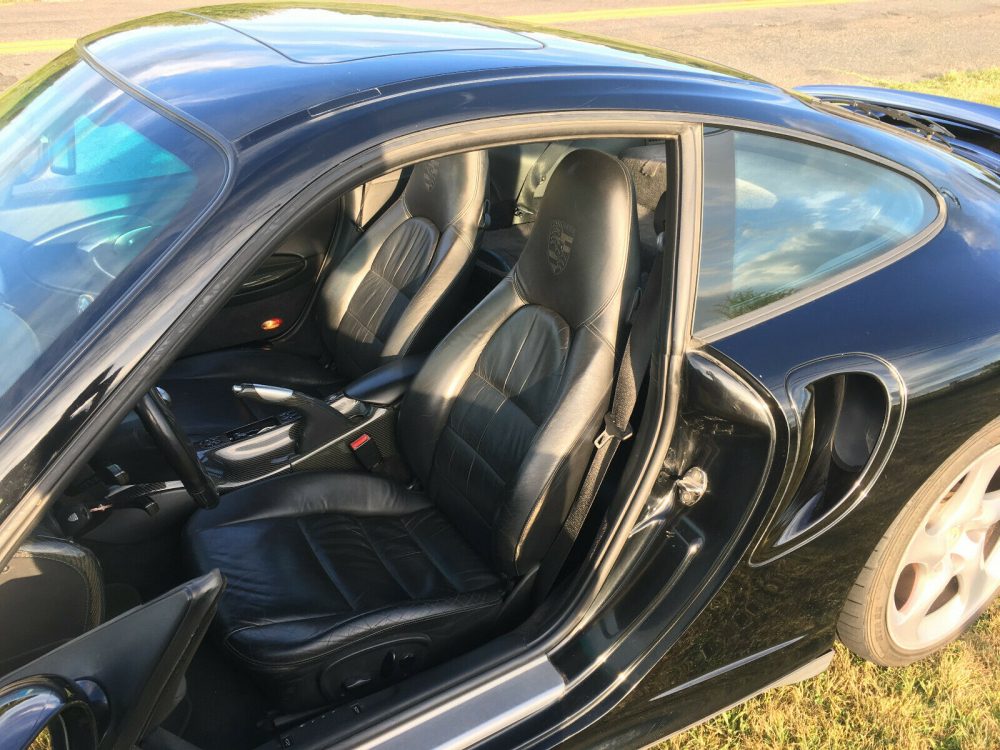 If you guessed salvage title, you win. Don't you love when sellers just casually mention a car has a salvage title like its no big deal? A salvage title could mean hail damage all the way to it sitting at the bottom of the lake for a week after plowing through four telephone poles. The exterior doesn't look all that bad, but the interior does show a large amount of cracks across all of the carbon fiber trim. Carbon fiber trim is awesome when it holds up, but after many years of use the stress takes a toll on the material and this is what ends up happening. Personally this would drive me nuts and replacing this trim is probably a four-figure sum. Although I'm sure swapping the wheel out for a plain black 996 unit wouldn't be a bad low-cost solution. Another thing I see is the seam is starting to split on the driver's bolster. Not a great look.
This car is priced at $28,900 which is at the very bottom of the market for a 6-speed car. I've seen some Tiptronic cars with a pile of miles get down to this level, but $29,000 seems like a good deal. If you were looking for a daily driver or even better, a track car, then this isn't a bad option at all. Just remember, bring cash, because chances are no one is going to finance a salvage title car and few insurers will sell full coverage insurance for rebuilt cars.
– Andrew