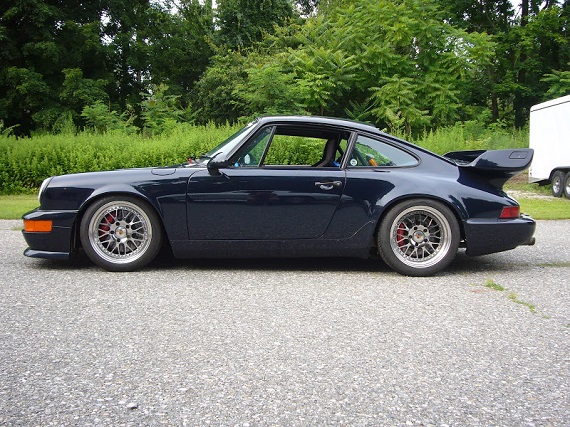 There aren't many more highly regarded classic 911s than the Porsche 911 Carrera Club Sport. Any Porsche Club Sport model likely will be well regarded, but with demand for an air-cooled 911 continually increasing it is the 911 Club Sport that receives the most serious attention. The 911 CS followed the standard protocol of track-oriented models by going on a significant diet that stripped away most everything that wasn't necessary. It lacks fog lights, rear seats, A/C, power windows, locks, and seats, as well as a few items, such as the passenger sun visor, that we may not think much about, but which still added extra unneeded pounds. Handling was improved through a lower suspension and a set of stiffer Bilsteins and while the engine mostly was similar to the standard 3.2 Carrera its rev limit was raised by around 500 rpm providing a few extra moments of top-end ferocity. The example we see here is a rare Dark Blue 1988 Porsche 911 Carrera Club Sport, located in New York, with 26,842 miles on it. Most Club Sports were produced in Grand Prix White so coming across one in another color is certainly uncommon.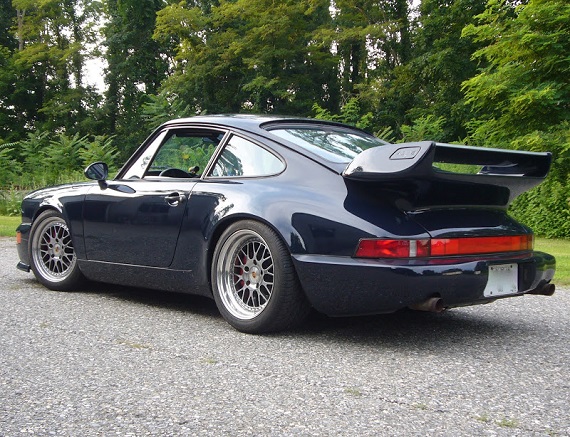 Year: 1988
Model: 911 Carrera Club Sport
Engine: 3.2 liter flat-6
Transmission: 5-speed manual
Mileage: 26,842 mi
Price: Auction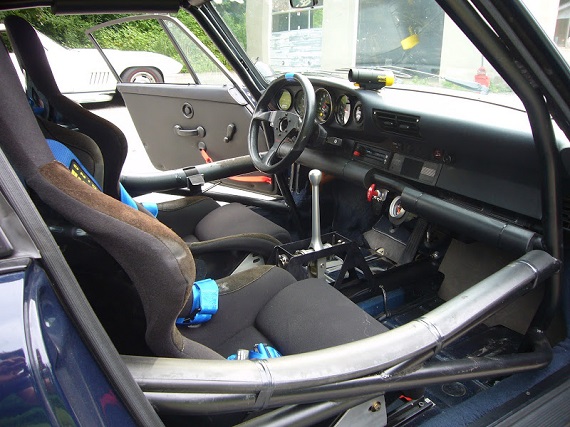 Ultra rare 1988 Porsche 911 Carrera Club Sport (Option M637). Dark Blue with Marine Blue Interior.

Additional photos here: https://picasaweb.google.com/111026695385711317483/1988ClubSport?authuser=0&authkey=Gv1sRgCNyNlY78tqrhwwE&feat=directlink

Designed for the enthusiast, Porsche made every effort to eliminate every unnecessary item to create the purest example of the 911 since the original RS. From the factory the Club Sport was equipped as follows: No fog lights. Manual sport seats. Roll up windows. Manual controls for the ventilation system (no A/C). No central locking. No rear seats. No sound proofing materials (except on ceiling and engine). No lock on trunk release. No passenger sun visor. No jacket hooks. The CS was lowered by the factory and featured stiffer Bilstein shock absorbers and slightly larger wheels and tires.

This car is 1 of 340 Club Sports produced worldwide during its production 1988-89, and 1 of 29 imported to the US. 1 of 4 imported in this color. I believe that blue is the rarest color option. 1988-89 Carrera Club Sport is among the lowest production 911's.

This car was featured in an article in Excellence Magazine in September 2012

This Club Sport was used the way Porsche intended, on the track. It is heavily modified and has seen its share of track and DE days, but was never raced. It is an exceptionally tight car. Track-oriented modifications began almost from new. Care was taken to minimize any irreversible changes. With the incredible increases in values for rare and collectible Porsches, it's very well might be the time to return this car to stock form, but I would recommend that the buyer enjoy the driving perfection before making that decision.

There are some stone chips here and there, but the car was never in any accidents and retains its original paint. Please see the many included photos for condition. Currently the car has 964 front and rear bolt on bumpers, which were color matched. Many of the original parts are included with the sale. (Please see below for the inventory of original parts.) The original Club Sport fender script remains in place.

This is a streetable track car, although whether or not it will pass inspection at your local DMV is at your risk. It runs perfectly: great clutch and shifter action, no overheating, starts and idles perfectly, strong oil pressure, with great power and braking. Recent PPI (within 300 miles) confirms sound mechanicals. The car is clean, but I will have it professionally detailed before pickup/delivery.

Clean Georgia title.

Prepared for DE days by Rothsport , this CS weighs 2470 lbs with fuel, almost 300 lbs lighter than the standard Carrera.

3.8 liter 993 VarioRam develops 321 hp at the wheels, that's 7.7 lbs per hp. The 3.8 is upgraded with all new race grade pistons, rods, bolts, springs, valves, gaskets, rings, etc. The location of the original motor is unknown.

PPI in March 2013 at 26,577 miles (current mileage is 26,842) by Gerber Motorsport of Seattle, including leak down/compression check. Car was deemed "a wonderful example of the highly sought after Club Sport variant…with no reason to pass on this vehicle." Compression was 165 psi exactly from all six cylinders and leakdown was 2-6%.

I encourage you to watch this recent driving video…

• Rothsport 993 3.8L VarioRam motor
• Mahle pistons with temperature head sensors
• 993 supersport custom ground camshaft
• Oversized intake and exhaust valves
• Race valve springs w/ titanium spring retainers
• Ported dual plug heads
• Custom ECU reprogramming; optimized fuel and timing maps for 3.8L RS spec engine
• 321.3 HP, 280.2 lb-ft of torque
• "Custom 1" race headers
• Lightweight flywheel
• Quadratrac rear axles
• Flowmaster stainless steel muffler, with heat shield
• Safety Devices roll cage with door bars, window net, and camera mount
• Holbert brake-cooling system
• Deeper front spoiler
• Kevlar RS race seats (8 lbs each)
• Schroth harnesses
• RS door panels and RS pulls
• RS 3.8 rear wing with Gurney lip
• Momo quick release steering wheel
• Tow hook
• Smart Racing sway bars
• Shift light (velcro'd on. No holes in dash)
• Strut tower brace
• Differential cooler
• Dual fender-mounted oil coolers
• Performance chip
• Electric cut-off switch
• Heater delete
• G50 with short gears (158 mph at 7200 rpm)
• Transmission cooler
• Front clear bra
• 993 Turbo brakes with cross drilled rotors (Big Red kit)
• 17 inch HRE wheels
• Fire extinguisher system
• Fuel cell (17 gallon)
• JRZ/Moton double-adjustable dampers
• Billet aluminum Rothsport shifter
• New Braille racing battery (2015)

Original Parts and other stuff included with the car:
– Original front blue CS valance (non fog light, CS-only) w/ splitter
– Original blue rear bumper w/ extensions
– Original blue leather steering wheel
– Original fuel tank (satin finish CS-only)
– Original CS tach (higher rpm redline, CS-only)
– Original blue steel hood w/ paint code labels
– Original blue steel decklid w/o Carrera tail
– Original center console
– Original ashtray
– Original smuggler's box cover

The original CS seats, in Marine Blue, are pristine but still in the possession of a prior owner (i.e. they are not included in this auction). The prior owner was not interested in selling them as of last year, but I will pass his contact info on to the buyer, who may have better luck. The car comes with Racetech racing seats.

Car is available for inspection in the Brewster, NY 10509 area. Will consider serious offers over $150,000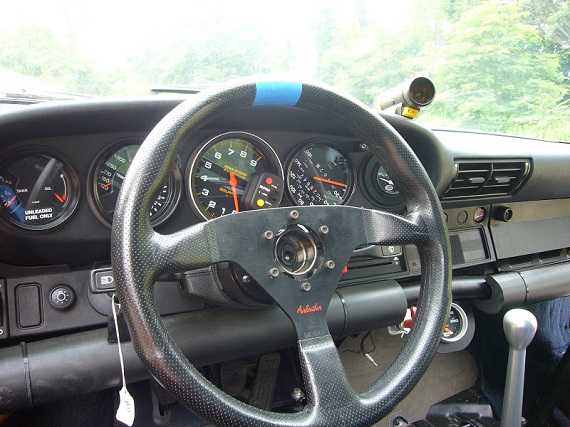 It is very rare for us to see one of these come up for sale and they are almost always worth a look when we do. Typically with a track-oriented car like this there is the stated caveat that over the years supply has dwindled due to so many of them being used on the track so good examples are extremely limited. However, this particular example happens to be one of those track cars and as such it is very difficult to gauge an appropriate value. The last examples we've come across were priced between $175K-$200K more than a year ago and were in original condition. So does $150K for this one make sense at this time? I don't know. Other than the Club Sport fender decal there is little here to even make clear that this is indeed a Club Sport and while it comes with many of the original parts it does not come with all of them and, perhaps most significantly, the engine is no longer original to the car. With collector values driving demand it's tough to see such a modified example reaching this sort of asking price, even for a model that is sure to perform very well on the market over the coming years.
-Rob