We've seen the ways in which a rare exterior color can influence the market for a classic 911 and though we don't across this as often we do see similar circumstances with a rare interior color. In many ways, that makes sense because as the owner it is the interior that is most apparent and provides us as drivers with our interface with the car. An interesting interior serves to inspire the feelings created within us on any drive, but a boring interior can make even some exciting cars feel more pedestrian. This all brings us to the car featured here: a Guards Red 1988 Porsche 911 Carrera Targa with just over 34K miles on the clock and a really nice Linen leather interior.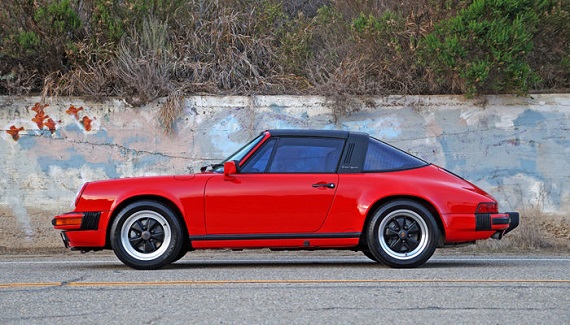 Year: 1988
Model: 911 Carrera Targa
Engine: 3.2 liter flat-6
Transmission: 5-speed manual
Mileage: 34,064 mi
Price: Reserve auction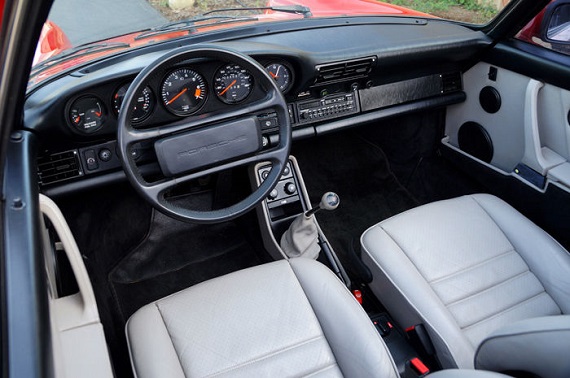 Offered for sale is an exceptionally original, stunning and well maintained 1988 Porsche 911 Targa with only 34k documented original miles from new. Finished in iconic Guards Red over a rare Linen leather and black carpet interior, the car is as mechanically sound as it is beautiful, a rare original example that comes with every single service record, every single book and manual (including the fully stamped service booklet) and every single spare key. Whether you're in the market as a seasoned Porsche collector or just as a weekend enthusiast, this exceptional G50 transmission example is absolutely the car to have.

Delivered new to its first owner by Robertson Imports (the Porsche dealership in New Orleans, LA), it was barely broken in before gifted it to his newly married daughter's husband. From the ensuing 24 years the husband drove the car sparingly, always keeping it garaged and out of the elements and having it religiously serviced by Don McGill Imports (the Porsche dealership in Houston,TX). As time went by, the car would become a linchpin in his humble collection, always treated with an adulation that very few examples experienced through bottom of their depreciation curve. We came across the car at private car club where he had it stored and we had to have it, a feeling I think you'll understand if you come and inspect the car in person.

The car's finish is exemplary, consistently deep and lustrous and marred only by the most negligible of imperfections (a few rock chips and the like), none of which detract from the car's considerable appeal. The body is entirely straight and free of dents, with factory consistent panel fits and gaps throughout and absolutely no evidence of any accidents. All of the glass and rubber is in excellent condition, the targa top shows virtually no wear whatsoever, and neither do any of the Fuchs wheels, which are wrapped in hardly used Michelin tires. The car's undercarriage is completely rust-free, original and untouched, showing only road dust consistent with 34k miles of well-cared-for use.

The car's interior is equally as clean, the rare Linen leather seats showing only nominal wear. The same can said of the beautifully offsetting black carpets and Linen interior panels and door pockets that retain their shape – a common problem on more used examples of this model. The dash is free of cracks or warping and it houses the original Blaupunkt Reno radio which still functions beautifully through the car's original optional sound system. Speaking of which, the car left the factory with the following options:
Code Option Description

158 Radio Blaupunkt "Reno" – 87
197 High Amperage Battery
288 Headlight Washers
395 Light Metal Wheels – Forged
454 Automatic Speed Control
490 Hi-Fi Sound System
494 2 Speakers on Back Shelf / Amplifier System
C02 Equipped with Catalytic Converter

The car is also mechanically excellent, which isn't surprising considering the amount and quality of care and maintenance it has received. The bulletproof 3.2L engine fires up without any smoke or hesitation, pulling strongly and smoothly through each of the desirable G50 transmission's gears. Compression is excellent, as is oil pressure, and it's easy to understand why this era of 911s is one of the most desirable: it beautifully melds efficiency, reliability and everyday ride quality with a truly visceral, vintage driving feel that is sure to provide anyone behind the wheel a wonderfully grin-inducing experience.

If you're in the market for a late '80s G50 transmission 911, there are very few examples that can best this exceptional 911. It checks all the right boxes: exceeding originality, excellent provenance, only 34k documentable miles, iconic and desirable livery, exceptional cosmetics and strong, well-maintained mechanicals. Service records, the stamped service booklet and a clean CARFAX report all confirm as much. With the market reflecting continued and rapid appreciation, this is arguably one of the best examples of one of Porsche's best creations and we expect interest to be considerable. Please bid accordingly and feel free to contact us to discuss the car further.

We want this car to go to great home and would be happy to answer any questions, so please feel free to email us or call us at 805-202-4557. You can also visit us online at GoodmanReed.

Goodman Reed Motorcars

We've always had an appreciation for classic European cars and over the years have created an eclectic personal collection. We only buy cars that we'd personally be interested in owning and generally only sell them to make room for other acquisitions. That time has come for this Porsche (if the price is right, of course – this isn't a fire sale). We try to give accurate descriptions of the cars we're selling, but we're enthusiasts, not experts, and we encourage and are happy to help facilitate personal or professional inspections. But please do so before bidding, as the alternative harms our ability to make sales to other interested parties who have done their proper due diligence before bidding.

For U.S. buyers a 10% non-refundable deposit is required within 3 days of the auction's end, the balance to be paid within 7 days of the auction's end. Foreign buyers must pay in full within 7 business days of the auction's end. Buyer is responsible for shipping, however we'd be more that happy to help with recommendations and arrangements. The car is listed locally and we reserve the right to end the auction at any time should it sell prior to auction's end. Thanks for your interest.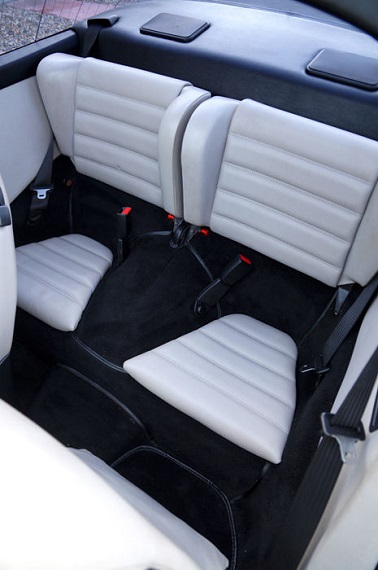 Guards Red is always a popular color on these cars and we tend to see the combination of Guards Red over a Tan interior garner quite a bit of interest relative to the many cars that came with Guards Red over Black. Here, with its Linen leather interior, interest will be even greater. The Linen leather provides for a very airy and open feeling cabin, a feat surely pronounced once the Targa top has been removed, and is sure to provide for an excellent day of open-top motoring. I would imagine one downside to this interior color is that it might be quite difficult to keep looking its best, though in its present state the interior of this 911 looks in excellent shape (as does the rest of the car). Given the low mileage, excellent condition, and rare interior we would expect bidding to be strong and the auction doesn't disappoint. At its current bid of $44,100 this car is already at an excellent price for a 3.2 Carrera Targa, but here we've yet to meet the reserve and I expect this will move up a bit more. Where will it finish? I'm not quite sure, but it will certainly fetch near top-of-the-market value and may even eclipse $50K.
-Rob