Warning!
This post is in our archives. Links in this post may have been updated to point to similar cars available to bid on eBay.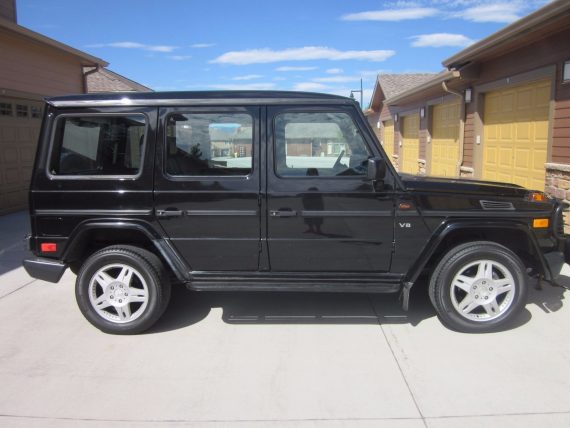 So lets start off with a quick Thursday evening history lesson. Way back in the grand time known as the year 2002, Mercedes-Benz finally decided to officially grace North America with its wonderful Geländewagen, or "G-Wagen" for short. Or, "G-Wag" if the next words in the sentence are "sittin' on 22-inch rimz." So with the G-Wagen starting production 1979 and Mercedes never officially offering them for sale at dealers until the model year 2002, someone had to feed the need of wealthy North Americans who saw these on their vacations in Swiss Alps and wanted to get something else besides a P38 Range Rover that had a permanent EAS Fault message on the dash.  That "someone" were the guys at Europa G-Wagen located in Santa Fe, New Mexico. Their business was pretty straight forward, they would bring over G-Wagens from Europe, do all the very expensive dirty work of federalizing these SUVs so they weren't subject to the 25-year import rule, then distribute them all over the country. Their business did so well that they became the exclusive U.S. importer of the G-Wagen and eventually gained U.S. Small Volume Manufacturer status. This all went really well until 2002 until Mercedes gave them the "we'll take it from here" and bought the U.S. distribution rights from Europa. This left the company to focus more on service, parts and accessions. Today, Europa still dabbles in importing G-Wagens, but mostly in the models we never got here such as the three door Cabrio.
So, every once in a blue moon one of these W463 Europa SUVs pop up for sale. Today, we have a 2000 G500 in Colorado that deserves a closer look.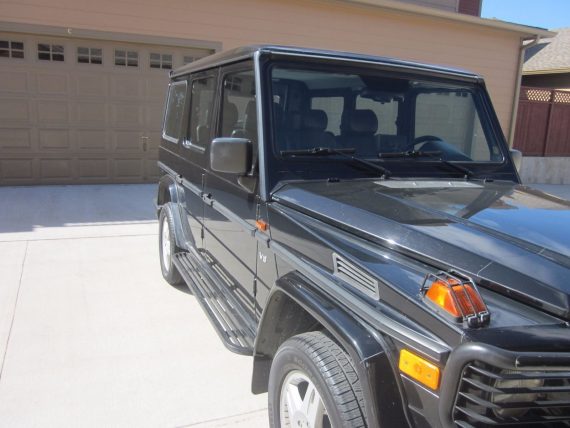 Year: 2000
Model: G500
Engine: 5.0 liter V8
Transmission: 5-speed automatic
Mileage:
154,171
Price:
 Auction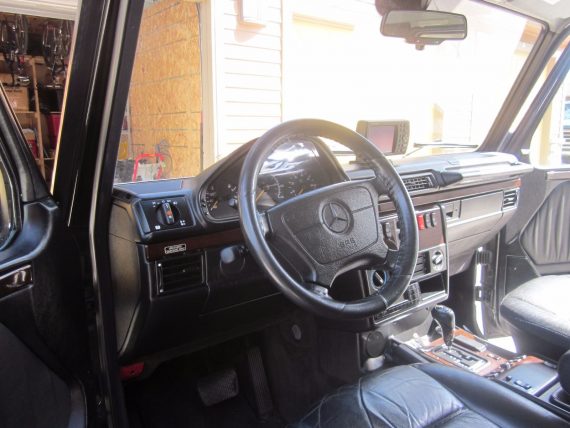 Originally developed for the German military, the G Wagen (full name: Gelandewagen, essentially "cross-country vehicle" in German) caught on as a premium sport/utility in Europe some years ago. And it's no poseur; the six-beam ladder frame structure is ultra stiff, ground clearance is substantial, and the square-rigged steel bodywork is a rare build. All appropriate off-roader hardware is there, including a multi-range transfer case and center, front, and rear locking differentials. It's powered by a 5.0L V8 with rear exit exhaust, that gives this vehicle a deep roar. Bottom line, the G Wagen is purposeful, capable, hand-built, and rare.

Most Americans have never seen one. Park a Mercedes-Benz G 500 V-8 anywhere, and it draws as much attention as a Bentley. Happily for the well-informed-and well-heeled-few, Europa International does exist in the US. Europa-and the notion of making the G Wagen available to American buyers-is the brainchild of Sante Fe, New Mexico's Dave Holland.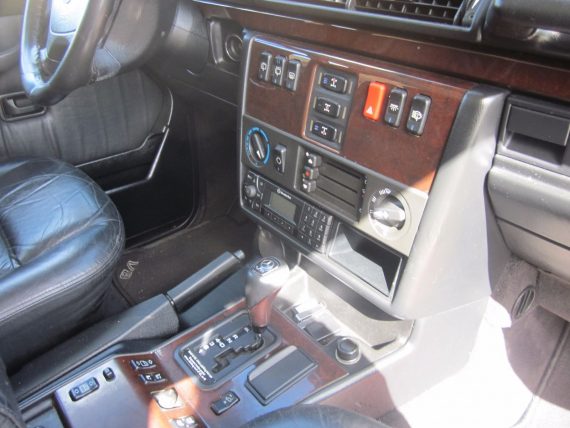 Now before we start, take all those words in the sellers ad and throw them out the window. It's just an excerpt from a Motortrend feature on Europa some 16 years ago that the seller literally copied and pasted then called it a day. With my curiosity and duty to all our readers, I got a hold of the seller and he said "We have all the maintenance records from 87k miles from 1/2010. No rust, Colorado stopped using cinders and salt quite some time ago. Maintenance has been completed by local German Car Shoppe in Englewood, CO." So that's all the information I have for you on this specific truck.
As far as the 2000 G500 goes, these have quiet a few differences on the inside from a 2002 despite being totally identical on the outside. The steering wheel and gauge cluster are from the Mercedes parts bin that you might recognize from the pre-facelifted W210 E-Class, which is strange since in the year 2000 the E-Class had the updated multi-function steering wheel as well as a much better gauge cluster. Same goes for the transmission.  It does use the 722.6 box but the 2002+ G500s have the shiftable option on the gate. Stuff like this happens all the time with different product lines and parts sharing where the years don't cross over totally so I stopped trying to make sense of it.  The interior is a lot more spartan in terms of features with a lack of built in navigation and radio controls and a rather dated climate control system. Now you might notice that giant screen attached to the top of the center of the dash and yes, that is the OEM Mercedes-Benz navigation system that was an option. Here it what it looks like. It was surprisingly functional for it's time and like I say with any vintage navigation system, it's better than absolutely nothing at all.
So as far as pricing goes on these things, these are totally on par with 2002+ models. In fact, I'd venture to say that if you gave someone a choice who is looking for a long-term G-Wagen, they'd pick a Europa truck. Mostly because these have a little more 1990's Mercedes feel to them. You get the awesome platform of the W463 without the overloaded center console and dash. The only thing that gives me pause on the 2000 model, and I think a year or two earlier as well, is that it uses an EIS and Smart Key combo which has the potential to leave you totally stranded without warning. (Ask me how I know.) The opening bid of $25,000 is reasonable but I don't think he's going to get much action from bidders given the zero information in the ad description. That doesn't mean someone won't see it, give him a ring, then complete the transaction outside of eBay. There is a big demand for these and the seller shouldn't have a problem finding a buyer.
– Andrew