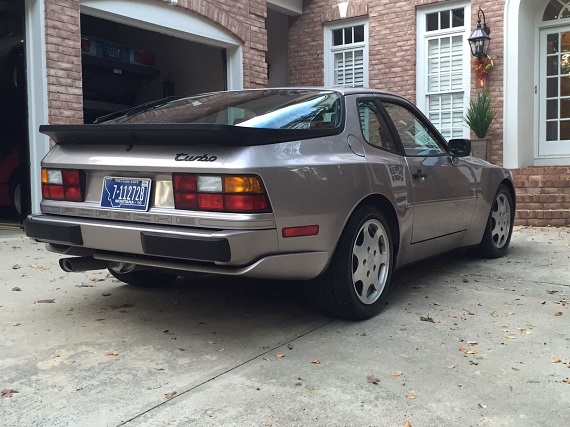 Porsche is famous for launching a special edition just about every six minutes, and in the late 1980s they launched quite a few for 1988. First off, they created a special edition of the 944 Turbo. The new option M758 "Turbo S" included a new turbocharger with redesigned vanes and a remapped DME which increased boost to a max of 1.82 bar. The resulting M44/52 had 30 more horsepower and 15 lb.ft torque to a max of 247 and 258, respectively. But the "S" package was far more than just more boost, as the cooling system was revised, the clutch and transmission were beefed up with hardened first and second gears.
Brakes were borrowed from the 928 S4 and now measured 12″ in front with four piston aluminum calipers. Wheels were Club Sport 16″ forged, polished and anodized units measuring 7 inches in front and 9 in the rear. Suspension was also beefed up with the M030 package; this included adjustable rebound Koni shocks and adjustable perch coilovers in front. Limited slip differentials (Code 220) were not standard, but a must-select option.
Within the already limited edition S (of which about 1,900 were shipped to the US), there was another special edition. The "Silver Rose" launch cars took all of the special aspects of the M758 S package and added a unique color (Silver Rose Metallic, LM3Z) and a very unique Burgundy Studio Check interior. Outside of the Turbo Cup cars, these very limited original models have become the most desirable of the 944 Turbos: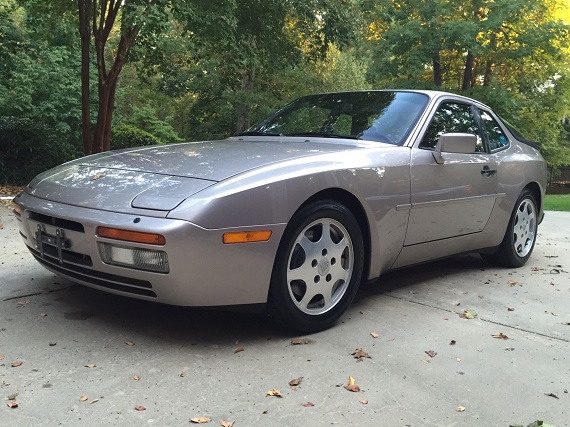 Year: 1988
Model: 944 Turbo S
Engine: 2.5 liter inline-4
Transmission: 5-speed manual
Mileage: 58,600 mi
Price: $34,900 Buy It Now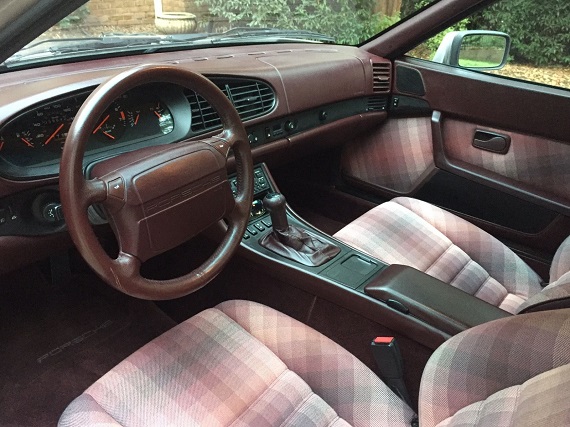 SN WPOAA2957JN151398 is one of 339 US spec "Silver Rose" cars, which were the first 944 Turbo S cars imported by Porsche in 1988. All of these cars had the LM3Z paint code and a special burgundy with pink plaid cloth interior. Option code 758 also indicated the Turbo S option package. These cars were the street version of the 944 Turbo Cup race car and included a more powerful engine (M44/52 with 247 bhp), sport suspension with adjustable KONI shocks and larger 928 S4 brakes, and the "AOR" transmission which includes a limited slip differential and a transmission oil cooler.

This is an incredibly original car with ZERO modifications and known history since new. With exception of the missing original window sticker, the car is as delivered new and includes all of the following items;

– Two "pewter crest" keys, one valet key, and three wheel lug nut keys

– Spare tire, jack, and tire compressor

– Original tool kit with plastic gloves

– White KONI adjustable shock wrench

– Sunroof storage bag

– All original books and pouch; including all radio manuals (with codes & SN's), the original warranty booklet indicating delivery date, first owner, option codes, and dealer service stamps, and the original owners manual with the Turbo S supplement

The car has a clean CARFAX with all VIN tags present on all appropriate panels. The only evidence of paint work is on the front nose, where three small dents on the panel between the headlight covers were repaired. I have pictures and receipts from this work done back in 1993. There is no evidence of rust anywhere on the car, but there are some scratches on the hood and roof that are noticeable under the right lighting conditions. These scratches are not deep and appear to be something that could occur when running the car through an automatic car wash.

A notebook full of receipts going back to 1991 provides a maintenance history and supporting evidence of the mileage as well as indicating that I am the fourth owner. Most recently, the following repair / maintenance items have been completed;

– 10/15/16 58,616 miles Four new Toyo Proxes tires

– 10/02/16 58,612 miles New OEM exhaust

– 10/01/16 58,600 miles New brake rotors, pads, & sensors on all four corners

– 06/08/12 50,875 miles New timing & balance shaft belts, distributor cap, rotor & plugs

As a 25 year plus PCA member with over 250k miles driven in 944's, I am very familiar with the maintenance needs and problem areas with these cars. I would feel confident driving this car across the country tomorrow. There is no clutch slippage or "shuddering" when taking off, no roughness upon startup which would indicate potential motor mount issues, or uneven "hunting" at idle. There are no cracks in the dash, no curbed wheels, no broken cassette holder or glove box door hinges, and no stripped sunroof gears. The original plaid cloth interior is perfect with the exception of a two inch tear on the driver's seat bolster. Should someone wish to repair this, new material is still available from 924werks in Germany. A couple of months ago I sold my 1989 944 Turbo with 38k miles and this car is in better condition! Additional pics at world wide web .imgur.com/a/r7W0p. Should anyone have further questions, feel free to give me a call at 704-962-9683.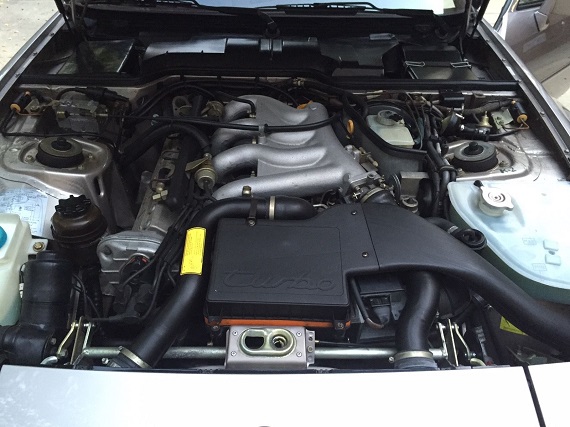 Presentation of this car is, in general, outstanding. We've seen a run of very nice 944 Turbos come across these pages in recent months, but the Turbo S really makes for a better collector option (as all "S" model Porsches do), and the Silver Rose model again kicks up the desirability a notch. There are some obvious flaws indicated in the listing; the checking of the paint, but more notable is the ripped cloth. However, 924Werk still offers replacement cloth so bit of expense and talent can solve that problem.
The price? Well, for an original Turbo with this mileage, the figures seem to suggest that mid teens in the max right now. Turbo S models are obviously worth more, and Hagerty currently values an "Excellent" Condition 2 car at $33,700 – right at the asking price of this car. That's expensive for a four cylinder Porsche, true, but a limited model of a limited model that has strong market desirability? It's neither outrageous nor particularly out of line to me, but it will take just the right person to click the "Buy It Now".
-Carter