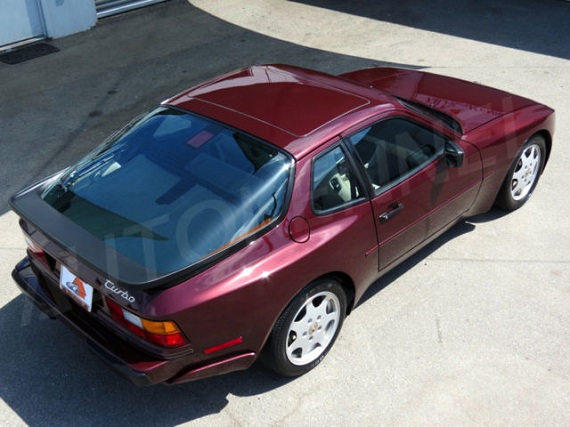 Like earlier's M Roadster post, if you've missed out on the E30 market and are looking for a collectable classic, another car with serious potential over the coming few years is the 944 Turbo. Lagging (no pun intended) behind some of its contemporaries in increasing values, most decent 944 Turbos can still be had for under $15,000, and very good examples can be found up to around $20,000. However, if you want the best of the bunch, you'll save your lunch money for the 1988 Turbo S, or the S-spec 1989 Turbo. I've written many times about how these are performance bargains, much as they were back in the day when they were new. However, if you've been watching the trend, these turbos have certainly been on the uptick over the recent few years, following cars like the E30, 911, Quattro, M5 and M6 upwards. Today's example is one of the more desirable 88 Turbo S cars; presented in Maraschino Red Metallic, it's in stunning original condition with very low miles: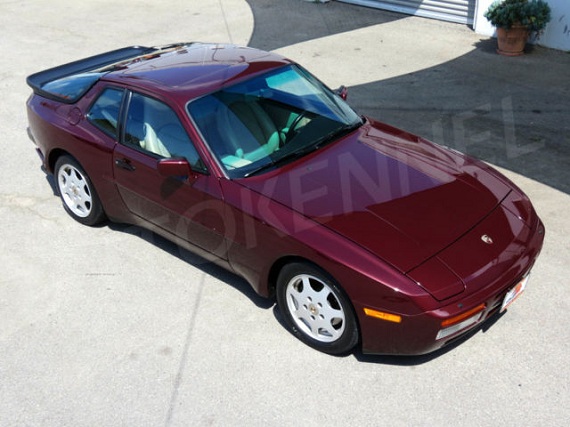 Year: 1988
Model: 944 Turbo S
Engine: 2.5 liter turbocharged inline-4
Transmission: 5-speed manual
Mileage: 39,100 mi
Price: $32,990 Buy It Now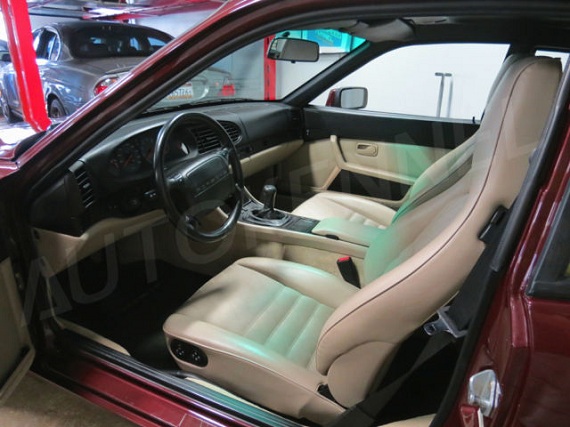 1988 Porsche 944/951 Turbo S Coupe

M030 Sport Package/1-Year Only Production

Stock #0553

VIN # WP0AA2953JN151575

ENG# 47J01351

TRAN# AOR18038 (G016R)

39,100 Original Miles

Maraschino Red Metallic on Light Grey Leatherette with Porsche Cloth Inserts

5-speed Manual Transmission

Clean and Clear Title

Original Paint/No Accidents

Clean Background check

Only 718 Produced for U.S. Market/1 of 51 in this color combination

2-Owner Car

Certificate of Authenticity from Porsche

This is not your average 4 cylinder Porsche. The 944 Turbo S was a special 1-year only car. Automotive magazines touted it as the fastest 4-cylinder in the world. Back to back track tests against the Porsche 930 showed that the 944 Turbo S was actually faster…and half the price (still nearly $50,000 U.S. new). Porsche rightfully proclaimed: "Not since the 911 Turbo have we transferred a race car so directly into a road car." These Turbo S cars were a direct descendent of Porsche's 944 Turbo Cup racing program. They received the coveted M44/52 turbo engine, which produced 247hp and 258 ft-lbs of torque. Furthermore, the cars received the famed Porsche suspension package, internally designated as the M030 option. This package included height adjustable Koni shocks, stiffer torsion bars/torque tube, stiffened sway bars, and lightweight Club Sport forged alloy wheels. Porsche's 928 S4 4-piston ABS braking system was also included. To handle this power, the Turbo S got a strengthened transmission (1st and 2nd gears were hardened). An external oil cooler was added for longevity and reliability. A new high-friction clutch was installed to allow for quicker launches and more precise shifts. Finally, a limited slip differential (with 40% lockup) was included.

This 944 was sold new in August of 1988. It was equipped with the following options from Porsche:

Sport Suspension Package

Blaupunkt Radio (replaced with modern CD player)

Limited Slip Differential

Headlight Washers

Protective Side Moldings

Rear Window Wiper

Full Power Seats (Left and Right)

Cruise Control

HiFi Sound System

Anti-Lock Brake System

Electric Sliding Sunroof

Split Fold Down Rear Back Seats

944 Turbo "S"

California Emissions

In February of 2007, the current owner purchased the car with about 15,000 miles on it. He used it for fair weather driving and kept it stored in a climate-controlled garage. He performed the normal routine oil changes and never had any issues with it. Recently, we had our local mechanic go through the car and perform a compression test. The results were excellent:

1) 140 2) 140 3) 135 4) 135

We then had the oil service performed using Brad Penn motor oil and a filter from Porsche. All in all, the car got a clean bill of health and is in great condition.

The outside of the car looks fantastic. The original paint has obviously been well cared-for. There are very few signs of use. There is a small scratch on the very front of the left front fender that has been touched-up. The interior is in equally as nice condition with hardly any signs of use. The dash is great with no cracks. The upholstery and carpet look like new.

This is an outstanding example whether you want something fun for touring or you want to compete at your local PCA concours events.

This Turbo S comes with a certificate of authenticity, owner's manuals/books, car cover, original tool kit, spare tire, jack, and air compressor.

If you have any questions, please do not hesitate to contact Paul at 714-335-4911 or paul@autokennel.com

For tons of photos, go to: www.AutoKennel.com

This vehicle is sold "as-is" with no warranty, written or implied. In some cases, the vehicle does have the remaining factory warranty still in place and will be described above if that is the case. All taxes and fees are the responsibility of the buyer and are not included in the listed price. All vehicle sales will require a $65 document fee. The vehicle listed is described to the best of our ability. We are not responsible for errors in our description of options or any other details. The above-mentioned vehicle is used and can be expected to show some wear and tear. It is not a brand new vehicle. We do our best to accurately describe the vehicle. We do welcome all local pre-purchase inspections on vehicles in order to verify condition.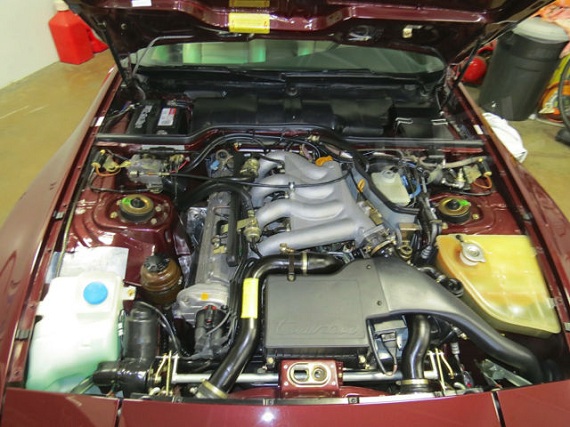 If you like the color, there's not much to gripe about here; the possible exception is that it would be nice to see the sport seats, but otherwise the condition on this car is pretty incredible. The wheels seem a bit off to me, although I think that's at least in part from the aging anodizing coating. It can be remedied if you're picky; though overall it must be said the condition of this car is one of the best we've seen lately. It should be, too – for the asking price of $33,000 minus a Latte, this car is easily twice the price of most good Turbos. However, I'd guess in a few years we'll look back at this price and not think it hugely unreasonable; it's ahead of the curve, yes, but the trend does seem to indicate that good examples of these Turbo S models are heading that way shortly. In fact, as of this writing Hagerty places the value of a condition 1 car at about $31,500 – if you're in the market, opportunities like this car don't come up often and will likely be increasing in the future.
-Carter