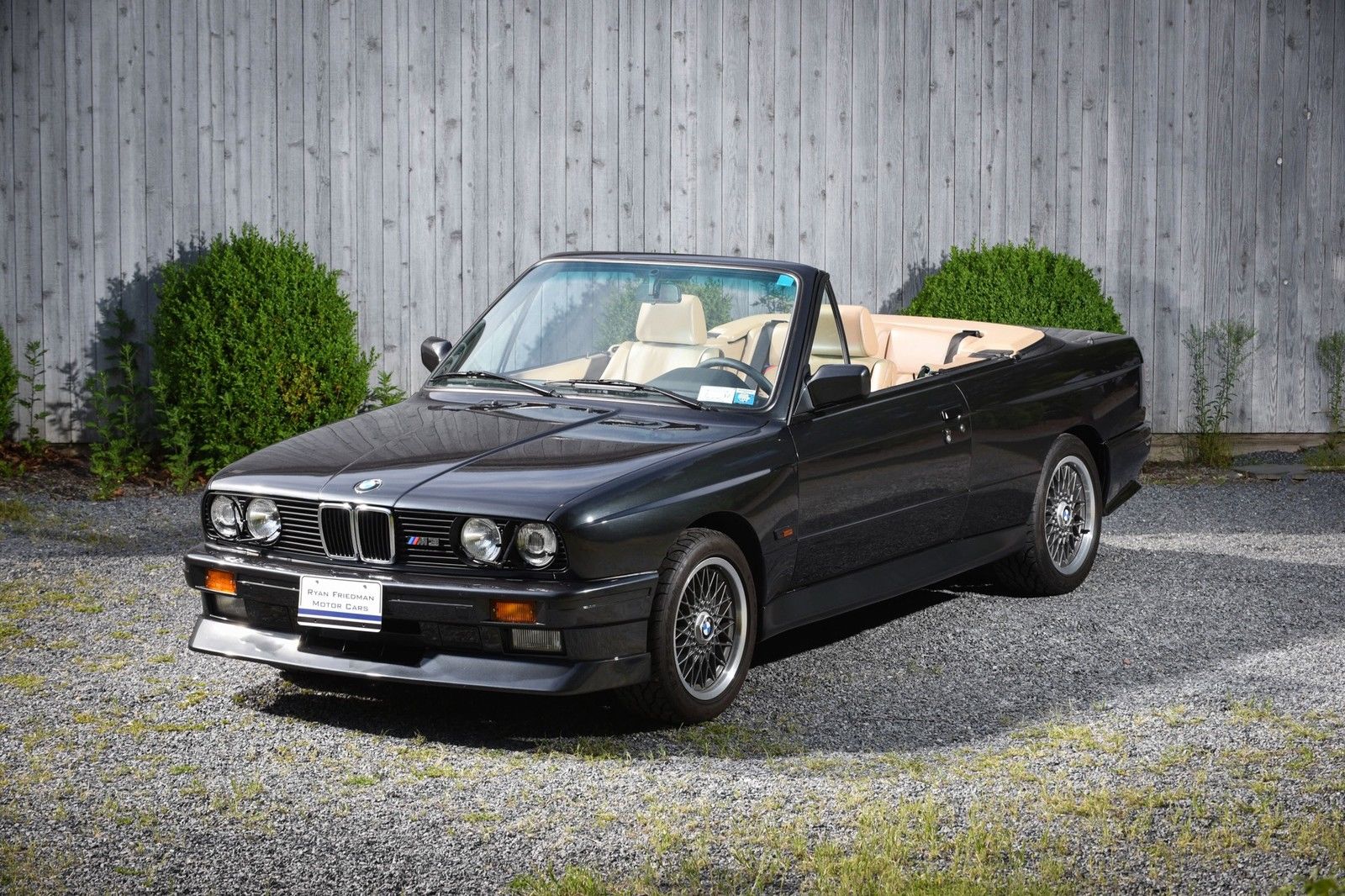 Update 2/8/2018: this rare Convertible M3 continues to surface, this time in a reserve auction format. But the seller lists the car for $93,995 on their website.
Prior update11/22/2017 – Asking price on this M3 Convertible has dropped to $94,995.
I bet more than a few of you think I have it out for the E30. And, true enough, it's not a chassis that gets nearly the press on this site that it does on others. Perhaps it is the culture which has emerged around the Cult of E30, maybe it's just jealousy at the plethora of options and availability of parts that are both none existent in the E30 world.
Most likely, it's because I like to be a little bit different than the crowd, and truth told that's a hard thing to do in the E30 world.
But I have the potential solution for my problem right here.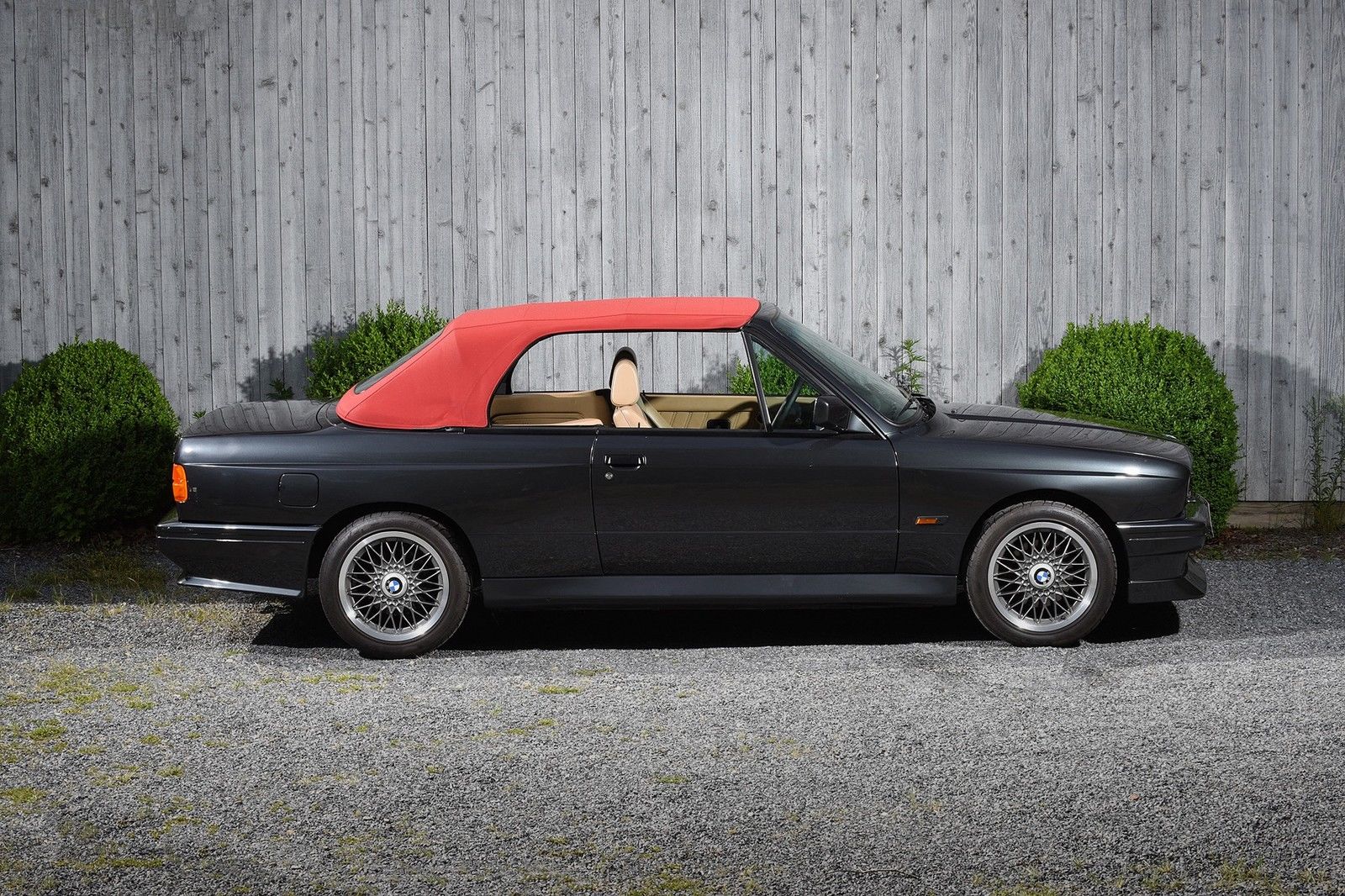 Year: 1989
Model: M3 Convertible
Engine: 2.3 liter inline-4
Transmission: 5-speed manual
Mileage: 67,065 mi
Price: Reserve Auction ($93,995 on website)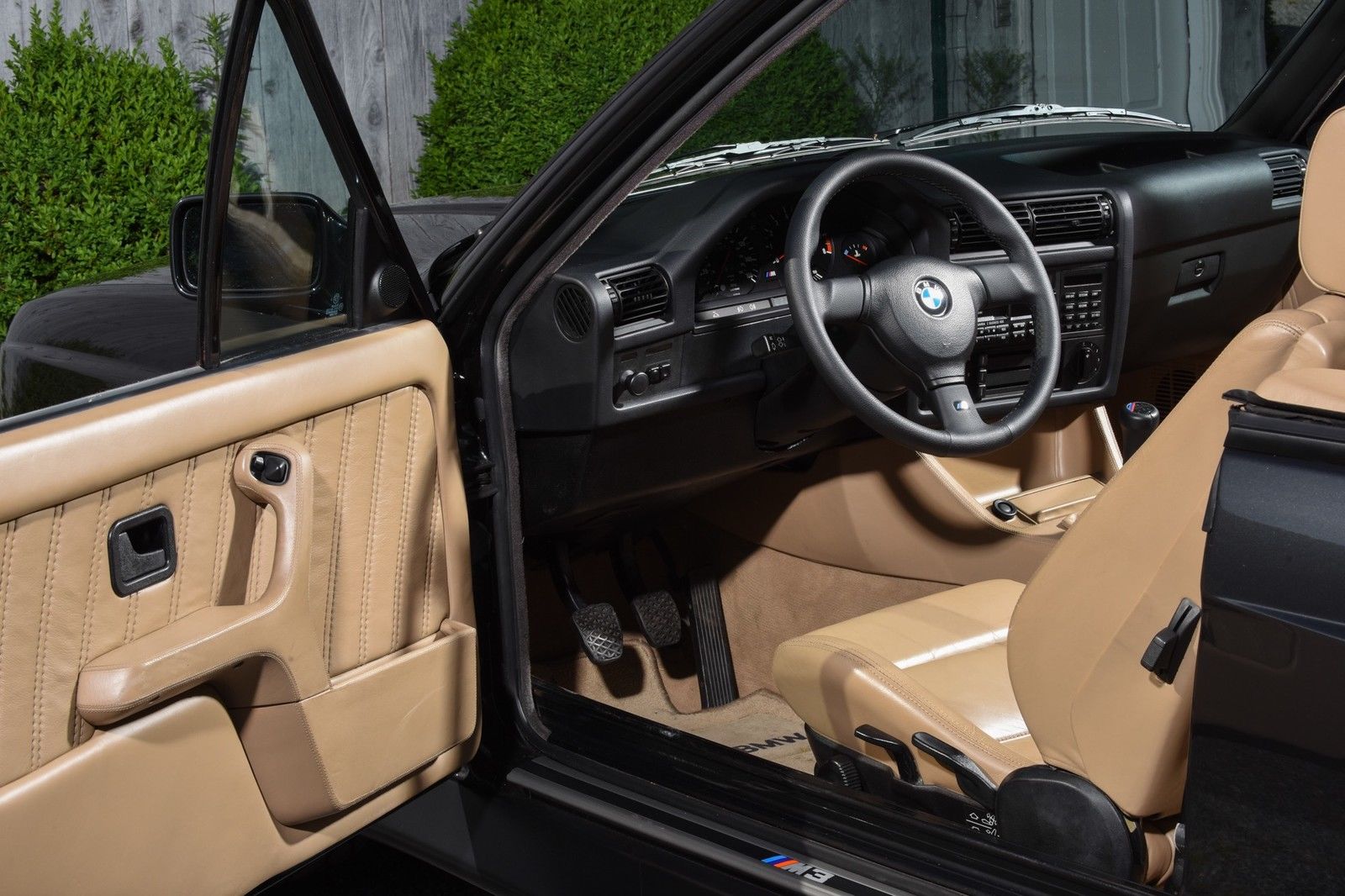 This 1989 BMW M3 Cabrio is one of the finer examples of only 786 cars built between years 1988 and 1991. Given that this model was never offered by BMW in North America there are fewer than a dozen (including this one) known to exist in the USA as per the BMW M Registry.

Because of its low production volume, the E30 M3 convertible was assembled by hand at BMW M's Garching facility, much like the E28 and E34 M5s. Bodies were supplied from the normal E30 M3 assembly line, then fitted at Garching with the special drivetrain, chassis and interior.

There were three versions of the E30 M3 convertible, all in left-hand drive and all built to European specification. Cars produced in 1988 and 1989 use the standard 2.3-liter S14 engine in either non-catalyst (200 hp) or catalyst (195 hp) form. After nearly a year out of production, a second batch of catalyst-equipped cars was assembled starting in March, 1990. These have the later 215-hp version of the S14 engine.
model_faq.php?id=9
models.php?id=22

This particular car has been imported to United States from the United Kingdom in 2008, federalized and subsequently returned to Euro OEM specs. The car has a clean US title and has never been in an accident. It comes with BMW Classic Division confirmation and service records going back to mid 1990s as well as the clean US Carfax and the UK HPI check.

This car has been originally delivered to the BMW (UK) Ltd, Bracknell, Berkshire, in July 1989. It is an example of the English/Irish series, which came with MPH (rather than km/h) speedometer, English language labels and sounds and side markers on front fenders.

The vehicle comes with 16 inch BBS wheels, the hydraulic (rather than electric) convertible top mechanism, dog-leg 5-speed manual transmission, heated front seats, BMW Bavaria C Business radio, headlight washing system, model specific full leather interior (including center console) and board computer II. There is no AC in this car. The AC option was not often chosen in English/Irish Cabrios as even in the warmest part of the summer there is no need for cooling. This helps the car performance, as there is no power drag by the AC compressor.

The seller believes he is the third owner of the vehicle, which has currently 66,800 original miles on the odometer. The exterior color is Diamond Black Metallic (Diamantschwartz) and interior is tan leather (Natur). The car is in perfect operational and cosmetic condition as a result of significant reconditioning effort including the drivetrain, body and the interior.

Gaskets, seals, hoses, wires, cables and numerous soft parts have been replaced. New steering rack, control arms, radiator, brakes, timing chain tensioner, engine mounts, struts, blower motor, hydraulic lines are just a part of the list of items replaced. The spare-no-expense paint job was completed in 2011 at a body shop known for a high quality work on classic and collectible cars. This included a full strip of the previous paintwork and ensured that there were no hidden rust or old repair work problems.

The unique E30 M3 Cabrio leather interior has been re-dyed and reconditioned in 2010. The OEM soft tops are no longer available hence the new convertible top was manufactured from the best German materials by Gahh Automotive.

For more information please give us a call or text 516-217-2580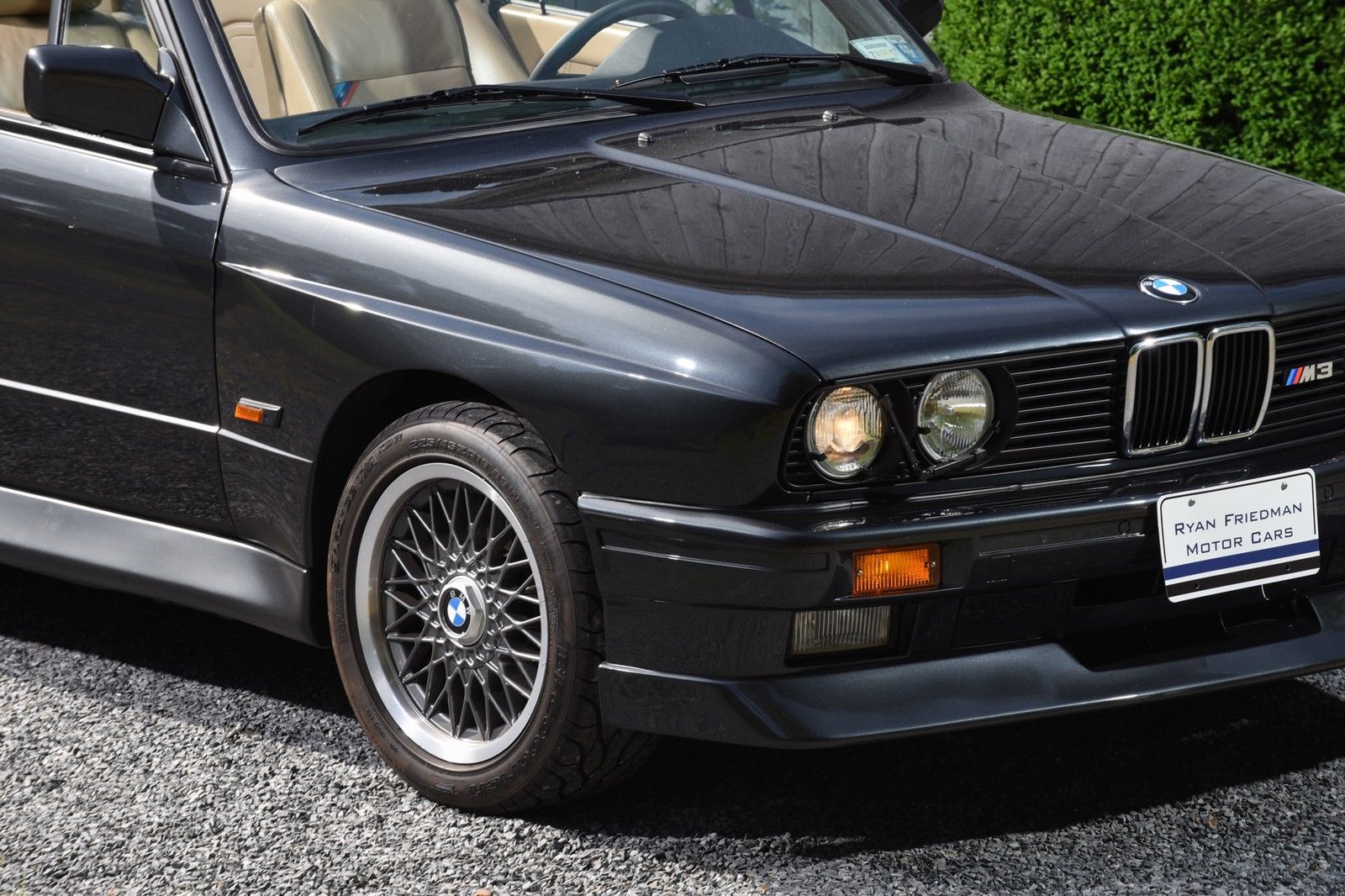 The E30 M3 Convertible was one of the most limited models of the chassis. The seller mentions the total production of 786; however, this is a BB01 model, of which there were the fewest at only 136. While inherently the model is no more special than the BB05 version, because they are quite limited within an even more limited model run it adds collector points. Further kicking that up a notch is the unusual color combination this car was ordered in. The Diamantschwarz Metallic (181) by itself isn't very rare, but the Natur leather (0320) sure is. Further helping to establish individuality in this example is the aftermarket, but great looking, red convertible top. The car also has unique options, such as the lack of air conditioning that the seller mentions was the established norm for the English countryside (and this car does carry option 812 – England version – for those wondering). However, having spent a year in England myself, between the damp spring, damp fall and damp winter along with the muggy summer, personally I'm not sure I understand the logic behind the lack of condenser.
The car has undergone a physical restoration and mechanical freshening, which certainly helps the visual and driving experience. The last few M3 Convertibles we've looked at have been priced well north of $100,000, but one snuck through at only $71,000 in 2015. I haven't seen any really big M3 numbers in the last few months, but I doubt that the market has cooled much since clean examples regularly started treading into 6-figure territory. Will this example hit that level? Perhaps the lack of originality may hold it back from top marks, but there's no denying that this is an expensive recipe.
-Carter