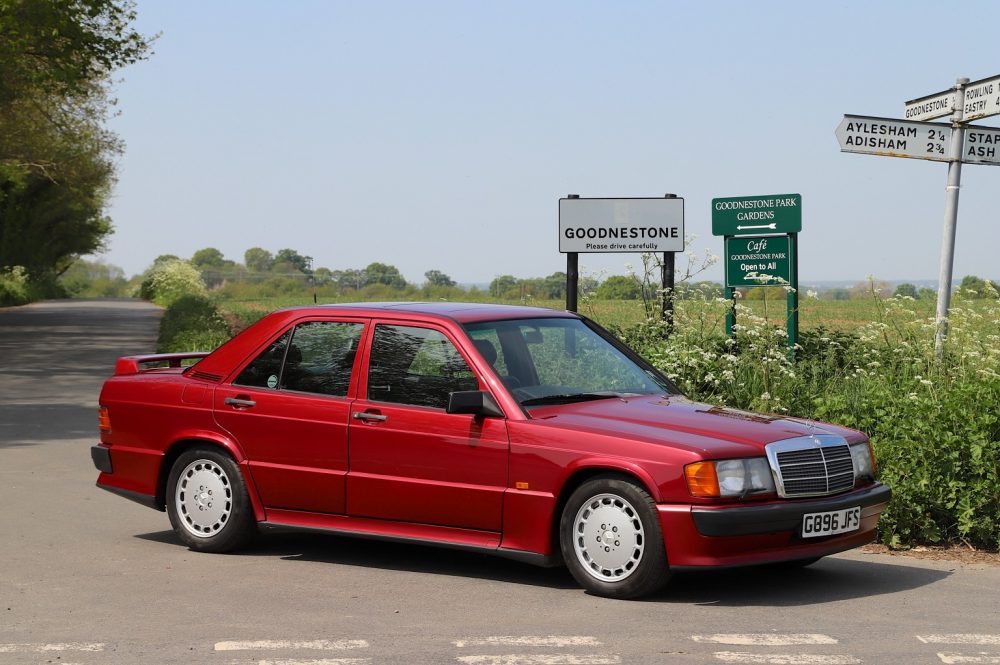 As cool as the Mercedes-Benz 190E 16v is, the colors Mercedes offered for US market cars were not extensive. You had two choices, Blue-Black Metallic or Smoke Silver. Blue-Black is just a plain black, and Smoke Silver is dangerously close to tan or beige. The situation is not ideal for those of us who like colors. In Europe? There was another color, Almandine Red Metallic. It's a beautiful shade of dark red or burgundy that isn't so red like "Rosso" from Ferraris, but a subdued shade. Today, I came across a 1989 16v-2.5 that looks great, but one big problem. The steering wheel is on the wrong side. That surely throws a spanner in the works.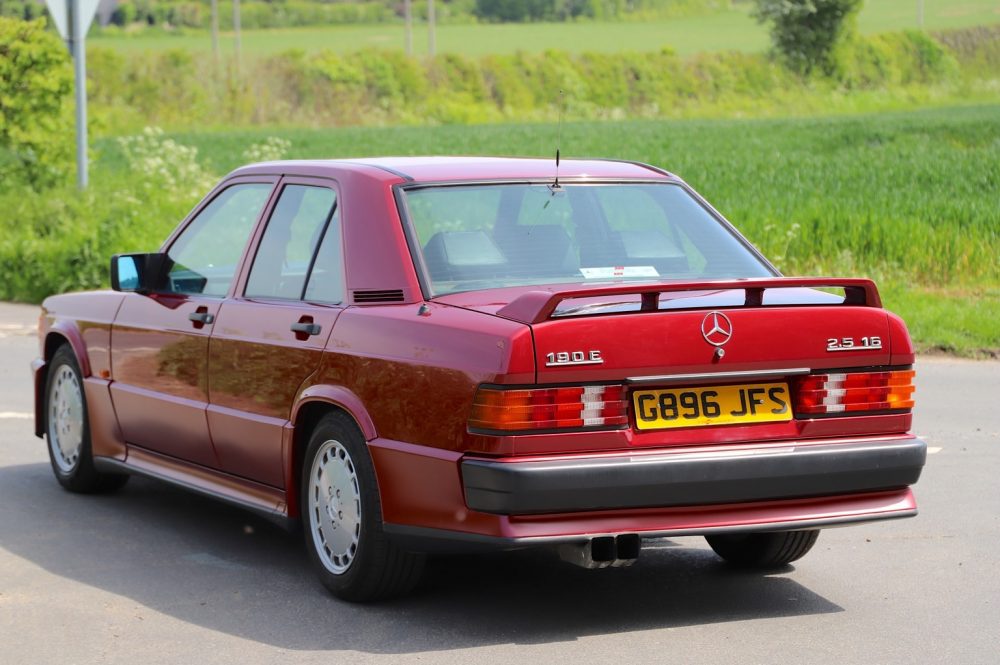 Year: 1989
Model: 190E 2.5-16v
VIN: N/A
Engine: 2.5 liter inline-four
Transmission: 5-speed manual
Mileage: N/A
Location: Canterbury, England
Price: £21,995 ($29,560)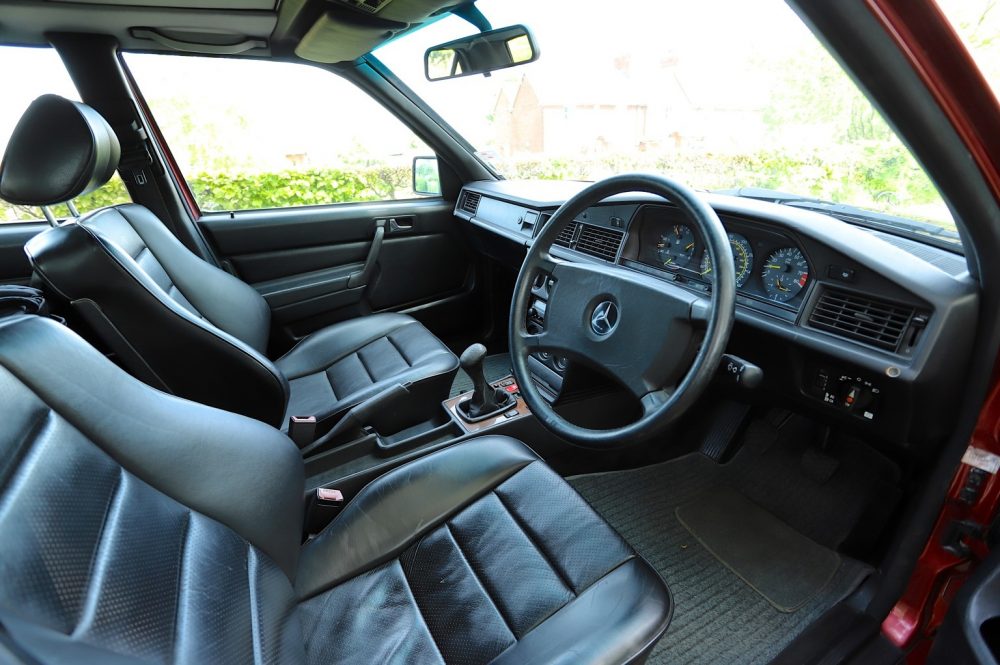 Mercedes 190E 2.5-16v Cosworth, 1989. RHD 5 Speed Manual. Fabulous Almandine Red metallic with black leather interior. Original U.K. car. Superb Getrag "dog-leg" gearbox with a smooth gear-change. Original 15" alloys. This is an exceptionally original example with much work done in the last 2 years: overhauled cylinder head, new radiator, new water-pump etc. Several thousands of pound spent since September 2018 to bring this fine example up to a very good standard indeed. Good history file with old MOT certificates showing the progression of the mileage of just over an average of 4k miles per annum. Original leather wallet and booklets, including the Maintenance Booklet showing 21 service stamps by mainly Mercedes Main Agents. A great car both cosmetically and mechanically. Recent MOT and fresh service prior to delivery.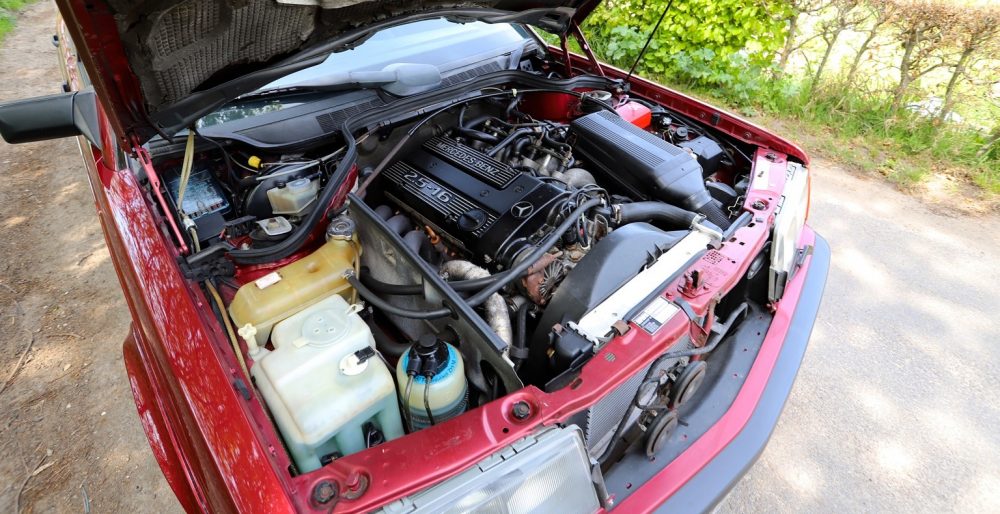 Yep, this is a right-hand drive UK-delivered car. Admittedly, that's a little disappointing from my point of view. Even as someone who has imported right-hand drive vehicles into the US and put thousands of miles on them, I don't want my sports cars with the steering wheel on the right side. I find it tough to drive "hard" if needed, and when I'm rowing through a dogleg gearbox, I want to be on point. One thing to note is this is a 16v-2.5, which is a far more desirable model and of course, wasn't offered in the US.
The price on this one coverts to about $30,000, which might seem high, but that is actually pretty fair for a 2.5. I do think there is a slight premium for Almandine cars, but if you were to bring this to the US, I think your value goes right at the window as the majority of the people won't even consider a right-hand drive car. So at the end of the day this one will probably stay in the UK, arguably where it belongs.
– Andrew