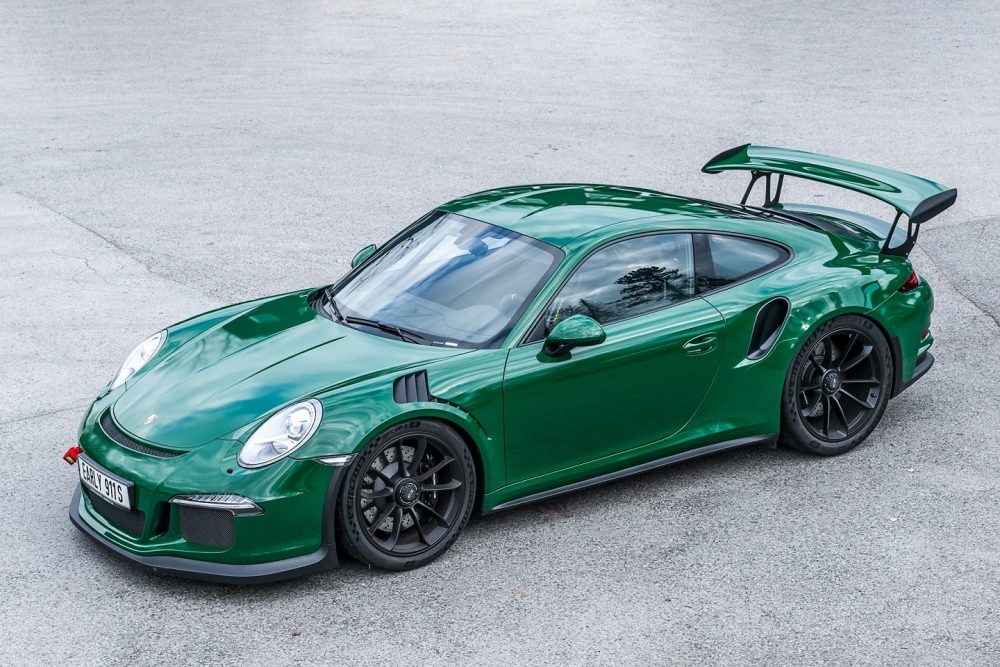 If I could find whoever spec'd this car out, I would give them a firm, but polite, handshake to thank them for bringing this car into the world for all of us to enjoy. This 2016 Porsche 911 GT3 RS up for sale in Northwest Germany is finished in none other than paint-to-sample Irish Green, and boy does it look amazing. Even better, the madmen at Manthey Racing put a few little special touches on this.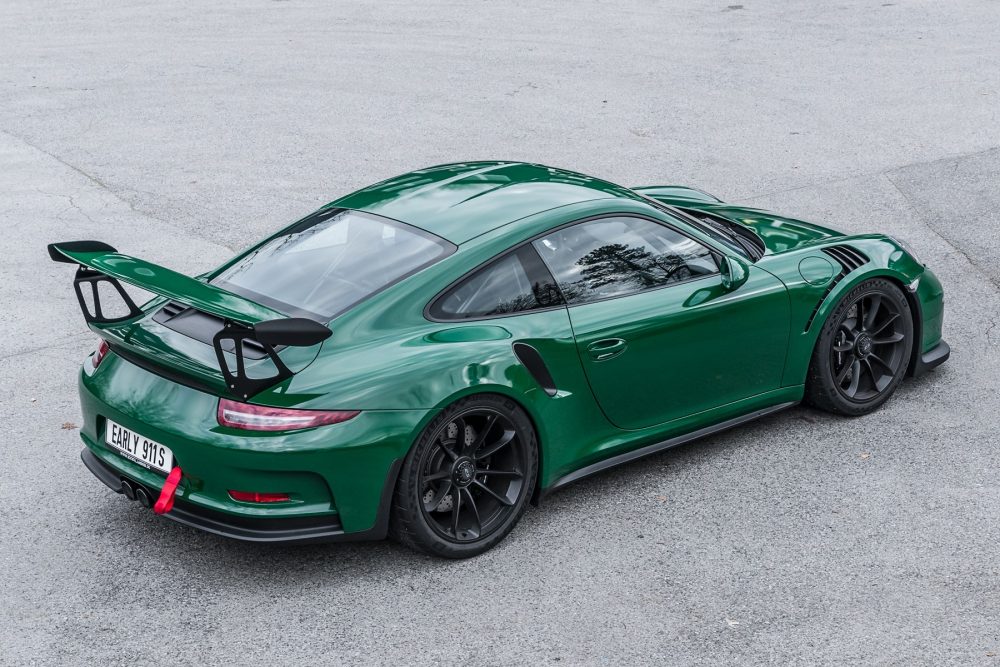 Year: 2016
Model: 911 GT3 RS
VIN: N/A
Engine: 3.8 liter flat-6
Transmission: 7-speed Doppelkupplung Automatic
Mileage: 2,443 km (1,275 mi)
Location: Wuppertal, Germany
Price: €179.900 ($218,093)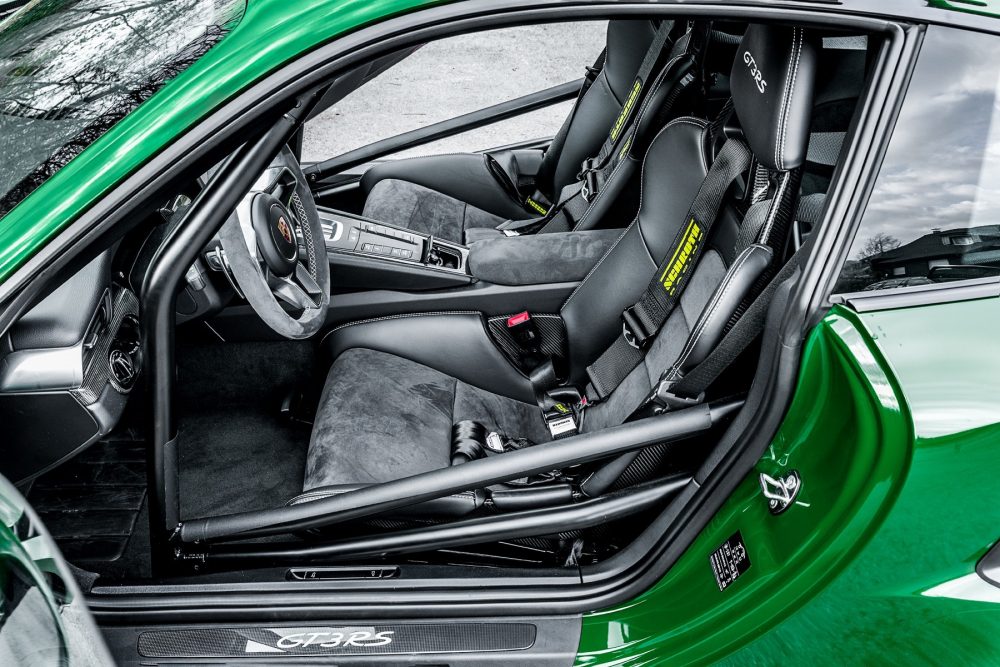 This extraordinary Porsche 991 GT3 RS with PDK transmission was delivered in Germany in 2016 and was specially customized at the customer's request.
The history of the vehicle is fully documented and all documents are available.
The vehicle has been manufactured in the classic color ultraviolet, at the request of the previous owner the entire body was completely wrapped in Irish green, the interior impresses with the perfect symbiosis of GT3 RS bucket seats and the processing quality of a Porsche. The GT3 RS is in new car condition, maintenance and TÜV was carried out in the PZ in spring.

The GT3 RS was completely redesigned by Manthey Racing, brake calipers coated black and brake pads adapted. Chassis exchanged for Manthey KW chassis with Nordschleife coordination. Tires were also replaced in this context. The aerodynamics were supplemented and adapted by the Manthey aerodynamics package. The driver's safety has been increased by the Manthey cage extension. Everything is of course TÜV approved and registered. All original parts are available and belong to the vehicle

The VAT. is identifiable.

The vehicle has the following equipment:

7MM exhaust concept EU6 plus
254 exterior mirrors foldable manually
284 outside mirror glass convex right
XDK rims silk gloss black matt
170 RDW acoustic package
594 Alcantara sky
601 xenon light
275 interior mirror can be dimmed manually
877 Alcantara sports steering wheel
655 steering column mechanically adjustable for length and height
IY2 model year period from week 45 to week 22
153 center cooler
583 smoker package
UX7 TPMS valve black
003 club sport package
004 RS version
022 instrument dials in black
025 dials stopwatch in black
071 EU country version
082 fuel tank 90 liters
098 Left-hand drive version
140 Dynamic Motor Mount (PADM)
195 battery 70 Ah
211 License plate holder version 3
221 PTV Plus, controlled differential lock
227 Dunlop / Michelin
250 PDK transmission (double clutch)
265 Automatically dimming interior mirror with rain sensor
288 headlight cleaning system
373 Bucket Seat 918 Spyder Left
374 Bucket seat 918 Spyder Right
426 Without rear window wiper
441 sound package basis
448 brake pad; Sports execution
465 rear fog light, left
470 rear axle steering
475 electrical damper control "PASM"
478 central locking wheels
482 tire pressure control, RDK 433 Mhz
488 German lettering
493 black balance weights
499 Version for the Federal Republic of Germany
529 exterior mirror, sport design
534 anti-theft system 433 Mhz
554 front spoiler lip included
555 seat belts in black
568 windshield without belt filter
573 air conditioning
578 6-point seat belt driver
579 6-point seat belt passenger
585 cup holder
595 safety cage in black
605 LED daytime running lights
619 Mobile phone preparation (BLUETOOTH) without console
621 12 volt socket, passenger side, footwell
639 Sport Chrono Package
643 Track App
652 Without sliding / tilting roof
657 power steering
696 CD RADIO, PORSCHE CDR 31
699 LED rear lights dark
705 GT3
760 Without VTS pre-installation
769 data set 2 GT3 RS
870 Universal multimedia interface
887 12 o'clock marking yellow
951 seat covers in front, alcantara / leather / leather
975 Alcantara interior
991 airbag module in leather
SM4 fuel market A
UN0 without online services
X69 entrance panels carbon, lettering
XGB dash panel trim, carbon

Please understand that a viewing is only possible by appointment – by email: mh@early911s.de or mobile: 0049 172 88 40 640.

We have a fleet of over 400 vehicles.

Errors and changes excepted.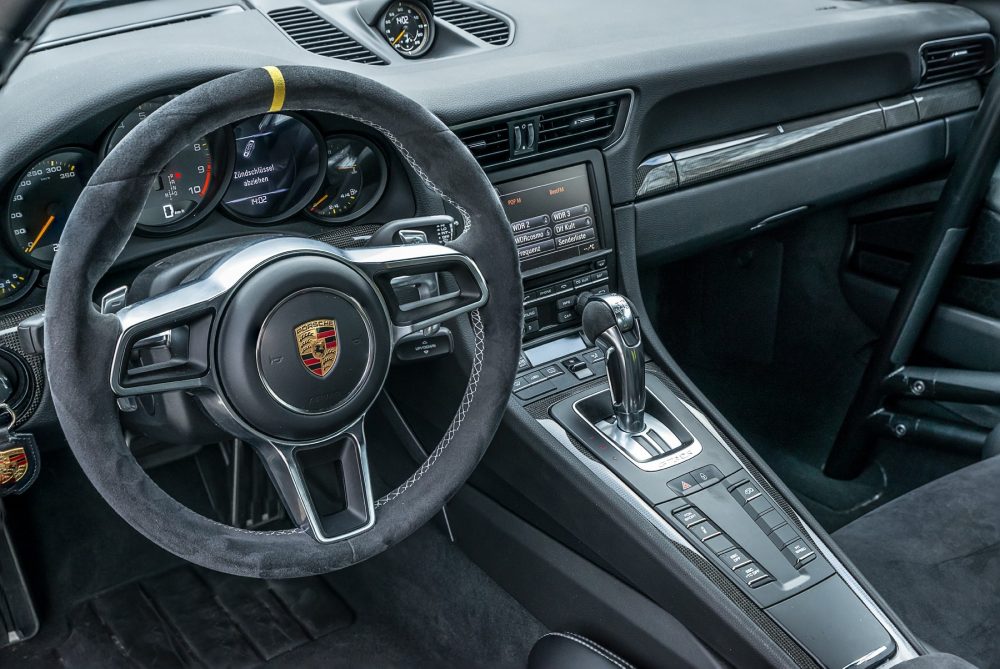 As if this car wasn't perfect enough, Manthey Racing, the people who ran a 6:40 at the Nurburgring, tweaked the suspension, aero, and added a full roll cage. I'm a little iffy about full roll cages in street cars, but it certainly seems like this one was setup for the race track judging by the tow straps and harnesses that are already installed. I'm also usually not a huge fan of black wheels, but this setup just works here. It was also a nice detail that they painted the calipers black as well.
As for the price, what did you expect? This one is almost $220,000, but it does only have just under 1,300 miles on it. If you are the kind of person who plays ball in the Porsche RS game, that price tag probably isn't a big deal as it isn't too outrageous. I just wish I was in the game.
– Andrew