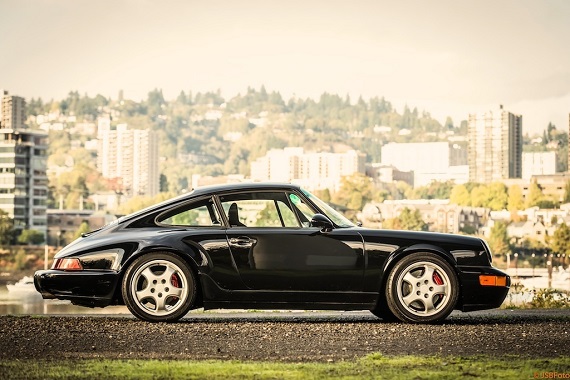 Another car showcased with beautiful photography. I love it! I can't be the only one that spends extra time going over the details of a car simply because it's been presented well so I'm not sure why more sellers don't do something like this. Anyway, this car also happens to have quite a few details to peruse so in this case the extra time is needed. Here we have a Black 1989 Porsche 911 Carrera 4 Coupe, located in Oregon, with Black and Tan interior and 91,204 miles. So we have a nice looking 964 that comes from the very first year of the Carrera 4's existence. From there things get quite a bit more interesting. The engine is now a 3.8 liter with Carrera RS spec clutch and flywheel. That extra power is brought to a halt using "Big Red" calipers and rotors and controlled by a suspension upgraded to Carrera Cup trim. The interior has been kept mostly stock with the exception of Recaro seats and 5-point harnesses to keep the driver and passenger securely in place. All together, a car that looks really nice and should perform very well!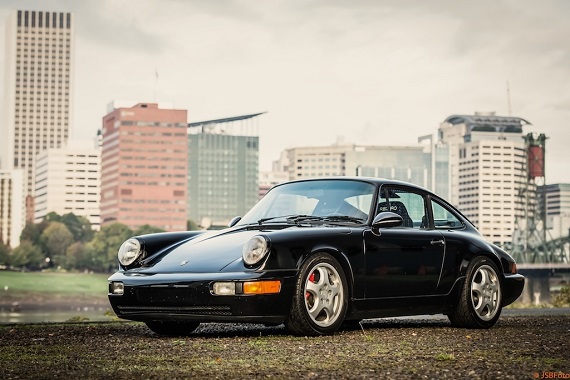 Year: 1989
Model: 911 Carrera 4
Engine: 3.8 liter flat-6
Transmission: 5-speed manual
Mileage: 91,204 mi
Price: Reserve Auction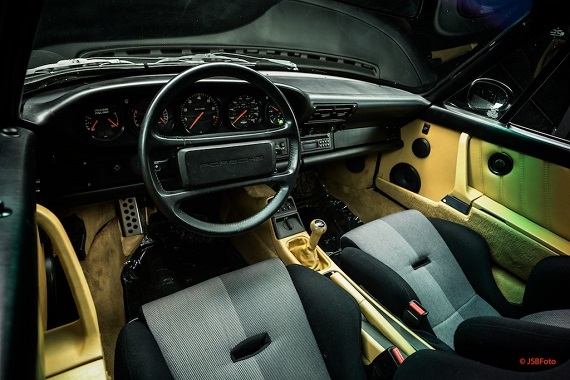 1989 Porsche 911 964 C4 RS Modified

Very well put together, extensive records, built and maintained by the best shops.

All wheel drive Hot Rod 911

Very Unique and rare Porsche sports car. It is the perfect blend of classic 911 with RS inspired modifications. This Rare 964 has an impressive list of maintenance records and upgrades from shops like Rothsport and Stuttgart here in Portland.

History includes all records dating back to 1994, Always Meticulously maintained, oil has always been Synthetic Mobile 1. It has been a daily driver and done some track days with PCA.

The suspension has been upgraded with full 964 Cup coil over suspension with ERP adjustable rear trailing arms, front and rear sway bars, RS Bilstein shock and struts. Big Red complete brake system.

Engine has been upgraded to 3.8 and full top end at 67k miles Web Cam RSR spec, Clutch and flywheel upgraded to RS spec. All receipts for this is included. Exhaust is all stainless with heater boxes by B&B with Borla muffler and new Cats in 2013. Upgraded air box and mass air flow sensor.

The interior was upgraded with Recaro pole position seats and 5 point seat belts

17″ Cup wheels with tires with good rubber.

Other upgrades are RS tear drop mirrors and New windshield.

Body and paint are as typical for a car with 90k miles. It does have rock chips in the front, but it is straight and original. The rear tail lights look really good on this 964, these can be a problem. It does not have CEL on or other issues. Driving it is fast and fun, and it stops even faster. Really fun car!

This 964 is the ultimate driver with all wheel drive, great power and handling, if you want a 911 that will do it all and more, this is it. Right Color, Right Motor, Right Car

Call 503 475 8078 Josh or 503 819 9007 Matt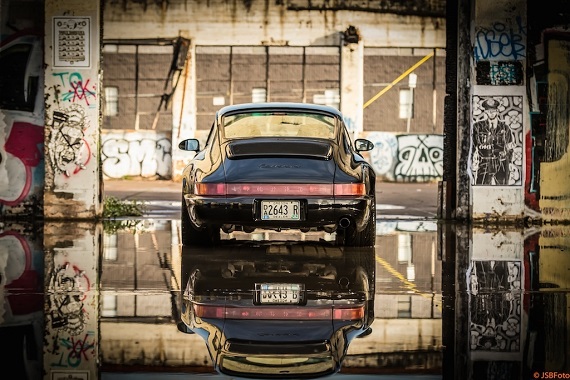 There's certainly going to be a lot to be investigated here by interested buyers, but this Carrera 4 appears to come with a wealth of documentation and is offered by a seller very familiar with the car so someone willing to put in the time should come away with a thorough understanding of where this car stands. And this could make for a very interesting driver and/or occasional track car. With bidding currently at $31,110 the price may not be bad either. The reserve has yet to be met so we'll have to see where this ends, but modified cars always have a more limited audience so I wouldn't expect this to move up too much higher.
-Rob