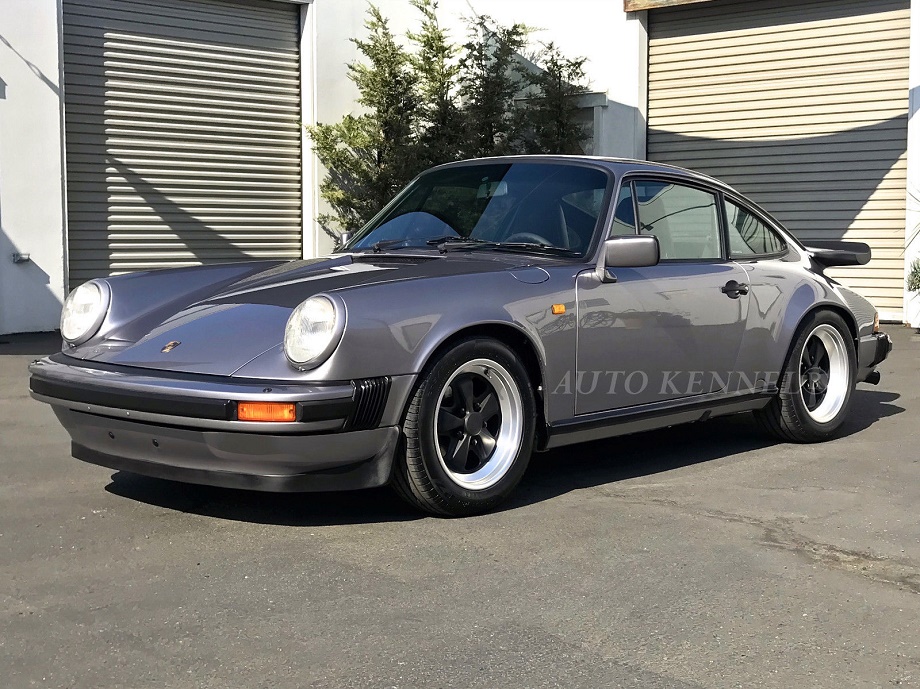 Have you been hoping to get your hands on a 3.2 Carrera Club Sport but found the very high prices a bit out of reach? Then this might be an option for you. To be clear, this isn't a bargain basement Club Sport; it's not something that an ambitious owner put together himself to mimic those great cars. The asking price still is high, it's just not Club Sport high, which may position it in a spot that a few more prospective buyers have a shot at it. Pricing aside, it seems like a very interesting 911 and one that should be a hoot to drive.
While not necessarily the best representation of pricing, the last Club Sport I featured was priced at $365K. It was the only Irish Green example produced for the U.S. market and was very low mileage. And lest we think that price simply was the result of an overly optimistic seller, that Irish Green example had previously sold for $330K. We have even seen a regular Black Club Sport with a price well above $200K. As I said, the Carrera Club Sport can be prohibitively expensive. With a price tag just below $110K this Diamond Blue Metallic 1989 Porsche 911 Carrera Coupe, imported from Japan, doesn't have quite the Club Sport price, but it does have a bit of a Club Sport nature to it. Is that enough to warrant this six-figure cost? Let's take a look: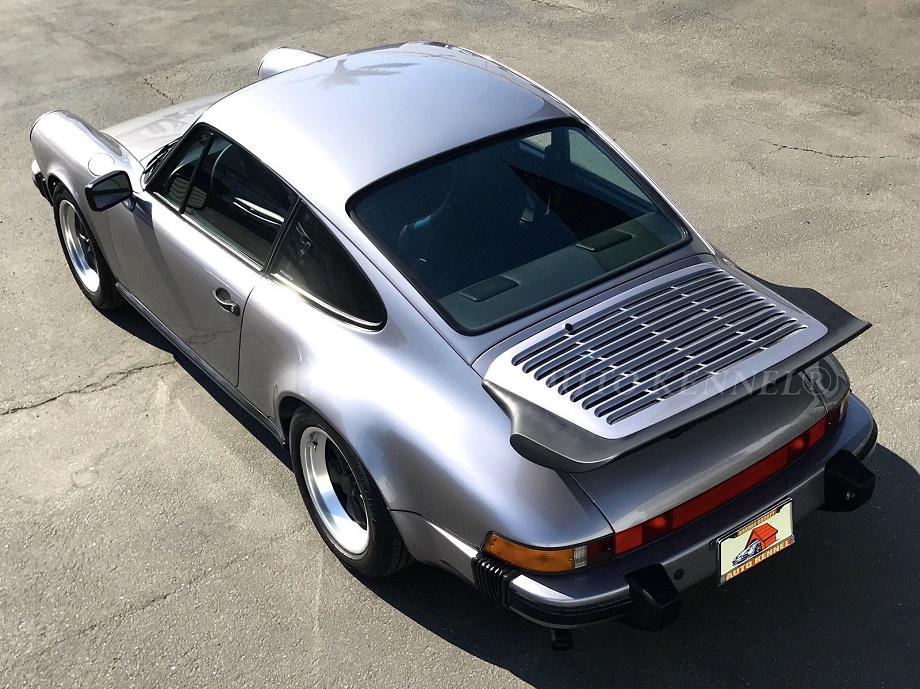 Year: 1989
Model: 911 Carrera
Engine: 3.2 liter flat-6
Transmission: 5-speed manual
Mileage: 21,400 mi
Price: $104,990 Buy It Now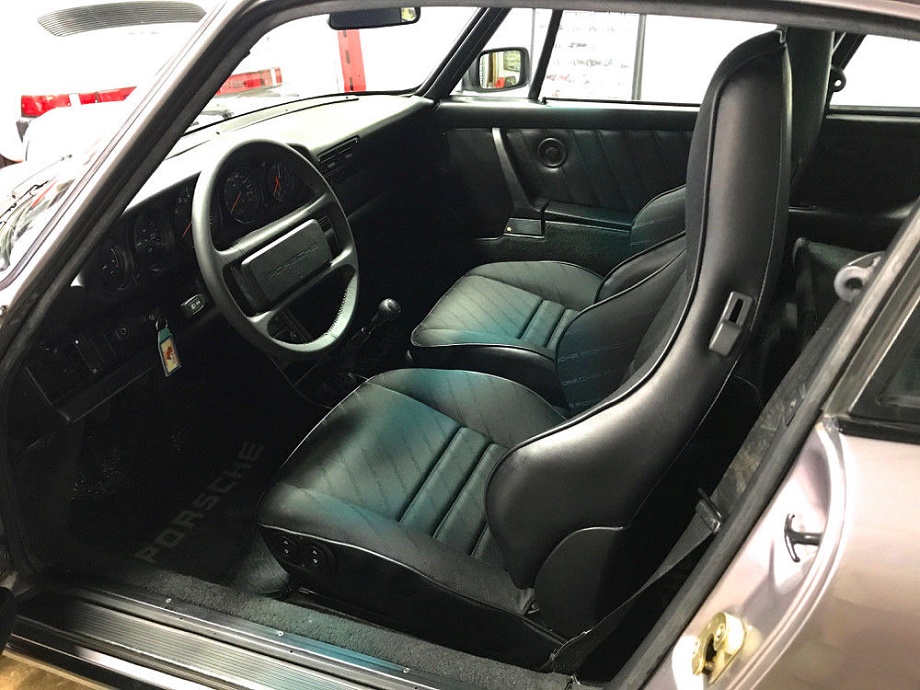 1989 Porsche 911 Carrera G-50 Coupe

Euro/Rest of World Example

Sunroof Delete/Club Sport Look

Mostly 1-Owner Garage Find

Low Original Miles/Numbers Matching

VIN # WP0ZZZ91ZKS101455

ENG# 63K0xxxx (M930/20)

TRANS# 1K0xxxx (G50/00)

Numbers Matching
21,400 Original Miles (34,500 kilometers)
Diamond Blue Metallic (697) on Black Leatherette with Porsche Lettering Cloth

G50 5-speed manual

Clean and Clear Montana Title

Mostly 1-Owner from New

Porsche Certificate of Authenticity

By the end of the 80's, Porsche was winding down its longest running body production of the 911 to date. These cars were commonly referred to as G-bodies and were produced from 1974 to 1989 with minimal cosmetic changes. 1989 was the last year and was only a half-year of production as the all new 964 body was being introduced. As a result, only 3,500 coupes were built for the rest of the world. The U.S. got their own detuned version, however, the most desirable ones were the European/ROW (rest of world) examples with the M930/20 motor. These ROW cars made 231hp and 209 lb. ft. of torque due to the higher compression 10.3:1 motor. This was up about 14 hp and torque from their U.S. counterparts. Furthermore, these ROW models also got a better gear ratio G50 transmission. These cars were typically lighter thanks to fewer luxury options like sunroofs, leather interiors, etc. They received smaller bumpers as well as better ride height/stance. All in all, these cars were lighter, faster, handled better, and looked more aggressive.

This example was built on November 21st, 1998 and originally outfitted for German delivery. However, it was legally imported to Japan by Mitsuwa Motors. This company was the legal importer for all Porsche cars entering the Japanese market. It was ordered with the following factory options:

Equipment for Germany

Sport seats with electric height adjustment

Rear wiper (not installed but parts included – see pic)

Sport shock absorbers

Air conditioning

Pirelli tires

Club Sport (CS) front bumper/valance (dealer installed)

Carrera (CS) rear spoiler/tail (dealer installed)

Special order Diamond Blue Metallic paint

16×7 and 16×8 Fuchs light allow wheels

It is clear that this car was custom ordered to be very similar looking and performing to the Club Sport (CS) introduced in 1987. Since most CS 911s were spoken for by 1988, a few clever customers custom ordered their '89 G50 ROW Carreras with similar performance and color options.

The original owner was from Osaka, Japan area and drove the car lightly over the years. Eventually, it ended up stored in a garage for over a decade. It was recently found by a local Orange County, California enthusiast who decided to import it to the U.S. and begin a light refurbishment. Nearly $20,000 was invested on the following items:

Polish paint and ceramic coat to protect from contaminants

Major engine service including oil change, plugs, belts, etc.

New brake rotors and pads as well as fluid flush

Restored sport seats with correct NOS factory fabric (purchased last yards in world)

Restored leather steering wheel and shift knob

Restored original Fuchs wheels

New OEM correct Pirelli P7 tires

Complete A/C restoration by D&S Air (over $6,500 alone)

New polyurethane bushings on front and rear suspension

Brake fluid flush

We sold this Carrera for this owner last year to the current collector in Northern California. He has over a dozen 911s in his collection. Although he loves this example and has had a blast driving the Nor Cal twisties for the past couple thousand miles, he recently made a significant Porsche purchase and must make some room. Before he purchased the car, he sent a top NorCal Porsche mechanic down to our shop to go over the car. He found it to be in excellent condition. Since he bought the car, this same mechanic has just done a few minor services to keep it in tip top condition. These services included the following over the past 8 months:

Oil service

Brake booster

Repair central locking system

Remove cat bypass and install Fabspeed unit (see pics)

Install OEM rear speakers

Install original Blaupunkt Reno radio

New front brake pads

Replaced battery

Brake fluid flush

DME relay

Upon it coming back to us, we had our mechanic look over the car and tighten the front suspension.

This ROW Carrera looks fantastic and has a nice aggressive stance to it. The paint is spectacular with minimal signs of use. The original paint had issues with the clear coat, which was extremely common during that era. As a result, the entire car was repainted by a top expert while in Japan with the original owner. The work is spectacular and one can only tell through the slightly higher readings on the paint meter. The glass is mostly original. The windshield has been replaced with another correct Sigla glass. There are a few minor blemishes in the paint, but they are barely noticeable (see pics). The recently restored Fuchs are flawless and wrapped in correct Pirelli tires. They still have their correct factory valve stem braces (see pic). The brake pads and rotors are also near new.

The interior is equally as nice and looks extremely fresh. The recently restored sport seats look brand new. The original carpet and headliner also look new with hardly any signs of use. The door panels/pockets are in excellent condition with no typical sagging. The dash has no cracks and is perfect. All the gauges operate properly, including the clock. The exterior and interior lights all work properly. The rear fog-light has been removed some time ago as well as the front fog lights for the CS front bumper/spoiler. The radio and speakers were installed in Japan. A correct OEM Blaupunkt Reno has been installed and works great. The A/C blows ice cold as the whole system has been recently restored.

This 911 drives fantastic. There is nothing quite like the tight feeling of a low-mile example. Furthermore, the Euro version painfully reminds us of what we are usually missing with our watered-down U.S. versions. The throttle response is amazing. It is so much quicker than typical G50 cars. The brakes are outstanding with no fading or pulling. They are quite easy to modulate and certainly inspire confidence when pushing deep into a corner. The handling is precise and nimble. It is balanced and very easy to drive at speed. The upgraded suspension bushings (although a bit squeaky at low speeds) provide improved handling, especially transferring power to the rear. The gearbox shifts so smooth with no slipping or grinding.

You still feel the early air-cooled roots in this 911, while also enjoying some more creature comforts. This Porsche would be welcome at your local PCA shows just as easily as it would be to use on distance vintage touring events.

This Porsche comes with its original owner's manual/cover, Certificate of Authenticity, space saver spare, tool kit, German emergency triangle, and jack.

**Note: VIN and other numbers withheld to protect against fraud. All numbers including VIN, Engine, and color will be provided to serious buyers.

If you have any questions, please do not hesitate to contact Paul at 714-335-4911 or paul@autokennel.com

For tons of pictures, either cut and paste the following URL into your browser, or click here: www.AutoKennel.com

This vehicle is sold "as-is" with no warranty, written or implied. In some cases, the vehicle does have the remaining factory warranty still in place and will be described above if that is the case. All taxes and fees are the responsibility of the buyer and are not included in the listed price. All vehicle sales will require a $65 document fee. The vehicle listed is described to the best of our ability. The information is based on our own research and statements made to us by the previous owner(s). To the best of our knowledge, the above information is accurate. We are not responsible for errors in our description of options or any other details. The above-mentioned vehicle is used and can be expected to show some wear and tear. It is not a brand-new vehicle. We do welcome all local pre-purchase inspections on vehicles in order to verify condition. For payment, we accept bank transfer, cashier's check, or cash. Check's take up to 10-business days to clear. Vehicle and title will be held until all funds are cleared and verified. Bank transfers usually only take 24 hours.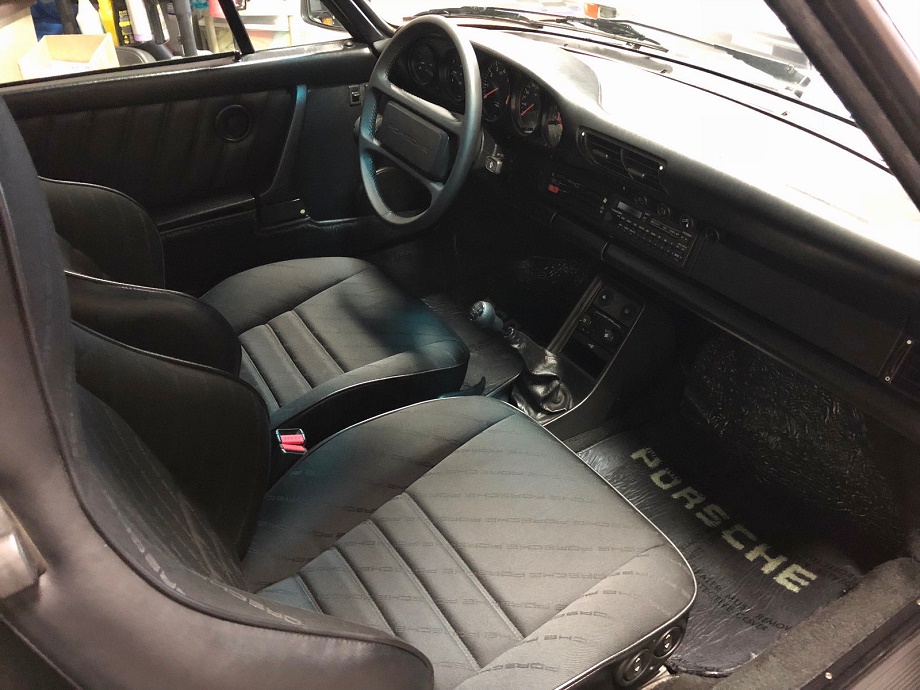 We've featured cars from AutoKennel previously and they do a good job of representing their cars so I won't regurgitate all of the information here. You can read it above. The short version is that this 911 originally was equipped as a German delivery model with sport shocks, sport seats, and without sunroof, but was imported to Japan where the dealer installed the front and rear spoilers. It also has the cloth Porsche script seating found in the Carrera Club Sport. I'm not sure whether that was part of the original specification or a conversion carried out by its first U.S. owner, but those seats are going to be very rare. Overall the look is very much that of the Club Sport. You don't get the Club Sport graphics, which is too bad because they're great. You can probably find them and apply them yourself, though given this isn't an actual Club Sport, should you?
Because this is a RoW model you also get better suspension tuning and a more powerful engine than we received here in the States. I'm not sure if either is quite to Club Sport spec since I'm not clear on the precise differences between the various pieces, but with this one you're certainly getting an improvement over the standard '89 Carrera sold here. Unlike the Club Sport this one does come equipped with A/C and a radio so weight savings won't be quite as dramatic. All told the performance should split the difference between the pared down nature of the Club Sport and the standard Carrera.
The condition looks immaculate. There have been a variety of components restored to bring the car back to this condition and it all shows very well. The Diamond Blue Metallic exterior is itself a very pretty and rare color for the year. With only 21,400 miles on it the mileage is very low. So this always was going to be a pretty valuable Carrera even setting aside the Club Sport options. Is it a six-figure car? I don't know, but I suspect that mostly will come down to attracting a buyer looking for a particularly unique 3.2 Carrera with an improved sporting pedigree.
-Rob