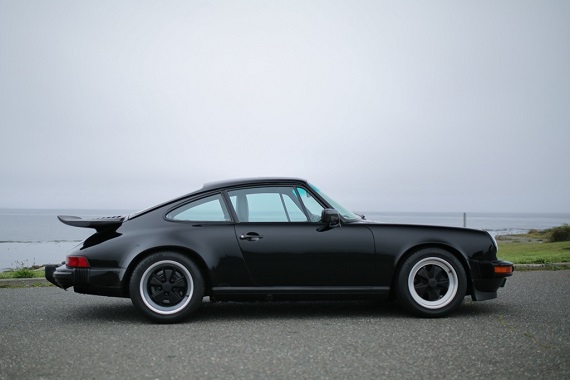 We all have our personal favorites and this car is just about as close as it gets for me. A triple black 1989 Porsche 911 Carrera Coupe with whale tail. Whether this actually is my personal favorite probably depends on what day of the week it is since I'll almost always tell you that I prefer black and tan over triple black. Then I come across a car like this one and my mind changes. The rest, however, is just how I'd want it: black exterior, black Fuchs, whale tail, and the last year of the 3.2 Carrera. The things that dreams are made of. When I think of the 911 this is the car that comes to my mind first; it relates most closely to my own first experience of the 911 in the flesh and was the dominant example during my youth when such images were permanently seared into my brain. Add to that the low mileage and the excellent condition of the interior and exterior and we have a sure winner.
Year: 1989
Model: 911 Carrera
Engine: 3.2 liter flat-6
Transmission: 5-speed manual
Mileage: 57,782 mi
Price: Reserve auction (Buy It Now $57,500)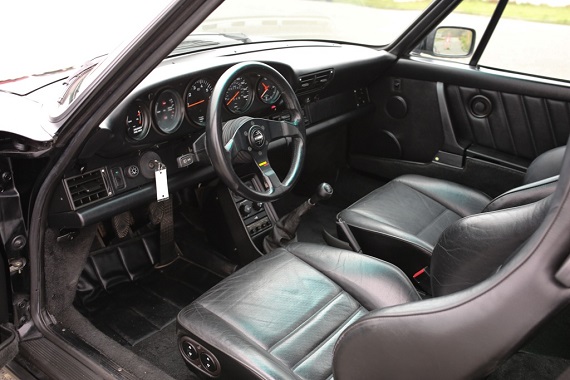 For Sale: 1989 Porsche 911 Carrera

This is a beautiful example of the last year of the "911" production designation and the last iteration of this iconic body style. Finished in black over black leather, this 911 is well-optioned with its original sports seats and interior, sunroof, cruise control, front and rear spoilers, and 16" Fuch wheels. The steering wheel, camber bar and premium Nakamichi stereo are aftermarket add-ons. This Porsche came from an East Coast collection and has had two long terms owners and one more recent short term owner here in Canada. The mileage is believed to be original. It has the original air pump, tool kit and spare tire. No accidents! Clean CarFax: Click HERE to view it.

The 1989 Porsche 911 had the most desirable G50 5-speed transmission. It is also the very last year of the 911 model designation. In late 1989 the model designation went to "964" with the Carrera 4 Coupe, then other models followed. In 1995 Porsche designed a new body style and called that series of 911 the "993", which is the last of the air-cooled Porsche. If you want to own a piece of 911 history, the last year of that model is probably the one to invest in. It wouldn't take much to have this car looking completely stock, radios and steering wheels are often available on eBay and through parts retailers.

Hop into the collector car world with this stunning 911 Carrera.

We can assist with export to the United States or Europe. It is an easy process. Duty would be applicable, it works out to roughly 2.9%. For shipping in the USA we recommend Reliable Carriers and TFX in Canada. For overseas shipments we often use Cosdel International.

Sales tax is applicable if bought in Canada (GST) and also PST in British Columbia.

Please call Tim at +1 (250) 812-6409 to have any additional questions answered or to see the car in person.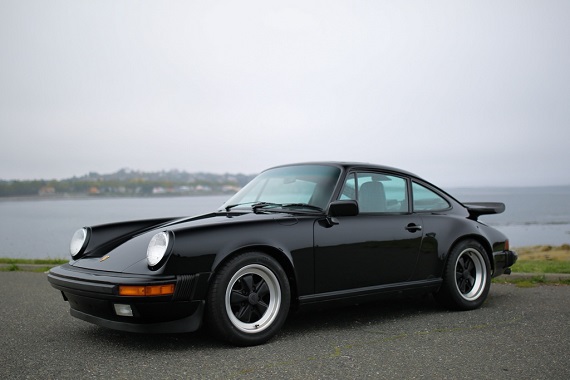 There is definitely some good photography at work here as the seller has provided a nice backdrop and focus to help highlight the appearance of this car. The asking price is quite high and I'll be interested to see whether the auction can reach it, because while it is true that this is the last year of 3.2 Carrera production, these models, unlike with the 930, do not significantly differ from the '87 and '88 model years to elicit much of a premium. There is also the matter of lacking a couple of the original interior pieces, which at this price need to be present. Still, this is a fantastic example of the Carrera Coupe and even if it doesn't hit what is being asked for here it should still see a pretty high price. Whether it's perfect or not, I don't care, I love it.
-Rob