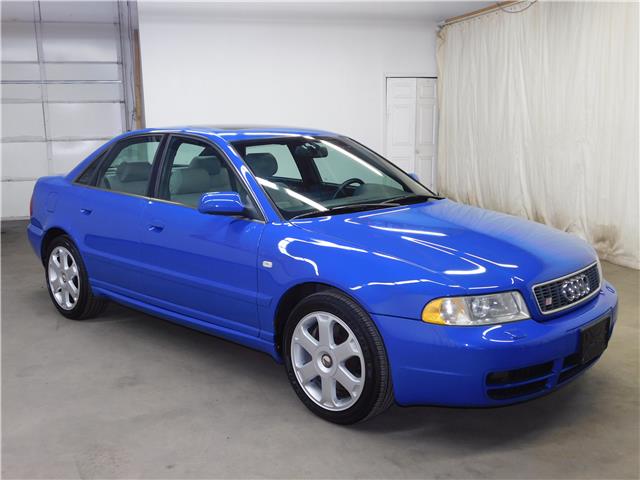 Update 11/25/18: This S4 sold for $8,302.
Continuing in my theme of the ultimate Audi garage, this post is going to seem a little strange. That's because if I was going to pick an Audi sedan to collect, the second generation S4 would be pretty low on the priority list. In fact, I'm not sure it would make the top five. Without a doubt the D2 S8, the B7 RS4, the C4 S4/6, the D11 V8 quattro 5-speed, and the 4000CS quattro would all make it higher on the list.
It's not that the B5 S4 isn't compelling, with the twin-turbocharged V6 cranking 250 horsepower through a 6-speed manual. Barring the RS4 listed above, a box-stock B5 S4 will outperform everything else on that list in virtually every test. It's just that the B5 S4 is a lot more desirable when presented as an Avant. So why is this sedan here? A few reasons. First, it's Nogaro Blue Pearl Effect, and that should get a pass every time. Beyond that, it's pretty clean, it's got the unusual but pretty light Silver leather interior, it's all stock, and it's a manual. But as an added bonus, it's also no reserve: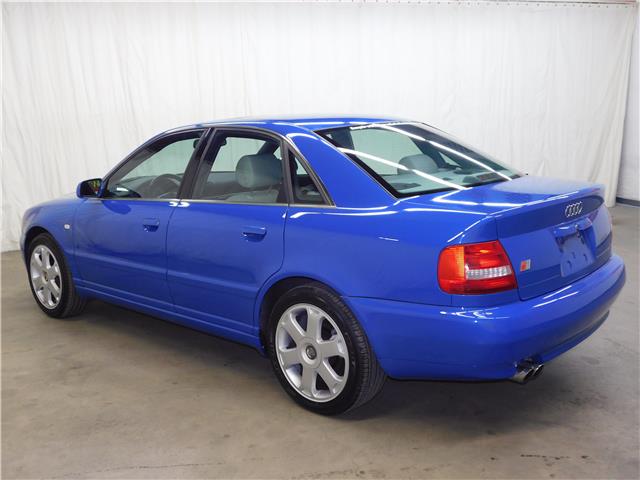 Year: 2000
Model: S4
VIN: WAUDD68D4YA076095
Engine: 2.7 liter twin-turbocharged V6
Transmission: 6-speed manual
Mileage: 121,527 mi
Price: No Reserve Auction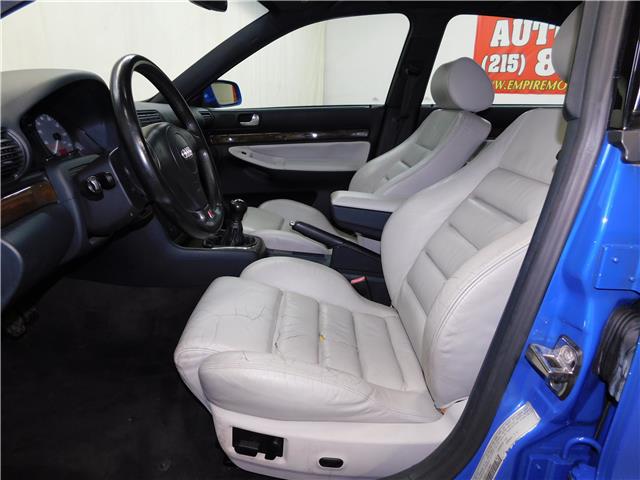 If you are thinking of purchasing this vehicle, no need to wait until the end of the auction. We advertise our vehicles on many other websites as well as our own. Most of the auctions could be ended earlier with a reasonable offer. So do not wait till last minute. Just call TO MAKE A DEAL!!!!!!! 2000 Audi S4 Quattro 2.7L Bi-Turbo AWD 6-Cylinder! 6 Speed Manual! Only 121K Original Miles! One Owner! Rare and Highly Sought After Nogaro Blue Exterior! White Interior!

Untouched! Completely Stock and Unmodified!
Leather! Sunroof! Heated Seats! Xenon HID Lights! Alloy Wheels! Bose Audio and Much More!
Extremely Clean Inside and Out!
Please Refer to Pictures for Small Signs of Ware Shown
Runs and Drives Great!
Fresh Oil Change!
Good Brakes, Clutch and Tires!
One Minor Dent on Rear Quarter That We Will Try to Take Care Of
A Soon to Be Classic! Do Not Miss Out On This One!

Some of the vehicles are listed at "NO RESERVE". This means that we got them at a great price and will pass the savings to you as a buyer.
If the vehicle is listed with "RESERVE", please DO NOT ask what the reserve price is, just place a bid for as much as you are willing to pay for this vehicle.
PLEASE READ TERMS AND CONDITIONS THROUGHOUT THIS LISTING PRIOR TO PLACING YOUR BID.
PLEASE BID ONLY IF YOU INTEND TO BUY
Winning bidders must make an immediate deposit in the amount of $500.00 and respond to us by telephone within 24 hours of auction closure to confirm your purchase or vehicle may and will be re-listed or sold to any other qualified buyer.
KEEP IN MIND THAT ANY OF OUR VEHICLES COULD BE SOLD ON OUR LOT OR
OTHER WEB SITES ANYTIME, REGARDLESS OF THE TIME LEFT TO THE END OF AUCTION
PLEASE FEEL FREE TO ASK ANY QUESTIONS
Thank you and good luck!
Empire Motors Auto Sales.
4217 Frankford Ave. Philadelphia, PA 19124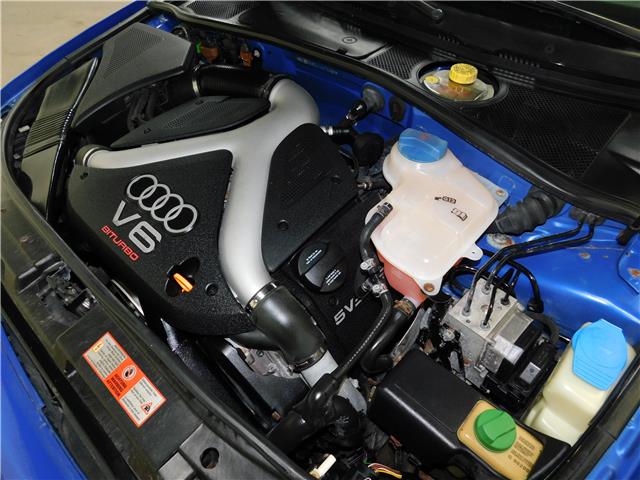 There's a lot to like, from the color combination which really pops on the B5 S4 to the lower mileage (*compared to most that appear on the market today). The leather has seen better days on the driver's seat and some wear shows in the rear, but overall this car presents quite well inside and out. With over 120,000 miles and no service records shown, you'll want to schedule an immediate timing belt service and leave a reserve for other maintenance or CELs that pop up. But the no reserve auction is pretty tempting and bidding has been active, already past $6,000 with a few days to go. That draws the value of the branded title Avant into more clear detail – it's the color that's selling this particular car. While it's not on my 'Dream Audi' list by itself, I certainly understand the draw and for the right price I'd be pretty happy to call it mine. But at the current rate, which appears to be on track to end near the Avant's ask? I'd take the 5-door, personally.
-Carter