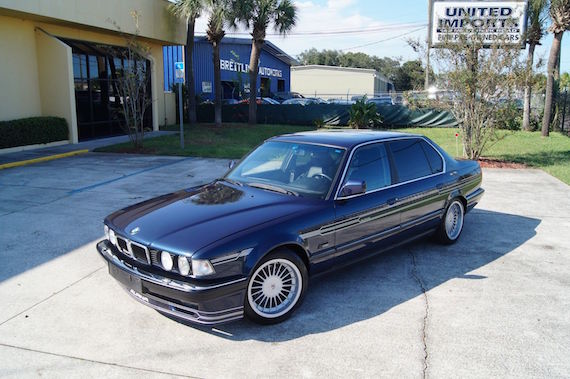 Well, folks, I have a new all-time favorite E32. Last time I made that claim it was a beautiful black on black example with M-Parallels and a nice front spoiler. I've long been a fan of Alpina's recent B7s and think they've made the last two generations of 7-series much more attractive. Same thing here, with the often-frumpy E32 getting the full Alpina treatment with more power, a great front spoiler, and the classic striping. And the wheels, the evergreen, always gorgeous 20-spoke wheels. The 5.0-liter V12 gets much more than just a chip treatment, with higher-compression pistons and lots of valve work bringing the power from 300hp to 350hp. Lots of show, lots of go, this is a kickass 7-series.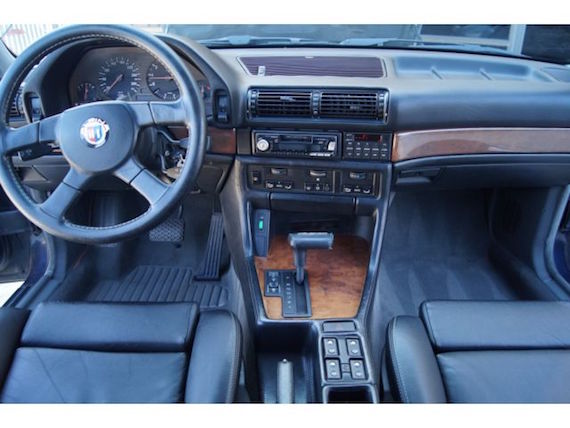 Year: 1990
Model: B12 5.0 (BMW 750iL)
Engine: 5.0 liter V12
Transmission: 4-speed automatic
Mileage: 82,776 km/51,735 mi
Price: $35,000 OBO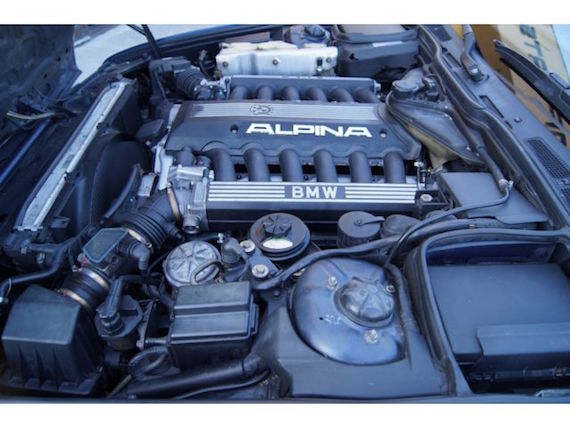 You are looking at a rare 1990 BMW Alpina B12 5.0. This one is #78 of only 305 ever built. We imported the car from Japan about 1 year ago and since then I have been driving in on weekends as well as slowly bringing it up to as perfect condition as possible. The car has original 82k kilometers, which is about 51k miles.

The list of things that I have done to the car is extensive but some of the major ones include:
– new brakes (pads and rotors) all around
– new fuel injectors
– new spark plugs
– new intake manifold gaskets
– new valve cover gaskets
– new intake boots and breather hoses
– new rear tires
– fresh oil and filter
– new fuel and air filters
– powder coat all wheels
– new high pressure power steering line
– new headliner

When we got the car, it was fully operational, but since it appeared to have been sitting, I felt as the above items should be done.

We also gave it a $4K trim off paint work. The previous paint had too many imperfections and it was faded in some areas plus the Alpina stripes were removed and we didn't want to put new ones on the old and faded paint.

The interior was very nice to begin with and the only thing we had to do was replace the headliner and leather on both front bottom outside bolsters. The leather had some wrinkles but no holes or cracks.

At this point, this BMW does not need anything and it is as nice as you can find them. It also appears to be 100% stock and very original. Everything on it works, including self-leveling suspension and all electrical features.

The car has 350HP and it is fast, but it really shines at high speed driving. It picks up speed very effortlessly.

At this point I can't think of anything that this car would need in terms of mechanical or cosmetic work.

VIN: WAPBC50009D100078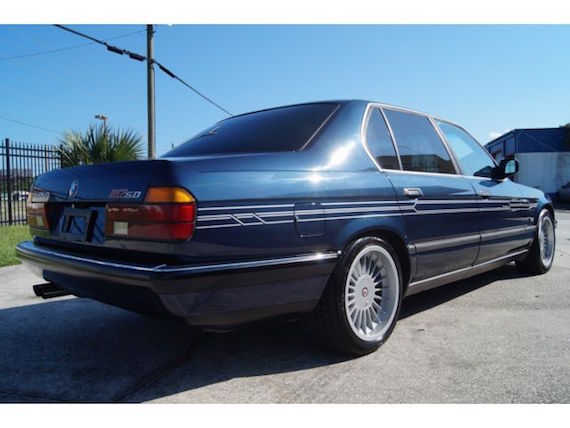 Fully-fledged Alpinas generally command pretty steep premiums over their stock BMW counterparts, especially the big-boy models like this B12 instead of the lower E32 B11s. It may not be the most sought-after Alpina or 7-series, but it's a gorgeous and rare full-size saloon that will stomp highways and create an interesting facet to whatever collection it joins.
-NR