Why does Audi no longer offer this package? They've got the technology, certainly, with a stellar inline-5 in the new 2.5 liter turbocharged unit featured in the RS3 (and previously in the TT RS). They even still offer a manual in the S4, and though the company refuses to bring it here in anything other than allroad form they still make an Avant version. So why not combine them? They'd make an instant fan favorite, as all of the S4 and S6 Avants have been highly sought both when new and as second or third hand used cars. In the likely absence of that ever occurring, today's example is a great representation of what many consider to be the highlight of the both Audi's engineering and the most desirable package outside of perhaps the original Quattro: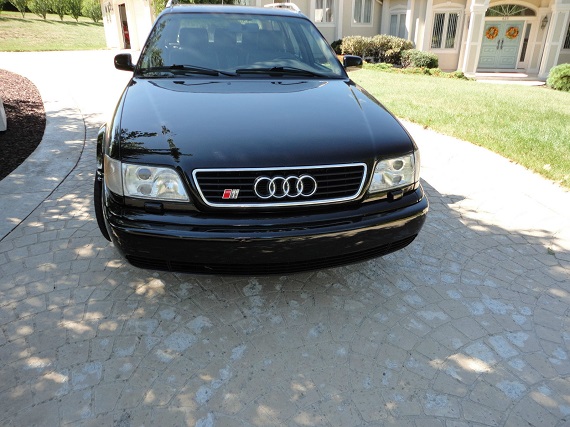 Year: 1995.5
Model: S6 Avant
Engine: 2.2 liter turbocharged inline-5
Transmission: 5-speed manual
Mileage: 97,550 mi
Price: Reserve Auction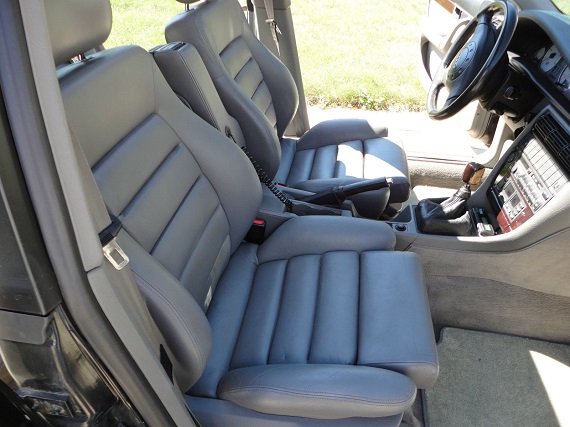 This beautiful S6 Avant is in excellent condition and ready for a new home.

Note the mileage: 97500 Note production date (1995.5)

The car is stock in and out except for the wheels as shown.

The following services have been performed in the last year:

Lube, oil and filter (Mobil 1)
4 wheel brake job (stock) with all new hoses,reman calipers, flush fluid
Renew timing belt, water pump, idler pulley, serpentine belt
Renew Thermostat and Housing
New Fuel lines
New rear shocks
Front Seats refurbished to as-new condition (see photos)
Interior properly detailed "Platinum" code:HE
Exterior freshly sprayed (Spies-Hecker) "Brilliant Black" code:Y9B
Sport Edition 17's with Fuzion ZR1's (90% tread remains)
Winter 15″ wheels (A6 spokers) with NEW ice tires (photo)
All accessories work as new including 6 disc cd changer and phone
No Leaks
A/C is COLD
Car drives tight and quiet
I will assist in your transport needs as much as I'm able
If you are on the east coast…come and get.

On Oct-06-15 at 17:39:41 PDT, seller added the following information:

I am adding this text as there have been questions regarding vehicle history.

I purchased the audi from a New York City Police Officer last year (2014)

He and his wife had owned the car for an extended period of time.

I presumed they were either the second or third owners.

He sold it to me with a clean New York Title with his name on it.

I now have in hand a new, clean Connecticut Title with my name on it.

The new York title had NO REFERENCE to salvage of ANY KIND.

In the process of bringing this car to the condition shown, I saw no

evidence of any structural fault of any kind and no evidence of any

major (or minor) part changes.

I am a retired AUDI technician with 30 years experience and ASE Master Status.

I saw the vehicle report the next day after posting the auction !!

This is a VERY CLEAN 20 year old vehicle that looks and runs like a new car !!

Be aware of the mileage—most URS6's now have double this mileage and

also be mindful that this was the last year for the 20 valve turbo in the

states and that less than 120 of these avants were sold here.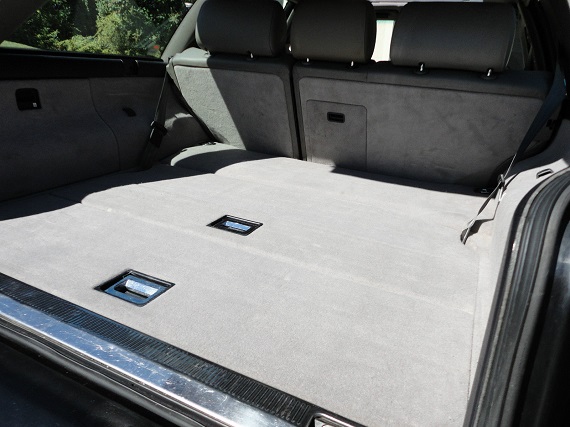 The 95.5 model had several changes which we've previously detailed on the pages, but for enthusiasts the biggest change was loss of locking rear differential. For most driving situations, though, that makes little difference and there are many positives to look at in this particular specimen. Refinishing throughout means this is likely one of the best condition S6 Avants in the country. Mechanical work to both the brake and drive system is complimented by refreshed platinum seats and a resprayed exterior. Unfortunately the bad photographs don't really highlight what should be the excellent condition, nor do the Sport Edition and cheap Fuzion tires accent the aesthetic well. But wheels and tires are a relatively easy fix and a personal touch I'm sure nearly any Audi fan would be happy to change given the rest of the package. Expect the price to continue to climb, as this is likely at least a $10,000 example and some would likely be willing to pay even more if it checked out.
-Carter