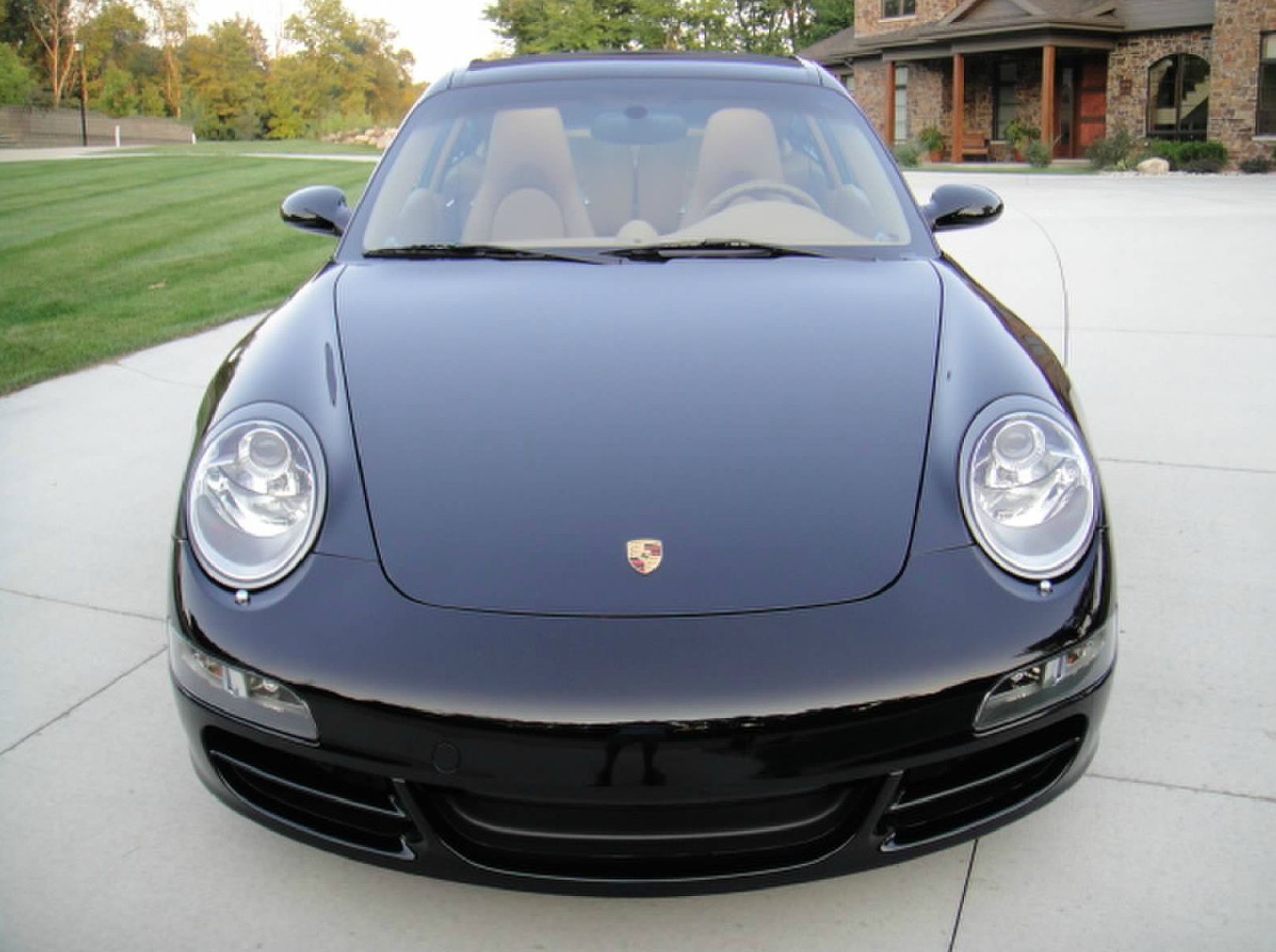 It seems there are more varieties of 911s than days of the month, but it wasn't always this way. Some models have come and gone, but one variant that has been a mainstay is this one: the Targa. Somewhat overshadowed by the introduction of the SC Cabriolet in 1983, the Targa has evolved throughout the years, starting as a 911 with a roll hoop and soft top rear section. The soft top gave way to a fixed glass window and was replaced by a large, sliding glass panel in 1996 on the 993. The subsequent generations have stayed true to this sliding glass panel concept, as we see here with this 2007 Targa 4S for sale in Iowa from our friends at EuroWerkz.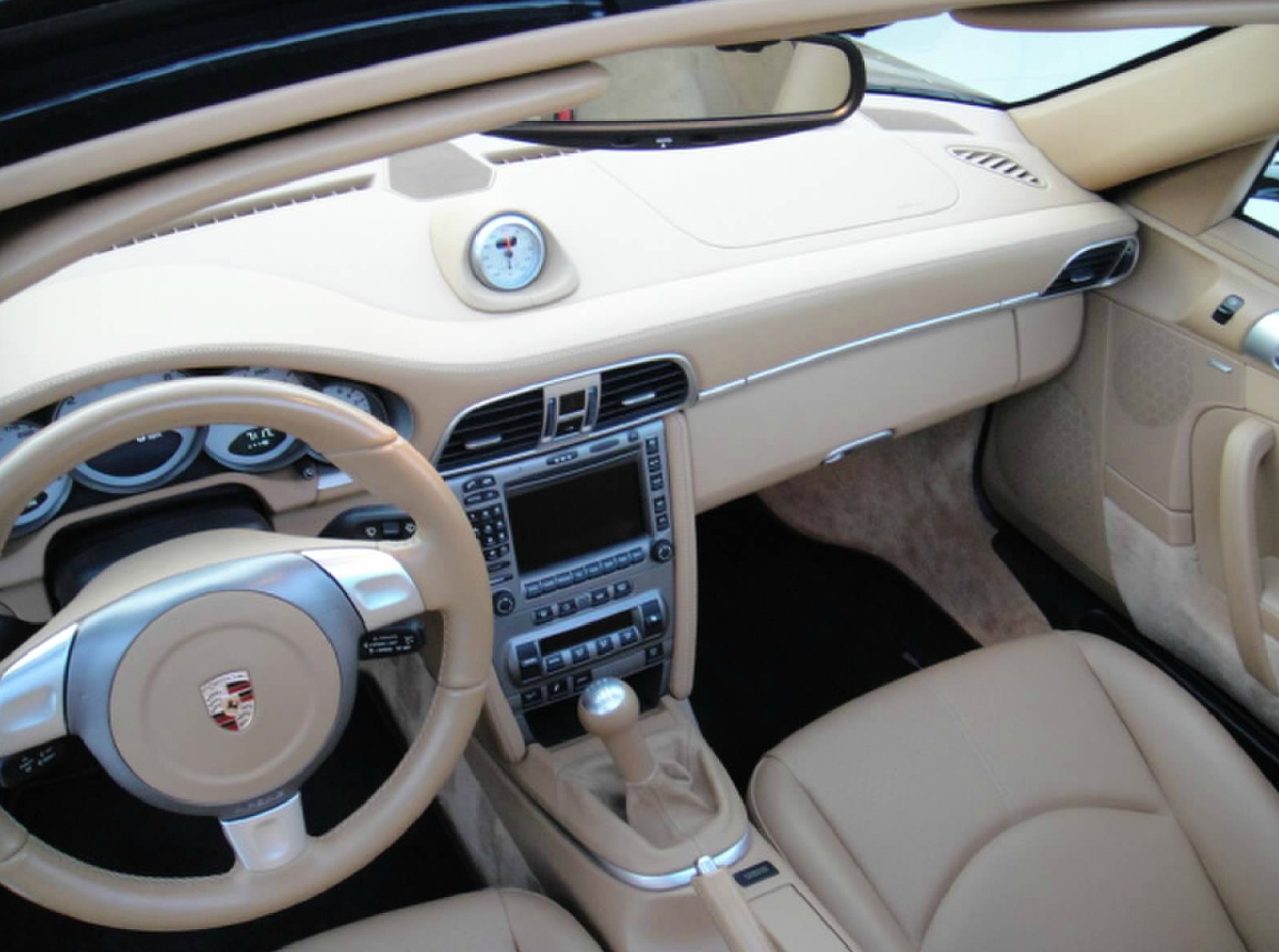 Year: 2007
Model: 911 Targa 4S
Engine: 3.8 liter flat-6
Transmission: 6-speed manual
Mileage: 16,000 mi
Price: $64,900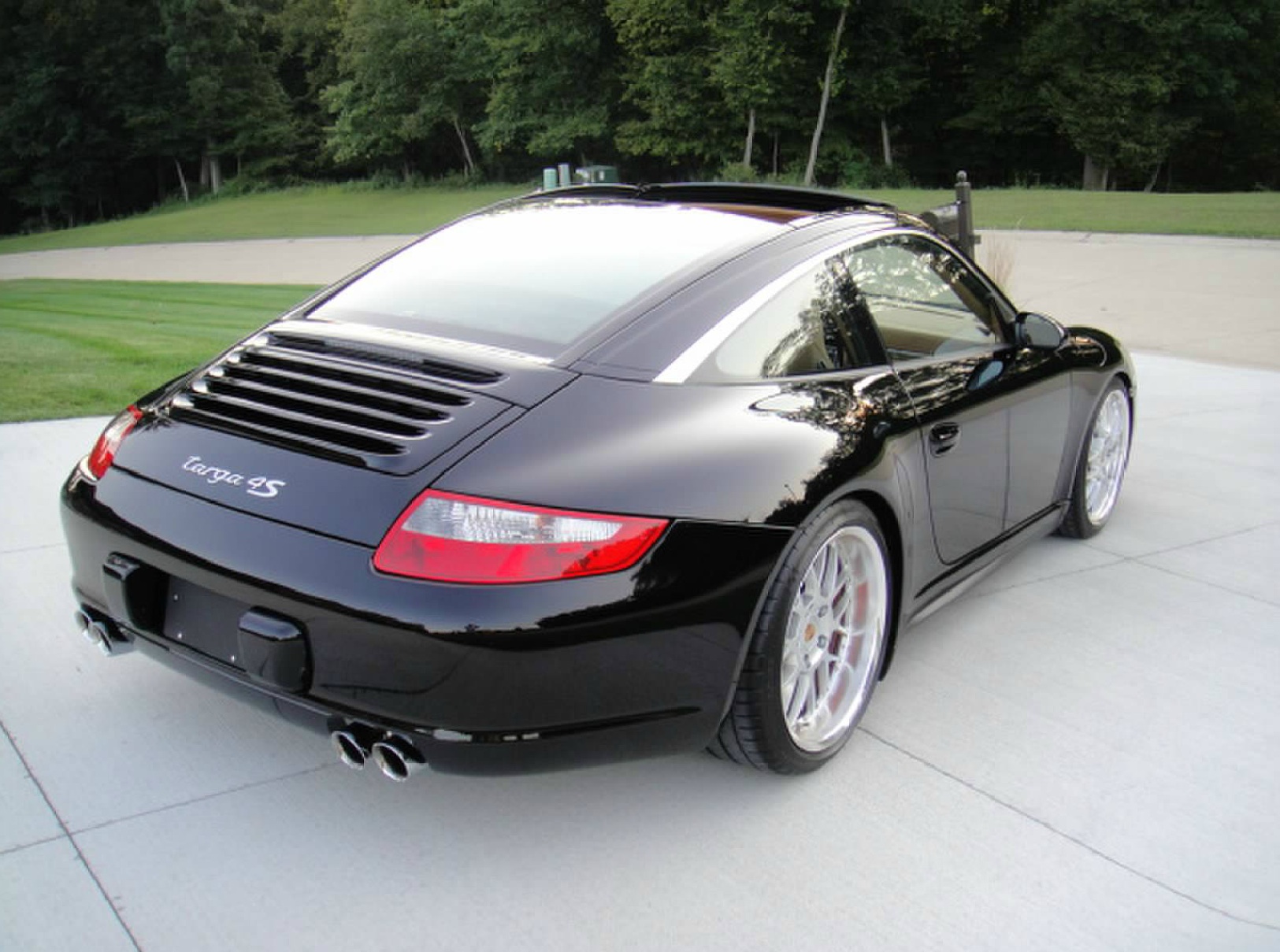 2007 Porsche 911 Targa 4S – Black/Sand Beige Full Leather – 6 speed – Sport Chrono Plus
August 5, 2013
History – Bought new in FL from Champion Porsche. While in new car inventory Champion installed a set of Champion Motorsport Springs and 19" forged RG5B wheels. First owner traded it on a different vehicle with 9,300 miles on it fall of 2009. I brought it to IA September of 2009 and have owned it since. Since day one it has been enthusiast owned. I have driven it sparingly and stored in my climate control garage as well as secured covered parking at my office location. Professionally detailed 2 times per year and meticulously maintained. The car currently has just over 16,000 miles on it.

This is a pride of ownership, PCA Member, open check-book maintained Targa 4S. All services are up to date and the car is not in need of any reconditioning. Sale includes all books, documented service history at Porsche dealer, and three factory keys, window sticker, Porsche COA, Porsche fitted car cover, and the original exhaust and airbox.
Options and MSRP: $95,900
Black NC
Full Leather $3,365
Black Mats – Porsche Lettering $115
Power Seat Package $1,550
Self Diming Mirrors $385
Sport Chrono Plus $920
Navigation for PCM $2,070
Bose High End Sound Package $1,390
Destination Charge: $795
Exclusive Options:
Storage Compartment Lid w/Model Logo $290
Instrument Surround Aluminum Look $360
Thicker Steering Wheel – Leather $800
19" Carrera Sport Wheel $835
Porsche Crest in Headrest $270
Stainless Steel Exhaust Pipes $360
TOTAL STICKER PRICE: $109,405
Performance & Cosmetic Upgrades:
19" Champion Motorsport Wheels $4,000
Champion Motorsport Springs $1,200
Fabspeed Performance Package $6,895
GT2 Turbo Side Skirts $1,000
Clear Front Turn Signal Indicators $200
www.Fabspeed.com
997 Performance Package with ECU Upgrade/Comp Intake
Performance Package includes Maxflo mufflers, headers, X-Pipe sportcats, Tips, ECU upgrade, cold air kit-BMC filter/Competition Intake. Realized Gain: rear weight reduction, +40-50HP, excellent sound.
www.Championmotorsport.com
19" RG5B Wheels
The RG5B is made from a single piece of A6061 aluminum, heat treated to T6 standards, and forged in an 8000 pound press. The end result is an extremely light wheel, ranging from 19 to 26 pounds, depending on diameter and width. This process also produces one of the strongest wheels on the market.
Condition –
Exterior: Factory Paint and Panels, no dings or dents on the car and there are no scratches on the car. A few pin sized nicks from bugs and road grit. All trim is original and in excellent condition. All four wheels are straight and free of rash. All four wheels have matching Michelin Pilot Sports mounted with approximately 3,000 miles on them. The car is only hand washed and waxed by me and my detailer whose specialty is black paint. The paint is deep and shiny with no swirl marks. Short of a very few nicks from road use the exterior of the car is as new.
Interior: Leather is in beautiful condition showing very little wear to driver and passenger seat bolsters. Rear seats are both as new. No rips or tears in any seats. Dash leather is perfect. All door panels are as new. All trim is beautiful and free of scratches. Leather headliner is free of any stains or blemishes. Carpets are perfect. Floor mats are original and while showing slight wear are still in excellent condition. All rocker panel and other trim is in excellent condition. All switch gear is in excellent condition. EVERYTHING is in working order. A fresh looking, smelling and feeling full leather interior that is routinely conditioned.
Mechanical: Car is in perfect mechanical condition. Never any failures and all services done pro-actively and routinely. The car drives straight and true, runs very strong, and performs as it is engineered to do.
Service History Since my Ownership:

· 9,954 miles at EuroWerkz, LC 10/22/2009: Install Fabspeed Performance Package: $6,895
· 10,277 miles at European Motors 4/1/2010: Lube, Oil and Filter and Installation of GT2 side skirts: $199.18
· 12,344 miles at European Motors 7/19/2011: Lube, Oil and Filter and Installation of four new Michelin Pilot Sport Tires: $1,754.81
· 14,374 miles at Lujack Porsche 7/18/2012: 4 year service to include full inspection, Lube, Oil and Filter, Changed Brake Fluid, Replaced Spark Plugs: $1,406.82
· 15,303 miles at Lujack Porsche 4/4/2013: Replaced 4 Tire Pressure Monitors: $1,316.81
Closing Comments: I have enjoyed every minute of owning this car since 2009. In my opinion, it is really the best of all worlds in the 997 911 lineup: wide body without all of the spoilers and intakes, all wheel drive, open air cockpit, yet more rigid and coupe like than a cab, functional rear hatch for a little easier access for a duffle bag on a weekend trip, and a rarer model than a Turbo. Moreover, I put effort to tastefully expand this car's sporting character than it was originally optioned, by adding the Fabspeed package and GT2 skirts. From top to bottom this car exudes quality and uniqueness while offering an excellent balance of touring and sport. It is a joy to drive and routinely receives positive comments from Porsche-philes as well as people simply admiring a beautiful car.

Reason for sending her to a new home: I had no intention of selling the car until recently when I had the opportunity to buy not one, but two, other of my Porsche 911 dream cars. So, it's really just a matter of freeing up the funds and the garage space.
Terms: Deposit of $1,000 expected within 24 hours of agreeing to purchase. Title is in hand, free and clear.
$64,900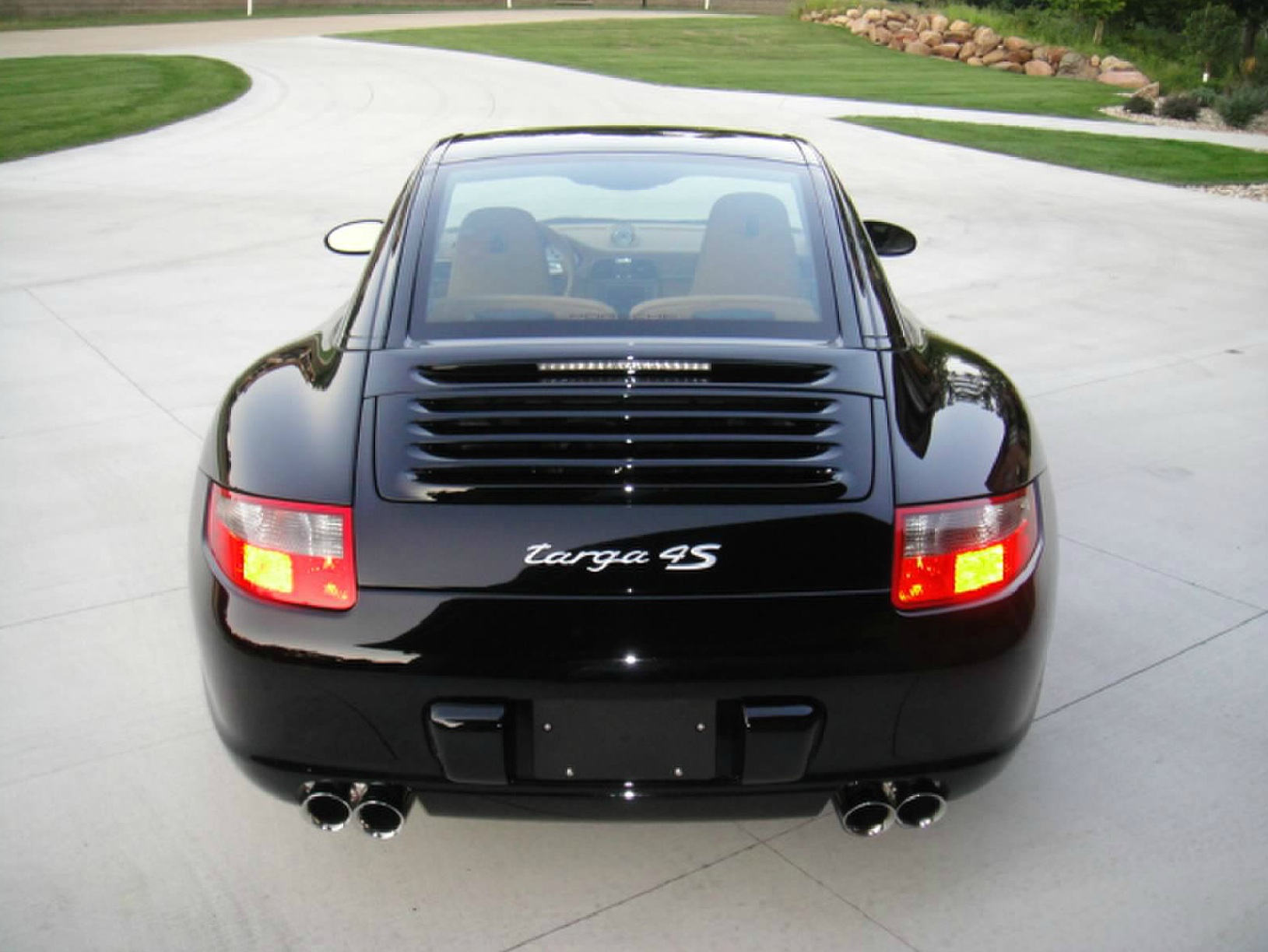 While I tend to prefer the classic silhouette of the 911 Coupe, I think I may have changed my mind with this Targa 4S. The chrome trim mirroring the roofline plus the added practicality of the rear hatch goes well with the dark color and eye-catching RG5B wheels. When you first look at this 911, you see a coupe, but look a little closer and you'll notice the subtle differences. Add in the unique options and you have a 911 that sets you apart from the crowd.
For those interested in this Targa 4S, you can contact Doug Wittkowski of EuroWerks at witt@eurowerkzlc.com
-Paul