"It's a great car, but it's a pain in the a**."
This is a phrase that summarizes many different makes and models, for which the owners toil countless hours over labors of love only to have a car that (effectively) only they themselves are really interested in. Sure, you might think it's cool too, and maybe you want to drive it, or take a picture with it. But do you really want to own it?
In the case of the Audi Coupe Quattro, the answer is probably no. At least that's true for the bulk of them. Listen, I'm a huge Audi fan. And I have owned my fair share of them, too. But easy-to-live-with they are not. We make all sorts of excuses for how wonderful they are, and certainly you can make them very fun. But the reality is that most older examples were forlorn for at least some period of time, most have lived a pretty hard life, and most will leave you cursing the "Audi Gods" with frozen bolts, NLA parts, and a complete lack of functional equipment.
Now that I've really sold the Audi experience, let's take a look at today's subject:
Year: 1990
Model: Coupe Quattro
VIN: WAUGE58B9LA005874
Engine: 2.3 liter inline-5
Transmission: 5-speed manual
Mileage: Many mi
Location: Bellvue, Colorado
Price: $15,000 Buy It Now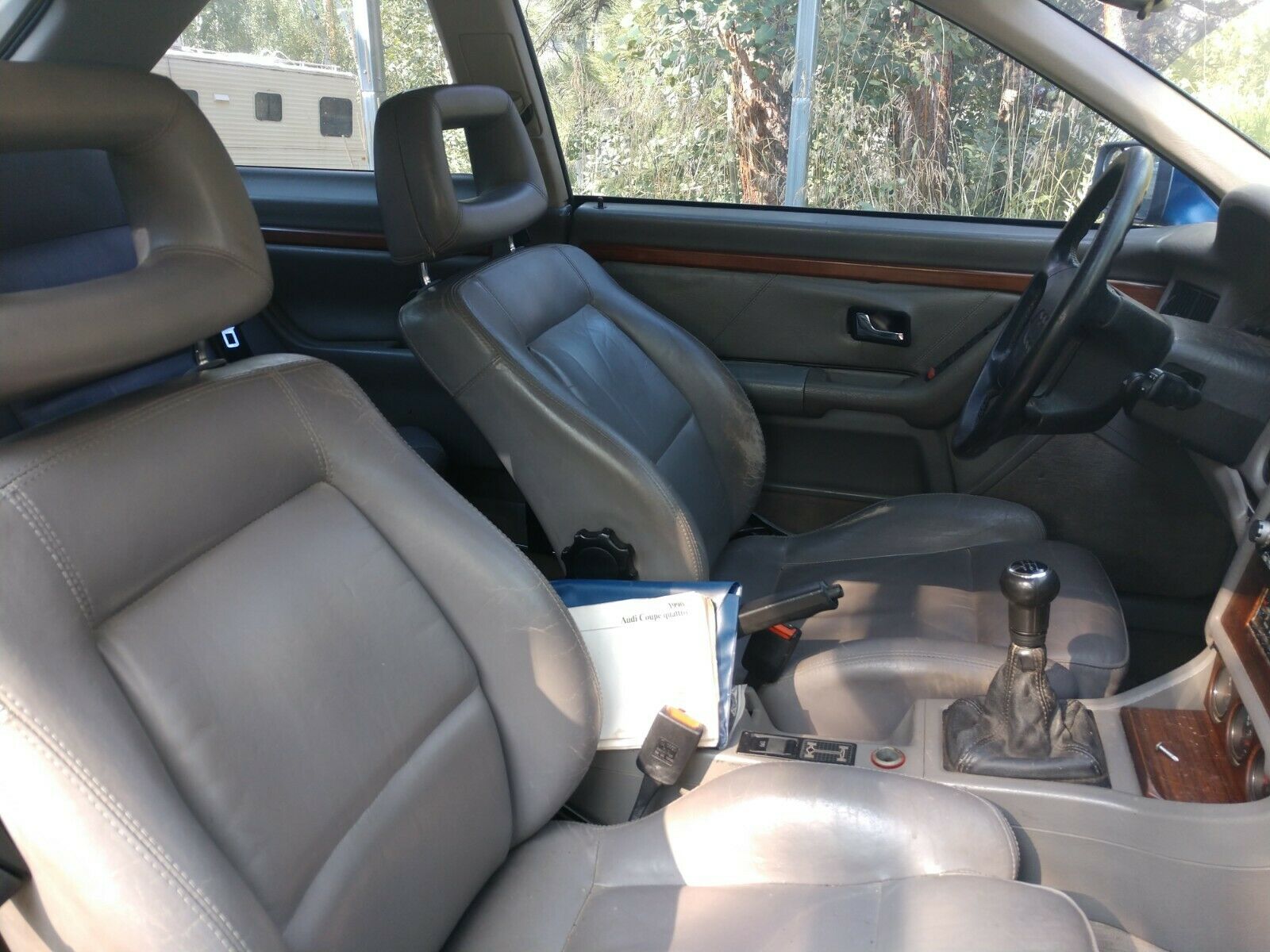 1990 Audi Coupe Quattro

I bought this a couple years ago from an owner who restored it from abandon. I'm the fourth owner, the previous owner got it from a barn it had been sitting in for many years. That owner got it from the original buyer a short time after they bought it. If you google 1990 Audi Coupe Quattro, this exact car has pictures and articles in the results.

It was recently tuned up and runs great. Although I've rarely been able to drive it because I am not a mechanic, and parts for this car are difficult to come by and often expensive, when I have been able to drive it it's worked great and been a load of fun. My dad and I spent some time restoring small aspects of it and fixing issues here and there, but I'm leaving for college soon and it's just not a worthy investment for me right now. I love the car and I'm extremely hesitant to let it go, so only serious offers from people who know they'll take care of it.

It's a great car, but it's a pain in the a**. It's been pretty much entirely restored, but still has its occasional problems. It's been sitting in my driveway almost the entire time I've owned it, I only put a few thousand more miles on it. The reason its sitting right now is the front right differential is tapping, (I have a replacement,) and it needs an oil change, but the oil drain plug is rounded. (I also have a replacement for that.)

It's current needs:
– driver side window regulator cable is broken
– driver side door handle is broken from the inside. Still functions but will get knocked out of place easily, needs some replacement plastic or some smart jerry-rigging.
– right side window button is not encased, still works, wires will occasionally get disconnected preventing the window from moving, but it still works.
– drain plug (have the replacement)
– differential (also have the replacement)
– fuel level float is the wrong size, so the gauge is inaccurate.
– has some minor cosmetic issues, the clear coat is peeling in a few places, the left turn signal and plastic paint on the bumper are damaged from hitting a deer.

The odometer is also broken. It stopped ticking up at 128,271 miles, but likely has a few hundred more. When it broke was pretty much the same time I stopped driving it and it got parked.

It also has some problems with the front suspension and steering, it works but is noisy and clicky. The struts likely need replacing, I don't have those. I have replacement lower ball bearings for it as well. This has never been a huge issue. The car vibrates around 60mph, but not terribly, still likely because of uneven tire wear due to the suspension.

Great car, make me an offer.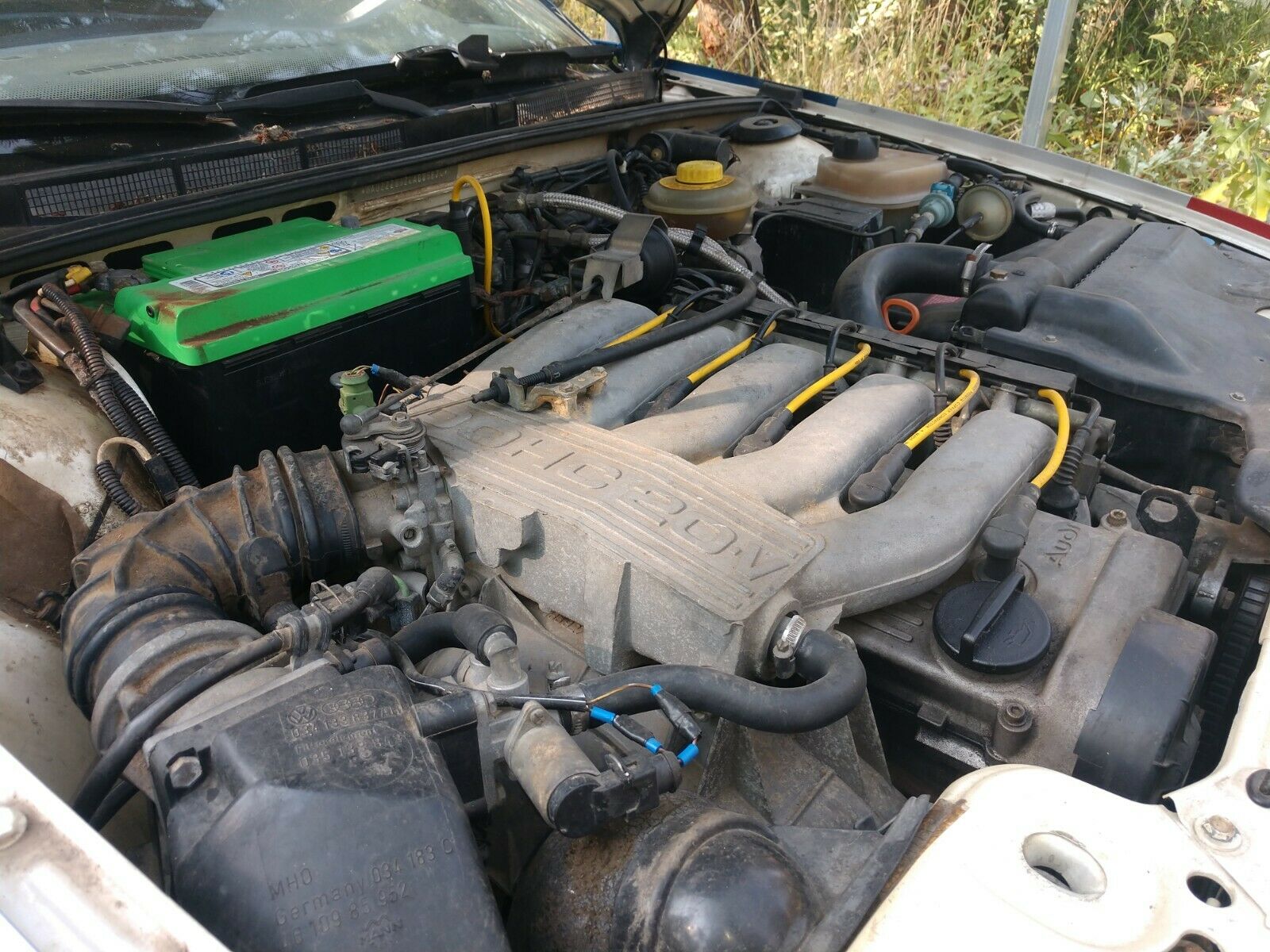 You think I'm telling tall tales in the lead, but there we have it; abandoned and left for dead, someone tried to resurrect this car – which on the surface is great, since the Coupe Quattros are quite rare. The seller claims it was "pretty much entirely restored", but frankly it's hard to see how. Not only is it not in great shape on the surface or inside, the list of non-functional items is…well, typically Audi. It does appear that it could be cleaned up, and you could probably fix the wrecked paint, source the interior parts, replace all the mechanical items that are broken…at which point, you'd have a really expensive (considering the current $15,000 asking price) and relatively slow 1990 Audi Coupe Quattro.
A smarter plan, if you really want one of these, is to just pony up for the most perfect one you can find. I looked at a really nice one last year with a $22,000 asking price:
It was worth way more than $7,000 additional dollars when compared to today's car. And very nice examples are selling in the high teens semi-regularly. Owning an old Audi isn't completely horrible, by any means. You just need to know which old Audi to purchase, and the answer is almost universally "the best one you can find" – even if it's more money up front.
-Carter