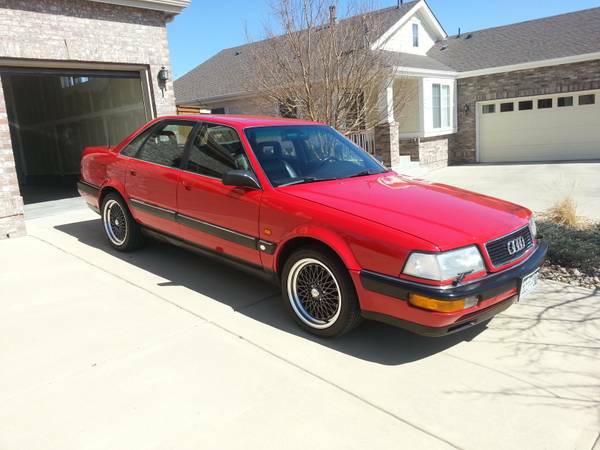 Every time I think I'm out, another one pulls me back in. I've pretty well documented my love/hate/love relationship with the Audi V8 quattro, and today's example has placed me firmly back into "Camp Love". It's funny, too, because I really don't think the big-body Audis look particularly good in Tornado Red; I once joked upon seeing a red V8 Quattro "Here comes the Fire Chief!" But something about the condition of today's example has me rethinking that stance; perhaps it's the low miles; perhaps it's the rare to see great and clean condition; but more likely than not, it's just that it's a non-Pearlesant White V8: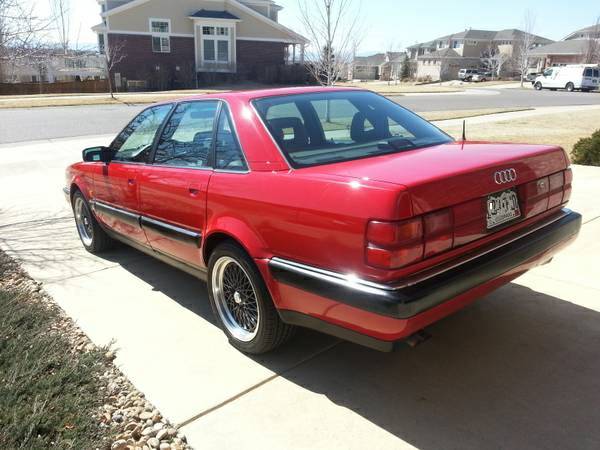 Year: 1990
Model: V8 quattro
Engine: 3.6 liter V8
Transmission: 4-speed automatic
Mileage: 54,600 mi
Price: $7,500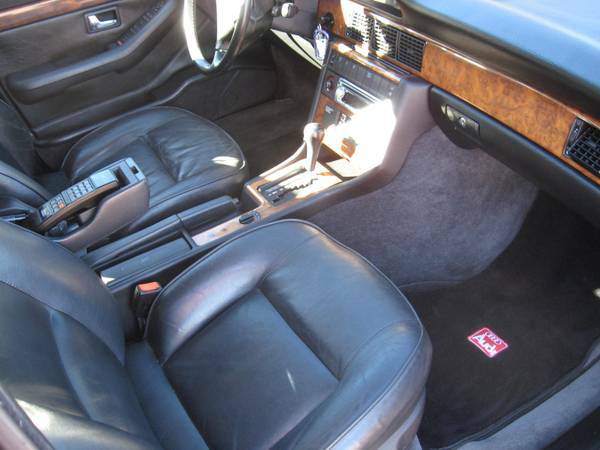 Up for sale is my 1990 Audi V8 Quattro with 54k original miles. The body is galvanized aluminum so there is no rust. It has a 3.6 V8 with an automatic transmission. The leather is tip top, no electronic gremlins or engine lights. I have been using this as my daily driver and it drives and stops great, definitely reliable! I recently added new items like:
– 17″ OG rims with Bridgestone Potenza tires $1456
– New windshield from Safelite $349
– Bosch icon wiper baldes $53
– Brand new OEM Audi grille $55
– Brand new OEM Audi left blinker $185
– Brand new blinker gaskets $42 each side
– Alignment and brake bleed @ Les Scwhab $180

For those who know this is truly a tough car to come by and a beast in the snow!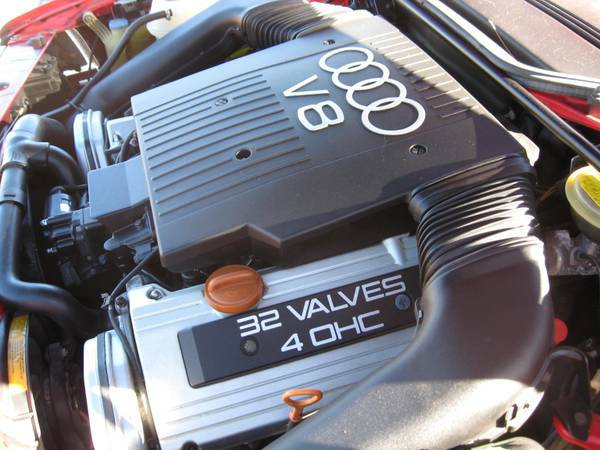 All that said, I'm not a fan of the wheels. Sorry, I just don't really like the look of the black wheels on this car. It's an easy fix; pick up a set of the 15×7.5 BBS wheels from 1991 or even the more rare 16″ Euro wheels and the problem is fixed. Even better yet, I'd love to see this car rolling on the 17″ Borleos that were Euro-spec. Condition appears to be incredible, but figure on inspecting that timing belt if you can't figure out when it was done. Ultimately, I'd probably like to swap in sport seats and a later 4.2 and 6-speed powerplant if this were my car, but as it sits this is one of the best condition 1990s I've seen, and until the original mill blows it may be worthy just as is. $7,500 is all the money for a 1990, but this condition is impressive and difficult to mimic; Tornado Red is one of the rarest colors on the V8, and the miles are right; if you're in the market, don't argue – this is the car.
Thanks to our reader Dan for sending this our way!
-Carter