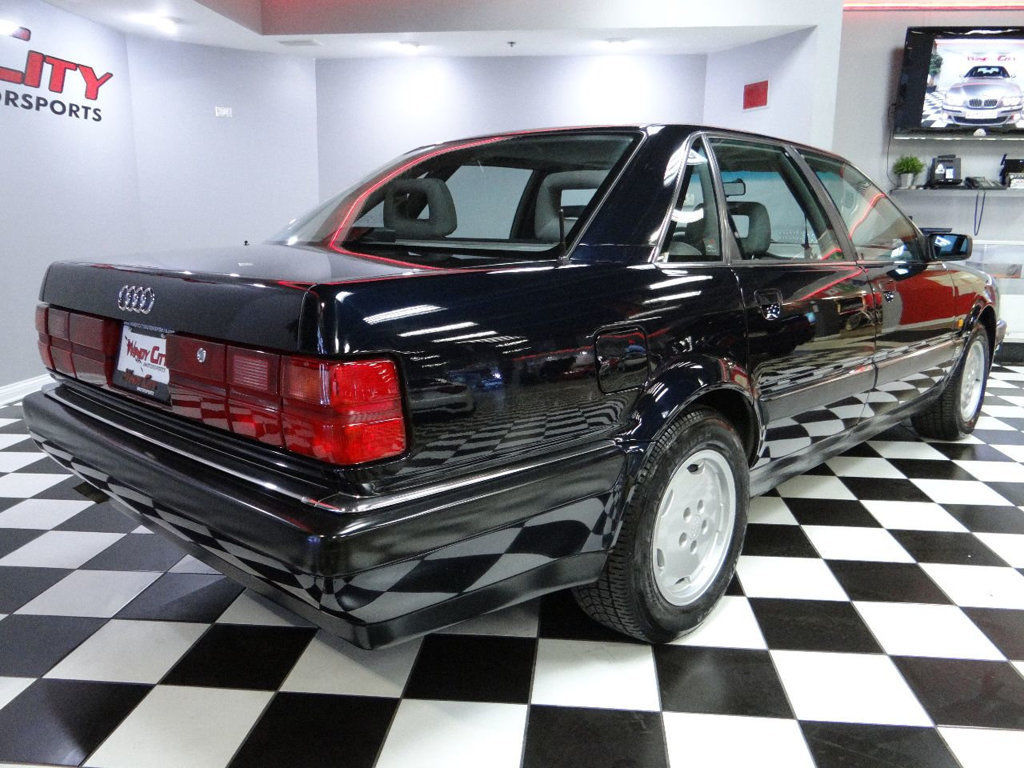 When it came to the late 1980s, Audi's monopoly on the all-wheel drive market was coming to an end. Not only were new turbocharged pocket-rockets being born seemingly every day, but Mercedes-Benz had introduced their new "4Matic" designed by Steyr-Daimler-Puch. While you could make a pretty convincing argument that Audi's design was superior in extreme conditions, there was at least one aspect of the Mercedes-Benz that trumped Ingolstadt's design – you could get an automatic.
Now, to most enthusiasts that probably sounds like a bad idea. But when it came to selling car – especially expensive luxury cars – the overwhelming majority of buyers wanted the car to do most of the heavy lifting. Audi's response was the next generation of quattro drivetrains; like Steyr's system, with a series of clutches in the center differential that helped to transfer power and allowed the car to be mated to an automatic transmission. That transmission – the ZF 4HP24A – was a derivative of the 4HP24, the same automatic found in the V12-equipped BMW 750 and 850s. Like the Mercedes-Benz, Audi employed Bosch ABS and a locking rear differential. But unlike other Audis with their manual- or electronic-locking rear differential, the V8 quattro used a Torsen rear differential with helical gears which would automatically split torque in up to a 3:1 ratio to the wheel with grip.
But the V8 quattro wasn't only about its unique new form of all-wheel drive. The moniker obviously indicated there had been a change in motivation, too, and indeed the V8 launched a new all-aluminum 4 cam, 32 valve V8 displacing 3.6 liters dubbed the PT. Rated at 240 horsepower and 254 lb.ft of torque, it was the most powerful Audi for sale in the late 1980s and brought the brand to a luxury level it had previously not competed at. In the U.S., these mega-Audis were met with mixed success. The 1990 launch of the V8 resulted in reasonably good sales; Audi sold 2,823 between late 1989 and the end of 1990 which represented over 10% of their yearly sales. Consider that the legendary Quattro never even broke 1% of Audi's annual sales here; in its most successful year Quattros comprised .62% of the overall sales for the company.
But it was downhill – sharply – from there, as Audi nearly left the U.S. market and top-flight executives hit a notoriously bad sales patch. That meant that in total only 3,868 V8 quattros were sold in the U.S. This might be one of the best '90s left: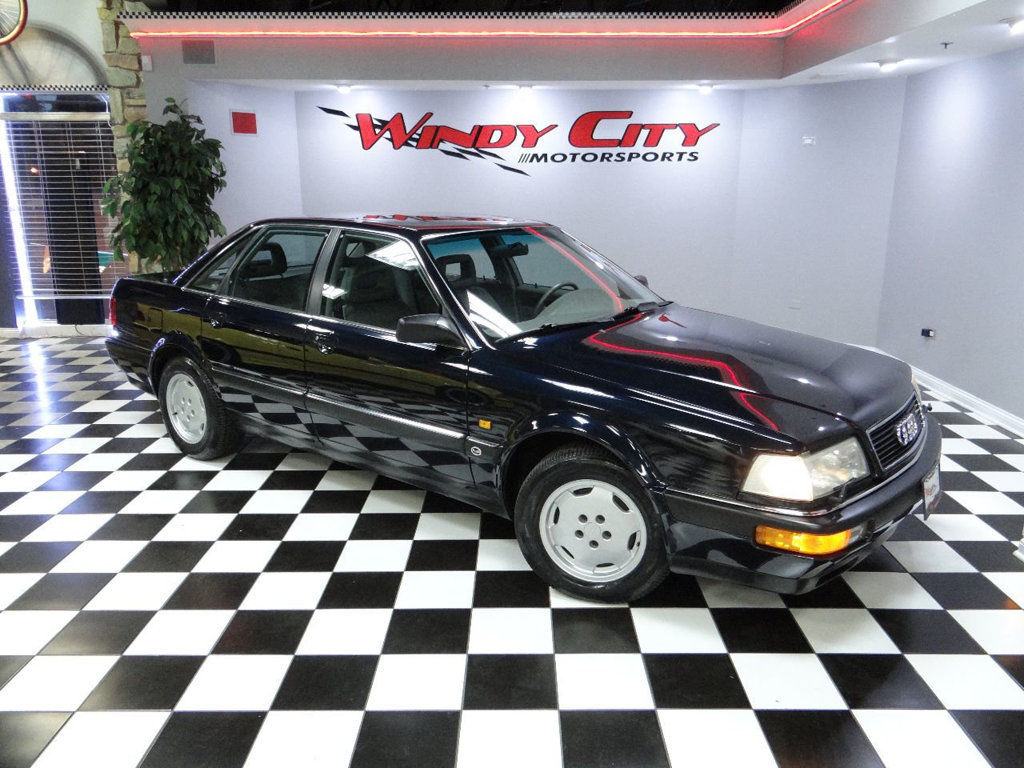 Year: 1990
Model: V8 quattro
Engine: 3.6 liter V8
Transmission: 4-speed automatic
Mileage: 63,159 mi
Price: $7,999 Buy It Now
Vehicle Overview
We at Windy City Motorsports are very pleased to offer for sale this hard to find & beautiful Audi V8 Quattro luxury sedan.

***Only 2 Adult Owners Since New

***Meticulously Maintained

***Only 63,xxx Original & Certified Miles

***Legendary Audi Quattro All Wheel Drive System

***Stunning Indigo Blue Metallic Exterior

***Rust Free & Laser Straight Body

***Super Clean Undercarriage

***Immaculate Gray (Silver) Non-Smoker Leather Interior

***Large Folder Of Service History & Maintenance History

***You Will Be Hard Pressed To Find A Finer Example Of This Flagship Audi Classic!

***Inexpensive Nationwide Shipping Is Available

***Feel Free To Contact Us For A "Virtual Walk-around" Or Video

***Financing Is Available For All Types Of Credit*

***We sincerely appreciate your interest, and as a trusted Ebay award winning seller since 1999, we hope to add you to our quickly growing family of 10,000+ satisfied customers!

***Any of our service men and women stationed overseas will receive FREE front door delivery so your new toy will be there waiting for you when you get back home. We also make concessions of all of our veterans. We appreciate your service & bravery.
So many early V8s are black or Pearlescent White Metallic, it's fantastic to see LZ5U Indigo Blue Metallic. At first it looks nearly black, but bright light shows the deep midnight blue color well. It's matched with good condition platinum leather which appears to be the upgraded Connolly leather. Otherwise, there were basically no options on the V8 quattro as these came fully loaded. Condition really appears to be outstanding but the key item you'll want to know about is the timing belt. Service on these used to seem expensive at over $1,000, but today that seems the norm for most newer VAG products. Also of note is that early V8 quattros had trouble with the aforementioned 4HP24A overheating. Later 4.2 V8s had an integrated transmission cooler to solve the problem, but figure you'll want fresh fluid and a filter in there at the very least. No pictures are shown and it's hard to tell with the V8's 7.5″ aero wheels in place, but figure it also has the original "UFO" floating rotors that are expensive to change out and can warp without heavy use. Still, there are few chances to get a V8 in this condition and with this low mileage with what appears to be strong ownership and full records, so while the $8,000 asking price may seem high at first if you really want one of these cars this might be the best bet to get a good condition example.
Thanks to our reader John for the spot!
-Carter