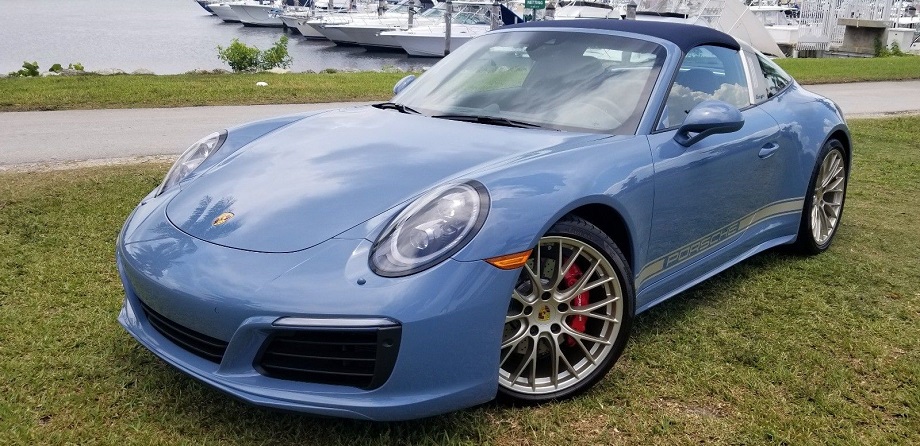 I can't keep up with all of Porsche's special editions. The one we see here, a 2017 Porsche 911 Targa 4S Exclusive Design Edition, is one that I was not even aware had been produced. Part of that is it isn't really all that special, it's more a chance for the Exclusive department to produce something than it is a celebration of a production milestone or anything of that sort. Like a lot of such projects from Porsche the Exclusive Design Edition pretty much consists of some special color combinations and interior accents unavailable on any other 911. And, of course, all are combined in one package. Only 100 were built so your chances of seeing one, let alone purchasing one for yourself, are very slim. Does that make them especially desirable?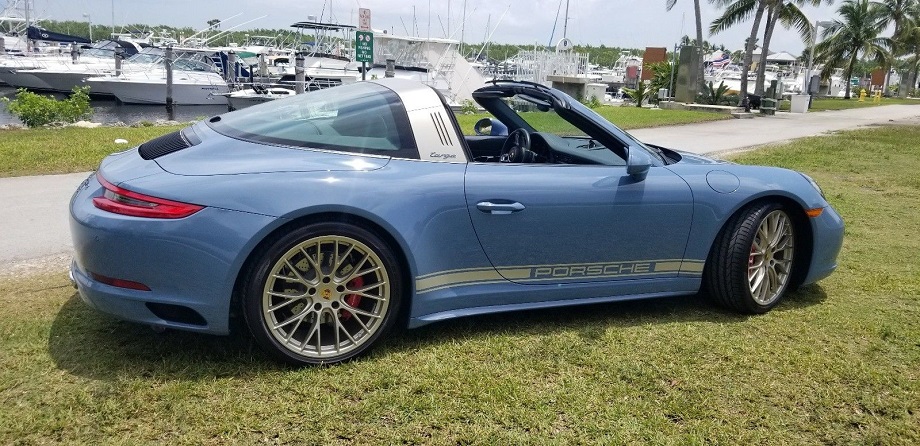 Year: 2017
Model: 911 Targa 4S
Engine: 3.0 liter twin-turbocharged flat-6
Transmission: 7-speed automatic
Mileage: 2,150 mi
Price: $225,000 Buy It Now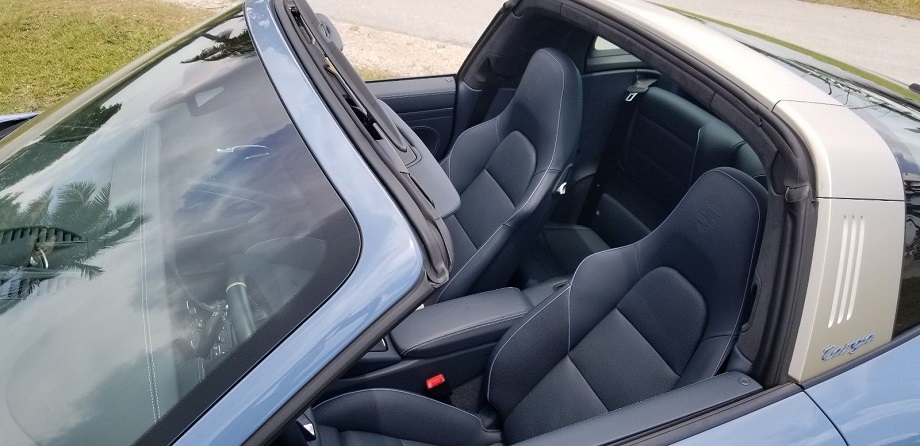 Why invest into art when you can have this masterpiece!

Deal of a lifetime!

$30,000 less than any other offered, if you can find one!!

Low Reserve!!

2017 Porsche 911 Targa 4S
*Exclusive Design Edition**Collectors Dream*
Just 100 were built; and only 24 made it to the United States!!

A separation forces the sale of one of the most exclusive Porsche's Built to date! You cant find this car very easily, only 100 were built, and just 24 came to the U.S. market making this a great investment! This collector car was hand-finished on the Porsche Exclusive production line in Zuffenhausen under the Porsche limited vehicle project. This vehicle,includes a bound photo album in graphite-blue leather, which documented the development process of the build with the specific vehicle identification number (VIN). To continue the exclusive features, the car also came with it own specially designed floor mats, and indoor car cover, both of which I've kept in its original factory plastic.

This collector's dream is finished in etna blue (solid), the standard color for the 356 B (T5) in 1960 and 1961,"of which this car pays tribute" with numerous elements colored in white gold metallic (satin finish). The unique color combination of this exclusive Targa also continues in the special edition interior. The interior is graced with high-quality, enhanced equipment and many luxurious, hand-finished details.

The interior of this 911 Targa 4S Exclusive Design Edition features door entry guards that are made from black, anodized stainless steel and bear the name of the edition. The first line "911 Targa 4S" is illuminated in blue, while the second line "Exclusive Design Edition" is etched into the black steel. The interior is finished in graphite-blue leather and offers adaptive Sports seats with 18-way adjustment. The headrests are embossed with the Porsche logo and a 911 Targa silhouette adorns the cover of the center console compartment. The lettering "Porsche Exclusive Manufactur" on the trim of the dashboard highlights the vehicles exclusive origin. The decorative stitching of the seat leather, air vents and floor mat trim are all presented in Provence blue. The comprehensive refinement also includes leather trim on the seat backrests, steering column casing, parts of the dashboard and to complete this vehicle Porsche finished the keys in etna blue to match the exterior.

Many of exterior details, such as the front spoiler, covers for the headlight washer system and "Targa" logo on the Targa bar, are painted in the vehicle color with the black LED headlights providing an eye-catching contrast at the front. The 20-inch RS Spyder wheels and the decorative Porsche side logo glisten in white gold metallic. At the rear, the rear apron, the Porsche logo and the model designation are also colored in etna blue (solid), while the rear lid grill are colored black to deliver a dynamic contrast.

if you are not familiar with this amazing car I advise you to go to the Internet there is no shortage of information about this car.

If you need more photos message me and i will gladly send them. The car shows like new.

This Porsche is a must have for any collector or the individual is looking to own a car others cant have.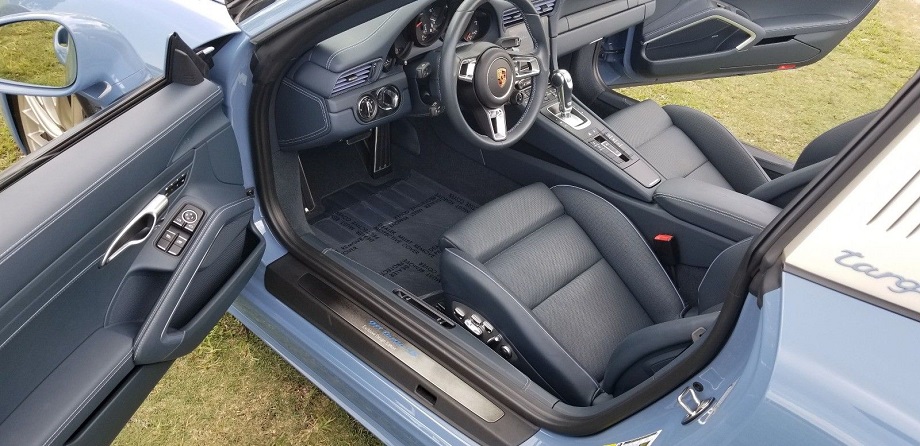 The Exclusive Design Edition is a very pretty 911. It isn't an aggressive 911 – the blacked out Targa 4 GTS I saw on my street a while back definitely appeals more in that regard – but it is a very pretty one. Much of that comes from the exterior combination of Etna Blue with White Gold Metallic accents. Etna Blue originally appeared on the 356B and it's a wonderful color on those vintage cars, especially in Cabriolet form. I'm not sure it works quite as well on a modern 911, which of course lacks the vintage charm of a 356, but it does look good. Utilizing the Targa for production of this special edition was an excellent choice because the allure of Etna Blue really is more apparent when it has contrasts such as the Graphite Blue Targa top and White Gold roll hoop. We've seen it on a Coupe and I like it, but I like it more on this Targa.
The interior is a similar study in nice contrasts. The leather of the seats is Graphite Blue with deviated stitching in Provence Blue. That deviated stitching continues throughout including along the air vents (with leather slats) and the floor mat trim. The door sills show 911 Targa 4S illuminated in blue with Exclusive Design Edition etched into the steel. These are the sorts of things Porsche's Exclusive Department can produce for you and these special editions serve as a canvas upon which they can demonstrate these possibilities. It is in that way a marketing exercise.
Whether these truly will be collectible is another matter. Yes, they are rare, but over the years most of Porsche's special editions (of the non-performance variety) only have shown marginal premiums over standard models. Or at least those premiums remain marginal until we are many years down the road. That is, I think, largely because their appeal lies entirely in their aesthetics and aesthetics always will garner a more limited audience. If you love the look of these Targas, then by all means try to get one, but I don't know that I'd go out of my way for reasons of long-term value. And please do drive the car. I'd love to see one on the road!
-Rob