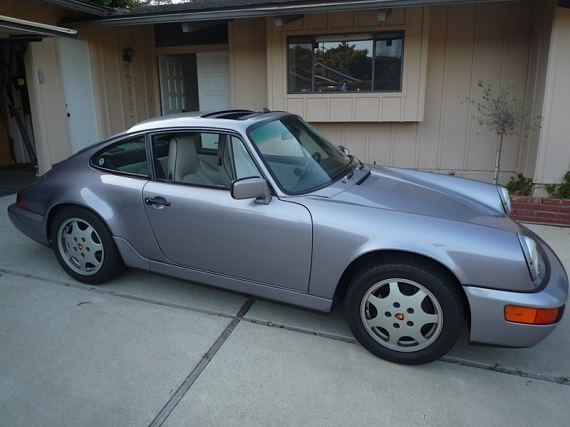 Over time the 964 has grown on me quite a bit and right now they might just represent some of the best values on the 911 market. While a 996 likely still stands as a better performance value, the 964 clearly looks like it will hold, and increase, its value over time to a greater degree than seems likely with the 996. However, the time for a 964 serving as a good value may be short lived and the car we see here would probably not be the first choice of a value-seeking buyer. Nonetheless, this Diamond Blue Metallic 911 Carrera 2 Coupe, located in Santa Barbara, should make an interesting option for any 911 enthusiast and while it could make for a good collector it already has enough miles on it that its new owner should be able to enjoy driving it fairly often as well.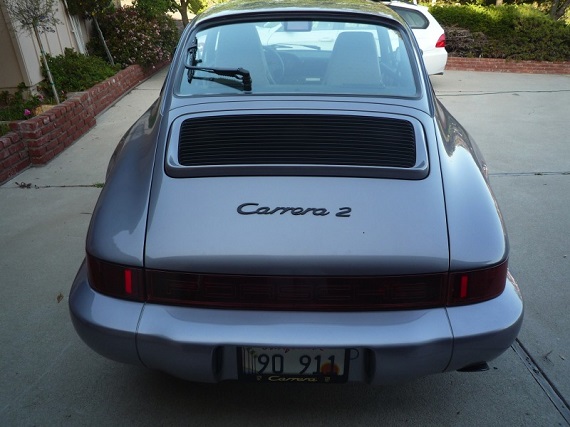 Year: 1990
Model: 911 Carrera 2
Engine: 3.6 liter flat-6
Transmission: 5-speed manual
Mileage: 91,000 mi
Price: $44,000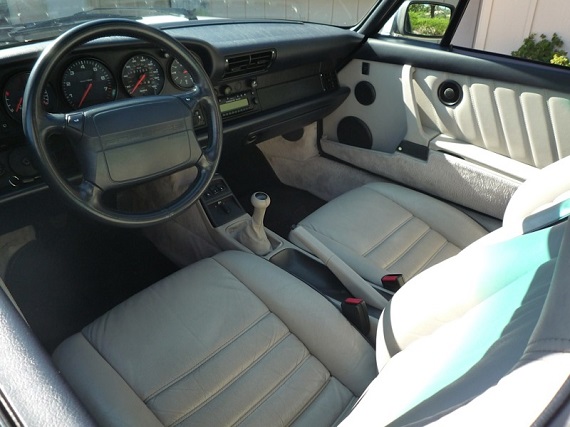 I am regretfully listing my 1990 964 for sale: The best driving Porsche 911 that I have ever owned.

1990 5 speed C2 Sunroof COUPE
91K Original Documented miles
Special Order Diamond Blue Metallic Paint Code L697
Special Order Linen Interior with Navy Blue Piping
Navy dash. So dark it looks black
West Coast Car it whole life: Oregon – California

Options List:

XD4-Porsche Color Crest Rim Caps
425- Rear Wiper
437- 8 way Comfort Seat Left
438- 8 way Comfort Seat RIght
454- Auto Speed Control
494- Additional Amplifier
650- Electric Sunroof
691- CD Player
935- Seat Cover Left RLL Draped
980- Seat Cover Right RLL Draped

09991- Spec'd to Order
10011 ???
11151 ???

If you are looking for a nicely optioned 964 in a special order color this may be the car for you.

Records from new. Clean Car Fax. Never wrecked. Only hood and front bumper have been resprayed due to rock chips and done to a high standard.

This 1990 964 was chosen to represent the 964 model in a four page spread in Randy Leffingwells's book "The Complete Book of Porsche 911"

This 1990 964 Won First Place in it's class twice in Local Concourses.

Car is sitting on beautiful D-90's with recent Michelin Sport Pilots

Original Spare and Porsche Pump.

Cold A/C

2 Keys

Books

Car also comes with the following:

A full set of PORSCHE FACTORY workshop manuals in 3 ring binders. A whole CASE of books
A full front BRA as well as mirror covers
A full car cover
Original floor mats (not in use due to Black set in car)
Original Factory Radio (Replaced with upgraded Factory Porsche Radio CDR220)
Some spare filters etc.

This is one of the nicest, most original 964's you are likely to find, that isn't Red or Black…or a Cab or a TIP

Car just had a service and is ready to be driven or shipped anywhere. Needs nothing.

Like most 964's it will leave a small drip on the garage floor if not driven regularly.

If you have read this far you must know your 964's pretty well. These cars have really taken off in value lately. Is it because Singer chose them as their only platform? Is it because they are the last of the truly hand built, iconic 911's? Or is it because they are just a blast to drive and do EVERYTHING so well? Who knows? We do know that they won't be going down in value anytime soon.

$44,000.00 OBO

Located in Santa Barbara, CA

Email is the best way to reach me: say66@mac.com

Please no picture collectors or tire kickers.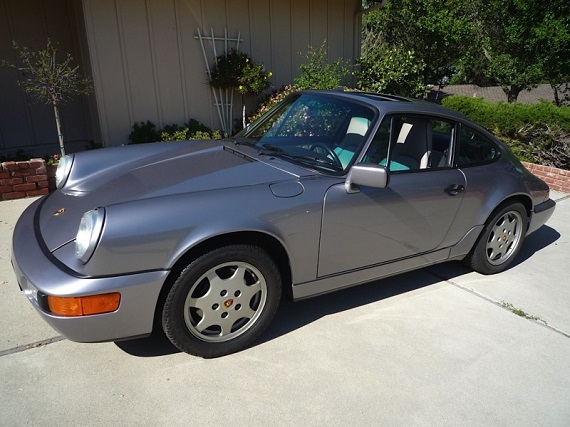 I don't feel I'm mistaken saying that this car is probably not best represented in these pictures. The Diamond Blue Metallic exterior comes across as too gray, almost even a dull gray, and the interior simply looks black and white. In person, these colors will likely show depth and dimensions that can't be appreciated without high quality photography. What we should have then is a well-documented, enthusiast-owned, 964 Carrera 2 in a very unique color combination that retains its originality. To me, that makes what feels like a fairly high asking price quite a bit more realistic. Ultimately, with this mileage the price will probably have to come down, but we have all seen where prices for air-cooled 911s have gone and original cars in unique colors have tended to do quite well.
-Rob