I have a bit of a mixed bag for you this week – from period Tuner wheels to some that are more meant for dreams and Christmas wishes. The Rial cross-spoke wheels aren't normally what you'd think of when you think of basket weaves, but they're period correct for your mid-1980s Audi or early 924. The Momo wheels aren't everyone's bag, but they were a period wheel that was a very expensive option – as were the 17″ Style 10 wheels if you're looking for something a bit more OEM. Those Porsche Speedline Ruf wheels are some of the best looking every made, and I've always loved the wheels on the McLaren SLR – even if they're solidly out of reach of even my entire car budget. What's your favorite?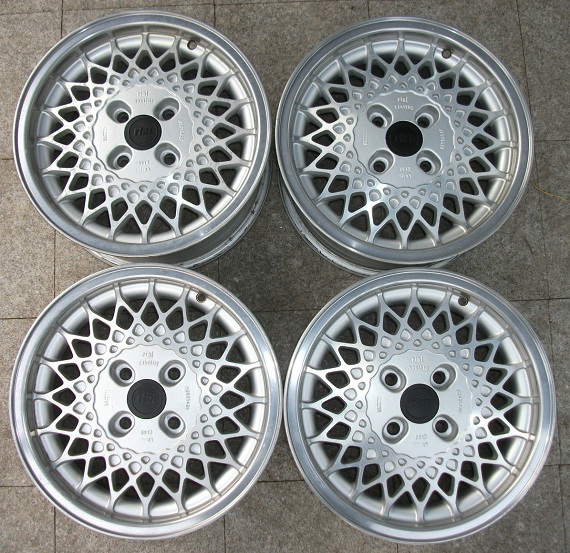 Price: $999 Buy It Now
For sale

a set of 4 genuine

15 inch/zoll

RIAL

CROSS SPOKE

FRONT AND REAR 7×15 ET 38

4×108

Typ: N7015429

Fit for different AUDI with this caracteristic

Example:

Audi 80 typ 81 & 85 Quattro / GTE / Coupé

Audi 100 typ 44, 44Q, 89 & 89Q Quattro/ Avant/ CS / CC/ CD

and many other……

The wheels are hard to find, good condition, but don´t forget the rims are used, look the pics.

With 4 centercaps.

Ask me for more infos.

Shipping to USA $ 395. For shipping to other countries please contact me for the price.

Payment with PAYPAL only.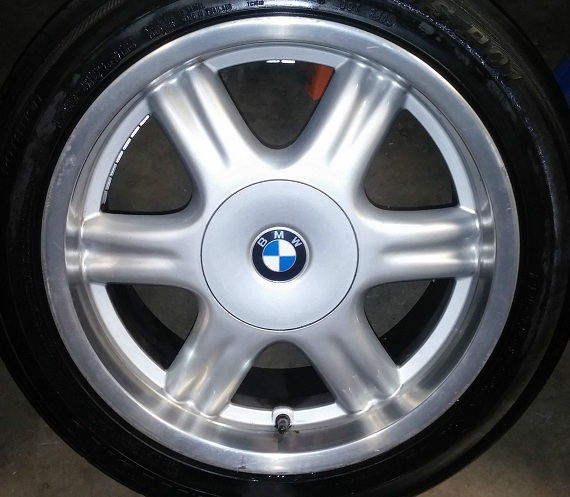 Price: No Reserve Auction
OEM BMW 17″ STYLE 10'S EXTREMELY RARE Lightweight Wheels Rims (4)8 x 17″ et20, squared (non staggered set/ squared set) (4) center caps incl. had to get from Germany(misplaced originals) wait forever and pay $$$ All of the wheels have minor small bits curb rash. NOTHING MAJOR… NO BENDS, CRACKS, and or REPAIRS. Excellent shape for 22+ year old wheels. Last set that I know of that sold were the 15″ (4 lug E30's etc) and MUCH MORE COMMON for $1,800

***Also, the clear coat on the lips could use refinishing, they're not perfect and price accordingly. I planned to remove the clear and just keep the lips polished bare aluminium***

***VERY LIGHTWEIGHT ONLY 25 LBS/ WHEEL WITHOUT HUBCAP OR VALVE STEM***

Will fit the following and many more…
According to BMW's Part Database (ETK) Part 36111180117 (Light alloy rim) was found on the following vehicles:

E32:
E32 730i Sedan
E32 730iL Sedan
E32 735i Sedan
E32 735iL Sedan
E32 740i Sedan
E32 740iL Sedan
E32 750i Sedan
E32 750iL Sedan

E34:
E34 530i Sedan
E34 540i Sedan
E34 518g Touring
E34 518i Sedan
E34 518i Touring
E34 520i Touring
E34 520i Sedan
E34 524td Sedan
E34 525i Sedan
E34 525i Touring
E34 525td Sedan
E34 525td Touring
E34 525tds Touring
E34 525tds Sedan
E34 530i Sedan
E34 530i Touring
E34 535i Sedan
E34 540i Sedan
E34 540i Touring

(4) SET OF BMW LIGHTWEIGHT STYLE 10 WHEELS/ RIMS!!!

IF YOU ARE LOOKING FOR A SET OF THESE YOU KNOW HOW INCREDIBLY RARE THEY ARE. NEVER A FACTORY OPTION, ONLY AVAILABLE AS A DEALER ORDERED ACCESSORY FOR $3,000 +/- IN THE LATE 80's-90's!!!

MY DAD PAID SOMETHING LIKE $3-3,500 and Michelin Sport tires FOR HIS E34 M5…in 1992!

He hasn't had this E34 M5 Since 2007 and they have been in our indoor storage since then. I had planned to get another E34 M5, but a growing family have sent me in a much different direction, so these need to go to someone who will enjoy these unique babies them…Plus I need the space.

Tires are junk, and will be removed shortly.

The pic on the cars are just stock files I found on Google…

Keep in mind you can use these wheels for years and re-sell them for basically what you bought them for. They only are getting more difficult to find.

***WHAT YOU SEE IS WHAT YOU GET, PLEASE, IF YOU HAVE ANY QUESTIONS or CONCERNS PLEASE EMAIL US PRIOR TO BUYING THESE***

If you have any questions please feel free to email me before you buy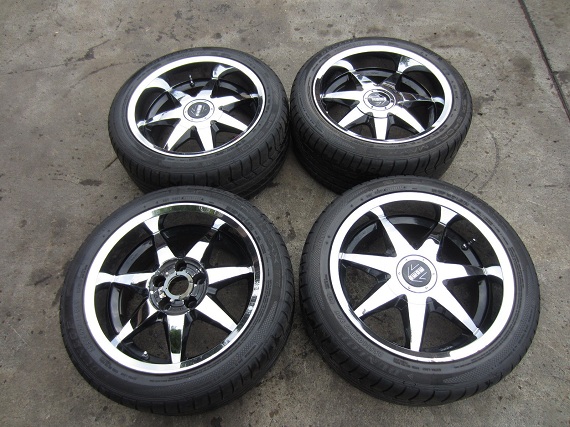 Price: $499 Buy It Now
Welcome to PK Auto Parts!!

International Bidders are Welcome, Please contact me for shipping price before bidding.

ITEM

Used Chrome/Black 17″ Momo Wheels & Dunlop Tires
Wheel size is: 8.5 X 17, Offset 15mm. Tires are: Dunlop SP Sport Maxx 255/40 ZR17
Donor Vehicle: 1988 BMW M6, Vin# WBAEE1415J2561765
Interior: Black. Exterior: Red.

CONDITION

Good condition. Chrome is in good shape but wheels do have some minor curb rash and scratches, All damage is pictured. 1 Center cap is missing and 1 has a broken mount. 2 tires are about 55-65% tread left, and the other 2 are 70-80% tread left. The black portions of the wheels might be a previous owners painting job and not original, but I am not certain.

PAYMENT

Paypal is the preferred payment method.

SHIPPING

Flat Rate Shipping specified in auction is to Continental 48 states.
International Buyers Please contact me for shipping a quote.
Delivery to P.O. Boxes and Military Addresses is more than the Flat rate specified.
Shipping will be combined and discounted on Certain items.

POLICIES

Payment needs to be received within 6 business days.
Buyer is responsible to research compatibility of parts with there vehicles. Refund will NOT be granted if something is not compatible.
Refunds are only granted when item does not work. Item must be returned in same condition to receive a refund. All returns are only accepted within 30 days or purchase.
Any labor and installation costs lost are NOT sellers responsibility.

88M6E24561765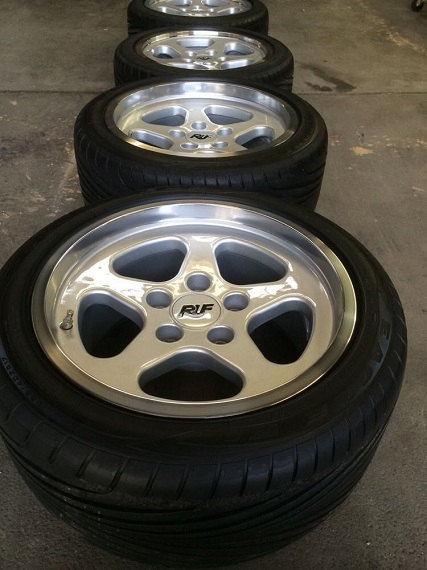 Price: $5,999 Buy It Now
This listing is for a complete set of 4 RUf wheels and nearly new high quality tires for Porsche 911 / 930 with the smooth face and offset rear wheels . I have spent more than 40 hours researching the perfect rim for a early offset narrow body 911 that is high quality and these wheels where the ones that I decided upon before I decided to sell my car. Will fit on wide body cars with spacers.
The fuchs rim does look pretty good especially if it is the reproduction 17 inch or 18 inch in black with the polished lip but with that said it still looks like a dated rim because they where so common and are used heavily in the VW scene which in my opinion makes it more of a common choice.
If you are looking for "The" wheel like these Ruf wheels for a tribute car or want a different look for your car, treat yourself to the real deal and these wheels will transform any 911 930. They will even fit under a early 911 or even a 912 narrow body at stock height. Ruf is an amazing company in Germany that is licensed as a car manufacturer and they contracted with Avus to build these one of a kind rims. These are the real deal, there are several reproduction Ruf wheels on ebay and other websites but not many are authentic. The wheels have only been used for 1100 miles and are in excellent/ new condition ,they have no road rash or bends of any kind , no stories they have been in heated storage.
This style came factory on a 1986 911 Ruf . The fronts are 17x 8 et 30.4 offset , rears are 17×9 et 17.6 offset . The tires have only 1100 miles of use as well with no uneven wear . Tire sizes are good year eagle F1 255 40 17 and 225 45 17 Its like these wheels sat inside the Ruf factory in a corner they are very clean bid with confidence. Pictures may look like they have a white face to them but all the rim face is silver.
Shipping cost is calculated to the US. Overseas shipping cost will be more. Overseas bidders are welcome

Do not bid on this item unless you have full intention of following thru. You will be charged any incurred cost for non payment bids.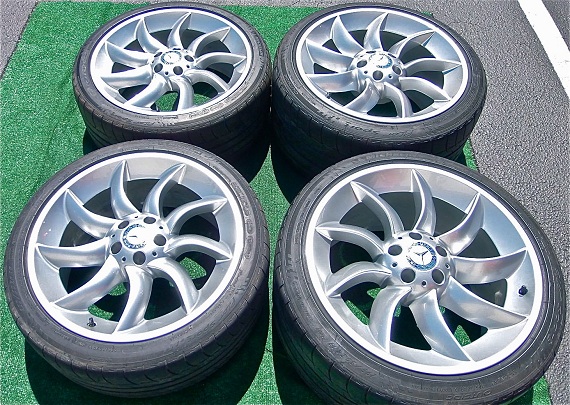 Price: $10,999 Buy It Now
BIG UPGRADES FOR YOUR MERCEDES-BENZ

RARE OEM/Factory AMG Mercedes-Benz/McLaren SLR 19″ WHEELS

WITH

AMG Factory-Spec Michelin Pilot SPORT PS2 TIRES

KILLER Style!

No Reserve – No Bidding – Just "Buy-It-Now"

This listing is for a set of FOUR (4) Ultra ULTRA RARE Genuine OEM AMG Mercedes-Benz/McLaren SLR 19″ WHEELS with Michelin Pilot SPORT PS2 TIRES.

AMG MERCEDES-BENZ/McLaren 19″ SLR WHEELS & TIRES!

These are Genuine OEM/Factory Mercedes-Benz McLaren wheels as you can see from the OEM Mercedes-Benz part numbers. Guaranteed to be round, true and free of leaks, they possess a few minor nicks – ALL of which are depicted in last 4 images. You can easily just use them as-is. OR, if it is very important to you then we can have them all professionally-refinished in the EXACT OEM AMG/McLaren patina at our cost of $149/wheel and then they will all be PERFECT. Again, I'd just use as-is.

Talk about rare! But thanks to eBay – here's your chance to have them!

As for the tires, these are a set of the original AMG Mercedes-Benz/McLaren factory-spec Michelin Pilot SPORT PS2 radials.
Size: Per Mercedes-Benz specification, these tires are sized at P255/35R19 for the front and P295/30R19 at the rear.
This is the pinnacle model of Michelin performance tire that provides a smooth, quiet ride and tremendous grip. See tread images depicting one-each representing fronts and rears respectively. All tires possess between 80% and 85% of their original tread remaining which is terrific! Again, these tires represent the very latest in tire technology and your vehicle will look outstanding and handle like it is on rails. Stored upright (correctly), not stacked.

If you want Genuine AMG SLR OEM 19″ wheels and a Really REALLY RARE style – this is an exclusive opportunity as I've RARELY ever even seen these OEM 19″ Genuine Mercedes-Benz SLR McLaren wheels on eBay and selling OEM wheels on eBay is my business. If you follow my auctions – you know that I sell alot of OEM wheels. Save MANY thousands of dollars off the Mercedes-Benz stealer er, dealer's parts counter.

Why risk on other eBay wheels that are aftermarket or trite? Rest assured – when these wheels arrive –
PUT YOUR SUNGLASSES ON AND BEHOLD!
They gleam because they are ABSOLUTELY AUTHENTIC.

You don't want to know what that crazy Mercedes-Benz dealer wants for these at his parts counter!! I mean it – don't even ask – you could faint!

Check through my feedback – I sell alot of OEM wheels for a reason!

*****RARE OPPORTUNITY*****

Look at the SPARKLE and DAZZLE of these Spectacular RARE SLR 19″AMG Mercedes-Benz/McLaren FACTORY/OEM Wheels with Michelin Tires!

No Reserve – No Bidding – Just "Buy-It-Now"

Always many styles of OEM rims – to see what others I have available including tires Click Here

Thank-You
-Carter