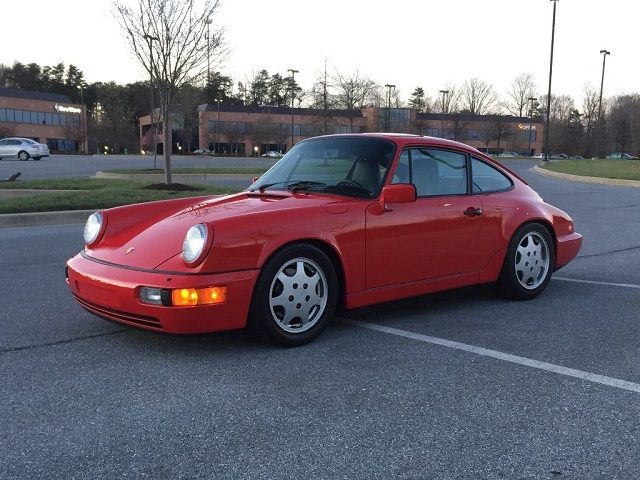 One of the consistent refrains we hear regarding the 964 Carrera 4 is that you're typically better off with a Carrera 2. Like with many new models, Porsche's first attempt at using all-wheel drive on a "regular" car had some teething problems that later iterations solved. So with the 964 you're buying into "new technology" so to speak. At least in terms of performance or reliability, things like that.
For those who are more historically minded, or who would just prefer all-wheel drive on their 964, the Carrera 4 makes plenty of sense. I understand all of that and as someone for whom an all-wheel drive 911 wouldn't really be at the top of my want list I'm sympathetic. So I'm always on the lookout for a nice Carrera 2 from that same period and here we have what appears to be one such example: a Guards Red 1990 Porsche 911 Carrera 2 Coupe, located in Maryland, with just 29,950 miles on it.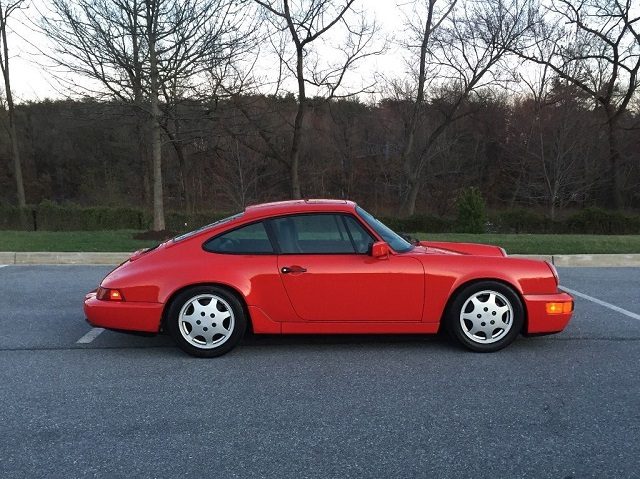 Year: 1990
Model: 911 Carrera 2
Engine: 3.6 liter flat-6
Transmission: 5-speed manual
Mileage: 29,950 mi
Price: $57,000 Buy it Now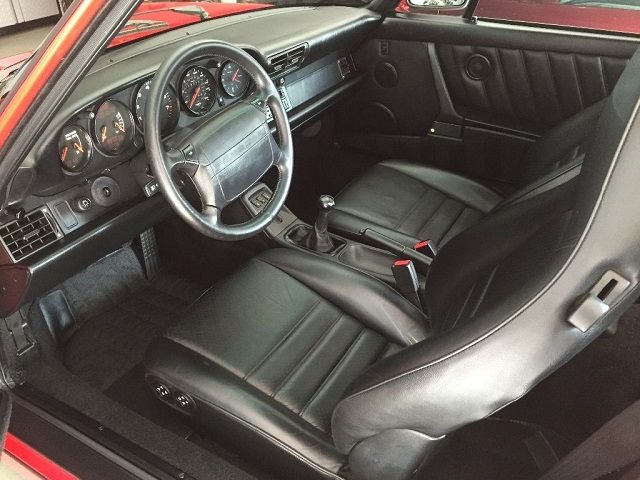 This 964 is about as close to a "new" aircooled Porsche as you can find on the market. They don't pop up FS in this condition very often anymore. Here's my extremely clean and highly desirable 964 C2, 5 speed manual with only 29k miles. I'm the third owner of this very well sorted example. Reason for selling is another rare air cooled beauty has caught my eye.


Exterior: It is finished in Guards Red with Black leather interior. All panels are original to the car. Previous owner reported a very minor cosmetic incident that required a respray of the hood. I just had the entire car detailed several weeks ago. The paint is lustrous and shines evenly. No swirl marks or spiderwebbing at all. The body is ding free. All glass are as new. The windshield and seals have been replaced. All trim are as new as well. This car was obviously garaged and covered its entire life. Headlights and turn signals are in excellent condition. Rear tail lamps are as new with no signs of fading or cracking.


Interior: Covering only 29k miles, the black leather interior looks brand new. The leather is nice and soft. Driver side bolsters shows no wear or abrasions so commonly seen. The carpeting is super clean and no tear/rip anywhere. I sorted out a few bad switches earlier this summer, and now all electricals work as they should. Instruments and dash look as new, no cracking anywhere. The shifter feels nice, and firm. No slop anywhere. Door check straps are 100% intact/original, a common failure on 964/993s. Heat and cold A/C works flawlessly. New Oil cooler and AC condenser series resistors just replaced. Blaupunkt radio cassette works 100%.


Engine/Drivetrain: As you may already know 89-91 964 are prone to leaks. This car received a full engine out reseal. While engine was out, top-end was done, oil lines, engine pad, cooling fan, plugs, wires, caps/rotors, fuel/air filters, belts, pedal pads, pedal bushings, hood shocks were replaced, along with installation of a brand new clutch. Clutch pedal cluster rebuilt. New clutch master and slave installed as well. Car runs like new! No leaks! The car has the original heat exchangers, cat delete pipe, cup pipe, and original secondary muffler. Catalytic converter comes with car. There is absolutely no rust or corrosion anywhere on this car. The undercarriage and all wheel wells are extremely clean. The oil cooler and AC condenser look brand new. The steering rack is leak-free. Brake pads and rotors are in excellent condition, and lines flushed. Transmission fluid replaced as well. The original D90 16″ wheels still wear its original finish. They are in perfect condition. Tires are new as well. This gorgeous 964 is ready to drive!


Suspension: The original worn-out suspension due to age has been updated with Bilstein PSS10 coilovers. Car is aligned and corner balanced, and lowered tastefully to ROW height. The handling is simply amazing!


This incredible example comes complete with both keys, all manuals, air compressor, tool kit, jack, spare tire, and service history/receipts. You won't find another low mileage 964 C2 in this condition. Don't underestimate the value of a well sorted Porsche. This investment grade 964 is ready to be driven. You will not be disappointed!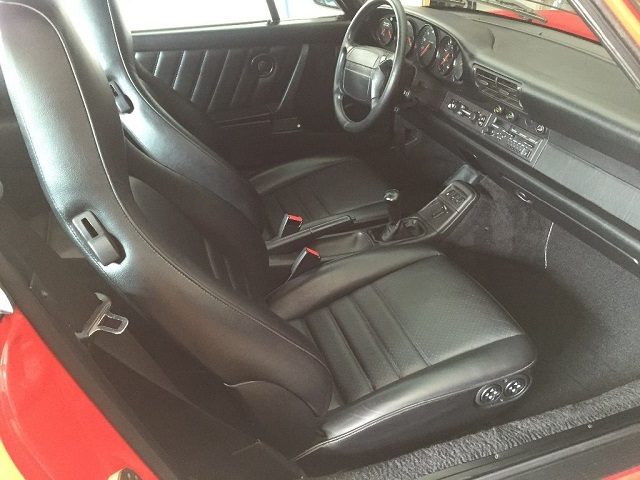 Since these pictures appear to have been taken at dusk it's a bit difficult to get an accurate sense of the paint quality, but generally speaking things look fine. It'd be nice to see this 911 under better lighting though. Many of the detail shots show a very clean and well cared for car so we can hope that level of detail will apply to the exterior as well. The interior, which we don't see too much of, looks in fine shape as well. Again, I think the detail pictures are the key since typically when those areas are clean then the easier spots to keep clean tend to be in good shape. Given the mileage the condition appears as we'd hope and the ad says it comes with documentation and receipts. How much isn't entirely clear, but it's a step in the right direction.
So that's the good. The (potential) bad comes when we notice that the Autocheck shows a "minor issue" under accidents. No mention is made of this in the ad so that would be the first question. Maybe it's truly minor or even a mistake. No matter what it is we'll need to know. That's the only issue that I see at this point and the owner sounds pretty knowledgeable about his car so hopefully we can get the right answers.
The starting bid of $50K certainly is on the higher end for a Carrera 2, but I've seen really nice low mileage examples sell for higher so it's not absurd. We'll have to see if there's enough interest to get our questions answered and bids to meet reserve, of which currently there are none. A low-mileage 964 Carrera 2 definitely is capable of providing a wealth of enjoyable driving and unless you throw another 100K miles on it, its value isn't likely to take much of a dive. Of course, in that case you'd have had the pleasure of putting 100K miles on an air-cooled 911 so that wouldn't be all that bad either!
-Rob