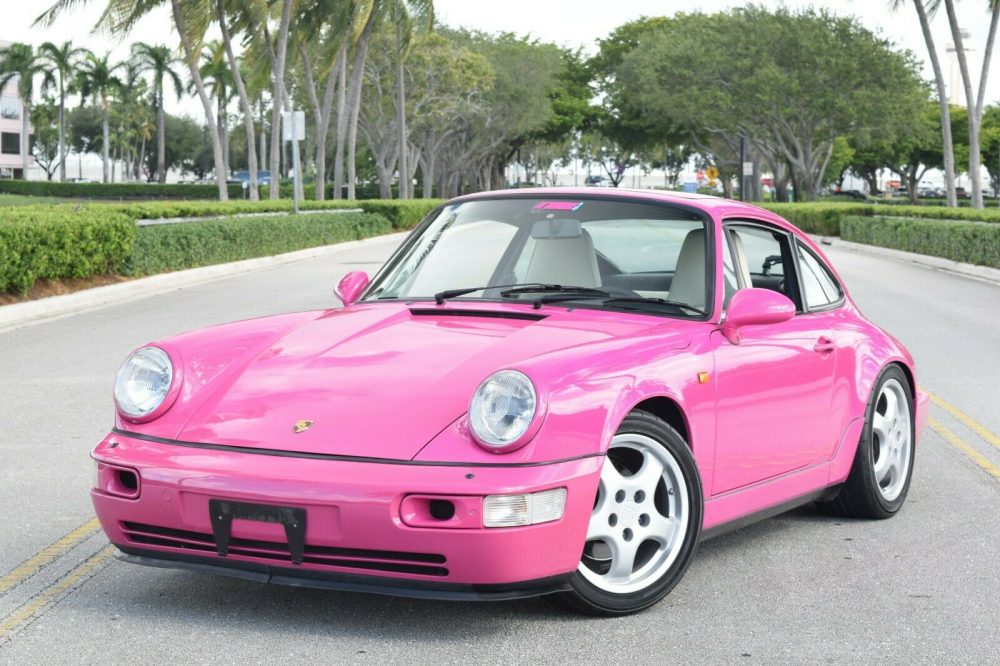 Oh Paint to Sample, you've really done it this time. What you are looking at is a 1990 Porsche 911 C2 painted in "Karminrot." In English, that is "Carmine Red," but you can see that this car is not red. Even more so, if you see that a Porsche is painted in Carmine Red, it will look like this. So what gives? Why is this car pink? During a point in 911 history, Karminrot was actually this color. I suppose somewhere along the line they came to their senses and decided that it doesn't make a lot of sense to call a pink car "red," as well as the fact that no one was actually buying this color. That likely leaves this 964 as possibly the only example finished in a color most associated with bubblegum.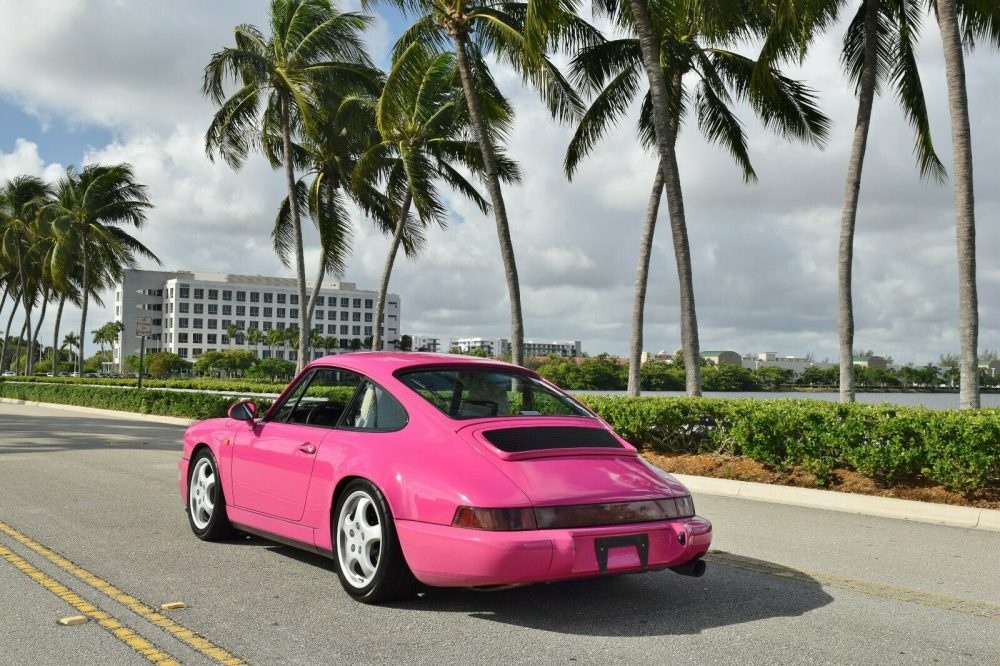 Year: 1990
Model: 911 Carrera 2
VIN: WP0ZZZ96ZLS407886
Engine: 3.6 liter flat-6
Transmission: 5-speed manual
Mileage: 87,862 Km (54,594 Mi)
Location: Miami, Florida
Price: $97,900 Buy It Now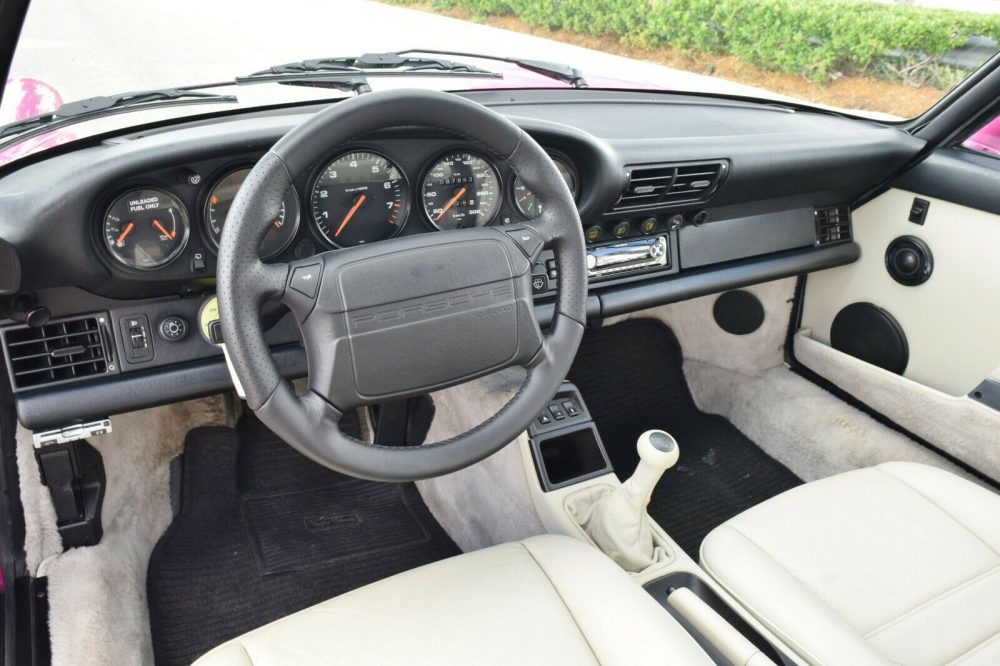 1990 Porsche 911 Carrera 2 964 Coupe in PAINT TO SAMPLE KARMINROT

RMC Miami is now offering possibly the only 964 in KARMINROT ever produced.
This euro 964 c2 has 87,862 Kilometers (54,594 Miles).
The Karminrot exterior contrasts well with the oyster interior.

Paint shows nicely throughout with no major dents or scratches to note. The car has been
lowered to euro height via bilstein coilover suspension system/ swift spring and setup
with adjustable camber plates. Wheels are OE Cup wheels wrapped in advan neova tires
Euro model comes with the height adjustable headlights which function perfectly.

Interior is mint, the oyster seats are in great condition the driver bolster has minimal wear
and are not ripped torn or stained. Dashboard is not warped or cracked.
Electronics all work as they should, power seats, power windows, sunroof and radio all operational.
Car has ice cold ac and all gauges function as they should.

Engine is very dry as you see in the photos. Modifications to the motor include a short ram cold air intake
real carbon high flow intake manifolds and free flowing exhaust system. The engine puts down the power to the
rear wheels nicely and pulls like a freight train clutch has been upgraded to an RS clutch and lightweight flywheel
which gives the car insane amount of throttle response. In addition the car has limited slip differential.

VIN IS wp0zzz96zls407886

Serious inquiries call Eddie 305-527-6867 or Bernard 305-443-7626

Follow us on Instagram for live updates!

@rmcmiami
Can Ship (Insured) Anywhere Worldwide if Needed.
Located in Miami, Florida 33126
Financing Available with Approved Credit
Trades Always Welcomed (UP or DOWN)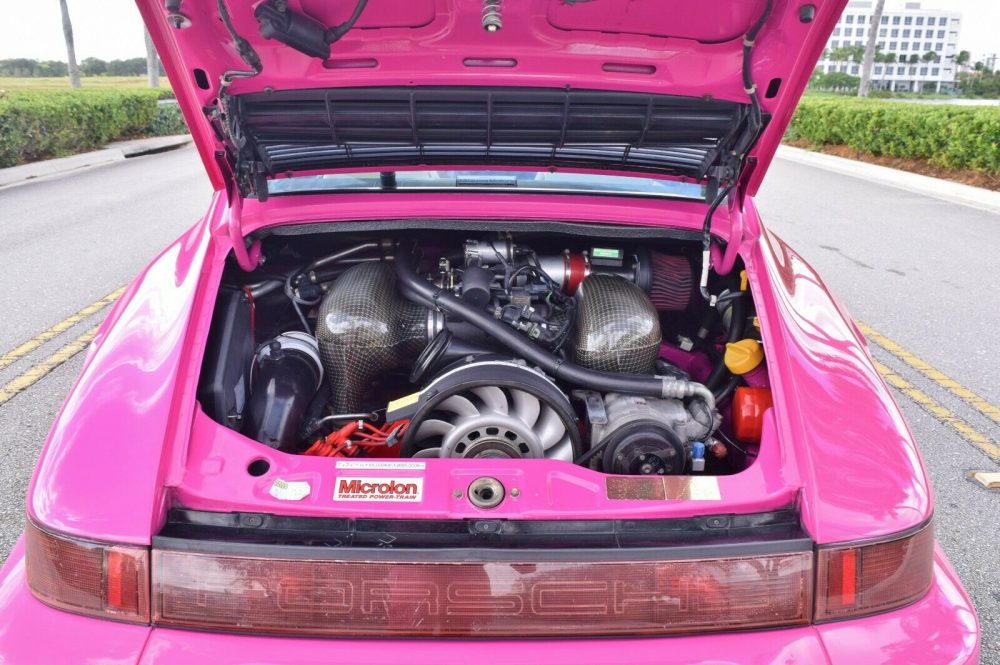 The most interesting part about this car outside of the Pepto-Bismol paint is that it is a European-spec car. To be more specific, a Japanese-market car. You can still see the car has the little JDM toll card reader mounted to the lower dash. Under the rear hatch, you see really slick carbon intake manifolds that are not cheap or easy to install on these cars. Other neat details are the Bilstein coilovers as well as the 964 RS clutch and flywheel. Inside, Oyster leather and just 55,000 miles. Everything looks great, except for the price, of course.
The ask on this one is a hefty $97,000 and change. I don't need to tell you that number buys you an RS America with $15,000-20,000 leftover for maintenance. That clearly means there is a giant premium on this color along with the other modifications. If this car was black or silver, I think it is more like a $65,000-75,000 car at best. So is someone willing to pay over $30,000 for literally a pink car? Probably, yes. Exclusivity is king, and this car is no different.
-Andrew