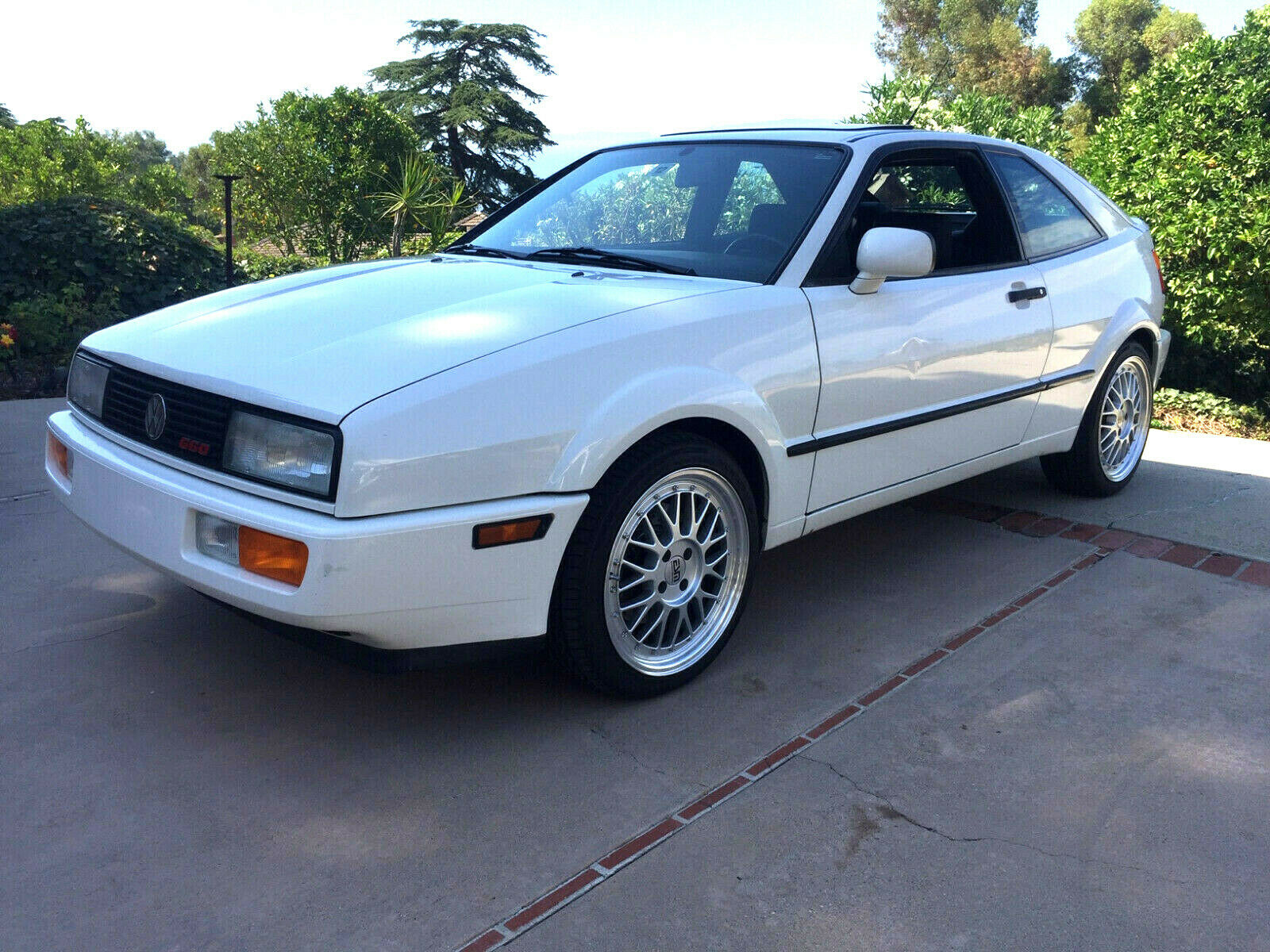 Update 10/18/19: This Corrado sold for $5,650.
While the second-generation Scirocco was a re-body of the first-generation chassis with some upgrades, when it came to the end of the 80s and the launch of a new sporty Volkswagen, they turned to…another antiquated chassis. Prepared for the 1990 model year, the A2 chassis was already the best part of 7 years old and not the most refined unit out there. Despite this, plans moved ahead at cash-strapped VW to produce two "new" models that were adaptations of the A2 chassis.
The result was the third generation Passat and the sporty Karmann-built Corrado. The design was more VAG evolution than revolution; in many ways, the Corrado's profile and several aspects mimicked the upscale Audi products. Volkswagen again went to the tried-and-true 'Operation Copy Giugiaro' plan that worked with the Scirocco. It looks like a shorter, chunkier Audi Coupe GT to me – especially in its original G60 supercharged guise. While the GTI went to the 2.0 16V and slick BBS wheels making an instant classic, Volkswagen relied on the G-Ladder supercharger that was seen in the European Golf Rallye and G60 GTI for the motivation for the Corrado. But the Corrado wasn't made to challenge its siblings; it was aimed at the 944 crowd, replacing the 924S as a 'Poor Man's Porsche' rather than just an expensive GTI alternative.
Ostensibly, this made it the top-trump at Volkswagen, what with 160 horsepower and good torque. But the heavy weight and complicated nature of the model meant that the GTI retained greater appeal. It seemed as though Volkswagen hit a home run when they finally slotted the even more potent and better sounding VR6 into the Corrado for 1992, relegating the supercharged model to obsolescence and obscurity. This model was thoroughly overshadowed by the VR6 and GTI, so values sunk quickly. Often they landed in the hands of those not able to afford the expensive repairs. And, no surprise, the result is that finding clean G60s is pretty tough today – but they don't get much cleaner than this Alpine White one: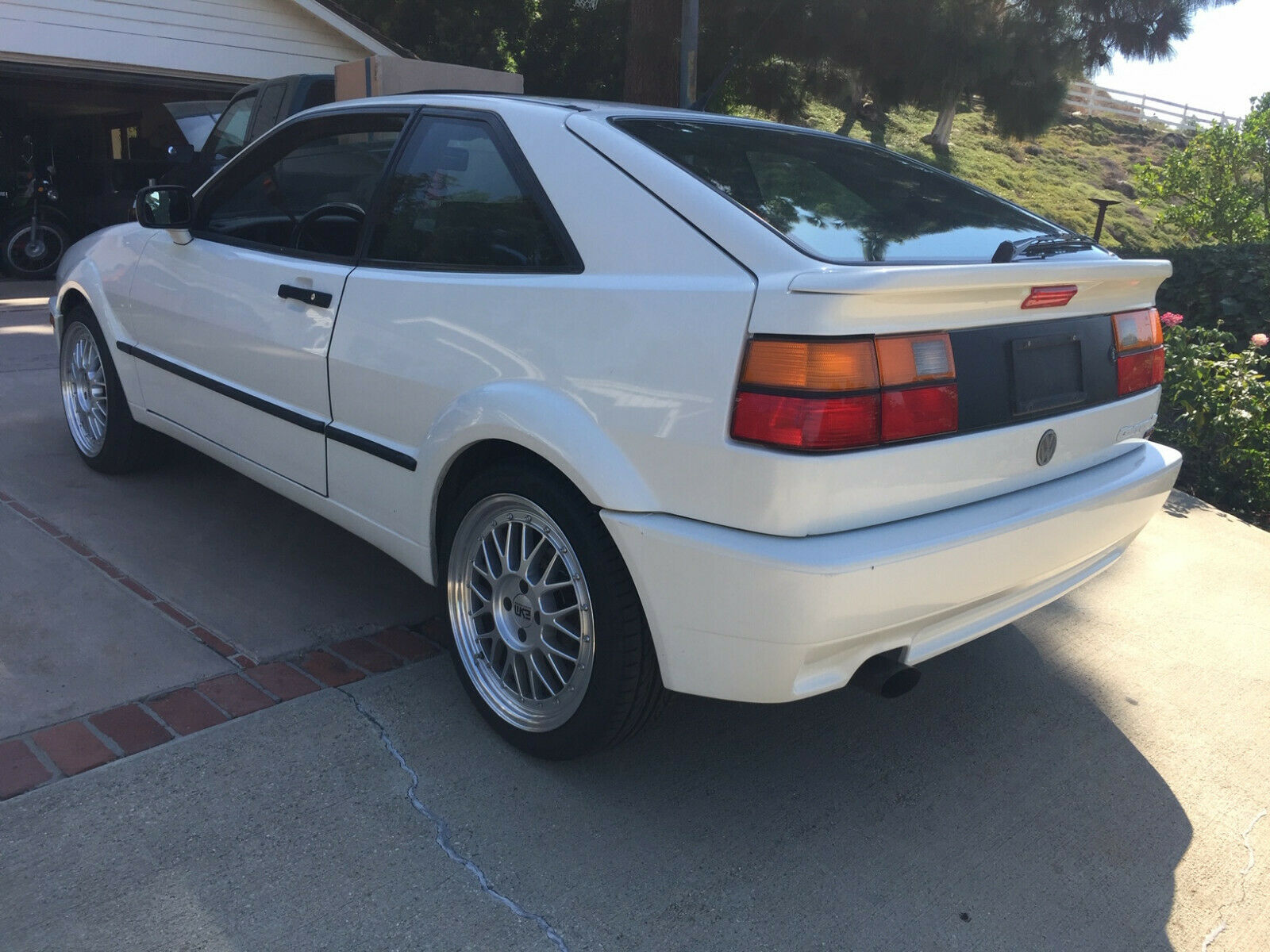 Year: 1990
Model: Corrado G60
VIN: WVWDB4501LK020701
Engine: 1.8 liter supercharged inline-4
Transmission: 5-speed manual
Mileage: 65,000 mi
Location: Palos Verdes Peninsula, California
Price: No Reserve Auction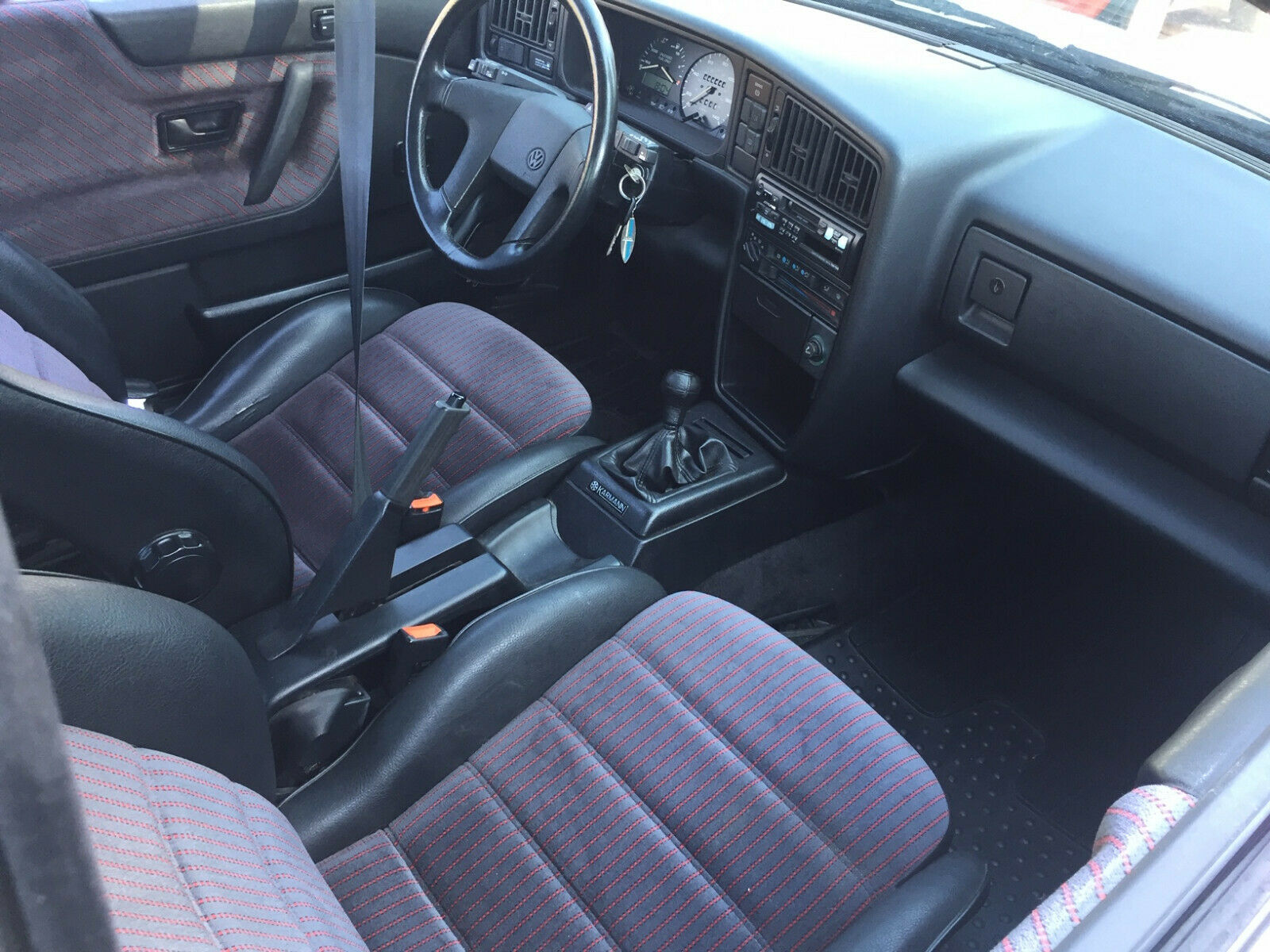 ORIGINAL 1990 VW CORRADO. ULTRA CLEAN and Original.

Youtube walkaround Video please search : 1990 vw corrado walk around 60k

Original Paint with a wonderful shine
Low mile 65k
Hard to find original unmolested corrado
Garage Kept most of its life
Recently serviced (New brakes/Fluids/Axle/Tires/Battery and more)
Very clean interior (all orig, Never smoked in and Very well kept with orig floormats)
Turn the key and go condition!

After a year long debate with my inner child I have decided to let one of my favorite cars of all time go. We are building a guest house and my wife is getting a new car this week so I will no longer have a spot in the garage for this amazing corrado and I AM VERY SAD to let it go. I have 7 cars at the moment so I am forced to sell a few. (take a look at the 85 GTI I sold here on ebay last week). Here we go.

Ultra clean unmolested corrado with only 65k:

Exterior:
Clean original paint 99% rust and dent free. Not perfect but I feel its one of the cleanest original paint jobs around. The car has a VERY DEEP shine and the paint retains a very nice gloss. Only couple very minor imperfections on this car otherwise its amazing. The car makes everyone smile and has a nice glow to it, great car to take to a local car show and have something original.

Youtube walkaround Video please search : 1990 vw corrado walk around 60k

Interior:
The interior is ultra clean for a 90 VW. only minor wear on the drivers seat otherwise this is absolutely stunning, Even the aftermarket period correct alpine Tape deck looks like it was installed at the VW factory.(im including the orig VW radio also) I didnt even clean the interior prior to taking pics, its a bit dusty but Im quite sure someone who knows these cars will easily be able to tell how special this car is. Car is very very well kept inside and NEVER SMOKED IN. The door panels are very clean and even the fragile corrado door speaker covers are in nice shape and not broken (if your a corrado guy you know this is rare). Power seat belts work great also. Your most likely not going to see a nicer interior on an old VW like this. Even the original floormats with the corrado stitching are in decent shape. Take a look at the pics and enjoy.

Engine/drivetrain/Mech:
recently serviced with 65k orig miles, I had the fluids changed and had the car inspected. We put new Battery,brakes/rotors (cross drilled) and Master cylinder to make sure the car was VERY SAFE TO DRIVE along with a new front axle and battery to avoid and headaches. Car runs strong, shifts nice with a strong clutch. car has been well kept and the next owner should really enjoy this car. The electronic are very strong and the car does not have any major battery drains common in most older corrados. The power options function well (lights, rear spoiler, windows and dash). The sunroof works but does need a couple clips to keep it from bouncing a bit(common on corrado and an easy fix). This car is in nice shape and has had recent work done so the next owner can turn the key and go. This has been a great car and I am truly sad to let her go.

Youtube walkaround Video please search : 1990 vw corrado walk around 60k

This car is about as original as you will find. Its a very rare Early Import car with NO ABS (very hard to find). Car is basically all original and unmolested.The only thing that Ive changed are the wheels and the radio both of which look great on the car. (I am also including the orig VW radio with this sale). THE SPOILER/DASH/WINDOWS/SEAT BELTS all work great. This car has been recently serviced by Riviera Racing located in Long Beach, Fernando the owner who is a well know old school VW tech did the work himself. Fernando has anywhere from 5-10 corrados in his shop yet when he saw this car he got glazed over, walked right over sat down in the drivers seat and started smiling,telling stories about the first corrado he owned. Said it was the cleanest car he had seen in years.

Good luck everyone.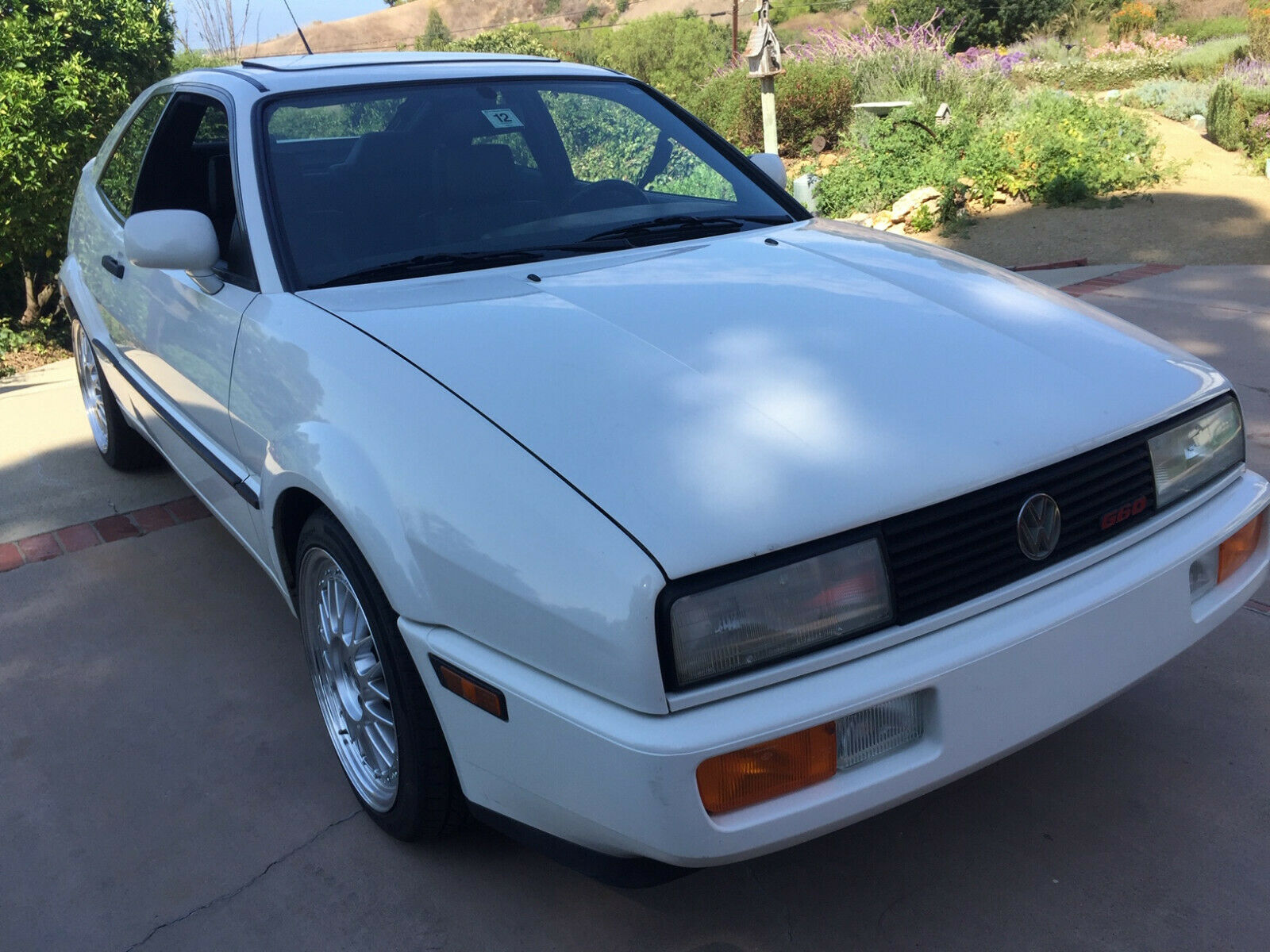 This car comes from the same seller as the Mars Red '85 GTI. Both impressive, clearly he has a penchant for less-appreciated VWs. If the general condition of that A2 was clean, this G60 is pretty exceptional. The only real letdown is the Chinese BBS knockoffs, but they're easily replaced. Personally I'd opt for '91-spec BBS RZs first for a subtle and period-correct upgrade, but there are plenty of options out there. Even the Alpine aftermarket head unit doesn't look horrible. Despite lacking pictures of underneath and the engine bay, there's really little to complain about. Alpine White is a infrequently seen shade on these cars too.
Bids have reacted to the not-often-seen status. At $6,500 already pledged, frankly I'm a bit surprised. These G60s are usually overshadowed by the VR6 so heavily that they struggle to make it past $5,000 – and the same amount will get you into a VR, albeit with more needs. It'll be interesting to see what the final number is on this one.
-Carter