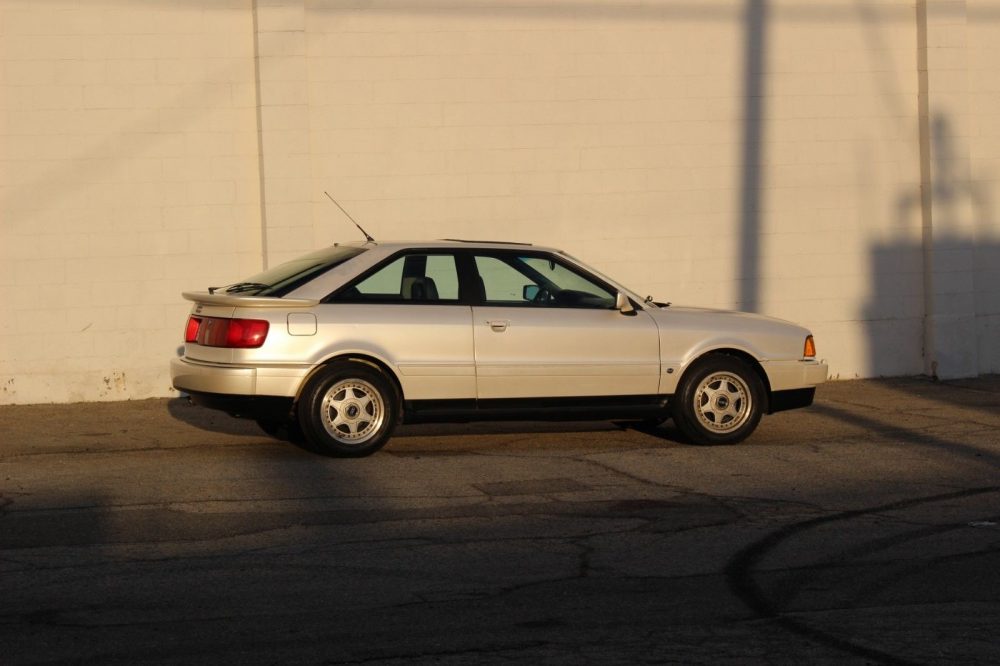 Update 7/15/17: Due to lack of payment, this Coupe Quattro has been relisted, again with a no reserve auction format.
Time to consider another Audi icon – the Coupe Quattro. Of course, it was quite hard to follow the original act, but in Europe alongside the RR Quattro 20V was the all-new B3 generation S2. Performance was about par between them, but they had intensely different character. The new car was safer, more quiet, more round, and a lot more practical. For while the original Quattro had always looked like it had a hatchback, it was the successor that actually had one.
Of course, in the U.S. we didn't receive the S2. The Coupe Quattro made due with a thoroughly upgraded 2.3 liter DOHC 20V motor – the 7A. Deep in the middle of the recession and not fully recovered from Audi's 60 Minutes debacle, the very expensive Coupe Quattro sold slowly. A total of approximately 1,700 of them were imported at over $30,000 each. Considering the cost, the performance was rather soft; the heavy Coupe sported only 164 horsepower and though it was smooth and reasonably quick on the highway, off the line performance was lackluster at best. Still, though the internet fora would have you believe otherwise, performance between the U.S. spec Coupe and original Quattro was pretty similar.
Options on the Coupe were limited to the Cold Weather package, 8-way power seats and Pearlescent White Metallic paint – all seen here on this '91. '91s also had the upgraded glass moonroof rather than the early steel panel, though they lost the infamous "Bag of Snakes" tubular header early models carried. '91s also gained rear sway bars and are the rarest of the bunch, with only 364 sold in the model year and a further 58 traded as leftovers. Like the original, finding a good one is key – and difficult: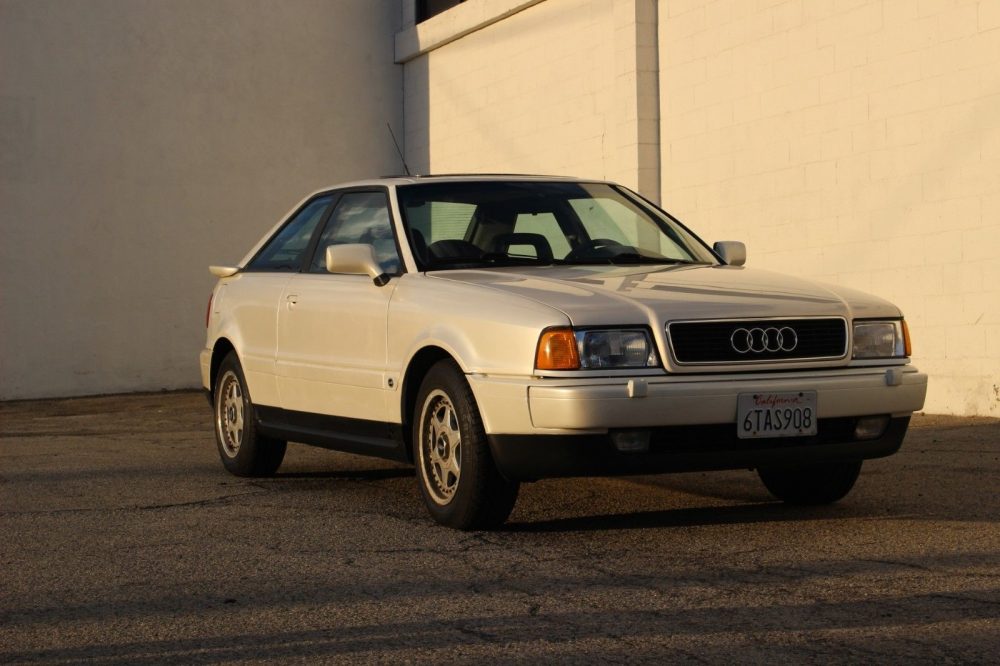 Year: 1991
Model: Coupe Quattro
Engine: 2.3 liter inline-5
Transmission: 5-speed manual
Mileage: 233,000 mi
Price: No Reserve Auction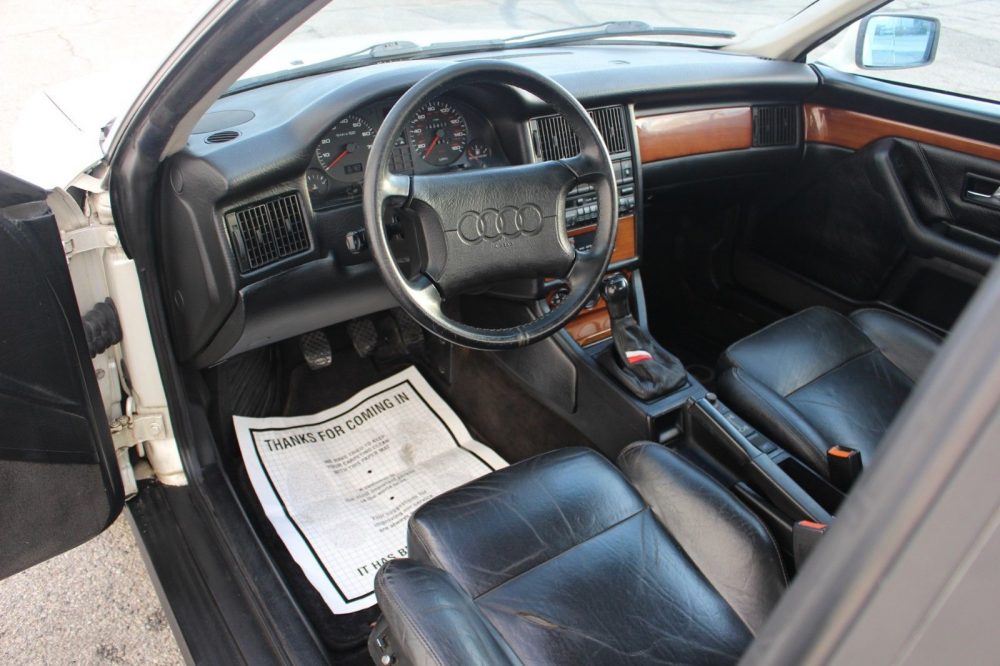 1991 Audi Coupe quattro, Pearl white – Black interior
233K miles, clean CA title on my name.
A very nice, clean and well-kept car, interior is excellent 9/10 (bit snagging head liner in the rear area), paint is 7/10 (it has some oxidation in few spots) because the car lived close to the ocean it was parked for 5 years, Wheels has the same clear coat pealing, oxidation. Tires are good (more then 90% left).
The car is solid, starts and runs fine, could be a good daily driver. Unfortunately I ran out of time, no longer have a shop on work on these.
I fixed tons of issues but a few still remain, I will list it in the CONS.

Recent service:
Timing belt (continental)
Roller (INA)
Water pump (Hepu)
Thermostat (Mahle)
New PS belt
Fresh PS fluid
Fresh OEM G12 coolant
New coolant reservoir
New OEM cap
Fresh oil change
New oil filter
New air filter
New spark plugs
B4 front end conversion
034 Injector upgrade
Big MAF

Replaced with newer units:
Starter
Battery (a year old)
Aux radiator
Driver side window regulator (1998 cabriolet)
Radio
PS pump (still has a small dripping)

Front:
New brake pads
New brake disks
New shocks
New top mounts
New linkages
New ball joints
New CA bushing (AK Motorsport, red polyurethane)
Rear:
New brake pads
New brake disks
New shocks
New top mounts

Cons/needs attention:
Windshield has a crack
Passenger front outer axle boot torn (comes with a new replacement)
Brake light sometimes comes ON (it might be the brake accumulator, so it comes with a newer working unit)
Rear right brake (handbrake) sometimes drags/sticks

More pictures or questions just send me a message.
Its the buyer responsibility to arrange the transportation for the car, however I can assist/help (no, i wont arrange it for you)
I had good experience to ship cars with Montway Auto Transport (www.montway.com)

Thank you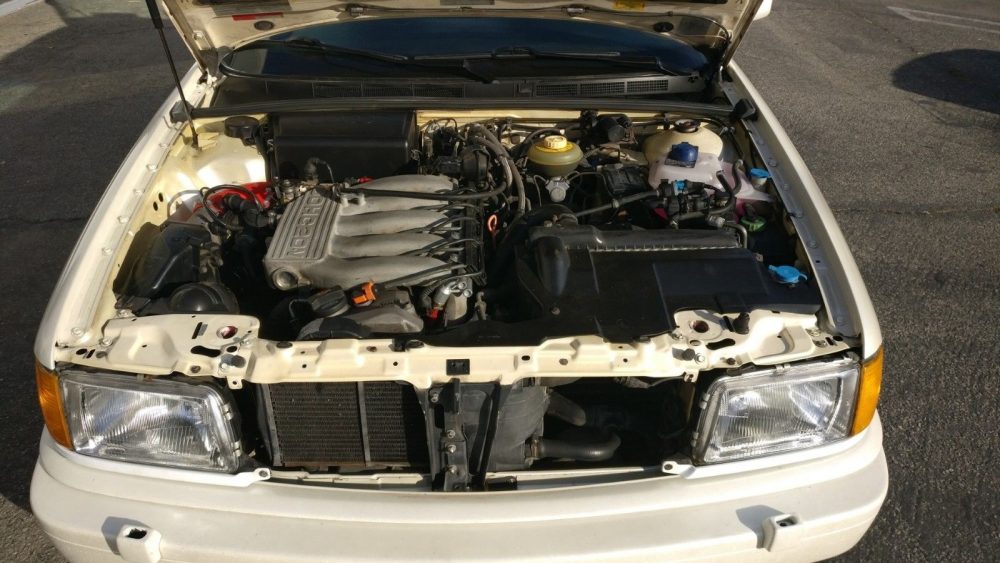 Like most well-kept Audis of this ilk, the Coupes seem to generally shrug off massive miles. The sunset shots compliment the complex color well, and the black leather still looks great overall. Zebrano wood was a nice match to break up the otherwise dark interior. Though tiny by today's standards, the faux 2-piece Speedline wheels are always a favorite of mine to see though notoriously difficult to keep looking good. The addition of the B4 hood modernizes the look considerably, but the really nice part of this car is the maintenance performed. It's not impossible to find Coupe Quattros if you look – and I do. However, a majority of those that come to market are beaten within an inch of their lives and/or the sellers want unrealistic amounts for the pleasure of trying to restore them to serviceable condition. This seller has provided the maintenance to make this car a great driver, yet has listed the car in a no reserve auction format with pictures that depict the current condition of the car. Really, you can ask little else.
This car would be a great driver and potential base for a build with a turbo motor or V8 if you're a little crazy. Bidding is currently quiet at only $2,000 – far under what these cars in this condition usually trade for. The cult status will continue to ensure you can find parts and help, and the unique style will set you apart without breaking your budget.
-Carter