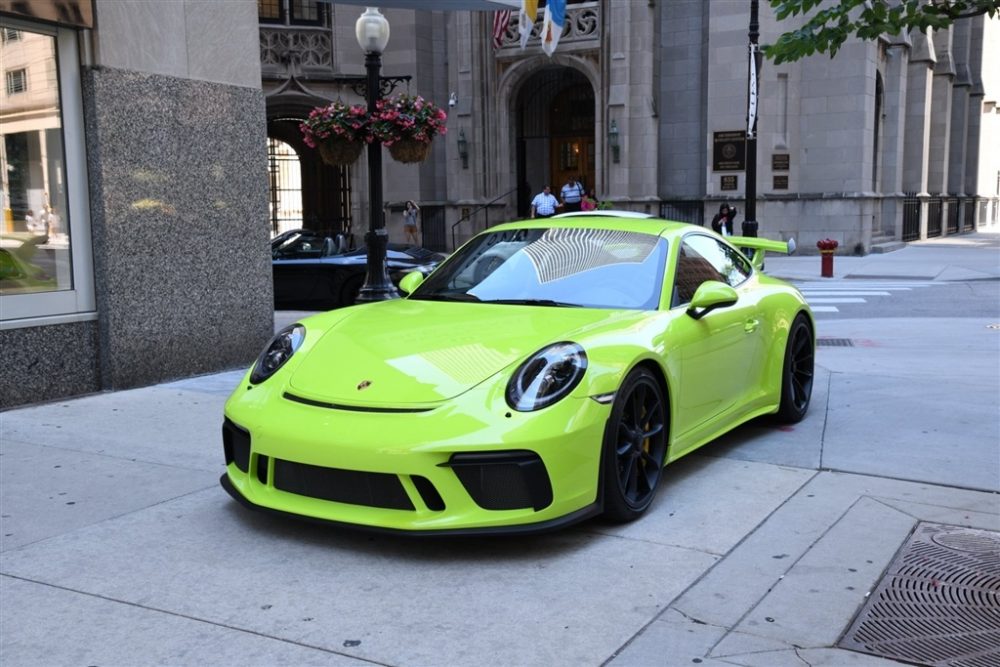 I'm just sort of posting this one for fun. I've featured a couple of 2018 GT3s and this one is pretty similar. Low miles, manual transmission, decently high markup. I think you get the picture. I wanted to post this one mainly to go with the Chartreuse and Birch Green 911s I've posted recently so I can complete the neon green 911 color wheel. But, of course, also to bring it to the attention of anyone who might have their eye out for one of these very brightly colored, nearly new, GT3s.
This is an Acid Green 2018 Porsche 911 GT3, located in Chicago, with 1,191 miles on it. I could be wrong, but I believe Acid Green had its debut on the 918 Spyder's brake calipers. Here we see it on the whole car, though the seller has chosen to photograph it in such a way as to minimize the brightness as much as possible. Here it looks subdued. Acid Green is not subdued.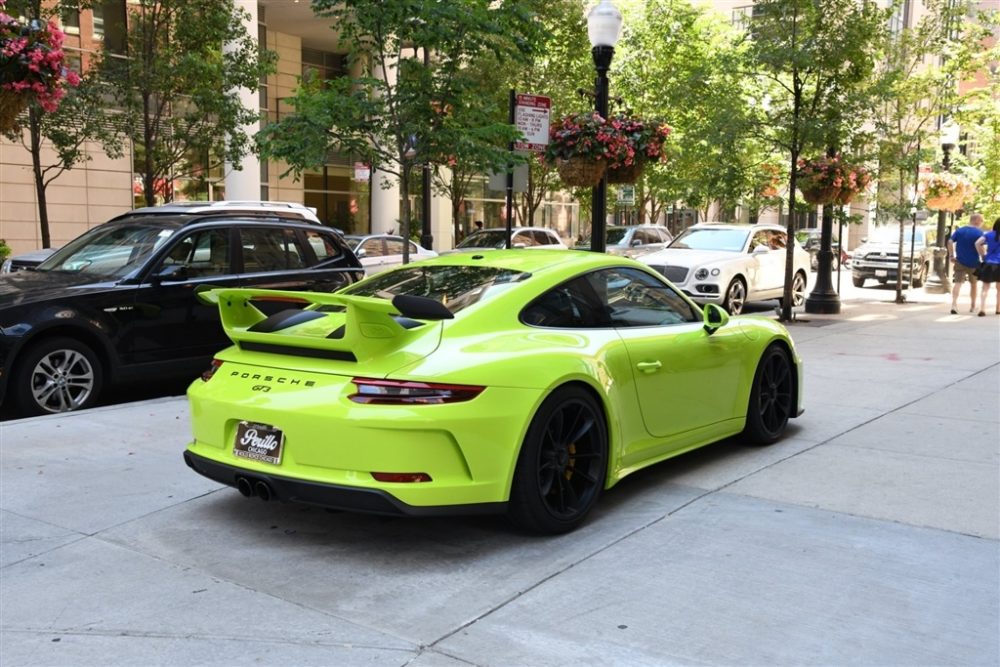 Year: 2018
Model: 911 GT3
Engine: 4.0 liter flat-6
Transmission: 6-speed manual
Mileage: 1,191 mi
Price: $239,800 Buy It Now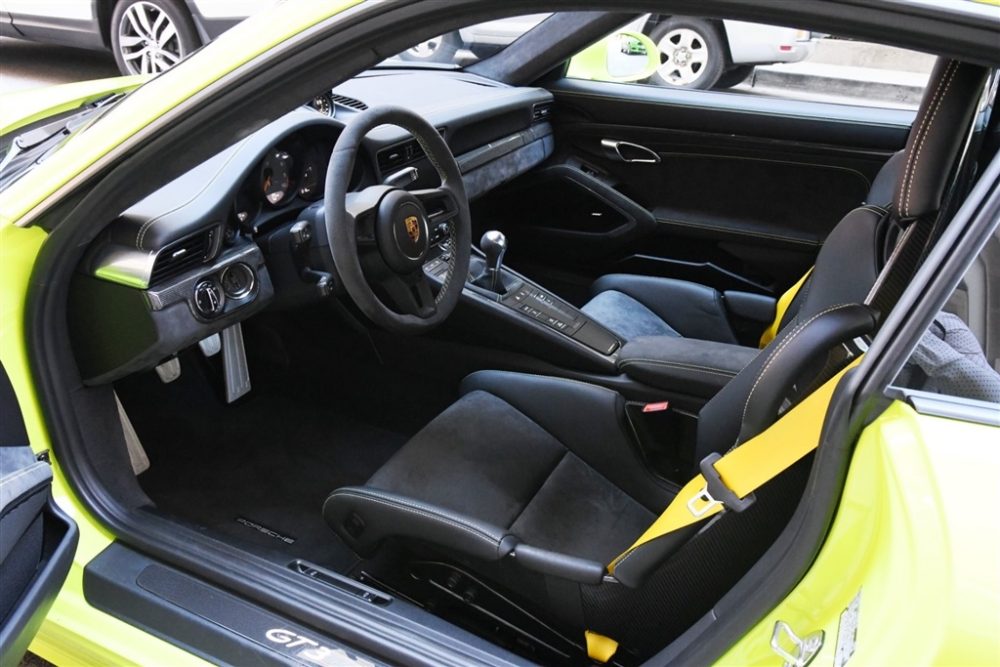 2018 GT3 Used 4L H6 24V Manual RWD Coupe Premium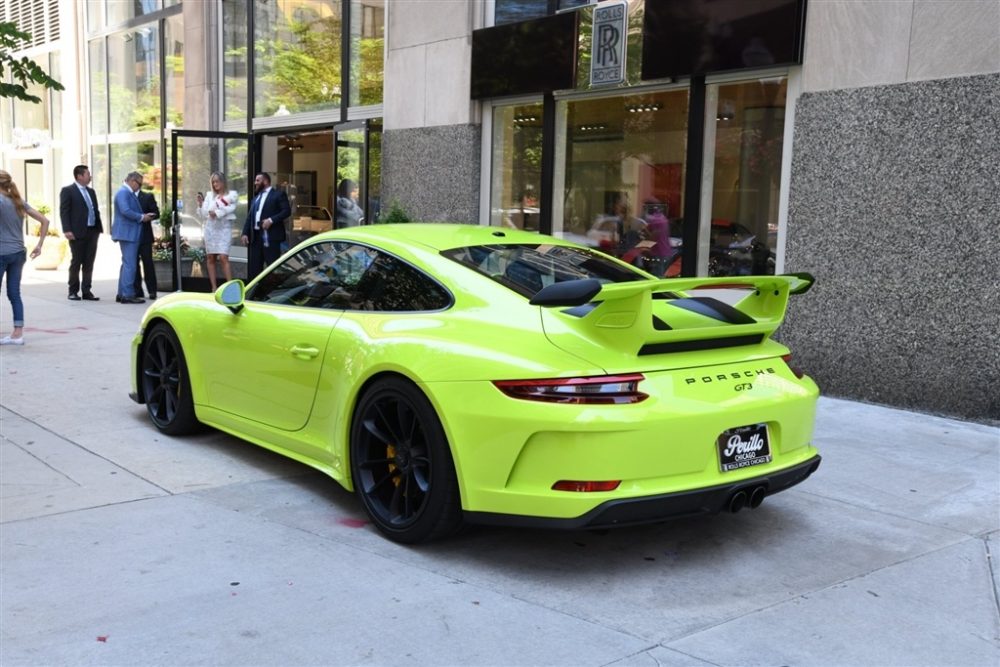 Outside of the color this GT3 builds looks pretty straightforward. It has the light-weight bucket seats and racing yellow seat belts along with some additional carbon fiber in the interior and deviated stitching. They went with the wheels in Satin Black and I can't say I'm a fan of those here. They just seem to draw in too much darkness and detract from the Acid Green exterior. Some may prefer that, but I do not. There may be a few other options, but not much that stands out. That's fine though, the GT3 is good enough that you don't need to go crazy with the options.
Assuming you've been seeking an Acid Green GT3 should you pay $240K for this one? No, you should not. That's about as high a markup as I've seen for one of these and that includes some with fewer miles. The Riviera Blue GT3 I featured in March was almost $30K cheaper and had only 60 miles on it. It's arguably a more desirable color. And it too likely was priced too high though I'd have understood if someone snapped it up just for Riviera Blue. So you can be patient here. With the GT3 RS and GT2 RS ready to hit our shores GT3 prices aren't going to go up any time soon. This is one of those great jelly bean colors that Porsche has been famous for releasing. The price just needs to come down.
-Rob