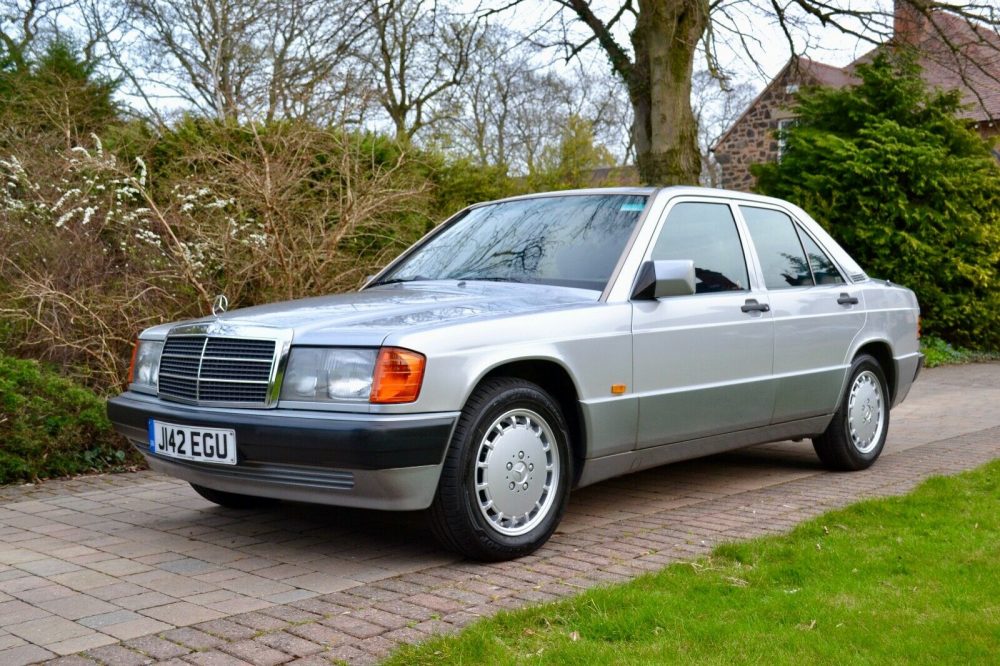 I always felt the Mercedes-Benz W201 190E didn't and still doesn't get the respect or fanfare they deserve. Outside of the 16v models, there aren't hoards of people out there clamoring for them like we have now with the E30 BMW. I know this is a little bit of tough comparison, as the E30 was offered in both coupe and manual transmission form, but the 190E is still a relatively nice car for what it is. It certainly isn't ugly, and the fit and finish was above average compared to the majority of cars from this era. Still, these cars were used and abused for going on three decades now so finding a non-16v model in exception shape isn't an easy task. However, this 1991 190E 2.0 up for sale the UK seems to have survived all these abuse a cheap Mercedes usually is subject to.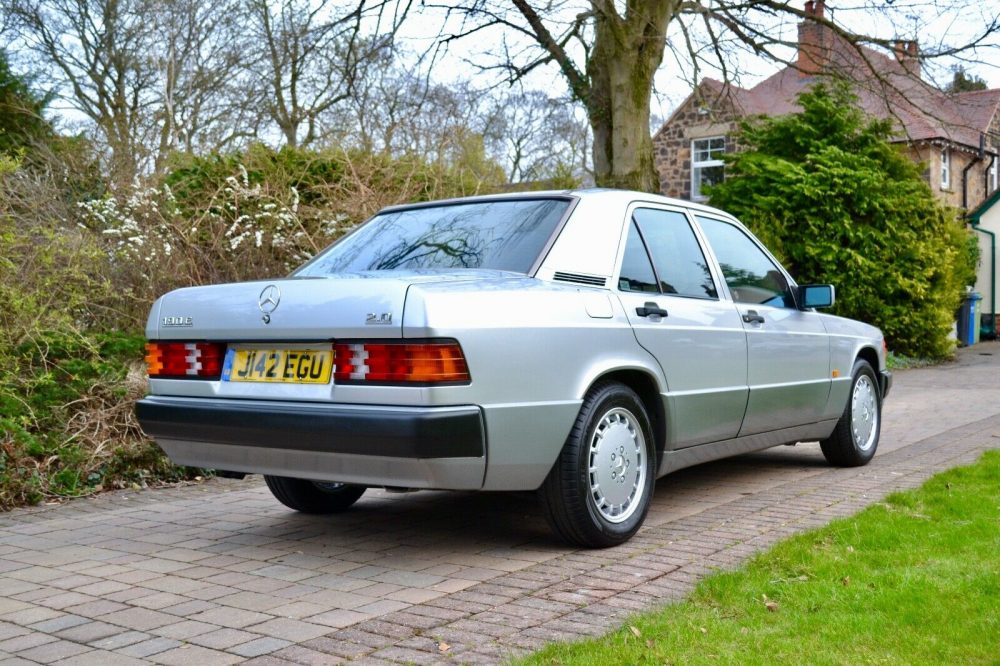 Year: 1991
Model: 190E 2.0
VIN: N/A
Engine: 2.0 liter inline-4
Transmission: 4-speed automatic
Mileage: 118,000 mi
Price: £4,750 Buy It Now ($6,257)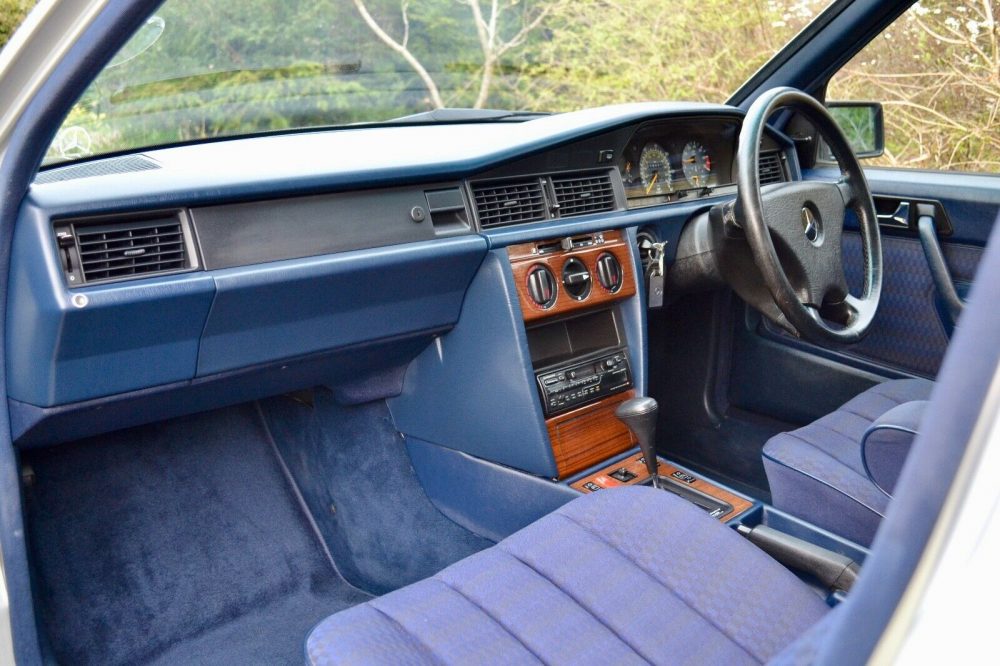 Finished in Brilliant Silver with a superb blue cloth interior, J142 EGU is a fine example of the 190E that has clearly been cherished since new and has one of the most thorough maintenance records I have ever encountered.

The car was originally delivered to a Mr W Barnard, who then passed the car to his brother, Mr D Barnard, who kept the car until 2010 when it was sold to a friend of mine, who lived nearby in London. During the brotherís ownership, it was serviced exclusively by Mercedes Bromley, and it was a regular visitor to their workshop for everything as trivial as brake light bulb replacements. I have the invoices for every penny they spent in their ownership, the stamped service book and every MOT since 1997. However, since 2010, the TLC really racked up. Everything that has been done to the car since has been documented, with over 20 records of maintenance between 71,000 miles in 2011 and 117,000 miles in 2018. All work carried out during this period is backed up by a ring binder folder full of parts invoices, almost exclusively from Mercedes Benz.

In the last couple of years, the entire cooling system has been renewed, new injectors have been fitted along with new transmission oil cooler pipes, suspension refresh and a host of other work. In fact, a testimony to the maintenance of this car is its MOT history, which aside from a couple of bulbs, a ball joint in 2013 and a blowing exhaust in 2007 Ė all replaced, is un-blemished.

Prior to sale the car has received a full service, including oil and filter, brake fluid and transmission fluid and filter Ė however the fluids that came out were almost as clean as the fluid that replaced them! Joyous. It has also had its 15-hole alloy wheels powder coated and freshly shod with Dunlop tyres. Removing the wheels reveals exceptionally fresh wheel arches, no corrosion to the suspension components and perfect wheel arches. Not only has this car been over-serviced, but I would doubt itís ever been allowed to get properly dirty. It certainly hasnít seen a lot of road salt. It also has MOT until March 2020, with no advisories.

In accordance with the underside, the bodywork is all in fine fettle: straight with no parking dings or nasty marks and no rust. Brilliant Silver suits the W201 so well Ė my first one was this colour, so Iím biased, but it shows every line and detail that makes this not only Bruno Saccoís finest design; but the most perfectly proportioned saloon car ever penned.

Inside is reasonably well equipped, on top of the refinements that make 1991 cars perhaps the nicest 190Es Ė (Full Zebrano Console, ABS and body coloured mirrors as standard on the 2.0) and with four power windows, power sunroof, Outside Temperature Gauge, Sportline 390mm Steering wheel, rear headrests and dealer fitted Pioneer Radio / Cassette with working Hirschmann power antenna. The seats are in excellent condition, the dash and air vent surrounds are unusually free of cracks, the map nets have not sagged, the needles are nicely orange, and the carpets have been covered by Mercedes over-mats from new.

On the road, a good 190E 2.0 is all the car you ever need. It is capable of cruising at 100mph all day long, will return a comfortable average of 30mpg (in my experience) and ride better than anything Mercedes Benz excuse themselves to sell these days. This one lives up to that in all areas and is a true delight to drive.

I have described the car as accurately as possible and have gone to as much effort as I can to ensure that this car is prepared to the highest possible standard within my means for its new owner, who Iím sure will enjoy many happy miles in it. This really is either a perfect starter classic, or daily car. It will almost certainly never let you down and will always carry a distinct quality and identity in a bland sea of eco-boxes and hateful SUVs.

If you require any more information, or to arrange a viewing and test drive please call me on 07921252639. P/X considered and thanks for reading – more photos can be found at the following link: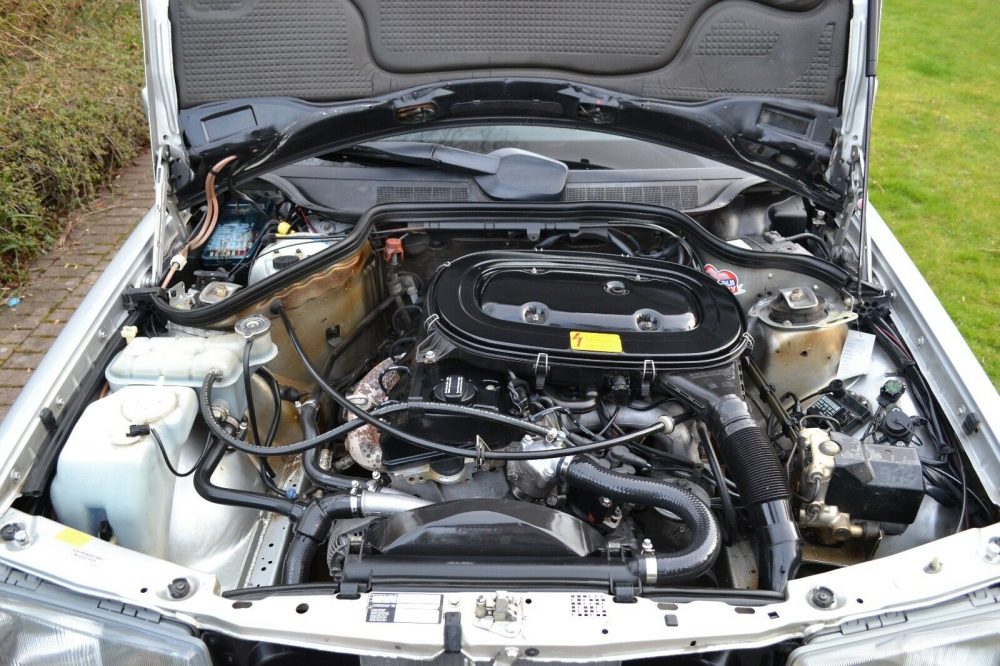 It's really tough to find anything wrong with this car. Even with 118k miles shown, this example looks like it has about a third of that. It is nearly flawless inside, outside and under the hood. Kudos to the seller for even detailing the engine for the extra "step back in time" looks that this car has going for it. As much we look at the W201 as the "cheap" Mercedes from decades ago, you can see why people would pony up the sizable $36,000 ($66,000 today) for these in 1992. The fit and finish look excellent and compared to all of the other compact cars roaming the streets in the early '90s, this one was surely quite handsome.
The $6,300 asking price had me going back and forth a little bit. Surely it is a lot for a non-16v 190E, but if you want a super clean example, that price isn't all that bad. I'm sure there are some people out there who loved these cars when they came out but couldn't afford it at the time, so this one seems awfully temping and is exactly the kind of buyer they are looking for. Would I drive this car? Absolutely. Spend $6,300 on it? I think I'd rather put it towards something else.
– Andrew